You are herejstookey's blog
jstookey's blog
---
As soon as this year started, I had already committed to more running races than I could possibly imagine. With the Boston Marathon kicking off the season, I fully expected to be broken and battered for a month or so afterwards, leaving me a step behind my training for the rest of the season, and creating an awful downward spiral. I imagined I'd be digging myself out of a deep hole before spring ever started. I was happily surprised to get through Boston unscathed, back to relatively normal running after little more than a week of recovery despite some major tightness after my calves cramped up on me during the marathon.
I had plans to run the Seven Sisters Trail Run 2 weeks after Boston. After 6 days of recovery from Boston, I headed out for a Moreau Lake 15k trail loop and faked my way through, pretending to be ok despite running on unforgiving steel legs well beyond the stiff and sore stage. However, I had to do something to ease my way back into tough trail runs. Either suffer now, or suffer a week from now. Better to take my lumps as early before the race as possible and give myself a full week to feel somewhat regular again. As the week wore on I went for more cautious, sensible recovery runs. But then, the day before the race, B suggests a 12 mile run. I try to wrap my head around the thought. Between 3 weeks of tapering then recovering, I've been holding back for well over a month with nothing to show for it except a few hours of marathoning. You know what? Screw it. Not just it though. Screw it all. Screw tapering, screw recovering. Not just tomorrow, but ever. 12 miles? Let's do it. Fast.
Somehow the name Dean Karnazes got into my head. Just the name alone was enough to make me realize that there is so much more my body can do, and the only way to get there is to let go of limitations. I've been carrying this attitude with me for the last 5 weeks or so. After 7 Sisters, I just exploded. I starting commuting to multi-hour mountainy trail runs, day after day. For the first time, I ran a few 75+ mile weeks, including many tough days (Moreau, Grafton, Tongue, local trails). I threw in a 28 mile run for good measure. Followed by 16 hard trail miles the next day. Two weeks before the Lake Placid Marathon.
There are books and books filled with rules. Good books. Running like this breaks those rules, all the rules I know of anyway: Never run more than 20 miles or so before a marathon. Never follow up a hard day of running with another hard day of running. Taper before a marathon.
I justified all of this by saying I'd run Lake Placid as a training run. I'd run barefoot, and take it easy and just run it for fun. But then a day or two before the race, I was looking over previous results, thinking "holy smokes, if I go all out, I could stand a chance of doing pretty well at this race!". I made the last minute decision to wear sandals and run my face off.
The night before the race, I felt my usual pains, nausea, etc. this time with a headache as an added bonus. I know enough now that I can ignore the phantom pains because once I start running I will feel 110%.
At the starting line I stand near the front, where half marathoners and full marathoners are all waiting to begin. I see some familiar faces, lots of Capital Region runners are here today. In fact I see some runners who I know can kick my butt, but they are wearing half marathon bibs. The gun goes off, and we take off up the first of many small hills. Everyone will be going too fast at the start, so I need to totally back off more than I feel like is necessary and I will *still* be going too fast. So I hold back and stay at a very comfortable pace and watch as 2 or 3 really fast guys run off way ahead, leaving pack of 10 or so runners a short distance ahead of me. I keep a comfortable pace. I look back and see random scattered runners behind me. I look forward at the pack. Dangit, there's a bit of a headwind, and if I join the pack I can go for a free ride for a while, but I'll have to speed up to catch up. Ugh. After a few minutes I catch up to the pack. There are a bunch of ironman shirts, and everyone is conversational and friendly. A few hundred feet up ahead is a guy in an orange shirt and just ahead of him are two dudes on bicycles in reflective vests. Orange shirt must be the leader for the full marathon, and the bicycles are keeping him on course. The pack slowly starts to break apart a little, a few guys run off ahead. I'm towards the back. A few miles into the race, we come to a nice comfortable downhill. When running barefoot or in sandals, it's really difficult to put on the breaks while going downhill. Barefoot Kenbob has a nice quote where he basically simply says, "why are you putting on the brakes"? I've been practicing the art of quickfeet down hills. It's so much easier than trying to slow down. And so much faster! With no effort, I find myself blazing past everyone in the group. 2 runners stay with me, and we stick together for the next several miles, overtaking the marathon leader.
Both runners are super friendly. One is from Quebec and has a real way with words. He gets everyone talking and having a great time. The other is from the Utica area. He was the second place finisher during last year's thanksgiving run in the snow, so he and I had met before. Everyone was totally upfront about their race plans, nobody seemed to be playing any kind of competitive mind games. Both kept reiterating we were running too fast. Me? I forgot my watch so I was dying to know what they were talking about. What is our pace? I refused to ask. If I wanted to know our pace all I needed to do was to NOT FORGET MY WATCH. Not hound all the other runners around me. We stuck together for a while, but I around mile 7 or so I started creeping slowly ahead.
I hit the first turnaround at mile 9. From this point onward, huge masses of other runners are running in the opposite direction. And I can't begin to tell how much energy everyone shared! Being the first marathon runner, people were clapping, cheering, and encouraging me the whole way. It was all I could do to try and return the favor. So I found myself in the unique position to be clapping and cheering, hooting, smiling, pointing, waving, and hollering for the next 17 miles or so.
And I felt great. Around mile 10 I felt a calf that wanted to cramp up followed by the slightest warning of soreness in my ankle. But I recognized those signs clear as day: low blood sugar. My brain is getting tired and it's way of letting me know is to point to different parts of my body and say "ow! see? We need to stop!". That just means it's time to suck down my first honey goo packet which I have safety pinned to my shorts. I eat one, drink a little water, and all is back to normal.
The course is great with plenty of hills to keep it interesting. The dude on the bike stayed with me to the end, always looking back to make sure he was a perfect distance ahead. It was great being in the lead because I could run at a comfortable pace. During any other race, there are people ahead that I constantly want to catch up to. But now, I'm better off keeping some extra energy in reserve so that if somebody catches up to me I have enough energy to feel fresh after he's been pushing hard to catch up. At the same time, I keep some pressure on myself, realizing that complacency will mean losing the lead I have.
I get to cheer on lots of people along the way, sometimes with high fives at the double yellow lines in the middle of the road: B and R who are running the marathon. M and her friend P running the half marathon. I could go on and on about the inspirational events in the race, like this guy.
Hoards of runners and spectators cheered, but one thing really stands out that I'm having difficulty coming to terms with. I really hope I didn't just imagine it or make it up or worse, mistake one thing for something else. As I was approaching the final mile or two, a small group of people got on their knees and were bowing to me! On the pavement! What the...?!? I want to erase this so bad. I can't believe I'm writing it, I feel like just by saying it it makes me the most absurdly narcissistic person on the planet. I'll tell you this: it's a strange feeling to have an effect on people and get this kind of reaction by just running. As I was sitting at my desk the next day, struggling with day-to-day computer I.T. problems it's crazy to think back to yesterday when people were voluntarily bowing in front of me. Absolutely ridiculous. Just when I thought I'd heard and seen it all.
When I mentioned it to R, he simply said, "take it". As in "take it while you can.".
The final section of the race is a super steep hill climb with a pre-victory lap around a high school track before crossing the finish line. I got to break the tape, what an awesome feeling.
Links
* A nice race writeup
* Photo Finish
* Photo posted to Twitter
There is a new proposed trail connecting Moreau Lake State Park to Saratoga Springs. The trail doesn't exist yet. Here is the proposed trail overlaid on top of google maps and satellite imagery to show where the planned trails will go: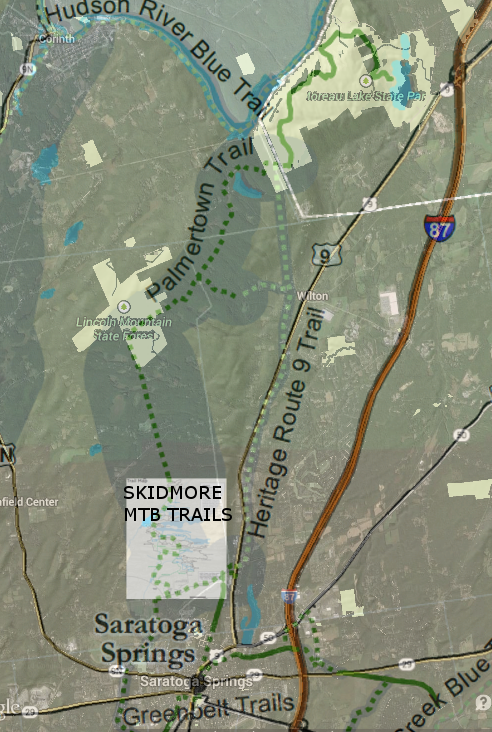 The trail starts at Moreau Lake State Park on the Palmertown Ridge Trail. From there it passes by Lake Ann, Lake Bonita, and cuts through the Lincoln Mountain State Forest. The trail goes through the Daniels Road/Skidmore College Mountain Bike Trails, ending up in Saratoga Springs.
To add to the excitement, the Zim Smith Trail is planned to extend from Mechanicville to Saratoga Springs, thereby linking Moreau to Mechanicville.
Links to maps
* Saratoga PLAN Proposed Trail Network
* Saratoga PLAN website
* Daniels Road/Skidmore Mountain Bike Trail Map
* Saratoga Mountain Bike Association
Running helps me to learn my own anatomy one sore muscle at a time. When a particular muscle gets sore, it's exact shape and location become readily apparent. It's as if the entire body is transparent except that one muscle, but instead of seeing it, I can feel it. It feels like a big bruised piece of meat inside my leg. Today that muscle is the fibularis longus. The fibularis longus plantar-flexes the foot. Plantar flexion is movement of the foot that flexes the foot or toes downward toward the sole. This is a muscle that I never knew existed until the non-stop steep ups and downs of the seven sisters trail race the other day. There it is, running down the front side of the leg.
It's nice to know that the soreness matches the obvious cause perfectly. I would imagine that plantar flexion occurs while pushing off when going uphill, and also to catch your fall with each downhill step (assuming a minimalist forefoot landing). The fibularis longus is also the most conveniently located muscle for massaging with a rolling massager. But ouch!
I hope you enjoyed your anatomy lesson for the day!
I've been dying to run the Seven Sisters Trail Run in Amherst, MA since I heard stories after my friend H ran it 4 years ago, back in 2010. He said it was brutal, and that pretty much everybody did a lot of walking. The 7 sisters are mountain peaks. Not giant mountains, but steep ones. And high enough. The race is an out-and-back over the 7 peaks so completing the race means summitting 14 times. Before experiencing the course I was skeptical that we would really cross 14 peaks, but now after completing it I'm a believer. Every year the race has fallen on an inopportune date so despite being high up on the list for things I *wanted* to do other events came up that meant I had to put it off another year. This year I had a pretty good excuse not to do it. Boston was 2 weeks ago, and technically I should be in recovery mode. But I *really* wanted to run the race, so I put sensibility aside for a few hours and signed up. As did B and H.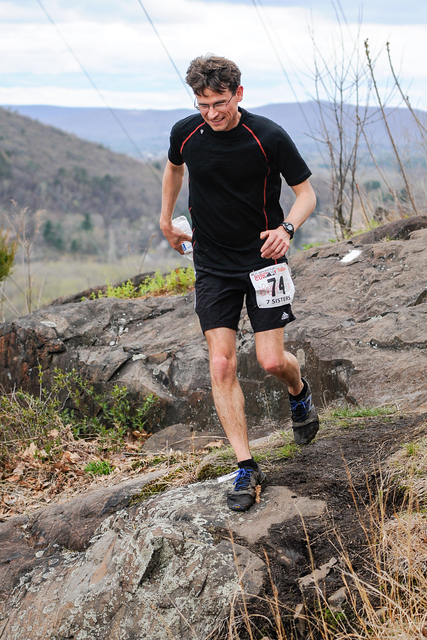 The course has been historically notorious for being a hard run to do your best in because it's steep, tight single-track the entire way making passing difficult. This has lead to long trains of people all stuck moving at someone else's pace. This year runners were released in waves to alleviate the problem. I lied my way into the first wave (they requested runners' previous finishing times and I have no history).
I was wearing my New Balance Minimus MT00 shoes. They were in pretty rough shape to begin with. A tear across the top of both shoes a few inches behind my toes allows the front of the shoe to flop down when it catches on a rock leaving the front half of my foot completely exposed, with the bottom of the shoe flopping around underfoot. The solution has been to bend down and fix it when it happens. This method didn't work so well for this race, which I'll get into more later.
Everyone waited calmly until the race started. When the start was announced, we funneled into the narrow trail. The only flat part of the course occurs during the first few hundred yards where one runner tripped on a root and hit the ground hard. Everyone leaped over and around her and started the long first ascent. At this point most people around me were running as best they could (as opposed to walking, which would soon become the norm for a lot of the uphills). For the first few miles, we were all huffing and puffing and pushing hard. Too hard. I was passing people, foolishly working my way closer to the front.
The trail is absolutely beautiful. I can't imagine a more wonderful place for a *hike*. For a run on the other hand, the word wonderful doesn't quite fit. The trail is made of giant jagged rocks. Basalt so they claim. Most of the footfalls dance from sharp rock to sharp rock. On the gravelly sections in between, big gnarly rocks are everywhere, pointing ominously at your teeth. Tripping anywhere could be disastrous. And yet we're all running as fast as we can, scrambling up little cliff faces and bombing down hills.
As I'm galloping down one hill, the front of my sneaker touches a rock and my toes flop out. I bend down and flop it back on. It happens again. And again. I start to worry that this is going to ruin the race. The bottom of the shoe flopping around might catch on something and cause a major face plant. But I'm getting sick of fixing it every couple of minutes. So for a while I leave it hanging, but that plan doesn't last long. RIP! RIP! RIP! The problem gets worse and worse, it turns out that without my toe in the shoe holding it all together, the shoe tears away more and more from the sole until there is next to nothing holding the sole to my foot. Now I'm committed to bending over every time it comes loose. And it's coming loose more often because the shoes are both in tatters. Here is what I ran in for most of the race: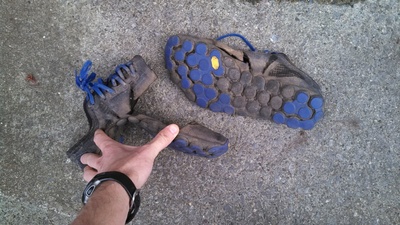 I'm on a slick descent and a shoe comes loose. I bend over and fix it quickly, but two steps later I lose my footing and take a scary sliding header down the cliffy trail, but recover quickly with nothing more than some desperate cries outloud. Luckily nobody is close enough to take much notice, saving me from an embarrasing "I'm ok just took a little spill that's all!".
The run continues like this. Steep long up, steep long down, repeat 14 times. Food and drinks await at the turnaround at the halfway point. I grab a quick Gatorade and head back up the hill. Within 2 minutes of leaving the food behind I think to myself, "boy am I hungry. I could sure use some food right now". Doh! Maybe I shouldn't have been quite so hasty at the turnaround point. Before long my stomach starts actively growling in hunger, while my legs exhaust the last of their dwindling energy on the uphills. here's nothing I can do about it now. The quickest cure for all of my problems is to keep running.
The runner who finished directly ahead of me said at one point the runner in front of him slipped and went flying off a cliff. He stopped to find the runner hanging from a sapling, so he held out a hand and pulled the guy up. Everyone was fine and kept on running.
Another runner was limping along using a stick as a crutch after having broken or sprained his ankle. This could have been any one of us at any second of the race. Yet that's what makes it so exhilarating to run. Intense focus is needed with every footstep, nothing comes easy.
Peak after peak after peak I think to myself, "is this the last one and it's all downhill from here?". Eventually the final peak comes. I'm feeling quite content to mosey down to the finish. But someone comes up from behind and hauls ass down the steep hill. I watch in awe. "Wow he's going fast. Why... Don't... I?" Screw it, I speed up significantly, enough to maintain the distance that separates us. It's incredibly energizing to amputate the blerch in my head and just go.
We dash along the last few hundred yards of flat to the finish. We made it! As soon as I stop, a shivering chill hits the air. I desperately need food (first) and some warm clothes. I grab a nutella-covered bagel, some peanut butter-covered pretzels, warm clothes and return to the finish to cheer on my friends.
I headed out today for a morning kayak of the Anthony Kill and took some video of the course:
Pre-Race
As soon as we were allowed to approach our corrals, I started jogging along, afraid I was going to miss my spot. At first I was one of the few joggers, but eventually we caught up to the masses where everyone was hurrying along. Or warming up. I'm not quite sure which.
Just before reaching the corrals I came across a huge port-a-potty lot with hundreds of stalls and NO PEOPLE. My heart lifted with excitement. Hundreds of port-a-potties and they're ALL MINE! I ran up to the first one, but the red indicator on the front told me it was occupied. So was the next. And the next. I jogged past 50 of these things and they were all occupied. For a minute I thought I was in a pre-race anxiety nightmare. But eventually I reached an available one.
After taking care of business I headed to my corral. I looked around at the people I was competing with, and oh, my god did they look like serious runners, every last one of them. Traveling light, none of them had anything but shoes, socks, shorts, and a tank top. I felt out of place with my fanny pack (it carried my phone so I could find people at the finish line). I decided at that point that whatever everyone else did, I was going to do. Nobody warmed up. Nobody stretched. Everybody sat down on the pavement. And so did I. But my bony butt can't handle sitting on the pavement so I stood up. And I stretched and jogged in place a little. Then the elite runners paraded past the corrals. First the women, then the men. Everyone jumped up and ran over to check 'em out and cheer.
I ran through my race plan in my head. I wore my Timex IronMan watch on my left hand, and a pace bracelet on my right. The pace bracelet displays my planned pace, and my expected time at every mile split. While researching the course, I read recommendations to run slower early in the race, faster later in the race, faster on the downhills, and faster during the long middle flat section. As complicated as it sounds, it all seemed to add up to roughly running a steady pace throughout. My planned pace was 6:15.
The Race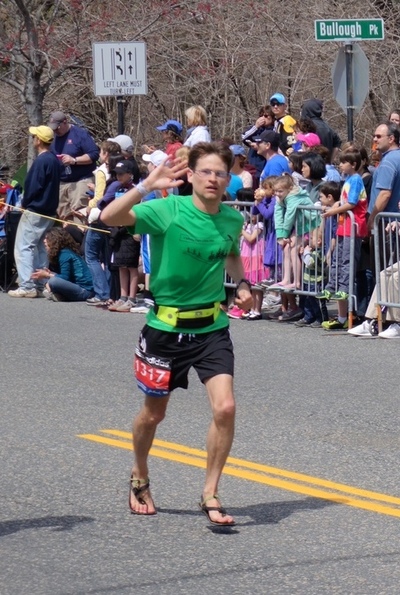 The starting gun went off, and my corral quickly worked it's way to the starting line then ran as a mass at a good clip. For the first mile, we ran along at 6:15, my target pace. Once I had some freedom to move, I started passing people slowly. I was feeling really good, it felt like a pace I could keep up for a while so I stuck with it. However, at around mile 6, something unexpected happened. I had been running along confident that I was banking 15 seconds at every mile. A fellow minimalist runner in Vibram Five Fingers hovered next to me and told me he was shooting to finish the race in 2:48 or so. We were on pace to run 2:40 or less! I chuckled to myself thinking, "he's going way too fast". However a short bit later I looked down at my watch and compared it to my pace bracelet to find that *I* was behind by several minutes! Maybe he was exactly on target, and I'm falling behind! Agh! What is happening?!? When I'm running a race I completely lose the ability to do any kind of simple math, and finally I concluded that I was, in fact, way behind schedule. So I sped up. For 3 miles I averaged a 5:50 pace before correcting my situation. It turns out I had done something goofy like maybe hit my lap timer after seeing a kilometer sign instead of a mile sign. My watch was screwy, I had been going too fast, and now I'm going even faster. After realizing my mistake, I returned to my still-too-fast 6:00 pace.
Why am I going 15 seconds faster than my goal pace? You know what? I just felt awesome. I believed in the impossible. I was running along comfortably, so why slow down? When I reached the halfway point at 13.1 miles, I noticed my time was 1:18:50. My fastest half marathon is 1:18:01, so I was going pretty darned close to my fastest half marathon pace. That's when I realized I was going way too fast and was going to pay for my mistake. But I held on, and continued my 6-minute pace all the way to the famed Newton Hills at which point I slowed to a 6:30 pace, which seems pretty reasonable for the uphills. However, my physical state was steadily declining. My calves occasionally cramped. My hands started going numb. I worried I was going to pass out. I had banked several minutes during the first 16 miles. Not a good idea mind you, but I knew that slowing down a little was going to be way better at this point than bombing out completely. By the time I was really suffering, I only had six miles left to go. Surely I could hang on for that long.
Just then, I spotted M and her crew cheering me on. I turned to M and opened my mouth to announce my limitless love and joy at seeing her, run over and give her a huge hug! What came out of my mouth was a miserable-sounding, "BLEEEAAAARGHHHHH!" while my legs just kept instinctively moving forward as if a small change in direction would lead to complete collapse. So no hug.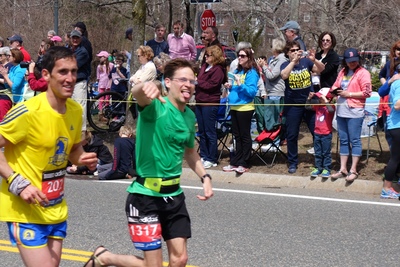 The uphills were not bad at all. In fact it felt refreshing to slow down and chug up them. The last 6 miles are all downhill. I had it in my head that once I reached the top of Heartbreak Hill it was all going to be smooth sailing. It was anything but. My pace was slower on the final descent than during the uphills. With each mile I lost a little speed. My final mile was the slowest at 7 minutes. Not bad at all under the circumstances.
The last mile or two of the race take you through downtown Boston. Grandstands were set up along either side of the course filled will screaming people. It felt like entering a huge arena, a national stage, where I am part of the main event. At mile 26, amongst a deafening roar of cheering, I clearly heard a yell of "STOOOOOOKEEEEEY!!!" and looked to my right where my eyes landed squarely on my friend J with his hand cupped around his mouth, mid-"STOOOOOOOKEEEEEEY!!!!". I flapped my arms and gave him my best look of excitement, and felt a renewed spirit for the final .2 miles.
I stopped my watch as I crossed the finish line. With blurred vision I checked out my time: 2:43:45. I blinked once or twice. That number sounds familiar. I looked at my target finishing time on my other hand: 2:43:45. I couldn't believe it. By sheer coincidence, or twist of fate, through the fast miles and the slow miles, it all evened itself out so that I hit my goal to the exact second. I did it!!!
Recovery
I was in rough shape after crossing the finish line. Barely able to hobble, unable to lift my legs more than an inch or two. Fortunately, a lot of walking was necessary which helps to keep from tightening up too much. I wandered around eating bananas and chugging water. After a half hour or so I actually felt reasonably ok. Sore and tired of course, but able to walk. M, J, M, and I met up for lunch where I had a veggie burger, beer, and water. We sat at a tall table with bar stools which allowed me to stand up some of the time and stretch. My leg muscles didn't tighten up, instead they were a soggy mess and sore, with an almost bruised feeling. Particularly my quads, calves and more than anything else my lower calves. Over the next two days they tightened up while I did occasional light walking, stretching, and spinning on a stationary bike. On the third day I went for a 4 mile jog. For the jog I was a little tight, sore, and gingerly, but it made me very optimistic that I would not have much longer to recover. As of day 4, I have not experienced any kind of joint pain or pulled muscles (knock on wood) which were my main concerns. I had a sore knee that put me somewhat out of commission for a couple of months after the last marathon where I really pushed it. So far this has been a really successful recovery.
Yesterday I did an hour+ of yoga with some massage. Oh, and maybe got a little ahead of myself and made plans for a tough 15k trail run for today at Moreau Lake State Park. Yesterday evening, my left calf felt really sore. Not sure if it's from anxiety for the upcoming run, or if I stretched a little too far yesterday. Perhaps the massage brought something to the surface that had been lying in wait. Or it could be just a delayed reaction to the whole marathon thing. Today's run will definitely let me know where things stand based on whether I loosen up during the run or not.
This spring, we were hit with a triple dose of river-filling events, all coming together for one spectacular day at the 2014 Tenandeho White Water Derby. The two lakes feeding the Anthony Kill have an extremely thick layer of ice and a covering of snow after a long and cold winter without any warm spells. Then a week before the race we were hit with extraordinarily heavy rains. With the warm weather beginning to melt the ice and snow, the water level was extremely high making for some tremendous waves along much of the course. And COLD water.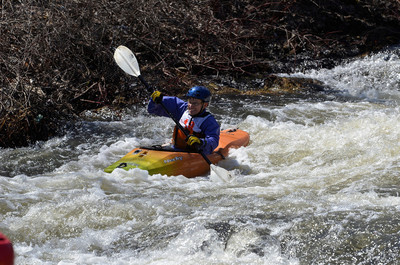 The race course starts out with a swift but calm trip from just below Round Lake towards Mechanicville and builds in intensity all the way to the end where intense rapids drop boaters into the Hudson River. Early in the course I hit a turn with a set of rapids that pushed me up against a rock wall and I barely managed to stay vertical. After these first rapids, I passed capsized boats all along the course. By the time I finished the race, I had seen at least 8 capsized boats, their captains nowhere to be seen. I was the 19th boater to start and I passed a few contestants along the way, so this means more than half of the boats ended up upside-down.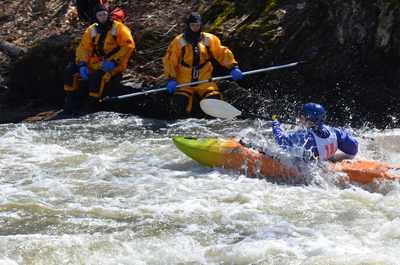 These first rapids were a real wake up call. With half the boaters out of the running, racing no longer seemed important. Surviving was the name of this game. During the second half of the race, the river meanders through tough rapids in Mechanicville. The river goes under trestles, through tunnels, under roads, and eventually into a concrete maze before dropping into the Hudson. The whole while, holding on for dear life, huge crowds of people yell from both sides and all along bridges directly overhead. At first the excited yells from the crowd are uplifting, but with the audible disappointment upon surviving a set of terrifying rapids comes a stark realization. To the fans, the river is the home team, and I am the away team. With everyone rooting against me, it feels like I'm on my own. Except of course for the rescue team lining the shores.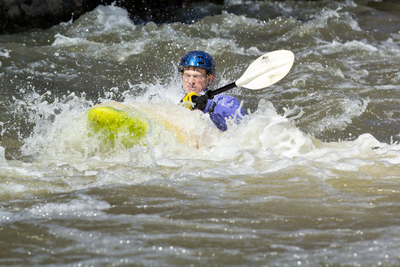 While getting tossed around like debris caught in the surf, paddling like I've never paddled before in my life, three things keep me from pulling over and quitting at the next stop. Firstly I'm so focused on not falling into the water, it leaves little time to think about safe places to pull over. Secondly I know M is watching and waiting for me at the finish, it would be a shame to leave her hanging after spending the day anxiously awaiting my arrival. The other is that there is a huge rescue team ready to pull me out if I get into trouble. If there was ever a time to "see what happens" with the water level so high, this is the day to do it.
By the time I reached the long set of rapids at the end of the race, my arms were completely spent. The only thing keeping them moving was adrenaline supplied by a healthy fear of death. I was yelling at the top of my lungs through the final rapids as though the sounds of my screams would fuel my arms for just a few more much needed paddle strokes. With a facefull of water I crashed through the final set of waves and found myself in the relative calm of the Hudson River. I blinked my eyes a few times and looked to see not only M watching from the side, but a good friend had finished the race and was safely on shore! We're all alive, we made it! That was a close one.
Comparison of Tenandeho Water Levels
Click on the photos for high-resolution images:
Video of the course taken a month later, when the water level was much lower
As anyone who has ever been asked to create a random pattern will tell you, there is no such thing. It's an oxymoron. Given a pile of bricks with two different colors, it is often desirable to build a wall in such a way as to avoid creating a distinct pattern. Building such a wall can be a frustrating endeavor. As you lay down bricks randomly, order appears before you. Lines, squares, circles, all of which make the pattern seem "not random enough". But it's like flipping a coin: sometimes you will flip a coin 5 times in a row. Patterns and shapes occur naturally. And when they do, you might decide to tear down the wall and try again. At which point order has been created, not randomness. At first your goal is to create the perfect random pattern so that when you step back and stare, nothing stands out as ordered. But over time as you create more of these walls, you can't help but look for ways to leave your mark. A mentor once explained, "you want to leave something behind that an inquisitive child would notice". Make a circle. Make a Mario. Over time an individual develops all sorts of clever ways to leave a personal touch. The flaws in the random pattern become magic.
At Albany International Airport random patterns of two-colored brick abound.
If you look closely with the eye of an inquisitive child, there may be magic hiding in those bricks.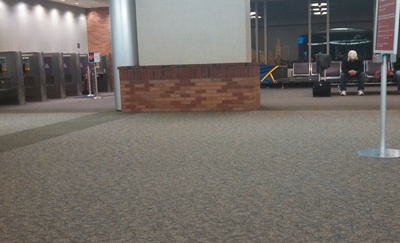 Was this an uninhibited random pattern that by coincidence seems to spell out RGS? Or are those the initials of an unscrupulous Albany bricklayer?
Day 1
I joined some friends for Utica's Thanksgiving Run for Hunger 5k race. The run is very close to my parents' house where I would be feasting later in the day. I struggled to decide which footwear to run in. The temperature was 19 degrees with snow, ice, and road salt covering the ground and clouds blocking the sun. I am comfortable running barefoot in 20 degree sunny weather on pavement, and running for a bit through snow has not been a problem. So I decided to run barefoot despite the fact that it was a little outside of my comfort zone in several ways. The plan was to run the race in 20 minutes and scurry back to a warm place in case my feet got cold. How cold could my feet get in 20 minutes? As it turns out they could get pretty cold and freeze solid in just 20 minutes.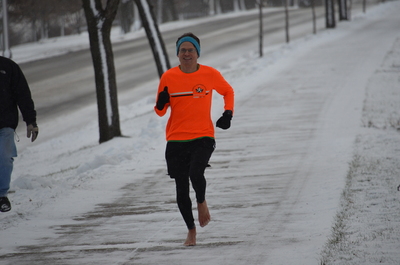 I took my shoes off and jogged in place for 3 or 4 minutes before the race started. We took our marks, got set, and went. A group of us in the front discussed where we were heading. "Up to The Eagle, just like the Boilermaker developmental runs". We headed into the golf course up the steep hill. The road was icy but plowed. After a right turn near the top of the hill the road was no longer plowed. Running along tire tracks was the only way to avoid running through several inches of chunky snow. It was quite a bit colder with a howling wind near The Eagle, the large statue looming over the top of Val Bialis Ski Resort. As I reached the turn-around point, a race official yelled, "slow down I gotta get a picture of this!".
On my way back down the long steep hill, I zig-zagged through crowds of people running up. In all my barefoot running I had never before heard comments like what I was hearing now. Nearly every comment included an f-bomb, so things like "omg wtf" were coming at me at regular intervals.
My adrenaline was pumping from the excitement of the race. My feet felt cold for a bit, then I suspect they went numb and so I didn't notice anything unusual. I was all alone as I approached the bottom of the hill. I noticed that the sound of my feet touching the road no longer had the usual barefoot soft and silent quality to it. Each footfall produced a sound like hard plastic hitting the pavement. There wasn't much I could do about it at this point besides finish the race, so I made a mental note and ran towards the finish line.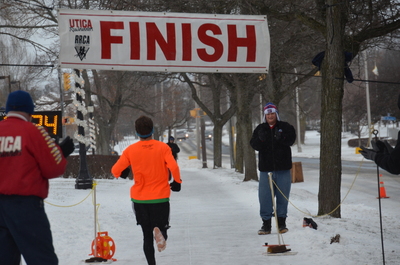 After finishing the race, I grabbed my shoes. I was distracted with conversation with other runners and family so it took me a while to notice that my feet were completely numb making it nearly impossible to put them into shoes. My dad walked up and made the comment, "looks like frostbite to me".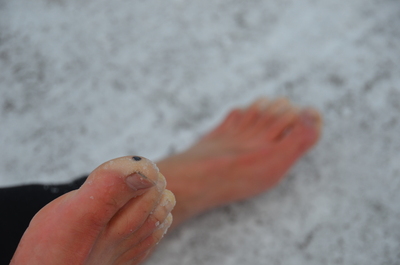 That's when the gravity of the situation hit me. I tuned everyone out and crammed my dead white rock solid toes into socks and shoes and ran indoors. I put my feet next to a heater (which apparently is a huge frostbite no-no, I should have soaked them in 105-degree water instead) and tried to warm them up. After a while with surprisingly little progress, I put my shoes back on and scurried to my parents house where I warmed them up some more by a heater. It took 30 minutes or so for them to warm and soften up, much longer than I expected. Once thawed, I felt a growing sensation of burning. This feeling continued to get worse and worse until I was writhing around in pain. My wife suggested going to Urgent Care. I quickly agreed. During the short car ride, I hit a solid 10 on the pain scale, crying and all: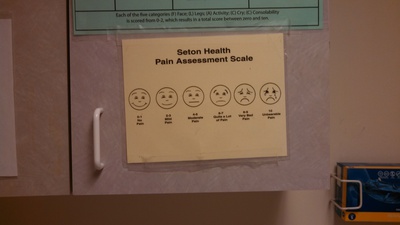 Urgent care was closed for Thanksgiving, so we went to the emergency room. As soon as I entered the hospital, the pain went away and things were looking up. A doctor reamed me out pretty harshly after which a nurse told me the doctor was crazy and I was going to have a full recovery. I went home with a prescription for pain medications and antibiotics, but otherwise my feet had their color back and looked normal, so I expected everything was going to be fine.
We enjoyed a wonderful Thanksgiving meal and had lots to give thanks for. At the end of the evening I went to change my socks so I could put shoes on for the ride home. Upon removing my socks, I let out a huge gasp. I was not counting on the giant inner-tube blisters surrounding most of my toes. I quickly put them into socks and shoes and we drove home.
Here's what they looked like later that evening. Blisters yes, but the undersides of my feet looked perfectly fine:
Day 5
The condition is slowly progressing. After a long day of sitting at a desk my toes feel dead, but after spinning on an exercise bike for 25 minutes they feel great. It seems like moving really brings circulation and life back.
The tops of all toes feel basically perfect except of course where the big blister is. The tips of all toes are a little numb but actually seem to have some direct sensitivity to light touch. The rest of the foot besides the toes is totally fine. The pinkie toes are a little dry and beat up but otherwise feel normal. The middle toes are slightly numb and tingly along the bottom with hardened toe pads, and the worst fourth toe is hard and most of the surface tissue has turned soft with with a ghostly white color. The big toe seems totally fine except for a bit of white flesh where the fourth toe was touching the big toe.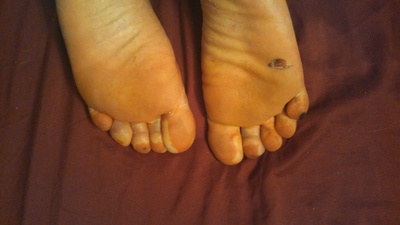 A woman with a condition similar to mine blogged about her experience with frostbite. It's hard to say but hers is probably worse because she had some dark blue areas on her big toe after her feet stayed frozen for several hours. I hope that following her story gives me sort of a worst-case scenario for myself (and her story really doesn't sound too bad):
http://arcticglass.blogspot.com/2009/03/frostbite.html
http://arcticglass.blogspot.com/2009/03/new-skin.html
Day 6
After spending countless hours fruitlessly searching Google to try and find out if I was going to survive, I realized that I had no idea what I was looking at. The blisters on the tops of my toes didn't seem like a big deal, but I started panicking that the ghastly white zombie flesh on the bottoms of my toes was gangrenous necrotic flesh which sounded pretty scary. (Turns out they were pretty much just blisters, they looked different largely because the foot is tougher on the bottom). I made the trip to Urgent Care to talk to a Doctor. Doc pulled rubber gloves on his hands, reached out to inspect my feet, and just before touching them said, "uhhhhm this looks bad, I don't like this. We're going to get you set up with a surgeon to take a look, I don't want you losing toes on my watch. I've never seen frostbite this bad before." A few minutes later, I had a new appointment scheduled at a plastic surgery place for later that day.
At the plastic surgeon's I was placed in a small room. In it was a small table with a shot glass of disinfectant, a medical paper towel, small scissors, and tweezers. I was expecting a discussion to possibly schedule a time to take action. Instead the doctor immediately grabbed tools and got to work. She said she doesn't usually use any pain killers for this type of debridement. The assistant asked if I would be able to watch. I said, "I don't know." I can definitely be squeamish at times, but watching I felt no attachment to the awful dead stuff she was pulling, tearing, and snipping away. She might has well have been working in paper mache. Occasionally I'd let her know when something hurt a little because that meant she was getting close to healthy skin.
To her my condition might as well have been toenails that needed clipping. She said I'll recover fully. About a week for the skin to grow back, then another 2 weeks or so for most everything else to return to normal. The assistant bandaged me up and I headed home. I asked if it would be good if I removed the bandages while I slept to allow some airflow. She said no, right now what they need is to remain moist. The blisters were providing the moisture, and for now it will come from antibiotic ointment and bandages.
As soon as I got home I did some bandage readjustment to try and guarantee as much circulation as possible. It takes very little for them to feel like they have fallen asleep. While the bandages were off, I snapped a few pictures.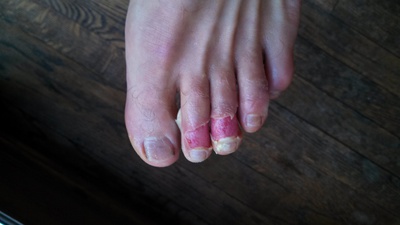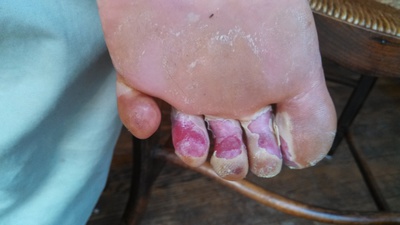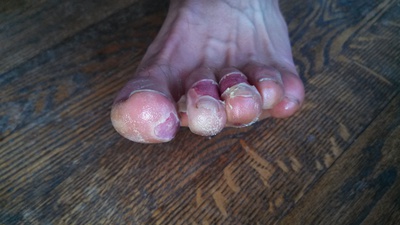 Day 7
I haven't been getting out much at all. The slightest bit of pressure stops blood circulation in my toes after which they feel awful: asleep or dead.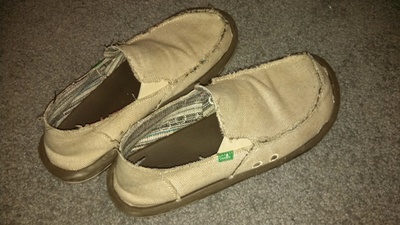 In shoes I walk around like I'm crippled. In socks I can walk around like perfectly normal. So I went on a mission to find a pair of shoes so I can walk outside again. I hobbled around 10 different stores getting increasingly frustrated until I finally tried on a pair of weird rag shoes. As soon as I put them on and started moving, I couldn't help but break into a run right there in the shoe store. They are perfect for loosely bandaged feet. When I got home I walked and ran around the block a few times and felt great. The next day it was more like 4 miles. I could get used to this.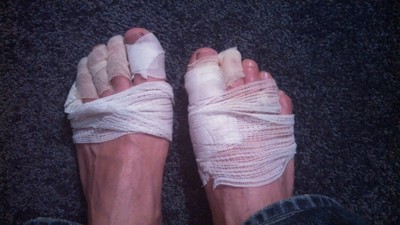 Day 8
While my toes have some feeling, there is still a fair amount of numbness. Keeping circulation going is tough. After sitting at a desk for 7 hours or so they feel dead. A few minutes of spinning on an exercise bike has worked well, and more recently going for a run with my new shoes in 40-degree weather helps get them warm and circulating. Some of the skin that I haven't lost, particularly on the tips of my toes is thick and half-dead. I expect to shed some of that skin slowly over the next few weeks. The skin under the blisters is healing really well.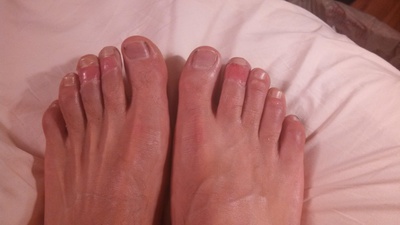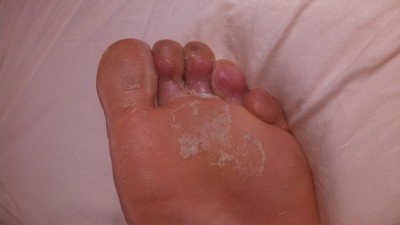 Day 13
Today almost all of the thick dead skin peeled away leaving behind fairly normal looking toes. This feels like a huge step towards full recovery. They still have a way to go before they will feel 100% normal, but at least they look ok.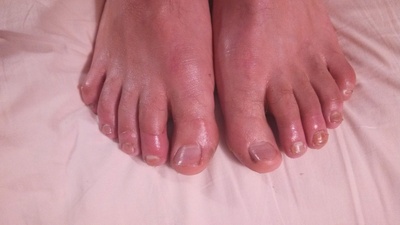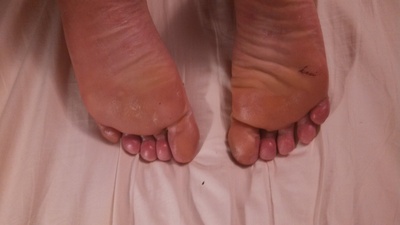 Day 16
I have been running for the past week. A week ago I managed to eke out 13 miles by going out on 3 separate runs throughout the day. I had to return to the house regularly to warm up my toes. It's not so much that they got too cold, but they have been very sensitive and I can't gauge how cold they are by feel. Also it has been a struggle to comfortably wear shoes. Apart from that running hasn't been problem. A few days ago my feet felt too cold while running in 20 degree weather, but today I was able to run 6 miles in 10 degrees with reasonably comfortable toes. Tomorrow I'm hoping to run 15. I prepared before-hand with a warm shower and some time on the exercise bike to get the blood flowing. Oh, and I wore regular shoes for several hours this evening which is a first. I still need to be careful, I'm keeping them moist with Vaseline twice a day, but they are improving every day and it's not much to deal with at this point. I feel incredibly lucky that within just two short weeks most of the damage has been reversed.
Day 28
Both feet are back to 96%. Old dead skin continues to peel away and needs to be snipped away every few days. The tips of my toes have only remnants of numbness. They feel much more normal and are not significantly sensitive to the cold like they were. As of only very recently, wearing regular shoes is comfortable again.
Day 80
Since my last post, my feet and toes have been almost perfectly normal except for a few minor things. My toes have often been unusually red. And as of the last week or two, my toenails have started falling off. 3 toenails down, and I expect at least one more to come off eventually. They also seem to get cold easily when they are completely exposed.
Links
* Another barefoot runner's frostbite story here, continued here.
* And another