An old friend, "S", who recently returned to the area of my home town and I have been trying to meet up for an outdoor activity. I get the text: "I know this is last minute but: cross-country skiing tomorrow?"
I was initially torn. On the one hand I've been really dying to hang out with this good old friend. On the other I'm still not myself these days after getting COVID in May when it comes to engaging in activities. Also I got a vasectomy last weekend and it happens to be the first day that the doctor's ban on strenuous activities has been lifted. I have been good and haven't really been testing out aggressive activities, so I have no idea if skiing will be totally fine, or it could be a bad idea.
I respond, "Sure, I'd love to! I will need to take it pretty easy".
The next morning I wake up and get my stuff ready and S sends me a text that it's currently -24°F where we are headed. This season has been like 30 degrees pretty much all winter long so there hasn't been any opportunity to get used to spending time in this type of cold. I respond without suggesting bailing, nor that we should stick with the plan: "Crikey that's chilly!".
S responds: "We'll get huffing and puffing and it'll be good".
"Sounds good".
This is fairly standard practice in the lead-up to any challenging activity. There's always some reluctance to get started. A certain amount of bluffing is what gets you through any moments of hesitancy.
I load up the car and at -12°F it really doesn't feel as cold as it sounds. There is no wind and humidity is low. I put in contacts and hit the road and in a little over an hour arrive at the trailhead.
S brings a friend along named "A", this will be his first time trying out cross country skiing.
Upon hitting the trail, I think we're all like, "holy smokes". The trail is pretty gnarly. We are climbing up relatively steep terrain. It's manageable, but makes one nervous about the idea of coming back down on the return trip. Thankfully it levels out a little bit.
The trail is still gnarly. But it's no longer steep. Instead it undulates. There is plenty of perfectly textured snow and the woods are open such that you can ski wherever you like, not being tethered to the trail itself. It's never fast and smooth, but is perfectly suited to skill building.
After several miles of this, including several good stretches of glorious skiing, most of the nervousness dissipates and it starts to become really comfortable and fun.
It turns out A is an avid forager and has a lot to teach and share about foraging. S points to a burl on a tree and asks about chaga. We gather around the burl which was a very close resemblence, but may not have been chaga.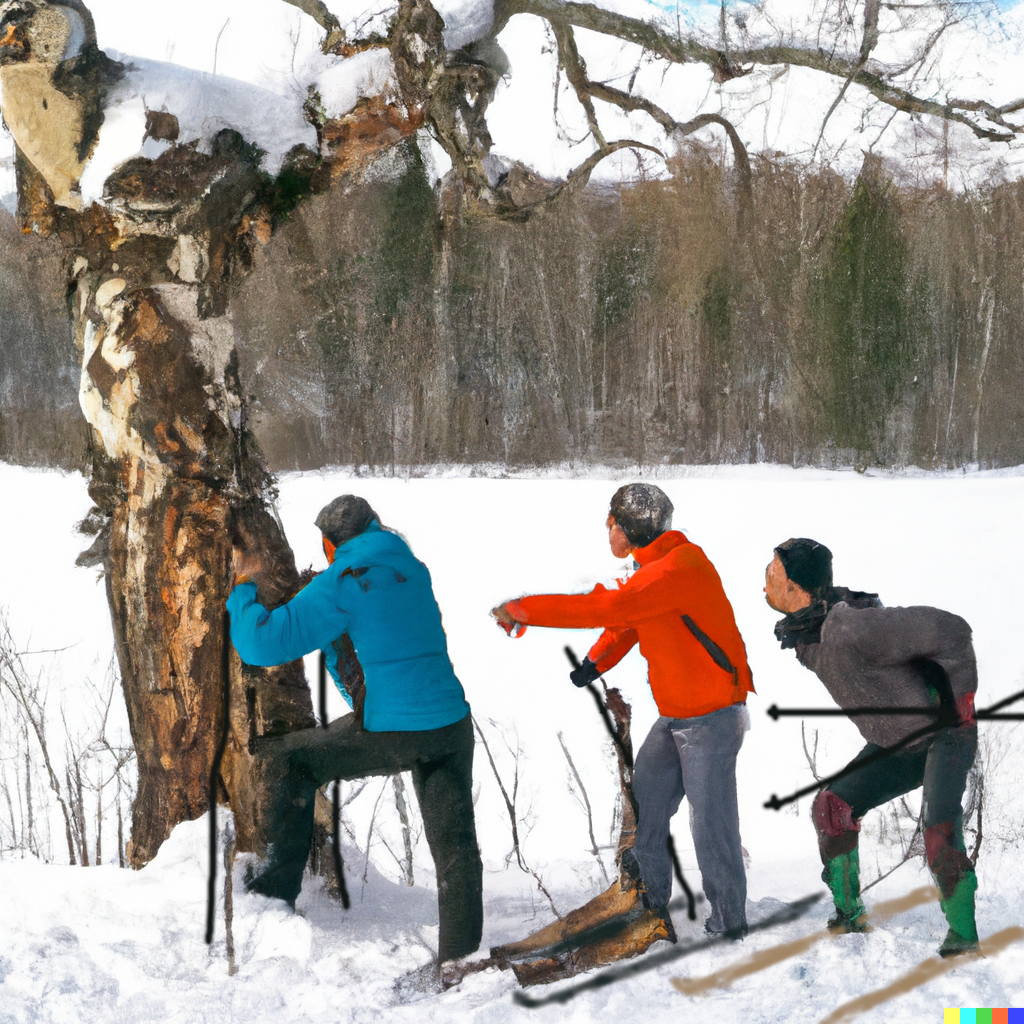 Along the way A identifies several actual chagas. He explains interesting facts like how the chaga we look for isn't the actual mushroom, its more of a storehouse for the mushroom. The mushrooms grow but *very* rarely, so much so that even photos are hard to find.
I'm amazed at how well my old garage-sale skis are handling the conditions. They have metal edges but are very light and agile. It's like wearing sneakers except with all kinds of strange capabilities like sliding, bridging gaps between logs, and using the metal edge to confidently stay upright while skiing down off-camber slopes.
Skiing through the untracked open woods feels just like the best kind of downhill glade skiing through powder, albeit at a much slower self-powered pace. This combination of difficult terrain, perfect snow conditions, the right skis for the job, and good company are making this so much fun!
I have a bit of a curfew, so after a few miles we turn back. In some spots it makes for a speedy return, following our tracks back. In others we're struggling to climb up or descend steep sections.
We enjoy some ciders in the parking lot, then head into the town of Northville and grab a really incredible lunch at J.F. Farm Store & Cafe, get gas, and head home.