---
My pre-race warm-up run is wet and windy, but I overheated in my light windbreaker. I decide to leave behind the jacket and just run in shorts and a long-sleeved shirt. On my way to the starting line I realize I forgot to apply vaseline to areas that chaffe, my nipples and nuts will pay for that mistake.
The Hyannis marathon involves repeating a 13.1 mile loop two times. During my first loop, packs of half marathoners keep me company. This is the first marathon in five years that I have run with a solid block of training making me feel 100% prepared. I focus entirely on staying relaxed and keeping to my planned pace.
As I near the end of the first lap, I know that M is waiting with a big bag of stuff. I carefully plan exactly what I want to change into. I am in brutal condition and behaving like a caveman as I approach the love of my life repeatedly screaming, "BAG!", "BAG!" while she takes pictures with her phone. "I have your bag right here!". "PUT IT ON THE GROUND AND OPEN IT".
"BROWN SWEATER MITTENS!". M rifles through the bag and hands over everything I need. I trade my shirt for a wool sweater, and my new awful gore-tex gloves for my old trusty cycling wind-breaker mittens. Ahhh the sweater feels good even as it catches the rain. The pit stop takes no more than 30 seconds.
At this point I am a little better equipped but my poor skinny bare legs are suffering. The wind is blasting my face and soaking wet chest. Usually a tailwind provides a pleasant break, but not today. The ice cold wind finds it's way up my wet back and makes me shriek with discomfort. Meanwhile areas of the road are flooding several inches, which serves as my only comfort because the ice water feels strangely warm on my numb feet and legs.
At mile 16 my ambitious plan switches over to my conservative plan. At mile 20 I am unable to keep pace with my conservative plan, and I just can't pick up my frozen legs fast enough. My pace steadily drops mile after mile. I'm losing confidence in my co-ordination and am just trying to avoid falling on my face with my stumbling legs. Meanwhile I'm all alone, running down the middle of the road, with cars driving by at fast speeds. My priorities become: don't fall over, don't get run over, and keep moving forward.
I don't catch up to anyone, and despite my steady decline, no marathoners catch up to me. I am pretty sure I'm in second place, and I never let go of the possibility that #1 is fading worse than I am, that I might catch him towards the end of the race no matter how much I slow down. However he dressed properly and ran a great steady race, completing the race 5 minutes ahead of my goal finishing time, and 15 minutes ahead of my actual finishing time. With 4 miles to go my peripheral vision is flickering but I realize that stopping will only delay my arrival at the finish line so I run along as fast as my legs will let me.
As I approach the finish line, I hear M cheering. M takes a video as I morbidly jog past, not even looking up at her. I cross the finish line and immediately meet up with M and we make our way to the hotel for a hot restorative shower.
The 2018 Stockade-athon in Schenectady went very well, although it highlights aspects of my running that I haven't fully processed.
In my day-to-day living, I have a lot of raw emotion that only gets occasional releases that are carefully governed. I absolutely love competing, I love being able to simply run faster and in doing so unleash my deepest aggression.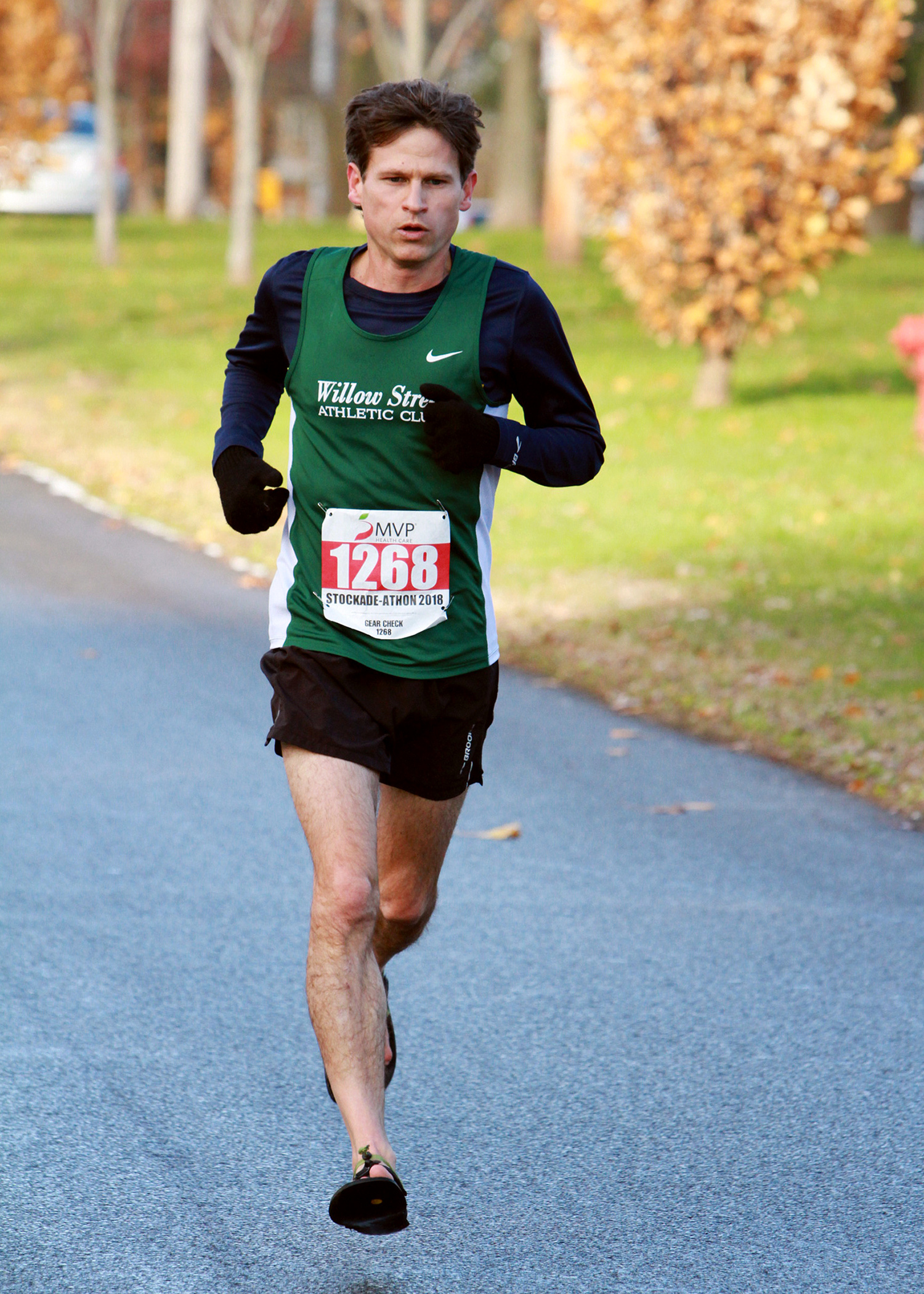 While running there are many opportunities in which the pace you run can be nice and supportive to those around you. On the other hand, pace can be wielded as a weapon with which to crush your opponents. Well you know what? While racing, more often than not my instinct is to crush kill and destroy. At some point I gave myself carte blanche to let that beast out of it's cage during races. I'm not sure there is any safer or more appropriate place to let that out. And it's a bizarre dynamic, to try to crush others by crushing ones self more. The purpose? A race is a vision. I can visualize the event, with competitors I respect, fear even, and rather than shy away, choose to show up and throw down and give it my all. Finishing on top is but one of many possible outcomes. But it's the outcome we are all pushing for. I would be gypped if the competition weren't doing everything they could to destroy me. I owe it to them to do the same.
I felt pretty good before and after the Ghostly Gallop 5k a few weeks ago. For the first time in a year or more I feel like I am able to get some decent training runs in while still feeling good for races. I would love to keep this going. I've had some great races this year, but they have been islands in a sea of aches and pains resulting in poor training. At the Stockade-athon last year, I had to run easy because of the beginning of injury setting in. The year before I woke up before the race with a nasty case of vertigo where I couldn't walk straight and was falling into walls on my way to brushing my teeth. Fortunately the vertigo was mostly gone once the race started, and it turns out that balancing is easier while running at full speed, much like while riding a bike.
The weather is cold today, too cold for barefoot. I arrive with a big bag of clothing to choose from, but at the last minute decide to err on the side of being a little chilly with sandals, shorts, gloves, and a long-sleeved shirt. I have been obsessing over the list of entrants, and am most worried about TVO and KL, two masters runners from nearby counties in Vermont and Massachussets. KL won the masters division at last year's Stockade-athon and TVO is has been a fierce competitor at many of the races I've been running lately.
My plan is to start conservatively. I always try to not get carried away with everyone running too fast at the beginning. A lead pack of runners takes off immediately out of reach. A second ball of runners forms behind them just ahead of me. With the wind in my face and TVO at my side I run a little harder than planned in order to draft along with the pack. We cruise along together for a few miles. As soon as we start settling into a steady rhythm I suddenly have a premonition of running comfortably to the end and then getting outkicked by the competition. Without much speedwork I don't expect to have any extra kick for the end of the race, so it's important that I put in the effort early on and don't wait until the end. TVO is my main concern right now, and my vicious competitive side takes over and increases the pace a little which decreases the comfort level. I think I can keep this up, but now instead of a sure thing a little bit of risk of blow-up has been introduced.
After mile 4, the ball of runners has gotten ahead of me and TVO has fallen back a bit. I'm largely on my own. The runners up ahead are all familiarly faster than me, so as much as I'd love to catch them I don't feel any shame following them to the finish. It's hard to keep as strong an effort when I'm in no-man's land. I don't know my pace since I didn't bring a watch, but I can tell my effort level isn't as much as it might be if there were more nearby runners providing immediate pressure. And it's just as well, an increased effort level could very well break me by the end.
At mile 8 or so we run around a lake where it's easy to look to my left and see if anyone is coming up behind me. I only see one green singlet behind me, a fellow Willow Street teammate. It seems like enough distance separates us that I should be able to hold onto my place, but within a few short minutes BL catches right up to me. We run together through the cemetery, then he blazes off ahead down the final stretch.
I cross the finish line and eagerly watch for other runners. AK finishes in a great time, taking the 2nd place masters spot, followed by TVO and the remaining masters runners. I am thrilled, but can't help but wonder if there are alternatives to the ruthless approach?
At Shmaltz running club tonight, R brought in a giant puffball mushroom. It created a lot of discussion about how one prepares giant puffball mushrooms. In my experience, I have had some less-than-successful attempts at making this large white mass into something delicious. MS provided an endless stream of great recipe ideas, using the mushroom as if it were bread:
- Grilled cheese sandwich
- Pizza
- Croutons
- French Toast
R was kind enough to share, and sliced a portion of the mushroom for me to take home. It was pure white, which makes it good for eating (a little yellow inside would have meant it was too old to eat). I made grilled cheese and pizza.
I preheated the oven to 450 degrees, then sliced a large round of mushroom using a bread knife and browned one side of the mushroom in olive oil and butter in a skillet. I flipped it over, then topped it with sauce, mozzarella cheese, and basil. Here are pictures before and after cooking: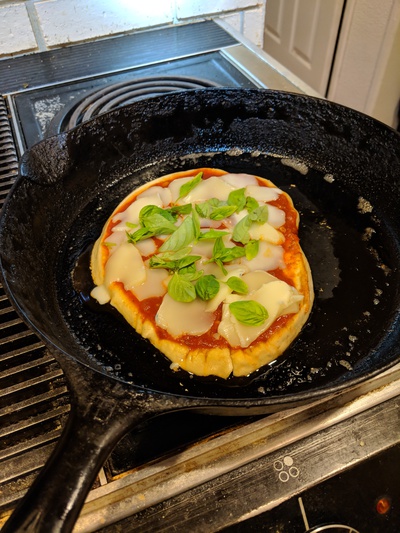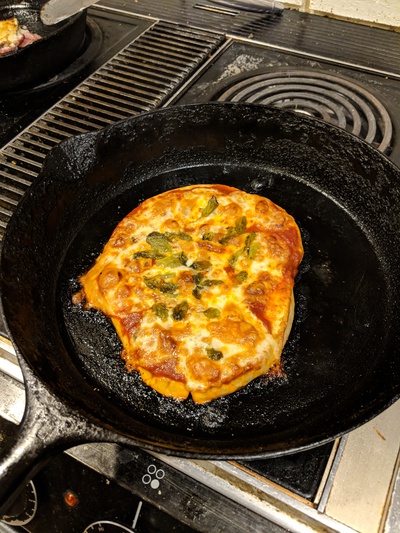 The mushroom had a gooey melted cheese texture, so I had to eat it with a fork and knife, not like a crispy pizza crust. But other than that the pizza was very tasty.
Next I made a grilled cheese sandwich with Oscar's Canadian bacon purchased from Devoe's Orchard.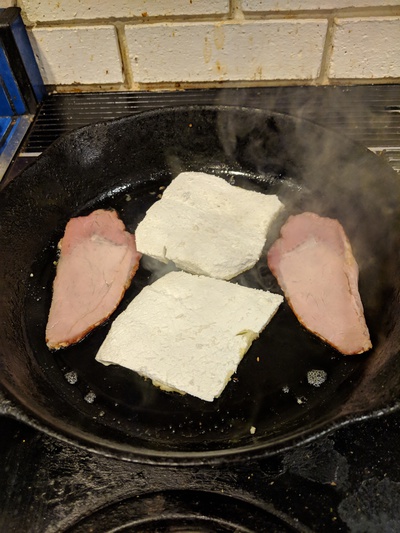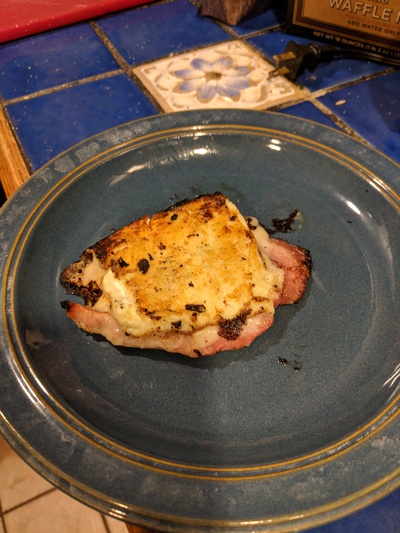 The grilled cheese sandwich was also delicious, although the mushroom slices shrunk more significantly so if I did it again I would have made much larger slices of mushroom bread. Again, the mushroom was gooey, but you could still pick it up and eat it like a sandwich. Yum!
"On your mark! Get set! You there! Get behind the line!" Oops I guess this isn't tennis where anywhere on the line is in bounds. "Go!"
35 runners make their way across the grassy field on the first of two laps around Delaware Park in Buffalo. This race includes only the 40-49 age group. A few days ago I tried running at a fast pace for a mile and had all kinds of problems, so I've already decided not to push too hard at the start of this race. If I'm going to hold it together for 3.1 miles, my best shot is to ease into it. It also helps that TVO ran the 50-59 race a few hours ago and warned me that the course looks simple and flat, but is hillier and rougher than it looks.
A few familiar fast runners take off ahead while I settle into a group of 5 runners. There is a stiff headwind, so I just try to relax and let the group pull me along for the first lap. I had plenty of time during the drive to Buffalo to scrutinize the competition, and I'm pretty sure I'm right in the pack of runners I need to stick with. Someone from the sidelines yells "go Tim" to the guy right in front of me. Sure enough, Tim is one of the dudes I need to watch out for. We both ran a one mile race this year, and he was one second faster.
The course winds its way awkwardly past soccer fields, baseball diamonds, trees, and park benches. Two sacks of dried concrete sit in the center of the marked course. Because I'm in a tight group, avoidance is not an option so I leap over the sacks.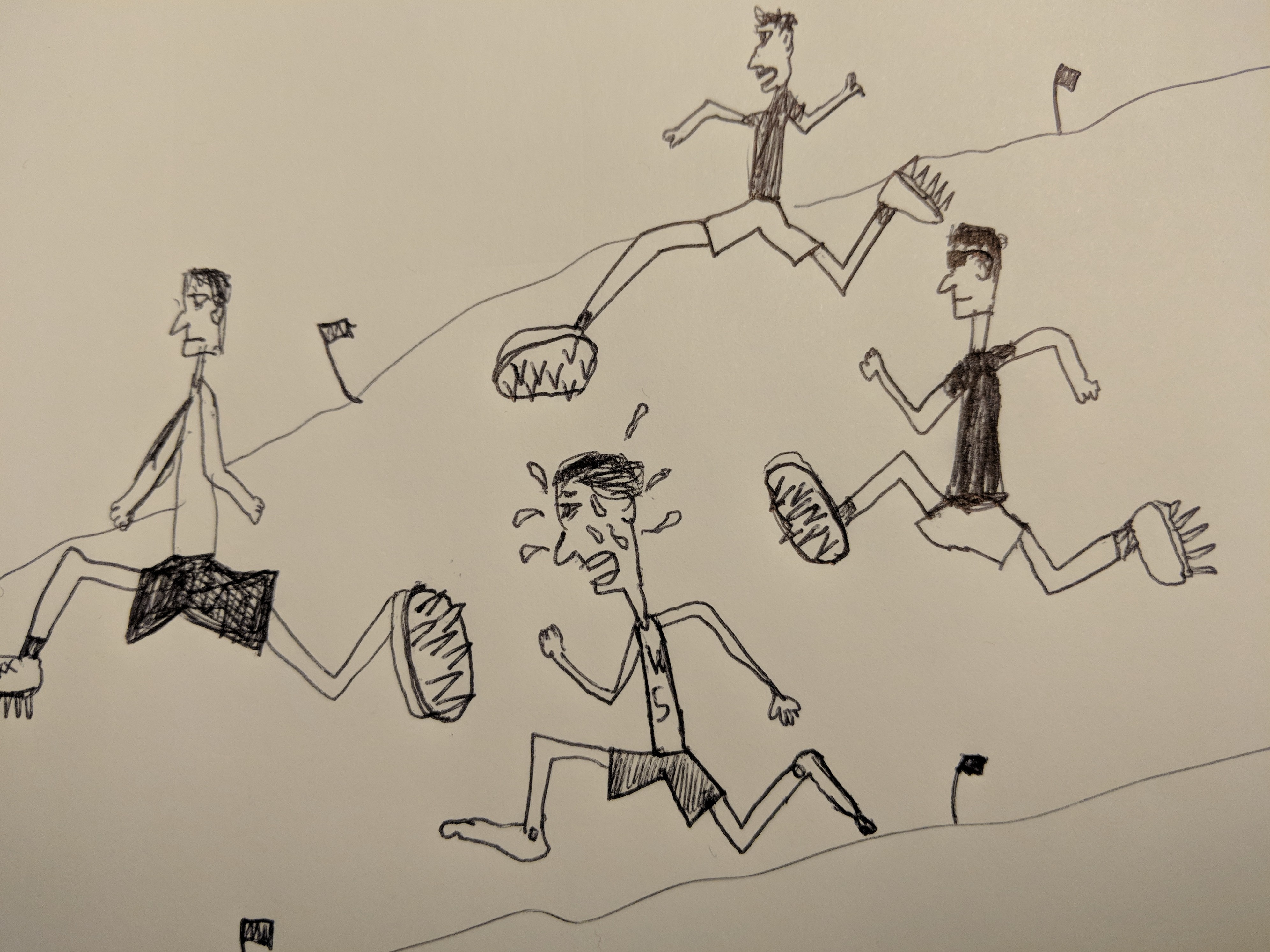 As I run, my eyes are nearly blinded by the sunlight reflecting off the giant metal spikes on all my competitors' shoes surrounding me. The flags marking the course occasionally take us off the grass and onto a bike path surfaced with black quartz. The black rocks look like indian warheads, terrifying in bare feet, but during a warmup run I learned that it feels surprisingly soft as the loose stone presses into the sandy trail. When we run on this ugly surface I feel compelled to run extra fast rather than expose any weakness. It's a little to soon, but once I start running a little faster I keep it up and chase down the next small group of runners.
By the second lap I'm gaining confidence that I can hold onto this pace. Meanwhile some of the runners ahead are blowing up, I can only imagine that they are making the same discoveries that TVO warned me about. Rather than stay too comfortable I keep scooting ahead catching several runners, with one competitor staying nearby. Nearing the end of the second lap I stay in front of him, but in the last two hundred feet he gives a strong kick and puts some good distance between us. Me, I am super psyched to have held it together for this race and don't try to outkick him and end up finishing the race in the same second as him, albeit several feet behind.
It was another fun race, I think it was my first race this year where I felt reasonably good before, during, and after. I'm hopeful that this is the beginning of some decent training and a good running year next year!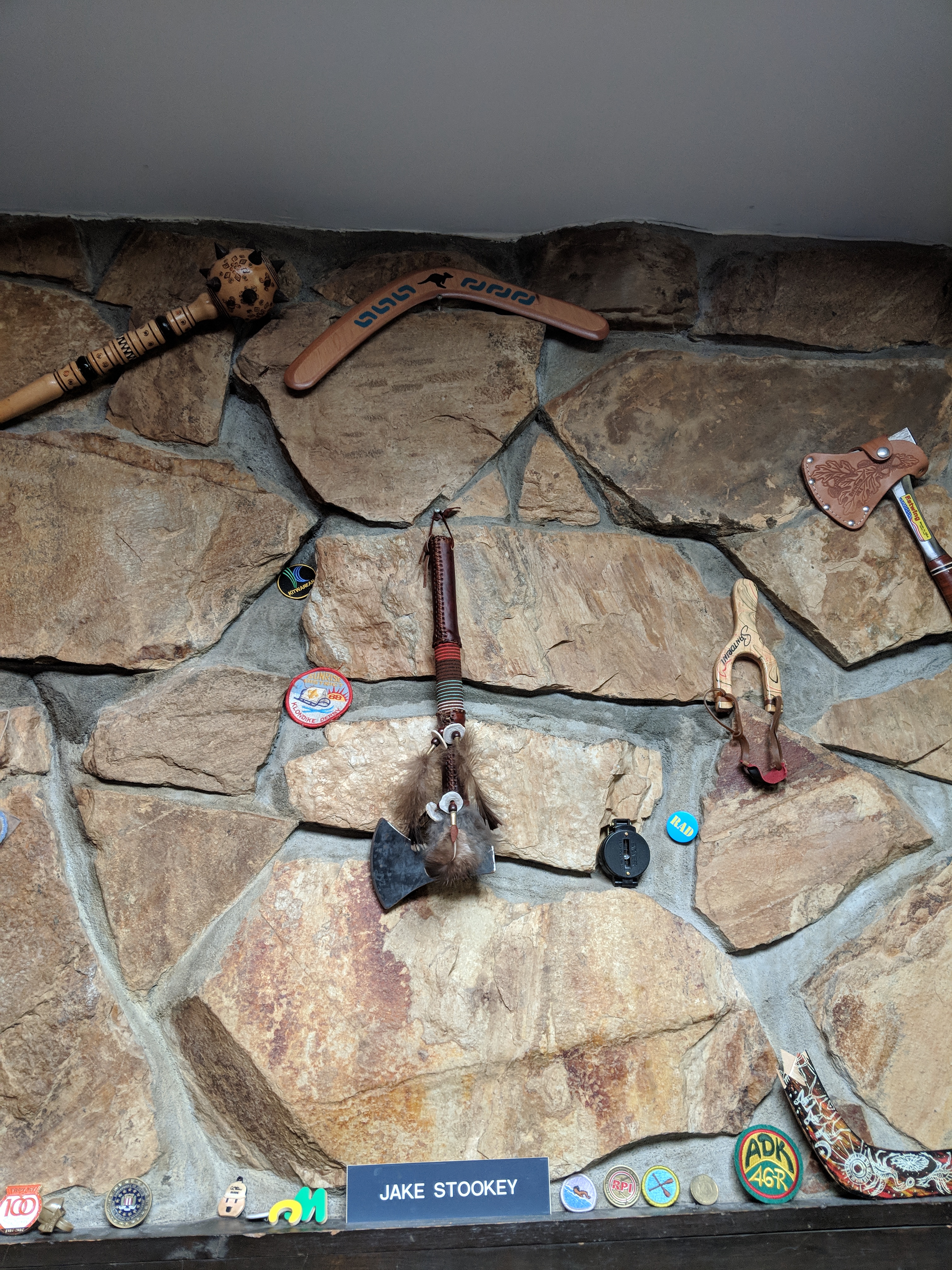 A display of weapons adorns the wall above the mantle at my house. It started when we moved in and we were given a hatchet as a housewarming gift. A screw in the wall above the fireplace begged to have the hatchet hung there. After that, other weapons quickly covered the small square of wall. Next up was a spiked club that found its way into my office when I worked at RPI after it was left behind in an abandoned research lab, likely a gift from one travelling student to another. The exhibit developed so naturally that I never realized it had developed into a 'weapons' theme until someone else pointed it out. Then came the Santorinian slingshot and several boomerangs, mostly broken, including one that my father carved by hand which had died on its maiden voyage. So it's no wonder that I drooled with desire when I first came across the Shawangunk Ridge Trail Run/Hike series of races where the first male and female finisher in each event is awarded a gorgeous Navajo tomahawk. Suddenly I saw nothing but a gaping hole above the mantle where my tomahawk belonged.
That was several years ago. Since then B and T have completed both the 50 mile and 70 mile races, and last year I suffered a glorious meltdown at my first attempt at the 30 miler. This year I would do anything to recover from various aches and pains and had decided to skip the SRT races entirely. A few days before the race in a moment of weakness, I told myself the race is a run/hike (with the emphasis on hike). I can hike 30 miles, and the course is so beautiful that there is no excuse to miss it. So I registered. Meanwhile, B and T are still recovering after running the Leadville 100 mile race several weeks ago so they too are signed up for the 30.
It was great starting the race with memories of many of the intersections where it was easy to take a wrong turn. Several sandalled runners started together in the last wave. The runners in the wave all had similar bib numbers which I'm guessing means that bib numbers are roughly in order of when we registered. Someone asked why all the sandal runners were in the last wave, and we joked that runners wearing sandals are a bunch of procrastinators who wait until the last possible minute to register for races.
T and I ran up the first hill playing leap frog with a group of two runners passing as many of the people in the first few waves as we could. It seemed that the four of us would be in contention for the lead. In my competitive assessment, they are running very strong but I sense a bit of clumsiness on the trail which will take a toll after 30 miles.
The trail was very wet in many places with water running down the trail like a stream. Runners ahead of us were all extremely gracious in letting us run past as we approached. The runners keeping pace were pushing me to go a little bit faster than I had intended but it felt good, as it always does in the early miles of a long race. A few miles in I scooted a little bit ahead and was running alone but I regularly heard conversation close behind me indicating that I was not outpacing anyone.
I ran past a dark cave. A runner with a bib stood deep within the cave looking dazed. I asked him which race he was running. After a long pause he said, "this is a great place to take a video" before eventually understanding my question and responding that he was running the 70 miler. The guy looked like he could use a pacer at that point, someone to tell him to keep focused on moving forward, not deeper into the selfie cave. I passed a few other runners from the 70 mile event. One told me that I was the first 30 miler runner who had come through. Another was wearing Vibram Five Fingers who I had seen last year in the same area. Several of them looked to be in rough shape, having run all night and being 45 miles into the race.
Then things got weird. About 7 miles into the race, there is a steep climb up a cliff. Near the top of the cliff stood a runner looking completely wrecked and out of it. He was just standing on a ledge and told me, "this is my first time running the 30". Could that be possible? Was he really running the 30 and was that wiped out so soon? Did I mishear what he said? Is he a ghost from SRT past? Rather than dwell on it I just kept going. Immediately after summitting the steep rock face is an area with dirt roads and trails heading off in all directions with very little signage indicating which way to go. I followed my nose. This is where all hell broke loose. I'm running along, leading the race as far as I know, when I see the two runners who were contenders plus one more running towards me. We all look at each incredulously. I get lost so easily I just assume I'm the wrong one and turn around and follow them. The group drops their packs and sits down just as I see T up the hill yelling "what are you doing? It's this way!". T has an excellent sense of direction and a GPS watch with the course map telling him when he's off-course. I turn to the other runners and say "it's definitely this way" but they are settled in pretty comfortably and don't make chase. This is the last I see of them until the end of the race.
T and I run together for the next two hours. It's great. We are both having an easy time of it. We get confirmation from the first checkpoint that we are in the lead. We are not overexerting ourselves. We have all the time in the world to plan out how we're going to deal with the competition aspect of the race. At the rate we're going it seems as though we will cross the finish line together if we don't force the issue. Both of us would rather take it easy for now, but eventually we will need to switch into race mode. For me personally, I don't feel like I'm trained for 30 miles. I have about 10 good miles in me and I'm happy to save most of those for the end of the race if I can. Then a small disaster strikes. T's sandal breaks. He gets it patched up but I don't think is 100% after that.
We reach the area where I suffered my meltdown and gave up on the race last year. It was amazing to recognize that it was, in fact, a very difficult part of the race with steep climbs. I couldn't believe how short the section was. In 15 minutes we blazed through an area that took me an hour last year. In retrospect I should have not given in like I did and just persevered.
After a few steep climbs I go on alone, nervous to be navigating in my own unreliable way. The trail is thick with memories from last year. I enjoyed the long stretch where Tom pulled me along after falling apart. My pace oscillates between a harder effort and an easier one. What I learned from last year is that I shouldn't try to hammer the entire race. It just too nice not to slow down and take in the views once in a while. I run across a grassy field and almost step on a huge black snake. I am usually easily startled by snakes, but this one is so starkly contrasted with the green grass that it doesn't take me by surprise.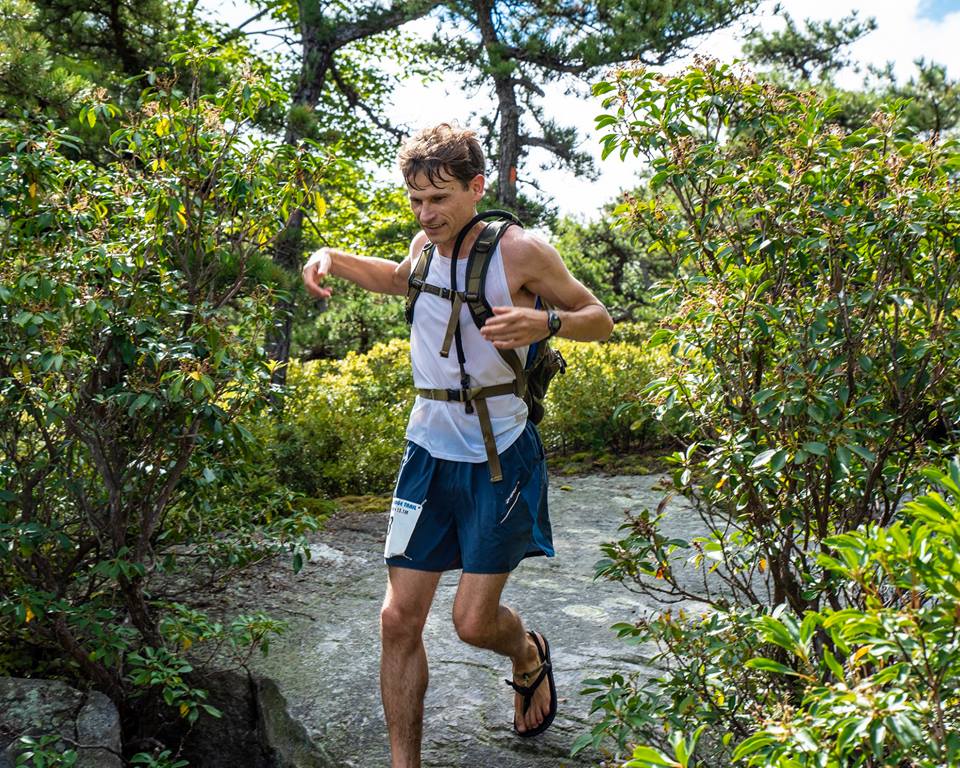 The last several miles of the race are great. The trail becomes less technical and more downhill. This is what I've been saving up my energy for. Rather than use my energy to slow down on the descents I just let go and move my legs as fast as gravity asks them to. It has been a long race and I am not feeling great, but the knowledge that if I push hard it could be all over soon keeps me motivated. I walk the steeper uphills, and regularly stop to stare at a map on my phone to make sure I stay on course. The last half mile is flat and runs across a huge scenic bridge. I did not expect to have a chance to win a tomahawk this year, but knowing that it is now within reach motivates me to run extra hard to make sure no 30 milers sneak up behind me. For all I know I may never have an opportunity like this again.
I cross the finish line and take a much needed breather. Everything hurts. It is a slow process to build up an appetite, but meanwhile I enjoy talking to other finishers, including the winner of the 70 mile race. He is originally from the area, but now lives out west where he was signed up for a 100 miler that was cancelled due to forest fires so he signed up for this race at the last minute and ran this instead. Meanwhile, more runners arrive. It turns out B, T, and I, the Clifton Park sandal runners, take three out of the top four places in the race.
A few odd feelings strike me after the race is over. It's absurd, but I can't help but feel like a slacker for only running a 30 mile race after my friends are finishing 100 milers. Also I am almost disappointed at losing the future goal of winning a tomahawk. In my mind it was going to be a long-term humbling bit of unfinished business that would always be in the back of my mind. This year I was not in top shape, but some of the faster runners from previous years did not run the 30 mile event. So there was a fair amount of random chance involved in getting the tomahawk rather than intense struggle. Did I truly earn the tomahawk? I think I still owe it to the race to throw down an all-out effort one of these years.
On the other hand wow. Just wow. What a great life to have the good fortune and health to be reasonably comfortable showing up and running an amazing 30 mile trail event. And to have like-minded friends who help push each other into these ridiculous adventures.
You know it's a race when...
Several runners stop on the sidelines to pee on trees. Rain is coming down steadily. Various pieces of runner trash litter the ground including hats, gloves, goo packs, and discarded shirts. A folded green rectangle attracts my attention. As it comes closer and I pass over it, I recognize President Jackson's visage: it's a twenty dollar bill! Pause for a second.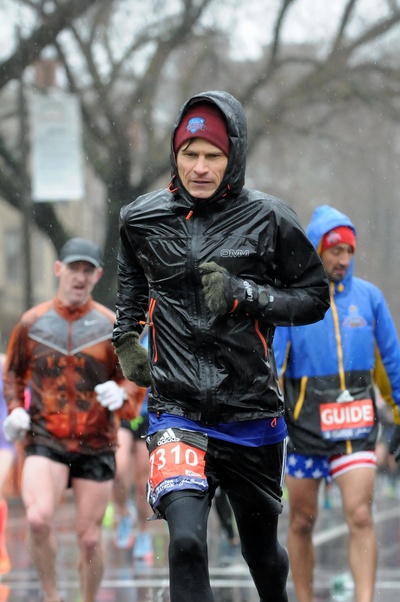 I am a scavenger by nature. Anything I can find I pick up. A piece of webbing, a metal meter stick, skateboard parts, a carabiner, a trailer pin, and other side-of-the-road refuse are just a few examples of items I have excitedly bent over, picked up, and carried home on my long runs. In fact I still have each of these treasures. The ultimate prize would be any form of cash. Pennies, nickels, you name it. This comes from my upbringing. The saying goes, if you find a penny heads side up all day long you'll have good luck. In my family this was considered absurd. It's good luck to find a penny, end of story. Heads or tails or covered in mystery slime makes it no less lucky. My father would not hesitate to pull the car over at the merest glint of shining metal that might indicate a coin score.
Back to the race. Twenty dollar bill huh? Now that I have passed the bill, am I willing to stop, reverse my direction, bend over and pick it up? I would lose seconds off my time. Heck I could pull a muscle and my day could be over! Most importantly, today is all about fighting. We are fighting our aging bodies, anxious minds, and the worst weather in recorded Boston Marathon history. The only way to the finish line is to crush all obstacles in our path, including the simple distraction of a twenty dollar bill. Make it a hundred dollar bill! A thousand! It matters not. We're not here to scavenge. I glance back and watch in amusement as the bill disappears in the distance, getting passed by countless runners. It's as useless to us as any other wet piece of paper on the ground. That's when you know this is different from a routine run. This is a race.
Pre-Race
I repeatedly pop my umbrella right-side-in as the wind blasts it inside-out while I make my way to the Boston Commons and hop on the yellow school bus to the start. I am capable of imagining worse weather so at least I have that going for me. The heat is blasting on the bus. Rules are posted at the front of the bus, things like, "Keep hands, feet, objects, and negative comments to self". As we get close to the start, an inch of snow has stuck to the ground. The bus drops us off at a high school in Hopkinton where giant tents protect us from the falling rain. I am the early bird which means I get one of the few precious seats with a backrest by leaning against a tent pole between two garbage cans. A perimeter of ice surrounds the tent where the snow has slid off the roof. It's 7:30 and the race starts at 10. With few hours to kill, I have plenty to keep me busy. I sit there and actively try to keep my feet warm, wrapping them in a sweater, sitting on my sandals like a nest to keep them warm, and regularly squeezing out the wetness from my socks. It's miserable. I look around, what have other people done smarter than me? Oh, nothing, everyone's in rough shape, shivering and sad looking. Eventually we are called up to go to our corral. I'm in wave 1, corral 8.
The Race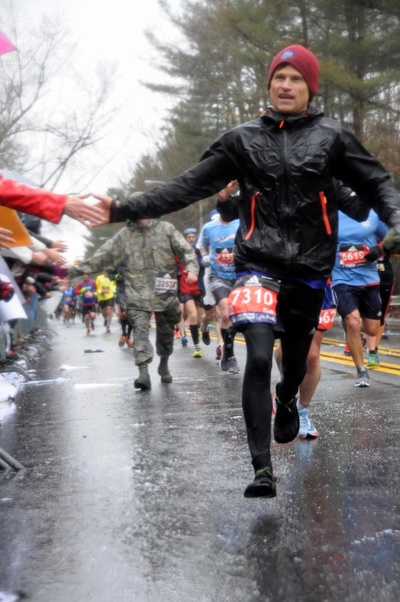 I'm pretty unsure of what pace to shoot for, but trying to get a Boston qualifying time (under 3 hours and 15 minutes) seems like a reasonable goal. I followed a training plan this year, but due to general circumstances I skipped almost all of my key workouts. Fortunately I got in one last decent 20-mile run 3 weeks ago, which is sort of the bare minimum, but at least it gave me confidence that I could survive the marathon. I feel good and keep an average pace of 7:15. At mile 10 my legs go a little wonky (something they've been doing lately usually as soon as I run a little faster or longer than I'm used to). I slow down a little and my legs recover, like always. The rain is coming down steady. Occasionally we'll crest a hill, the wind will be blasting, and the rain comes down in an absolute downpour. It's exciting! Freezing water just drenches me. "There it is!" That's the weather we were so afraid of. Fortunately my clothes do a decent job of keeping me reasonably comfortable. At mile 10 I'm in the zone, sort of forgetting where I am. The scream tunnel at Wellesley brings me back to the present. I run along giving high fives, the Wellesley students look like they might explode if I don't.
As I run I am regularly reminded of how incredible everyone is. The runners, the volunteers, and the spectators. Everyone is out here together making this thing happen despite the worst imaginable conditions, transforming what could be a terrible day into a day no different than a bright sunny Patriot's Day. This race is amazing. It's truly an honor to be a part of it.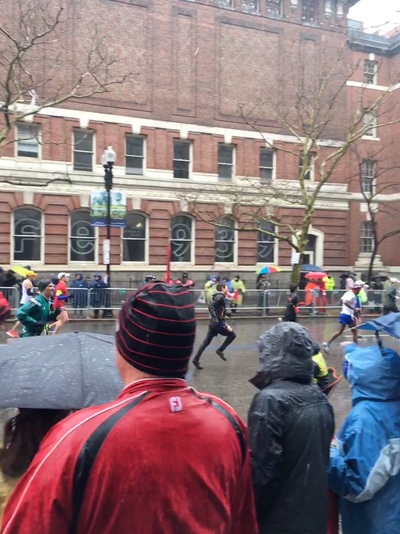 At mile 13, any freshness has left my legs. It's going to be work from here on out. I break the race up into pieces. Mile 16-20 are the infamous Newton hills. I just need to cruise up to mile 16, then get through those tough 4 miles and try to leave some energy in reserve for the last 6 miles. The hills come and go. I reach mile 20 and can't believe how easy it was! I consume a celebratory caffeinated gel pack. Heartbreak Hill was nothing! I'm feeling great so I take off at a fast pace. It's all smooth sailing from here. As I look around I start getting the impression that something isn't right. I look ahead. It turns out I had it wrong. The worst of the hills are at mile 20.5, which I now must face after over-exerting myself like an idiot. Oh well. I make sure to proceed up Heartbreak Hill gently. I reach the top and begin the final 6-mile stretch. By mile 22, I am struggling. My left hip is sore and tightening up, and my right knee is misbehaving. I have slowed to 8-minute miles and expect to continue to get slower from here. Unless. Is that… Caffeine kicking in?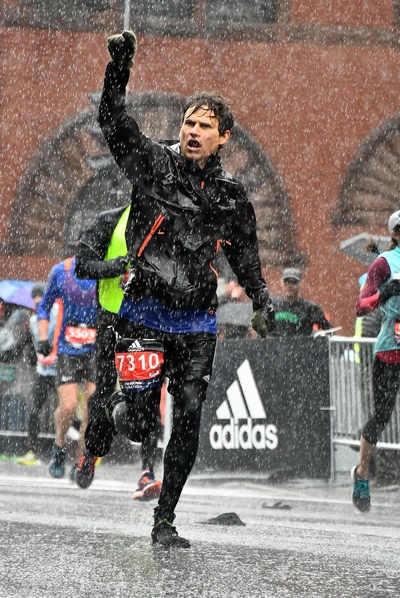 Ok, so here are my options. I can downward spiral for the next four miles, running slower as the pain increases, thereby increasing the pain by making the run take longer. OR! How about I just pretend it's a 5k race and run like a berserker? I *like* running fast. I *want* this to be over with as quickly as possible. Why don't I just do that?
The next four miles go by effortlessly. I'll pay for this tomorrow but the pain melts away as I increase into a more aggressive pace. I am weaving in and out of runners like a crazy person. At mile 26 I look up to see M and J cheering me on at the sidelines. Seeing them cheering is by far the happiest moment of my race. I wave, point, and yell emphatically. I am wearing the brightest smile of my life, at least I think I am.
I'm flying. I run at a nearly 6 minute pace to the finish. I'm feeling great. I refuse a blanket and forget to pick up my finisher's medal. Whoops! I double back and get it. Then it's a short walk to J's apartment. My brain isn't functioning but I manage to find my way. I take a hot shower, restoring feeling to my toes, after which we go out for an awesome meal and drive home. Success! What a great year to run! (I can say that now that it's over).
I picked up some apples at Devoe's Orchard on December 23rd. I made cider using a dedicated garbage disposal to grind the apples and a nut filter bag to squeeze out the juice. This filled most of a 3-gallon carboy with fresh cider. I added an airlock. The next day I added cider yeast, which I activated first like I do with bread yeast, by mixing it with warm cider until it started foaming slightly. A week and a half later, fermentation had slowed and a thick pile of sediment sat at the bottom of the carboy. At this point I siphoned the cider to two secondary fermenters (a one-gallon and a half-gallon jug). I would swear that the cider already tastes a bit off, but it's too early to tell. I'm starting to think that the sediment itself is what makes my ciders go bad. Next time I need to:
- Make the cider and add sulfites
- Siphon the cider off the sediment before adding yeast
- Rack to secondary after a period of time to reduce the amount of contact with the sediment
I have several reasons to continue trying this. First, the fresh cider is really tasty and seems like a great starting point. Second, I had one amazing batch that I would love to reproduce. Lastly there is clearly a flaw in my process and I would love to finally figure out how to fix the flaw.
1/6/2017 - I bottled the cider. All equipment was soaked in a bleach solution and rinsed. I boiled a little honey and water to use to prime the bottles for carbonation. I had to use my mouth to start the siphon because the autosiphon doesn't fit into the smaller (1 gallon/0.5 gallon) jugs I was fermenting in. The bottling process went well, and I got a lot of crystal clear bottles filled. A few sucked up sediment, partly because of the wonky siphon. The cider tasted slightly metallic and boring, but not too bad. We'll see how it turns out in a few weeks.
It's Friday the 13th and I have taken the day off from work. I have been spending a lot of time behind a desk and I'm nursing a sore hip so today I need a few things:
1) To take a break from work and regular responsibilities
2) To get some kind of mild all-day exercise besides running and hiking
3) To have an adventure
My first idea was to hop on my bike and go for a long ride. However, this was missing something. Motivation. A long ride requires a purpose or a destination.
I have been doing a little fishing recently using a collapsible fishing rod that I can carry in my small biking backpack. And there are trails we run at in Saratoga, the Skidmore Bike trails at Daniel's Road which has several ponds deep in the woods. Whenever we run past them I know that I need to try fishing these ponds.
Meanwhile I have had vague ideas rolling around in my head for years to spend some period of time relying on foraging for sustenance. It's the only logical conclusion after trying so hard to learn about local edible wild food.
The plan finally materializes. I will get up early and spend the day on my bike with the mission to feed myself on wild stuff for the day. Fuel my bike ride north, stopping along the way anywhere I need to to stock up on foraged supplies. My ultimate goal (which I don't make it to) is the ponds at the Skidmore trails. Along the way, I would like to stop at the Mechanicville Reservoir and try fishing there.
M doesn't know my plan. I wake up with her and start getting ready. "Why do you have a cooking pot strapped to your bike?". Perceptive this one is. I explain my plans for the day. Along with the cookpot, I have gathered the following equipment:
- bike, helmet, 2 empty 1-liter water bottles
- fishing pole, lures, pliers, measuring tape
- headlamp and reflective vest
- water purification drops
- a trowel
In the bathroom I move to brush my teeth, but realize that toothpaste is sort of like food and is off-limits so I brush my teeth with no toothpaste. This is going to be harder than I thought.
I frequently don't eat anything until 11am or later. But today it's 6am and I feel ravenously hungry. My body knows what I'm doing and is trying to encourage me to take the easy way out and grab something from the fridge.
I'm thirsty. But tap water is somewhat off-limits. The temperature is in the 30's. I try to think of the best local water supply. The Colonie Reservoir (in Clifton Park) is supposed to be a backup water source for the town of Colonie. It's two miles away so I put on some gloves and warmer clothes and head over there. Brrr! The water has a ton of green in it - duck weed and algae, but I fill up anyway. While I'm there I notice that the 'no fishing' sign is completely faded, sunken, and not visible. It's still somewhat dark out, so I indulge in a few casts with the fishing pole. I've always wanted see what kind of sea monsters come out of this unfished body of water. The season and time of day is perfect, the location can't be beat, so I am very surprised to catch nothing after several casts. I pack up and head back to the house.
I treat the water. Man! I am frozen to the bone! I climb into a down sleeping bag on the couch to warm up, and pass out. I wake up and catch up on email, and some other errands on the computer. By the time I'm up again it's 11am! I need to eat!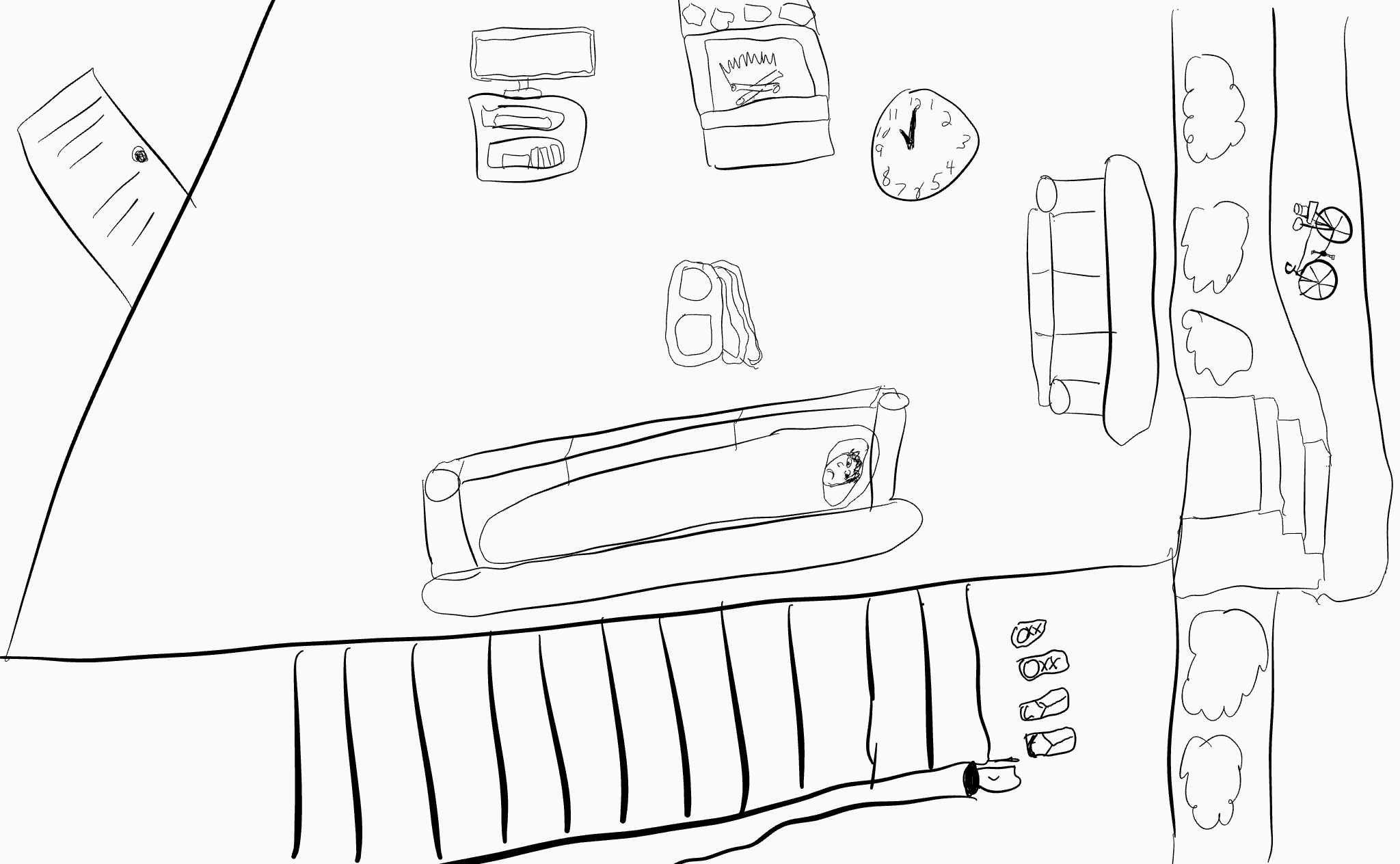 There's a small apple I foraged recently that's been rolling around my house for the last week. That counts. I eat it. The next thing I need is some more easy food. It's a little warmer out now. I hop on my bike and head to nearby Hannaford which has a pretty awesome apple tree out front. The low-hanging fruit has all been taken, but there are very nice apples in the tree, just out of reach. I climb into the tree and take 4 nice apples, two to eat and two to carry in my pack for later. No sooner do I climb into the tree when a retired couple walks by and asks what I'm doing in the tree. "Just fetching some apples." "That's great, hey what are these?" the old man notices that several of the branches have odd berries, maybe small crab apples on them. (Is this some kind of grafting thing? It crosses my mind now that apples can't self-pollinate, so they need to have a second tree nearby in order to produce fruit. Maybe the tree was grafted with another fruit to allow it to self-pollinate). He quickly grabs some of the berries and says, "you gotta die sometime" and pops them into his mouth. I'm like, "I have no idea what those are, I would't eat those if I were you..." but it's too late. He is munching away. He describes their flavor and spits them out. He then motions as if he's choking and dying. Ha ha ha. He has a great poisoning death sense of humor.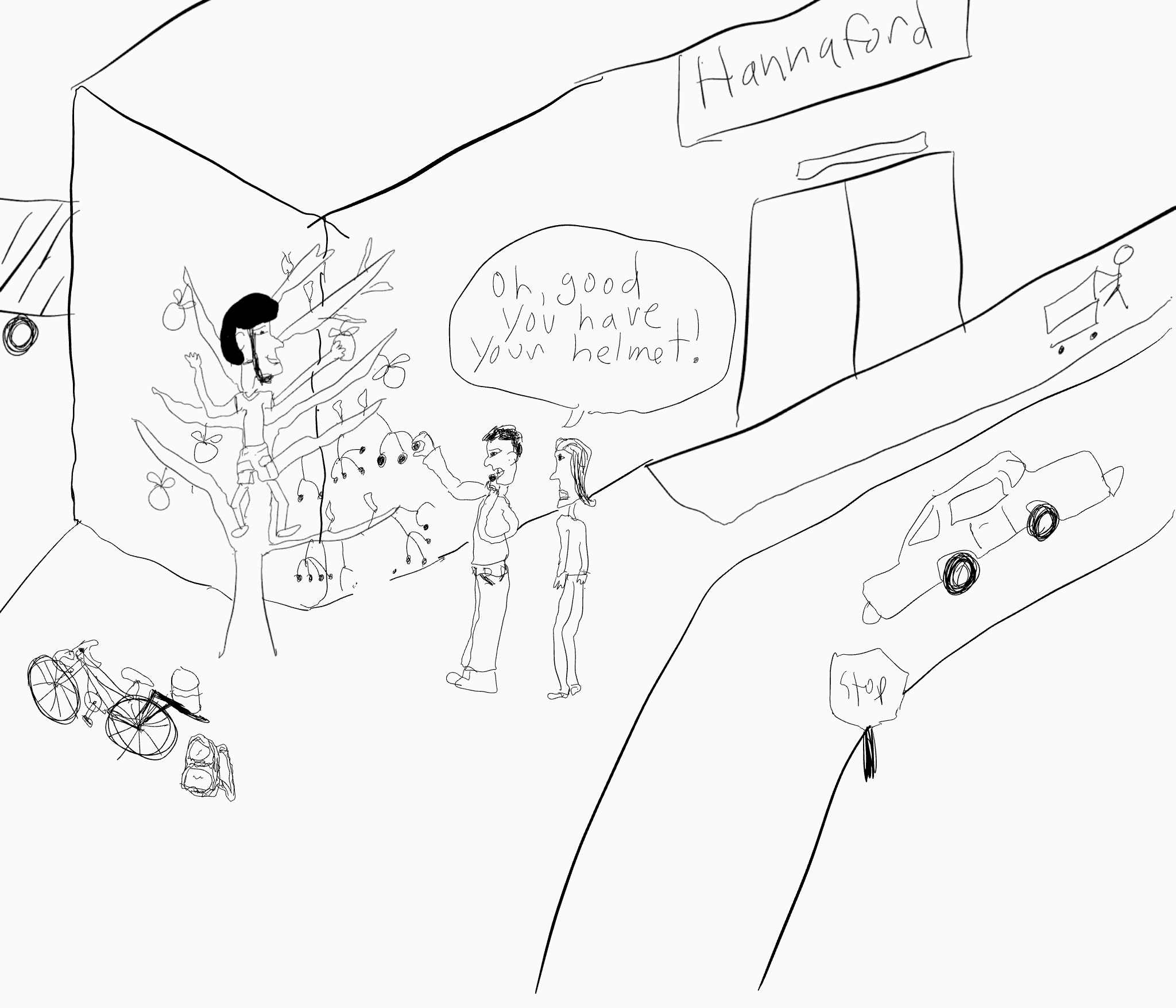 Great. I knew this was a bad idea. I've been foraging for less than five minutes and already my actions may have killed someone. Why can't I just forage in peace?
As I walk back to my bike, a Hannaford employee comes up and says she saw me up in the tree and wondered what was going on. I told her I was picking apples. She says, "those are crabapples", after which I grab a nice apple out of my pack and say, "these are pretty legit apples". "Nope, those are crab apples". She then goes on to describe a wonderful pear tree in Glenville/Scotia.
Yesterday a friend (T) told me that he found meadow mushrooms in his yard. They might be my favorite wild mushroom to eat. There is a local place where I have found them once before, so next I head there to see if I can find any, but I find nothing. I eat some wild grapes along the way back to the house. I stop at another place I know of and eat a few really tasty concord grapes. There is also an elderberry bush here, but it has almost no leaves and looks really unhealthy. Also there are green apples here, but they never look very tasty so I leave them behind.
I realize that burdock has an edible root, almost like a potato. I vaguely recall previously taking note of seeing something behind Walmart. Was it burdock? At Walmart, I discover it was milkweed I had seen, not burdock. Something to remember come spring, since milkweed is a good spring edible as I understand it.
Ok, now I have water, and am slightly fed so I am ready to begin the real trip of the day. It's on to Mechanicville Reservoir! Along the way I am scouring the nearby brush. At one point I stop to check out an odd looking plant on the side of the road that looks exactly like dill. I pull off some leaves, but it definitely doesn't smell like dill.
On Coons Crossing road along the Anthony Kill, I notice a giant burdock bush! I move toward it, but people are everywhere and I feel weird about digging up a big bush in front of them so I spend a little time fishing the Anthony Kill with no luck. Afterwards, people are still there so I move along.
In this area there are tons of empty beer and soda cans along the side of the road. I keep a tally. By the end of the day I have counted $5 worth of empties. Would I be able to get more food by picking up and returning empty cans from the side of the road, returning them, then shopping at the supermarket? It seems that it might be so. That might help to explain Francis the Can Man as he bikes all over Clifton Park every day, filling up giant bags with empty cans, including past my house and to the Vischer Ferry Store.
I use my phone to help navigate to the Mechanicville Reservoir. I find myself a little on edge. On a hiking adventure in this area several years ago, I placed a backpack with a few random items on the side of the quiet road for a few minutes and when I returned it was gone! Among other things it had my headlamp in it and it was getting dark soon, so I barely made it home in one piece. I don't have a bike lock with me, and I know that fishing will require that I leave my bike unguarded. I will need to keep it hidden.
I crash through an overgrown trail following powerlines. The going is rough, but eventually I make it to a small clearing at the side of the reservoir. There are empty whiskey bottles, beer cans, a fire pit, a chair, and a rope swing. I start fishing. The first cast on a pristine, quiet lake usually represents your best chance of catching a fish. After that first cast, you've alerted the lake to your presence, and the fish will be a little more skittish. So after a few casts without any signs of life, I am disappointed. I focus on the negative. It's muddy, shallow, and no-place a fish would ever live. I make my way down the shore to a piece of structure, a long log in the water. A cast near the log produces a big flash and a splash on the surface - it's fish! He missed, but my hope is renewed. Before long I catch some small fish, and then a nice sunfish and then a keeper-sized large mouth bass! I keep them both for my lunch. I have everything I need to feed myself. However, my excitement won't let me stop fishing while they are still biting. Over this period of an hour or so, I catch a total of 6 keeper size large mouth bass including one giant one, a nice sunfish, and several more smaller bass, all on the same little perch Rapala. I imagine a nature video about myself, the creature so driven by the compulsion to catch fish that he never stops to eat one and eventually starves to death.
I am feeling tired and hungry and I work my way back to the fire pit. I build a fire and clean the fish. I have always cooked fish by pan frying with some kind of fat - butter or oil, of which I have none. So instead I put the fish filets, a puffball mushroom I found, and 2 cut up apples (apples are kind of like potatoes, in fact the word for potato in French is "pomme de terre" whose literal translation is, "apple of the earth"). The stew cooks up quickly. My first bite is of the fish. Much to my surprise it's delicious! Bass has a really distinct and tasty flavor, even with no seasoning. I enjoy the cooked apples and mushroom as well. How satisfying! If I did it again I would have kept another bass or two for a truly filling meal. Heck maybe even a little more to hold onto in a tupperware container to eat later.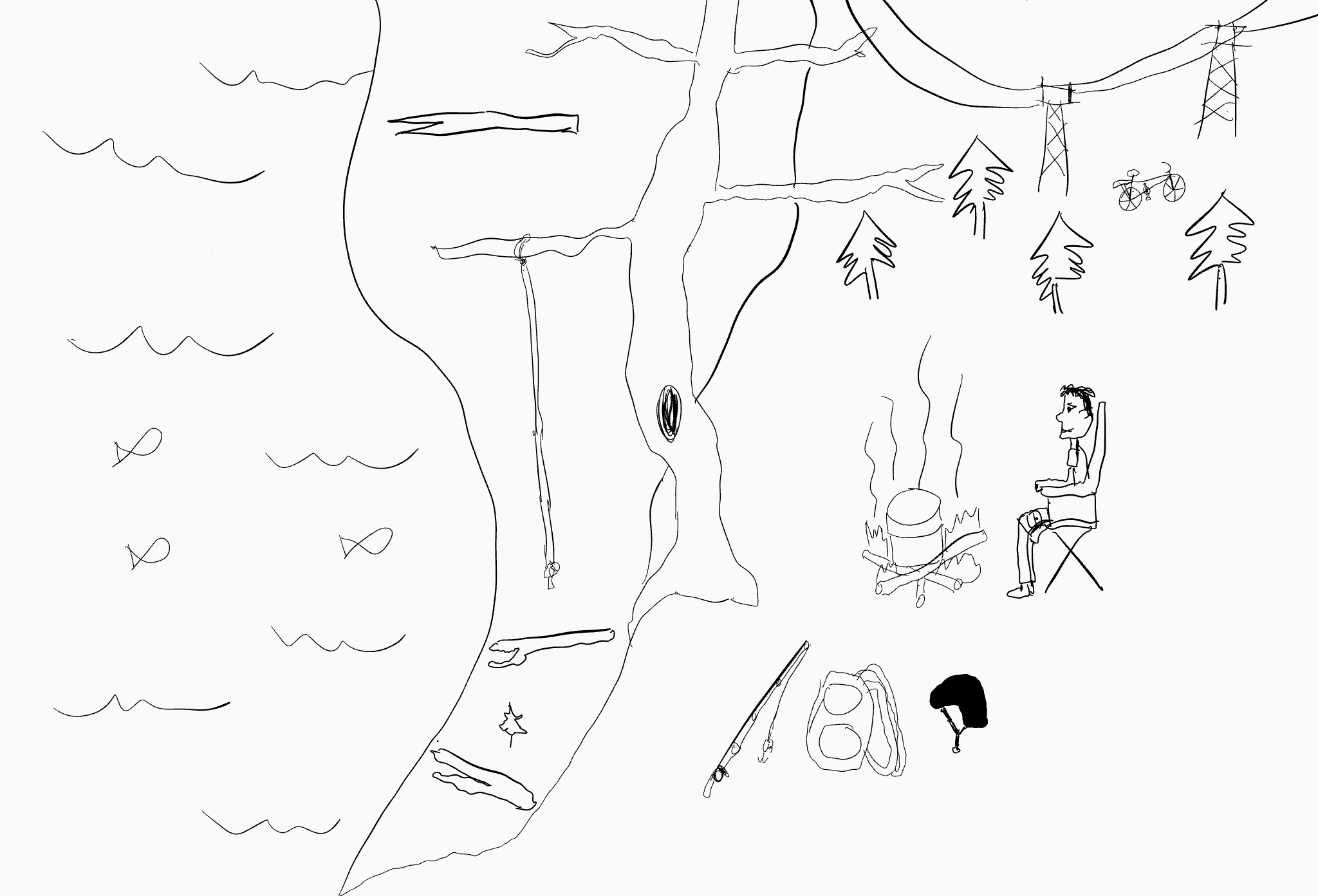 I make my way back home, stopping to dig up the burdock on the way. After a lot of work I don't have much to show for it, but I did bring home a small root to try.
When I get home, my foraging adventure complete, M makes tacos. She notices that I eat a *lot* of food, 5 tacos and more. But I would still like to call my first day of foraging a wild success.
Thirty of us line up at the start of the SRT 30 mile run/hike. We are split into two waves. The first wave is released at 9am. 12 participants take off, making their way up the hill 50 feet ahead of us. There is a bit of commotion amongst the volunteers. "Hey wait, you're all going the wrong way! It's that way!". All runners come back down the hill, and off to the right into the woods.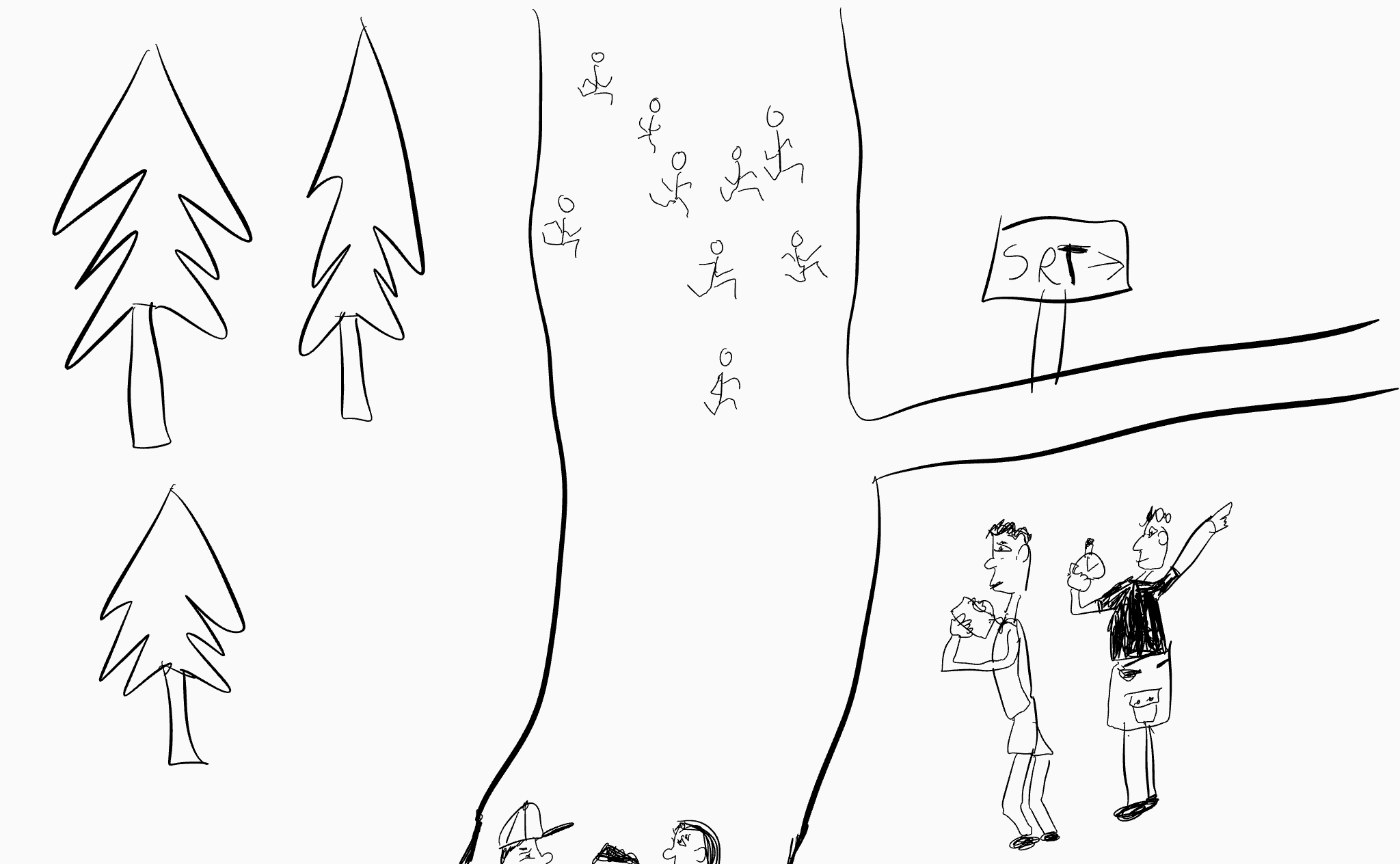 This was a perfect introduction for what was to be for the next 30 miles.
At 9:02 the second wave is released, including me. We have a distinct advantage, knowing which way to go. We work our way up a long hill. A large Slovakian dude is first up the hill, cruising ahead of everyone. Eventually another runner and I overtake the Slovakian and the runners in both waves. I'm lucky to have someone with me who knows the trail, he directs me for a few turns, a right off the main road followed by a quick left. We are running along the most incredible trail I have been on in a long time through endless fields of low huckleberry bushes with the early morning hot sun directly on us. The trail has a distinct feel to it, like a strange run through a forested desert, impressive rock outcroppings nearby, and views of long, cliffy ridges poking through the clouds in the distance.
The winner from two years ago who is also the course record holder is catching up to the two of us, just as I start increasing my pace a little. Now I am running solo. At the six-mile mark, I know there is a confusing turn to make. B&T had run the 50-miler last year, and they added an extra 1/2-mile to their journey at this point. So at 6 miles I pay very careful attention. I come out onto a gravel road, and continue in the path of least resistance, but quickly recognize that I don't see any trail markers. I stop, look around, and find the right way to go. I victoriously raise my arms, giving myself a huge pat on the back for staying on course. The trail suddenly becomes perfectly runnable. I start cruising at a very fast pace, loving life, loving how easy the trail is. I come to an intersection and quickly notice that neither option is marked. Nor is the trail I'm on. I run up and down each trail a few times just to be sure, and eventually pull out my cell phone which has a map of the trail. Turns out I am *way* off the trail. I turn back, but have a ways to go before I get back on the SR Trial. At the time I didn't know the distance, but my detour had taken me an extra mile. I pass a few runners. I see three runners ahead of me on a carriage road, one lagging behind a little. As I approach the closest runner, he stops and yells to the other two, "the trail is this way". I follow his pointing finger, and in a fraction of a second have gotten in front of all of them.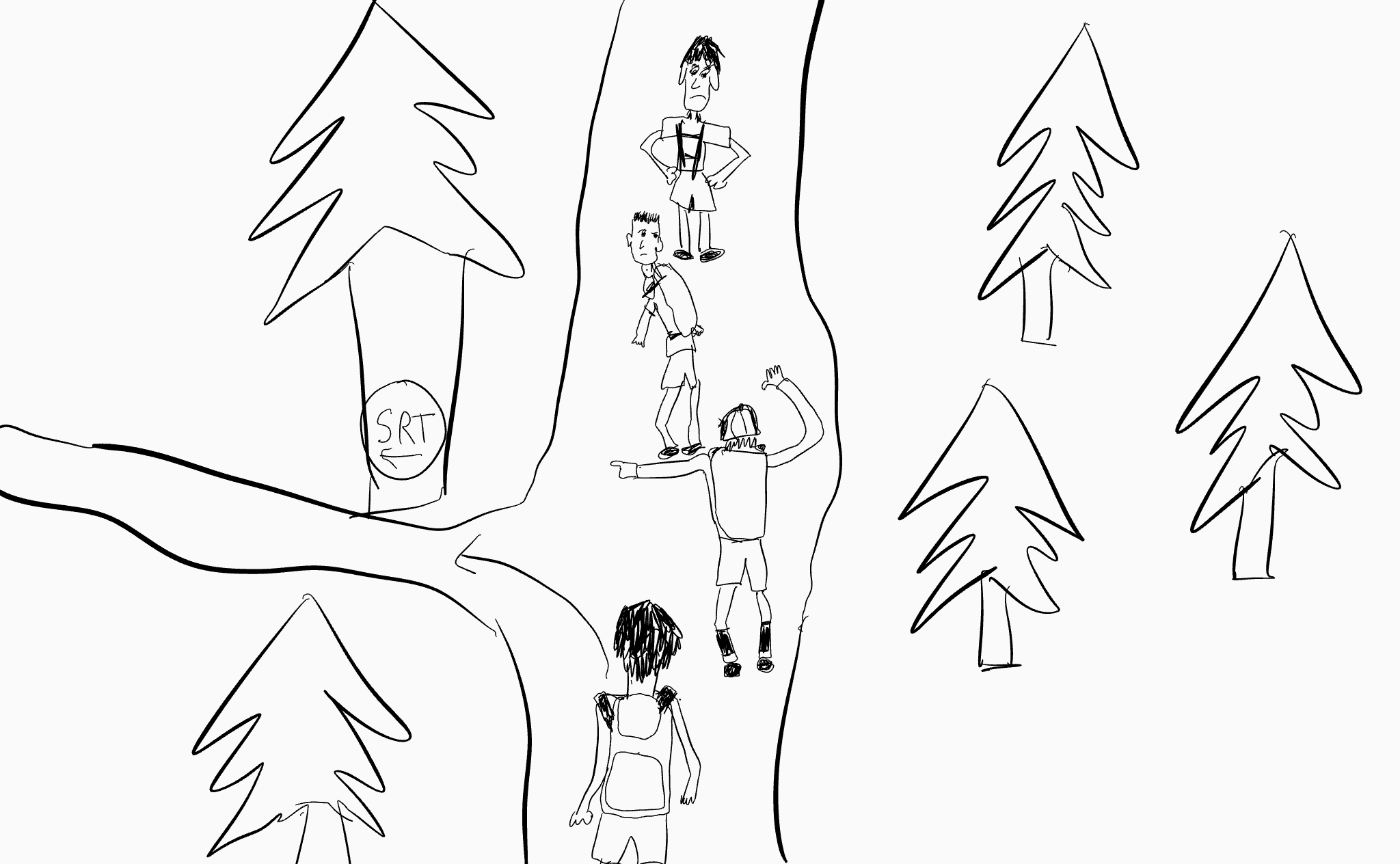 I meet a man who is running the 70-miler in Vibram Five Fingers. He says he had a bit of a rough night, getting unexpectedly dehydrated in the unusual nighttime heat, leading to some stomach issues, but he is feeling better now.
During a steep climb, I meet up with Sev and another runner. On the final approach to the top, the third runner says he's going to wait for his friend, and the two of us scurry forward. We help each other navigate this tricky section of trail. We find ourselves in a thick huckleberry maze. I think the section would be easy to hike, but the trail is full of mirage trails (presumably created by huckleberry pickers). While trying to run as quickly as we can, it seems that at every opportunity we hit a dead end and have to turn around before finding the right trail. This constant stop-and-go is slowly whittling away at my fortitude.
Up ahead on the trail I see B in his sandals. We talk for a bit. He describes his worst moment of the race, when he managed to get turned around and reverse his direction! His watch is smart enough to know better and starts politely informing him that he is turned around. "Stupid watch" he says. That is, until he finally turns around, realizes he has been here before, and curses himself for ignoring the warnings. "My new mantra became 'trust the watch'" says B.
After 13 miles or so, I reach the first checkpoint. I ask, "how far ahead are the guys in front?". He says, "11:18", which I take to mean that they are 11 minutes ahead. Ouch! I spend the next few minutes trying to fathom how they got that far ahead. During this time, my resolve to catch them comes into question. I am having such a hard time staying on the trail. I can't find any rhythm or momentum, it's just constant slaps in the face "wrong way" "wrong way" "wrong way". I think about what the checkpoint told me. "11:18". What time is it now? I switch my watch into clock mode, it's 11:26. He must have meant they came through at 11:18. Probably 2 minutes have gone by since they told me that time, so I realize that they are only 5 or 6 minutes ahead, which does not sound bad at all, but some of the mental damage has already been done.
I take off at a frantic pace. In my head, I realize that if I run at a 30-second pace faster than them, it will take me an incredibly long 10 miles to catch up. I try to make up for it by running harder. I get tired, sore, frustrated, miserable, and ultimately my soul is crushed.
I had set a goal, and was feeling the unpleasant side of putting pressure on myself. It felt so good to let go of the pressure, to let go of the goal. It is *so* nice out here. The day is perfect, the trail is amazing. How could I possibly spend the rest of the day suffering? For what? I love it out here. Or at least, I could if I just stop running. I decide that I'm going to walk the next 15 miles and enjoy it.
I hear running water in the distance. There is a bridge over an ice cold creek. I drop my pack, take off my shirt, and submerge my entire self in the waist-deep water. Taking my time, I gather my things. A man is down-stream a bit, putting clothes on and smoking a cigarette. In my new frame of mind, of abandoning all previous ambitions, I am tempted to bum one from the guy. But I am good, the downward spiral doesn't take me that far down. I continue to walk leisurely along the trail, sore as hell but very happy. With 15 miles left to go, I have no intentions of running another step today.
Frankly I am shocked by how much time passes before any other runners catch up. But finally three runners pass me. I tell them all that I quit, I'm done running for the day. Sev, then another runner, and finally the Slovakian wearing cotton camo cargo shorts. "Don't vorry, you'll pass me again" he says as he runs past. Nobody is free from trouble at this point, including leg cramps, dehydration, etc.
Less than four miles separate the first and second checkpoints, but it takes an hour and 20 minutes to reach the second one, about twice as long as it should have had I been running at a reasonable pace. Just after the second checkpoint is a parking lot with an attendant. He has a giant 5-gallon jug of spring water for people to use. I know that I am going through more water than I had planned to, and I don't have any purification pills so this is a big relief. I ask him, "do you mind if I take a little bit of water?" He says, "I don't mind, but just so you know, I was told that it's a self-supported race so if racers take any water they could be disqualified. But I won't tell anyone." Son of a... I was just going to support myself with a little bit of free public water. But I guess my choices are: risk disqualification, get dehydrated, or risk getting giardia. Hmmmm. I definitely lean towards option two, carefully provisioning what little water I have. I can deal with that.
A little further along, at a place called split rock at mile 19 there is another great place to take a swim. Again I drop my pack and take a pleasure stroll chest-deep in ice water through this magnificent natural feature.
Back on the trail, another runner passes by. A sudden compulsion makes me fall in behind him. I am running again! I talk the poor guy's ear off. I am so happy to be out of my negativity-filled head, and just sort of hanging out and covering some ground. His name is Tom, he ran the 70 miler last year, and is running a 100 miler in a few weeks.
Tom and I ask a seated 70 miler (a previous winner), "how's it going?". "Not good", he responds as he gulps down a shot of 5-hour energy drink. Tom says encouragingly, "only six-and-half miles to go!" but after 63.5 miles, somehow I don't think this had the intended effect.
After running together for 8 miles or so, we climb a long steady hill past the final checkpoint. They, too have a jug of water and offer us some. "I heard we could get disqualified because it's a self-supported race!". "Who told you that? We won't tell anyone!". But I have already resolved to decline. Tom, also declines. He tried to refill his water at one of the swimming creeks using a filter, but found it nearly impossible, so he is now risking giardia and drinking unfiltered creek water. He says he got away with it last year, so expects it to be fine.
He says, "go on ahead if you feel like it". I am feeling pretty good at this point, so I do.
This area is fairly populated. And for some reason everyone on the trail seems to be familiar with the SRT race today, including the course itself. I can't tell you how many times I would start following a trail and hear a random voice in the far off distance yelling, "that's not the right way, it's that way". On one such occurrence, it's from a woman with her family. She is just hiking today but completed the 30 miler last year. I stop and walk with them as she describes where I need to go next, and we talk for a bit about the race. Her husband ran Manitou's Revenge this year. She points me toward my next turn, and I run ahead down a steep hill. I quickly come upon a sheer rock wall. I recall B&T mentioning having to climb a wall like this during their race last year, so I assume this is the right way and take a deep breath in preparation for climbing this beast.
"That's not the right way, you have to go to the left!" comes a voice from above. Fortunately the woman from earlier saw me miss the turn and corrected my course once again.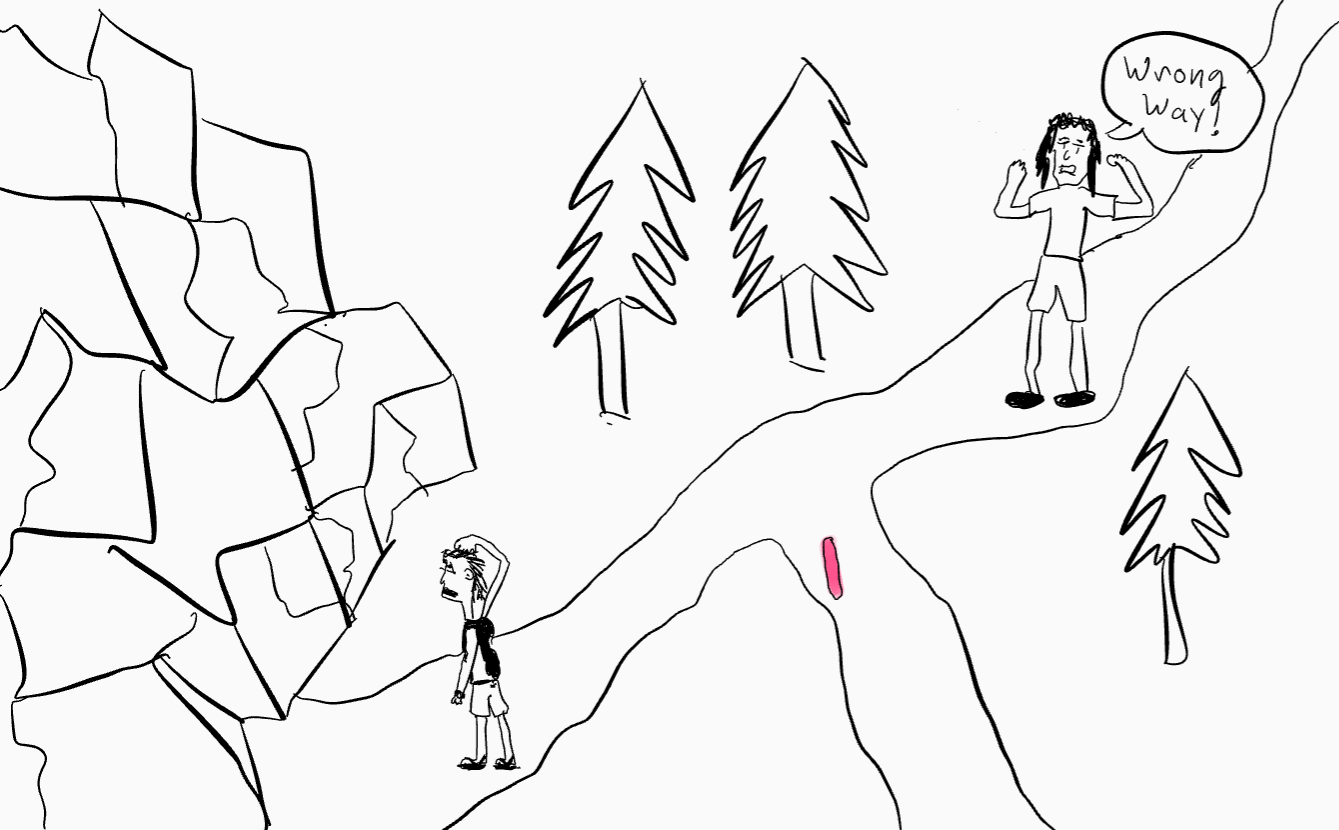 I run up and over the hill, which is followed by a fair amount of downhill. I come across a couple with a small child. As I run past they ask, "do you know where the yellow trail is?". "I'm sorry I have no idea". After heading down the trail a little bit, I stop, turn around, pull out my phone and show them the map that I have. I don't think it helped them much, but at least I tried. And while I have the map out, I make sure I am still on course, and assess the remainder of the run. I have about 4 miles left, and the last half mile or so is along a flattish rail trail.
I catch up to the Slovakian, just as he predicted. We trade a few words before I continue on. Pink markings indicate a mandatory right turn. I take it, check the map, and confirm my location and that it's the correct way to go. Everything is adding up nicely. I come across a couple sitting on rocks who are running (to use the term loosely) the half marathon. They say to me, "this isn't the right way, is it?" I tell them "I am confident that it is the right way." As I continue on, I hear repeated echoes of "that man is confident this is the right way" as word spreads to other lost runners.
Tom catches up and is disappointed to see me. He says, "I had it in my head that you took off and were finished with the race by now!".
I come upon someone running the 70 miler. "Less than two miles to go!" I tell him. He immediately perks up. He tells me after the end of the race how much I helped him, that hearing that there were only two miles left really got him moving again.
In the last mile or so, the course becomes a little less steep and I can finally comfortably get into a fast pace. Too fast! Once I hit the flat bike path I take off running at nearly a full sprint. I am relieved to run on flat stuff like I have been training on so much this year! I fly over the giant bridge and to the finish line which is right before the trail crosses a busy road. Someone actually grabs hold of me to make sure I don't fly into the middle of the road.
Upon arriving at the finishers tent, I find T laying down smiling next to his Tomahawk, the prize for 1st place. It turns out he ran the 70 miler and crushed the old course record by almost 4 hours with a time around 18 hours! Sev and many others are there as well, and it's not long before Ivan (the guy I've been calling the Slovakian), Tom, and B join the group of finishers for pizza, beer, Coca-Cola, water, grapes, mini cupcakes... and awesome stories from the last 24 hours.
Related Links
* T's report from the 70 miler
* B's report from the 70 miler
* The race website
* The race director's blog with more race reports