Trip Report
Today after work I kayaked the Poestenkill Gorge in Troy, NY from the NYSDEC Fishing access site at Garfield Road to a parking area on Brunswick Road (click on the map for a larger version):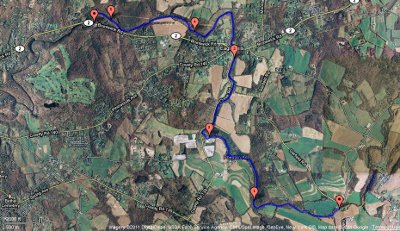 The water level seemed slightly higher than average. Despite the decent water level, there were many sections where the kayak scraped it's way over the rocks as I pushed along with my hands because the water is very shallow in parts.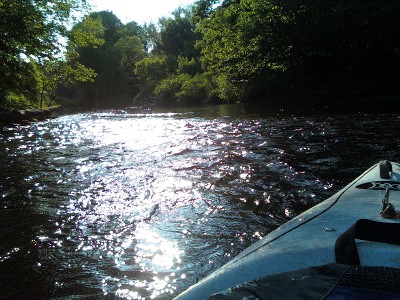 In some places, the river bottom consisted of eroded shale, with lots of little knife-sharp edges that scraped the bottom of the boat and my hands. There were a couple of spots where I had to either get out and walk, or fight my way through big log jams like this one: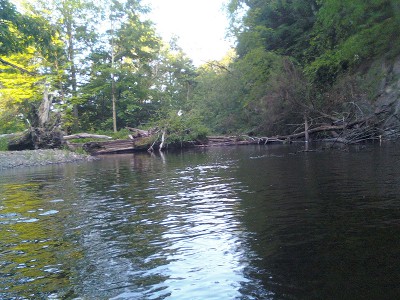 A fair amount of effort was involved in getting down the creek, and the kayak and I took a decent amount of abuse, but there were certainly rewards along the way. Rapids worked their way down most of the shallow water. There was one particularly dangerous area where I got out and walked at the Eagle Mills bridge on Brunswick Road, and got some help from a dude who seemed to be waiting there to warn me of the dangers ahead. This picture actually shows the friendlier section of the Eagle Mills area: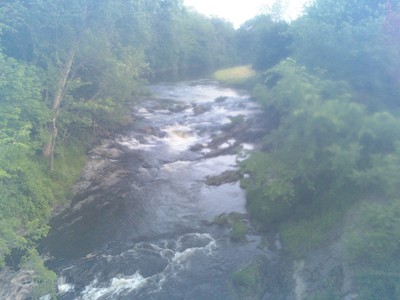 Along the way down the river, I spotted some potentially really nice fishing spots. There was one area where major erosion of the sandy soil had taken place, and a tree was barely holding together a lone tower of sand. I'm pretty sure that a little bit of digging would be enough to topple the whole thing. I don't imagine it will remain standing for much longer: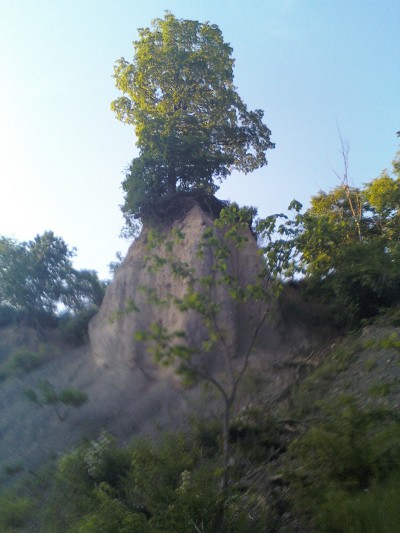 Here is a picture of me, alone, at my best: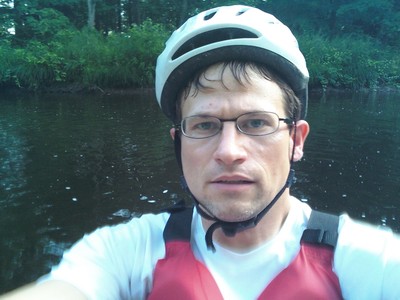 I saw a few spiky headed ducks (red-breasted mergansers perhaps). There was also a giant bird, I'm thinking it was a great blue heron, that repeatedly flew downstream every time I got near it. I chased it down the creek in this way for the entire trip. I saw some small trout surfacing at the bridge where I finished the trip, and it sounded like the fishermen were having decent luck today. And why shouldn't the fish be biting? The barometric pressure has been stable for several days straight:

I locked my bike at the destination, drove to the launch site, kayaked the planned route, then locked the kayak and biked back to the car, and finally drove back to the kayak, packed my things and headed home. The whole trip from when I left work until I was on my way home took 3 hours, 18 minutes. It took 45 minutes to get everything ready (including stopping to inspect 2 potentially dangerous spots along the way) and start kayaking. Kayaking the route took 2 hours, biking back to the car took 20 minutes, and in another 10 minutes I was on my way home.
Distance kayaked: 5.2m
Average elevation gradient: 10'/mile
Related Links
* Elevation Map - A useful tool for figuring out how steep (dangerous) a kayak trip will be
* Poestenkill Brown Trout - A youtube video of some locals catching some nice trout
* Poestenkill Kayak Falls - A youtube video of a local maniac kayaker
* Eagle Mills Kayak - Crazy kayakers on the Poestenkill after Irene