Trip Report
Today I kayaked the Anthony Kill (also known as the Tenandeho) from Round Lake to the Hudson River (click on the map for an interactive version):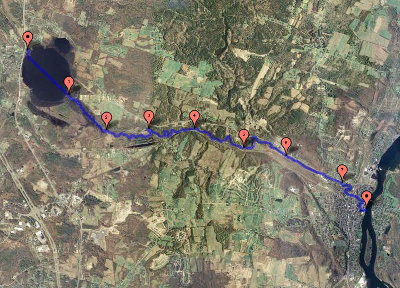 I started at the northwest corner of Round Lake. Parking and launching from Round Lake is a little bit awkward due to the fact that public access sites were recently closed down, and other areas are undergoing heavy construction. Here is a picture of my impromptu launch site: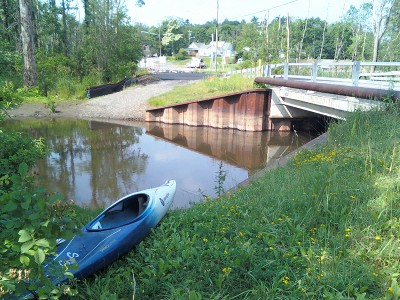 I crossed Round Lake: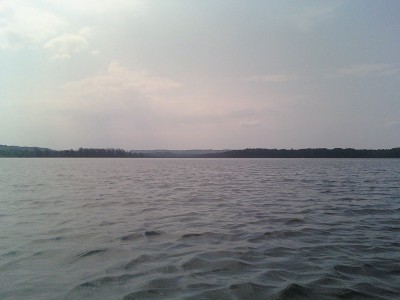 The first long section of the Anthony Kill is a beautiful meandering flatwater. It is generally nice and wide, probably 20 feet or more, and plenty deep to hide some nice fish.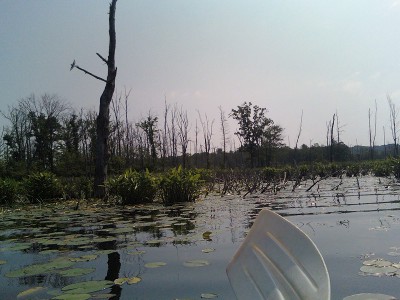 There was a fishing boat or two along the way, and a couple of kayakers. There were really cool birds and this big nest in a tree: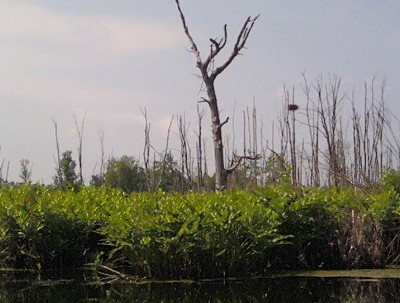 After the first beaver dam, there are regular log jams and beaver dams the rest of the way down. I had to get out of the kayak to pull the boat over a couple of log jams, and typically there was something difficult to limbo under or push myself over every 20 feet or so. There were fallen trees everywhere.
Along this rough route, I saw a big fish swimming away. I'm guessing that it was some kind of creek chub, but I'm not sure. It did not appear that anyone is taking care to ensure that kayakers get a safe and easy ride through this area. However, with some perseverance, it was passable, although now that I've done it it might be one of those places that I will not return to any time soon. It was a bit of a bushwhack.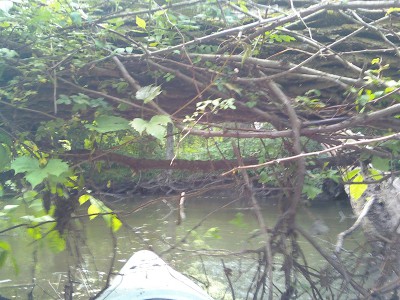 The next section of the river (starting at around Coons Crossing Road) was really awesome. It started off slow, but picked up quickly. After the first half mile or so, most of the ride consisted of wavy rapids.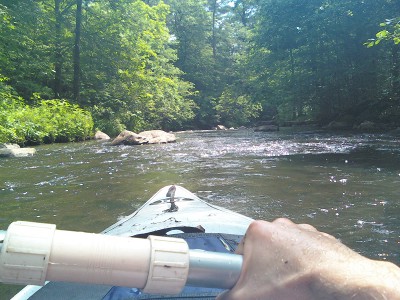 The fun lasted nearly the full 5 miles.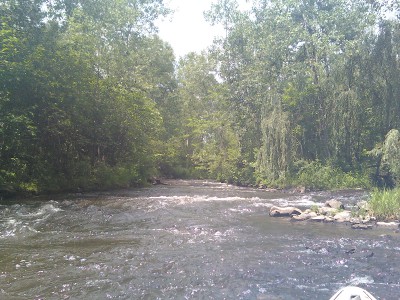 The finale at the end is a slightly more dramatic descent along some rocky chutes. I had scoped the area out already, and my plan of attack was to stay well to the right where there was a straight line to the Hudson. It ended up being a fun ride that went smoothly: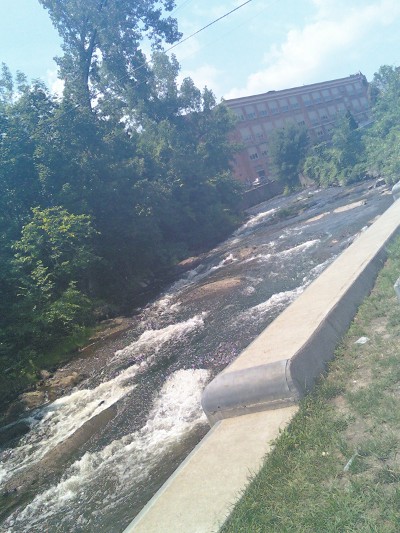 I managed to get a tick bite somewhere along the way. Hopefully that won't amount to anything later. I grabbed my bike and rode to the car at Round Lake.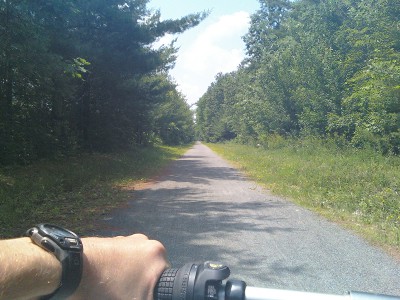 I was riding fast enough to catch up to, and overtake this speeding turtle:
Distance: 8 miles
Time taken:
* 1 hour, 20 minutes to kayak from Round Lake to Coons Crossing Road
* 1 hour, 20 minutes to kayak from Coons Crossing Road to the Hudson
Links
* Someone else's Anthony Kill trip report
* American Whitewater Anthony Kill Page
* Tenandeho Whitewater Derby - Annual Race along the Anthony Kill
* Historical Pictures of the Tenandeho Whitewater Derby
* Video from the 2010 Tenandeho Whitewater Derby
* Malta Memories - A really in-depth personal perspective on the history of Round Lake
* A later kayaking trip of mine