I have found several large groups of Hen of the Woods mushrooms in the woods not too far from my house. I will need to remember the secret coordinates because these mushrooms tend to return to the same spot year-after-year.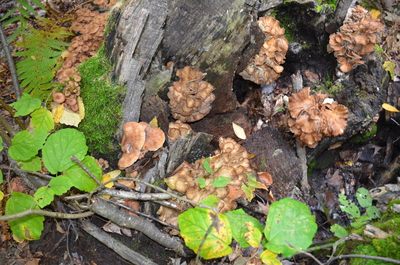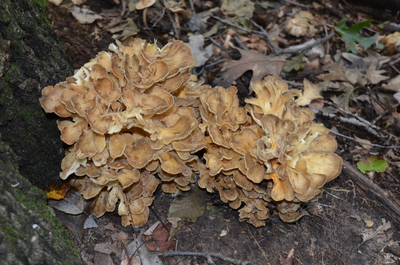 1st Attempt - 9/25/2011
I sauteed onions with the mushrooms in butter and olive oil, with a little bit of salt. At the end I added some fresh oregano and marsala wine. The mushrooms were absolutely delicious, although I would say that I made two mistakes in preparing them. First, the marsala wine was too strong of a flavor and overpowered the mushroom's flavor. I'm thinking that white wine or perhaps chicken stock (or maybe nothing at all) would have been better. Also, the mushroom has a lot of hiding spots for pieces of dirt. I carefully pulled it apart and cleaned it as best I could, but I have since read that this mushroom can be rinsed or submerged in water and shaken which might do a more thorough job of cleaning them.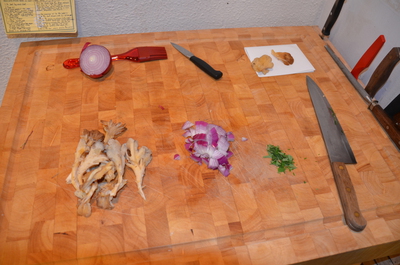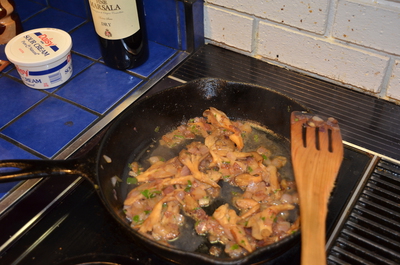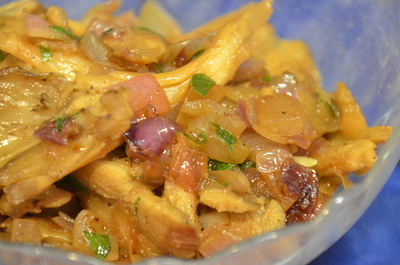 Man, I gotta say, this was one delicious mushroom. It leaves an amazing aftertaste. After eating it, I feel a strong craving for more, which is a far cry from the feeling after eating some of the other mushrooms I have tried recently.
2nd Attempt - 10/4/2011
After eating the first batch of Hen of the Woods, I decided to give it another shot. This time I fetched a larger hunk of mushroom. Parts of the mushroom had noticeable specks on the surface. I rinsed the mushroom under water, and used a spoon to scrape of the bits of dirt. After I was done, I sent the mushrooms through a few cycles in the salad spinner to try and release some of the extra moisture. After I was done, I was left with a pound-and-a-half of good, clean mushrooms.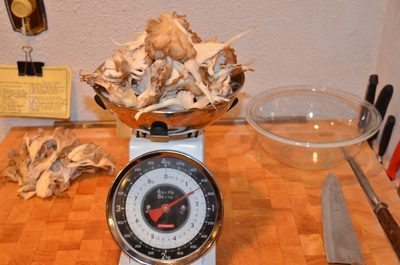 I tried to follow a recipe from another site but from the start, the recipe was not working out. It called for sauteing the mushrooms for a short amount of time in a large amount of oil. However these mushrooms retained a lot of moisture after rinsing them that was released when I put them in the oil. Despite my attempts at drying the mushrooms, they ended up boiling for a while in the rinse water.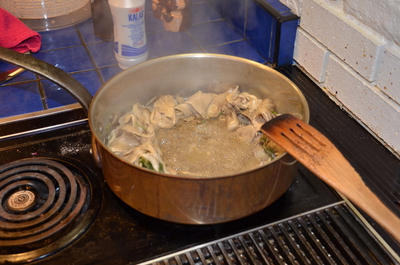 Once the moisture evaporated off, the mushrooms finally started to brown, but I may have cooked off a lot of the flavor in the process.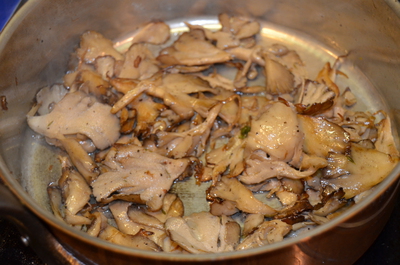 The mushrooms tasted good after they were cooked, but I feel that they would be better if I can improve the cooking method. I used the leftovers for chicken marsala, and it was a welcomed addition.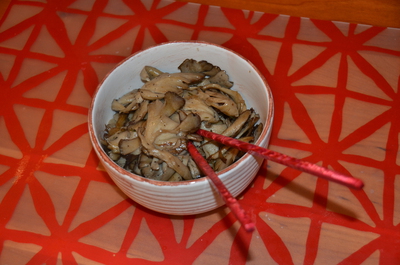 Here is a summary of mistakes I have made so far:
1) Failing to clean the mushrooms leading to a bit of grittiness
2) Waterlogging them while rinsing
3) Cooking them in too much Marsala wine, overpowering the mushroom flavor
4) Trying to cook too many at once - perhaps saute in batches at high heat
5) Not having a plan or a solid recipe - what should accompany these mushrooms?
3rd Attempt - 10/9/2011
I brought home another nice clump of Hen of the Woods. I sprayed it down with the hose to get some of the dirt off, then let it sit for a bit to dry off in the sun. I brought it into the kitchen and pulled the mushroom apart and used a spoon to scrape off little bits of dirt. I cooked three batches and froze a fourth. First, I sauteed a batch with onions in olive oil, salt, with a white wine deglaze. Next, I stir-fried a batch in the wok on very high heat in peanut oil, again with a white wine deglaze. Lastly, I breaded and fried a large batch and ate it with marinara.
All three were delicious. The sauteed batch had a refined, well-rounded taste. The stir-fried batch had a really nice smoky mushroom flavor. The breaded and fried mushrooms were amazing. The shape of the mushrooms is great for deep frying. It was impossible not to devour large quantities of the deep fried mushroom.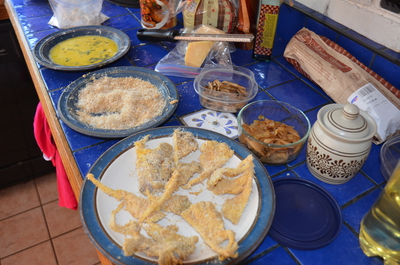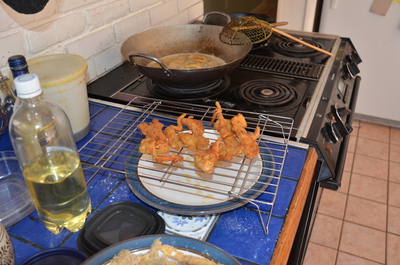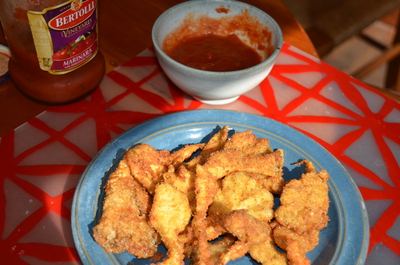 Maturing Hen of the Woods
10/15/2011 - Very young hen of the woods mushroom with small knobs for caps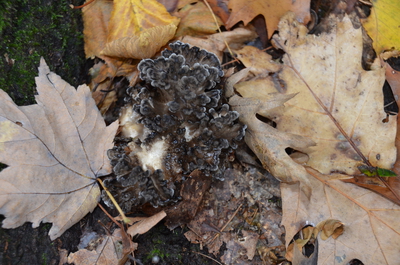 10/25/2011 - 10 days later, it is still small, but growing
Recipe Ideas
* Breaded and deep fried
* Chicken Marsala with Hen of the Woods Mushrooms
* Mushroom pizza
* Stir fry with mushrooms
* Mushroom cream sauce on pasta or steak
* Grilled
* Marinated and grilled
* Stewed in chicken broth
* Dried