I am perpetually a few weeks behind my own calendar and the calendars of those around me. M reminds me that in two weeks she'll be away for most of the week. I take the week off from work, but don't know what I'm going to do with that time. My hamstring is tight after running the H2H Half Marathon that feels sore only when I'm running, so a massive multi-day run is probably out of the question. A Canada bike trip is a no-go, since M and I are planning a trip there later in the year. A few days before my time off, M and I are in Burlington to celebrate my birthday. While we are there I look up options for multi-day bike rides in the Northeast. I come across the Green Mountain Gravel Growler:
http://www.bikepacking.com/routes/green-mountain-gravel-growler
This is a massive ride through the deeply hidden areas of Vermont, a simple game of connect-the-dots along a beautiful constellation of some of the best craft breweries in the country.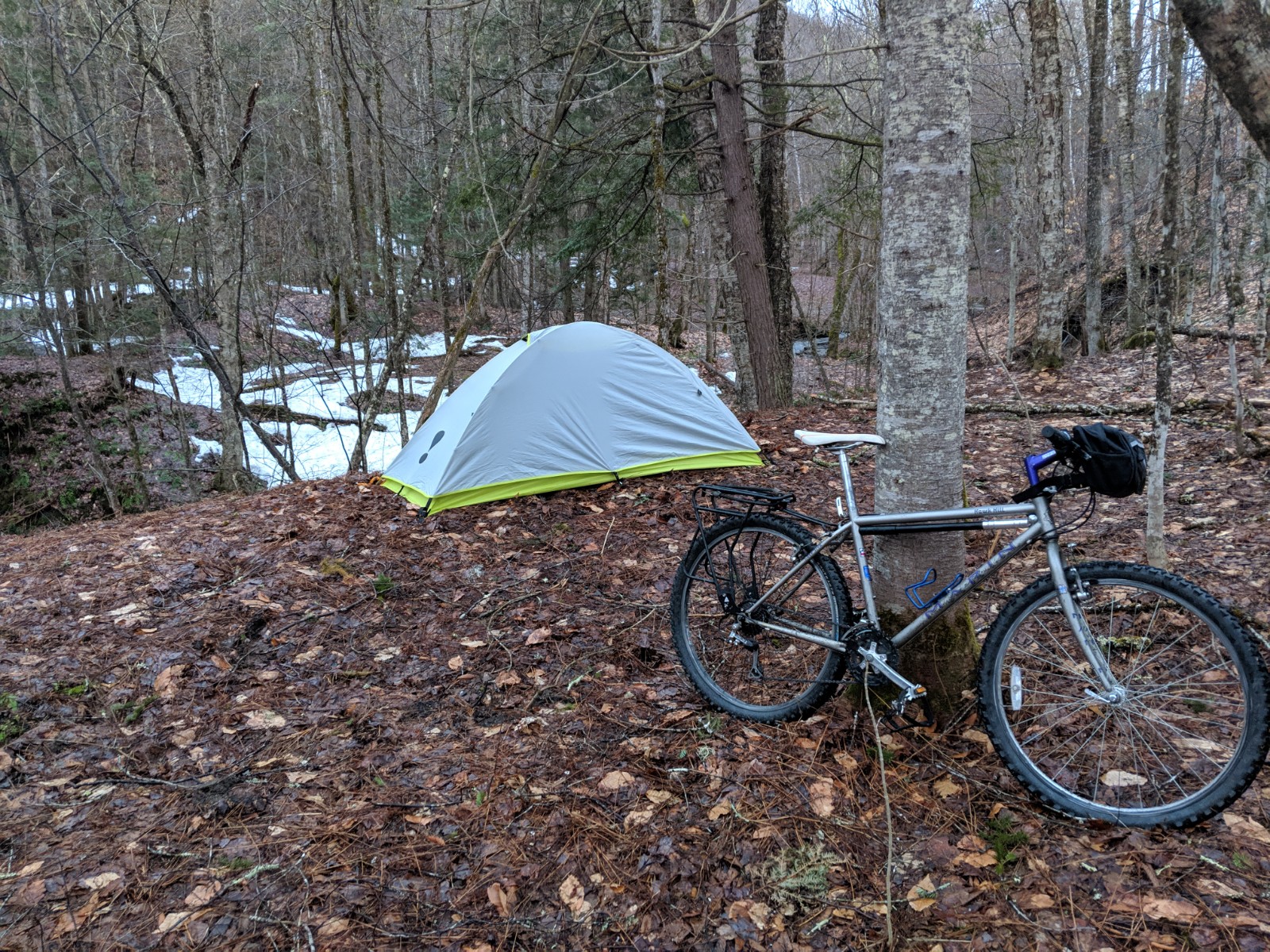 I had come across this once before and kept it in the back of my head as something I would love to do given the opportunity. Upon reading the details, everything matched up pretty well, being that it is recommended as a 5-day trip, and I have exactly that. I have no shortage of reservations, but this is my chance to explore Vermont's deeply secret inner-country as well as its famous breweries. I can't possibly pass up this opportunity. I don't think too far ahead - I'll give the first day or two a try, and if I run into any insurmountable obstacles I can always turn back or otherwise shorten the trip.
Gearing Up
I don't have a bike for this trip. The route includes a lot of gravel roads and mountain biking trails that require bigger tires than just a road bike. M's 25-year-old mountain bike has a really nice bike rack and saddlebags. I'm not sure the bike fits me well, but I fill up the bags with a tent and sleeping bag and some warm but not-too-warm clothes. I take M's bike for a quick test ride and swap out the big soft seat with a hard saddle I'm accustomed to. The cranks are in rough shape - they creak and wobble terribly. I tighten up the bottom bracket as best I can with a monkey wrench (not the right tool by any means) which tightens it up just enough to be tolerable. I happen to notice that the front tire is visibly dried, hard, and cracking everywhere. Clearly this is the original tire that came with the bike and there is no way it can survive this trip so I swap out the tire with a tire from a broken bike in the garage. I am careful to not inspect the bike any more deeply, suspecting that I will make a discovery that ends the trip before it has started. On that note, I pack up the car and head to the nearest possible starting point - the Park and Ride in Charlotte, VT. It's barely more than a two-hour drive from my house.
Day 1, Leg 1 - Charlotte to Fiddlehead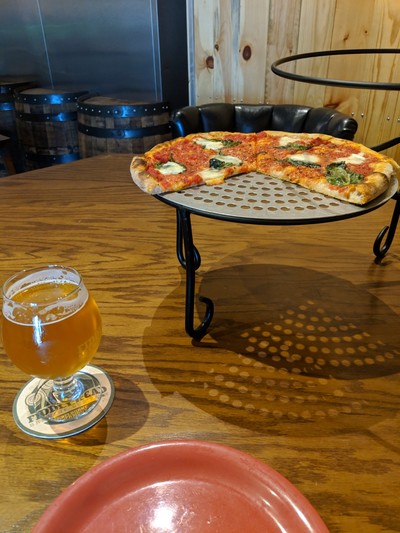 I first mapped out a clockwise route starting in Richmond, VT. I quickly discovered that most of the exciting breweries were going to be closed if I went this way. On my second attempt I mapped out a counter-clockwise trip starting in Charlotte, VT. Everything fell into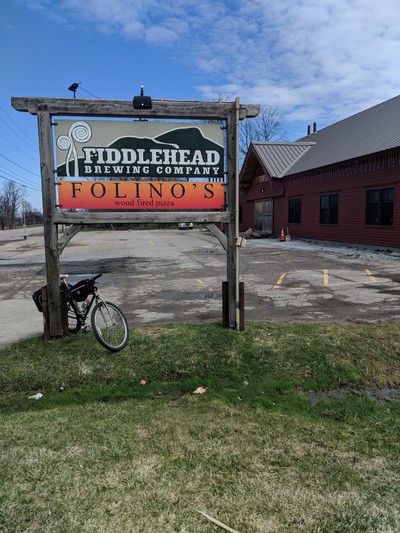 place, hitting each brewery while they were open. No breweries open before noon, limiting how much of a head start I can get most mornings, so sleeping in is a must. Several breweries don't open until 4pm which narrows the window between dinnertime and finding a place to sleep. Eager to get started, I bike an easy 6 miles along side roads to Fiddlehead. I get there well before noon. I'm not much of a relaxer. But one really cool thing about this trip is it's going to force me to add a little 'stop' to my 'go go go'. With an hour to kill, I find a picnic table and start trying to learn how to chill out. I mostly walk around and fuss with my book. At noon I order a pizza and bring it over to the brewery for a beer. This is a great start to the ride.
Day 1, Leg 2 - Fiddlehead to Bobcat Cafe
I ride toward the next dot on the map on my phone. My very rough notes say I should get to the Bobcat Cafe in 2.5 hours. In just over an hour I reach the first dot! At first I'm convinced that I'm super fast and crushing my time estimate, until I reach the dot and it turns out I'm at a brewery I meant to skip because it is closed today. Darnit! These are a few extra hilly miles I didn't need to tack onto the trip. Along the way, I communicate with JP who agrees to meet me at the Bobcat Cafe. Along the way there are some great views of the countryside, including views of the iconic Mount Mansfield out past creeks and old farmhouses. The route takes me along muddy dirt roads.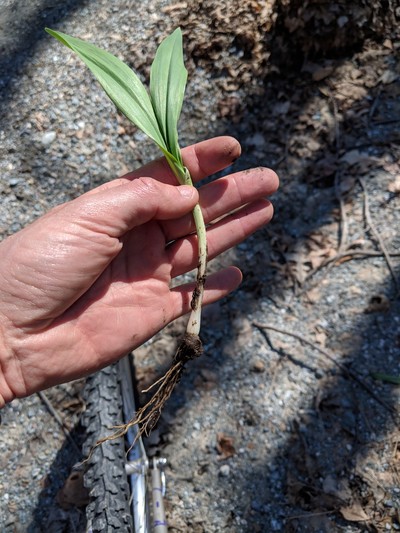 Early springtime is ramp season. Ramps are highly sought-after foraged edible plants that are a subtle cross between garlic and onions. I've never found a ramp before, but along the trip I stop to examine a plant that sure enough turns out to be a ramp! And they are everywhere! I pull one of the ground and confirm that it indeed smells garlicy.
JP hops on his bike at his house and rides toward me. After a little back-and-forth via text messages, we meet up five miles from Bobcat Cafe. He takes me along an alternative route through some extra trails and takes a detour to a park with an amazing skatepark and a half-pipe, and a dirt track he helped build. Riding around this stunt park on M's bike laden with gear is goofy but good practice for what is coming in the next several days. We lock up our bikes at Bobcat and enjoy a beer while we discuss my plans and he tells me about some of his upcoming adventures. He offers me a place to stay for the night, but for me, tonight's struggle to find a place to sleep is really important. I'm a short day's bike ride from the car, and the weather is decent, so if I'm going to find out that my sketchy outdoor sleeping plans are going to fail then now is the time to do it before I'm too deeply committed.
Day 1, Leg 3 - Bobcat to Middlebury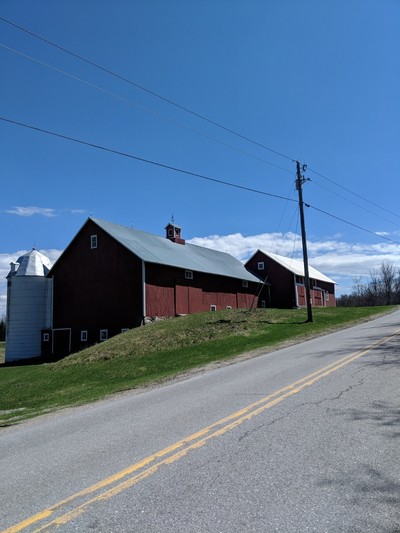 It's a little later than I'd like and the sun is going down soon. I hurry down to Middlebury. Otter Creek brewing closed an hour before I arrive. I could have visited the Drop-In Brewing Company, but I really need food and to try and find a resting place before it gets dark. I hit up Two Brothers Tavern at JP's recommendation. After a great meal, I put on reflective gear, a headlamp, and a flashing red bike light. Along the way I come across a swampy triangle of woods. My choice is to either set up camp in this less-than-ideal spot or try to ride 5 miles, tired, on busy roads in the dark and pitch the tent in a big forest. I choose to camp here which turns out to be the right choice because the next bit of trail is impassable. I pitch the tent and check myself casually for ticks. The ground is cold and damp. Some of my gear is strangely wet inside the tent. Am I sinking into the swamp? Am I going to get soaked in this awful spot? No - it works out. It's a little chilly but I stay dry and reasonably comfortable.
Day 2, Leg 4 - Lincoln Gap and Lawson's Finest Liquids
Today I am looking forward to a big moment of truth for the entire trip. The top of Lincoln Gap is the highest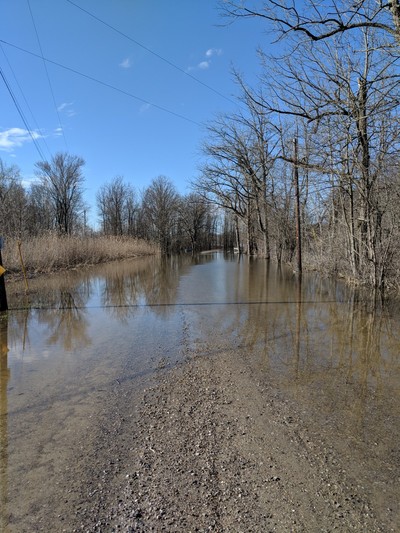 elevation of the trip at 2,428 feet. The road is generally closed to cars through May 15, so I am almost three weeks early. This time of year it is blockaded, but is 'use at your own risk' for bikers and skiers.
I pack up my tent and head out into the brisk but sunny morning. I cross a biking bridge over Otter Creek. The trail that follows the creek is submerged in a few inches of crystal clear water. I proceed slowly, wondering, can this be serious? The trail widens into a big dirt road, still submerged. The trail and the creek are one! It is quite doable for a quarter mile before it gets to be six inches and deeper and is noticeably faster current up ahead at which point I turn around and reroute along the busier main road with soaked feet. The route takes me along a dirt road past countless beautiful homes almost all of which have people doing some kind of unusually hard work outside: splitting wood, milling planks, pulling stumps, installing roofing, driving bulldozery machines, that type of thing. The weather is cool but through clear skies the sun brightens my mood as much as it does the surrounding landscape.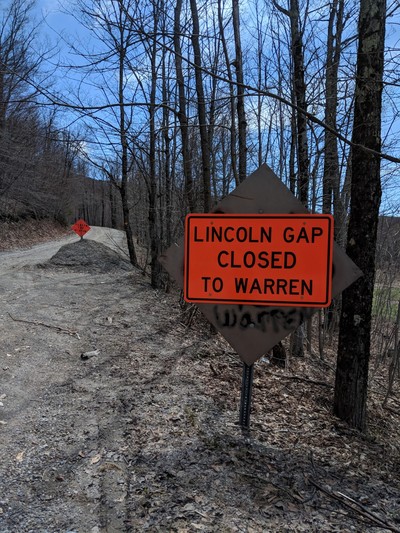 At noon I turn right onto Lincoln Gap Road. I reach a big orange sign that says, "Lincoln Gap Closed" with several roadblocks. I'm not sure what to expect at the top. I climb the steep grade, pushing my bike for much of the way. It's a lot of work and I am overheating. I'm a little stinky and sweaty. A cool mountain creek flows nearby. I park the bike and stand in 6 inches of water and wash my shirt and shorts, using them as a washcloth to freshen up. The ice water takes the breath away but it feels great to be cool and clean. Before long steady climbing takes me to the top of the gap. I made it! There was no snow or ice on the road, this was a piece of cake! No sooner do I crest the very highest point when the descent comes into view.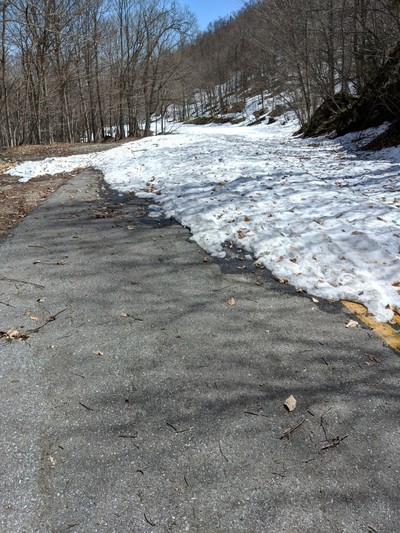 It's deep snow as far as the eye can see. Well that is certainly unexpected! I walk my bike and eventually find clear sections to ride down along the sides of the road. After a quarter mile or so the snow is gone and the way is clear. Once I get past the roadblocks on this side of the gap I pass a few people. Everyone is curious to know if the gap is open, even the locals living on the mountain. I enjoy being the person in the know with the answers to the questions I had myself just a few hours prior.
Woj is working nearby today and agrees to meet me in Waitsfield. As I descend into this small village, the ditch litter on the side of the road consists almost entirely of cans of extremely high-end beer such as Lawson's Sip of Sunshine and Alchemist's Heady Topper, as opposed to the usual Milwaukee's Best, Bud Light, and Natural Ice. I wait for Woj at Mad Taco. This is like the best place ever with an amazing beer list, an active meat smoker outside, and and endless stream of 'to die for' plates of food flowing out the service window. Who knew a taco could be so special?
Woj arrives in a shirt, tie, and slacks. Before he approaches, he works as hard to messy himself up as I did to try and clean myself up so we don't look so weird together. Woj is full of questions. "How are you so clean?" I explain my bath. "Did you bring changes of clothes?". No. "So you carry everything you need like toilet paper?".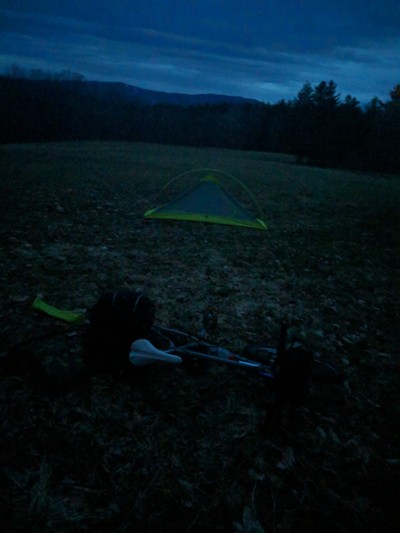 I explain that I didn't bring toilet paper. It hasn't come up so far in the trip but will soon. Wet leaves from a creek serve the purpose quite well. What he doesn't ask is if I brought a toothbrush, to which the answer would have been that I meant to but forgot it. We slather our meals in house hot sauces and wolf them down before heading over to Lawson's Finest Liquids for a beer. Woj gives me a can of Sip of Sunshine and we part ways as I head off into the evening.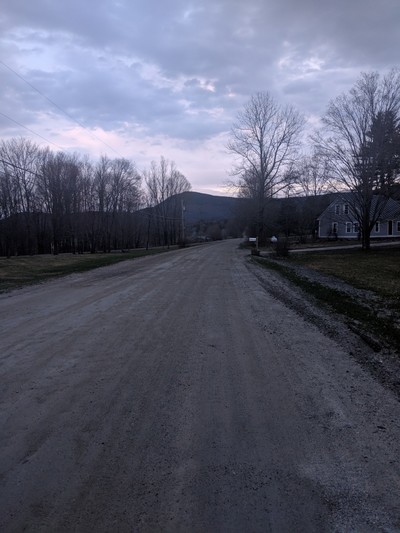 It's sprinkling slightly. I work my way up into the hills and end up setting camp with an amazing view of a ski mountain. I sip my sunshine in the dark while I talk to M on the phone and read my book by headlamp. The wind blows and rain falls lightly off and on through the night. I sleep uneasily. I wake up to something pawing at the side of the tent. I don't want to know what it is, I really don't. I just yell, "get out of here!" like I would to an intrusive cat or dog. I can hear the animal walk away and paw at my bike bags for a bit before moving on. Fair warning - slightly graphic sentence incoming. It's raining out so I don't want to leave the tent so I awkwardly lean outside and urinate into the 16-ounce empty beer can and then reach as far away from the tent as possible and pour out the contents.
Day 3, Leg 5 - Waitsfield to Good Measure in Northfield
I wake up and pack up my gear. It's not quite raining, but it's chilly and damp. What to do with the pee can? I shake out as much as I can, but I don't want to pack it away with my stuff and it's not like there's a garbage can to drop it into. I can't help but wonder what Vermont's rules of etiquette are when it comes to recycling stuff you peed in. I put it upside-down in the bottle cage of the bike for now to hopefully empty any remaining contents. I proceed on the trail which takes me through some mud and muck. The muck doesn't seem too bad until I pass an old abandoned Jeep where it clearly got stuck and found its new permanent home. As it turns out I'm climbing another mountain with my watch reporting an elevation of well over 2000 feet.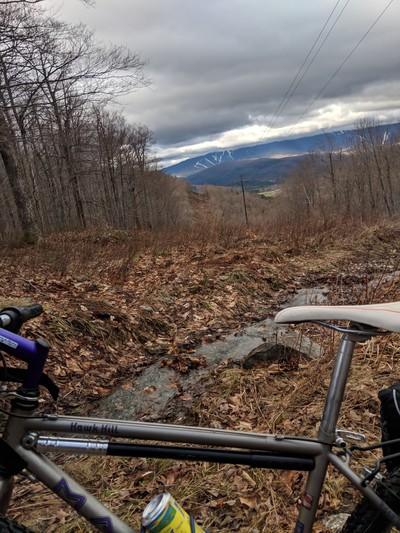 I'm using all the effort I have to drag and push my gear-laden bike to the top over an hour and a half of rather awful trail that is flowing like a creek. Another rough start to the morning. As I push the bike as hard as I am able, I feel a strain in my leg that tells me, "keep this up and you're going to get injured". This is the point that I realize that the designers of the route are intentionally making this brutally challenging. I vow to start taking the easy way out, finding direct routes and spending a little more time on roads rather than let these guys make me carry my bike over bonus mountains like this. I feel no shame in visiting hundreds of miles of breweries without making it unnecessarily difficult.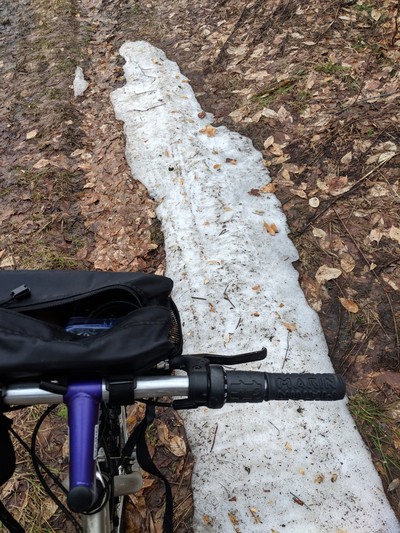 By the time I reach the top I see snow here and there. Coming down the other side is a little rough at first. Technical mountain biking down a steep mountain feels just dumb on M's old bike weighed down as it is. I really only have two priorities - don't get hurt and don't break the bike. Taking it off sweet jumps is pretty low on my priority list right now. Eventually the trail turns into mostly downhill dirt roads into Northfield. At one point the road is actually wet clay. My tires sink in a little bit, making for a slow mushy ride that feels uncomfortably similar to riding with a flat tire. As I descend into town, I pass a man and a younger fellow in the roadside ditch. The younger fellow picks up a plastic bottle with a smile on his face. Huh. I always think about collecting cans from the sides of roads for the purpose of cleaning up and collecting five cents but never do. I've never before witnessed someone actively doing it before. It crossed my mind to offer them my empty beer can but recollections of what I've done with it make that impossible.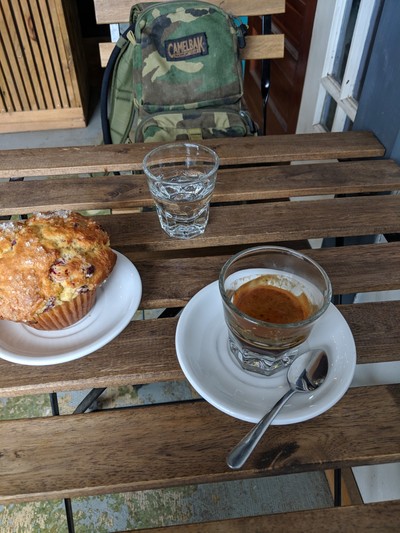 Once in Northfield, I wait for the brewery to open at noon. The brewery has a coffee shop attached so I take a seat under a speaker and read my book while I charge my wristwatch and phone over espresso and a muffin. Music plays from the speaker at a volume slightly louder than pleasant. A particularly obnoxious song comes on. One of two women sitting together nearby thinks the music is coming from my plugged in phone and yells at me, "Will you turn that off?". I shrug and say it's not mine, pointing to the speaker on the wall. She backpedals,"I didn't think you looked like the type".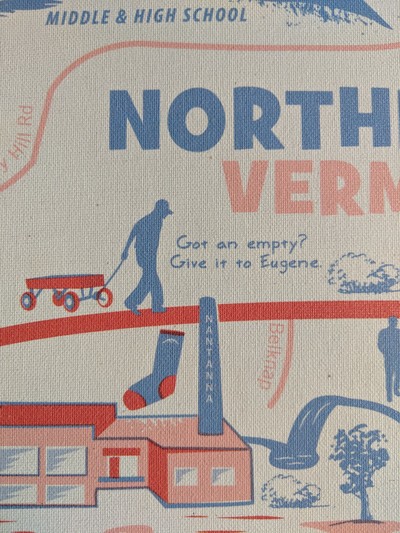 As soon as the brewery opens I stop by and have a beer. This is one of those unnecessary beers that is more of a symbolic effort to complete this trip leg than for enjoyment's sake. Several antique Utica Club metal trays are on display. A screen-printed canvas on the wall displays a tourist map of Northfield. On it is a silhouette of a man pulling a wagon that says, 'Got an empty? Give it to Eugene'. Was it Eugene I saw on the side of the road earlier? I really could have offered him my empty under different circumstances. The map also displays the location of the "Darn Tough" hosiery company. I bike there first. A pair of quality wool socks is at the top of the list of things I wish I had. When I get wet and move quickly through the brisk air my feet get cold easily in my suede sneakers and thin synthetic socks. I stop by the factory and ask a worker if they sell socks. She laughs and says, "no I'm sorry, we just make them here". I grab half a Subway veggie sub on my way out of town and eat half of it, storing the rest.
Day 3, Leg 6 - Northfield to Three Penny Taproom in Montpelier
According to my notes, Three Penny Taproom in Montpelier doesn't open until 4pm which is a little bit later than I'd like. I take the easy way along route 10 which is reasonably flat and smooth rather than take the proposed route over yet another mountain. As I cross the border into the capital city of Vermont, Montpelier, a sign reads,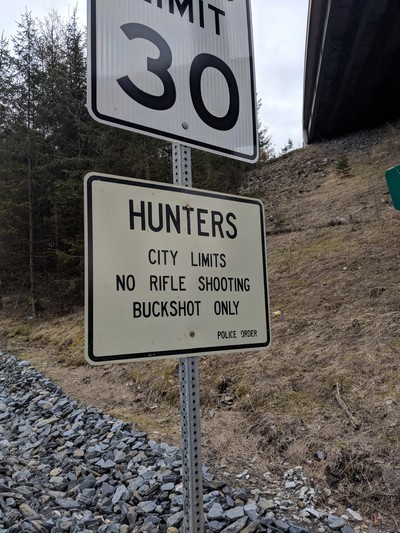 "HUNTERS - City limits - No rifle shooting - Only buckshot - Police order". In the center of the city I see several locations advertise Heady Topper and other great beer options, but I am determined to visit the Three Penny Taproom which is famous for being one of the first and only bars to serve some of Vermont's most inaccessible craft beers. As my ever-dependable miraculous luck would have it, they are open earlier than expected! It did not disappoint. This was a real highlight of the trip. As I looked over the beer options, one in particular caught my eye, "VT - Wunderkammer Bier - Hyla Crucifer - Wild w/Lichen and Mushrooms - $6". I once heard a podcast about a brewer making experimental beer using mushrooms as an ingredient. It sounds stupid, but the amazing thing was the dramatic surprise for even the brewer himself as to how well the flavors worked. Hard to imagine, but here I have an opportunity to try it for myself. I sat down and had a glass of mushroom beer. Upon the first sip, "oh my god"! It was delicious! In the moment, I couldn't help but think this was the best beer I'd ever had. It is one of those magic moments when everything comes together and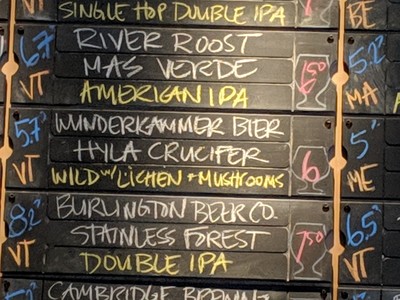 manifests itself in a few sips of the right drink at the right time. After spending the night and day in muck and mud and sticks and leaves and cow patties, here is a delightful beer that balances all of it into a highly satisfying earthy swill. Yesss! Follow that up with an amazing mushroom soup and I'm ready for whatever comes next! I won't try to explain it, since it is as opaque as the name of the beer itself (I'll repeat it again here: Wunderkammer Bier - Hyla Crucifer), but apparently this brewery is some kind of side project of a brewer at the most elevated brewer on this trip - Hill Farmstead. As I understand it the brewer focuses on including foraging in each brew. And I couldn't tell you where you could ever find any of it to actually drink, except here and now. What a score.
Day 3 and 4, Leg 7 - Three Penny to Hill Farmstead
I finish my now soggy sub. This is my last chance to make things easy on myself and take a quick exit, stage left, and skip more than 50 miles of biking. This is the scariest part of the trip where I'll be completely away from civilization with extremely limited options for food, shelter, aid, or easy escapes. It takes me deep up into unknown territory and high elevation. It is a point of no return. The purpose of the last three days has been to pose the question: Are my bike and body up to this? Nothing so far has suggested that it can't be done, so I commit. It's a little rainy, and it will be over 35 miles uphill to Hill Farmstead.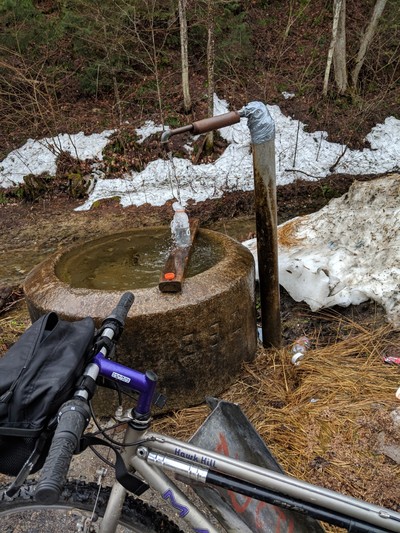 I am starting to get into the groove of how to navigate. At first I was relying on my phone, which I could quickly turn on and zoom into a map to see if I was on the official track or not. Now that I am looking to take the more direct route, this option doesn't work as well. Not to mention I can't possibly look at the phone if it's raining. However using the Garmin Connect app, it's easy to map out a course along main roadways and upload it to my watch. It's ridiculously great using the watch to navigate because at a glance at my wrist I know for sure that I'm on track. And it is totally waterproof. I pedal steadily for nearly 15 miles over the next 2 hours. Along the way I fill up water at a fresh water spring.
The rain is wearing me down. I'm cold and tired before I arrive at the first possible stopping point, a rundown country store. I'm ready for a break. I lean my bike on the railing and sit in a chair on the front porch. I walk around the store, but I'm too tired and hungry to focus enough to buy anything sensible so I buy a Snickers bar and rest there while it rains. I'm not sure what happened at this point. Mentally I was at a real low point. It looked miserable out, darkness is slowly descending, and everything just looked run down and at it's worst. It felt more like the movie set for a zombie flick right before my brains get eaten by the endless stream of clientele who look to be in even sadder shape than myself. Somebody gets furious at an empty cup and kicks it several times screaming at it before walking into the store. I wearily read the rabies warnings on the pinboard outside the store. Stay away from animals and alert someone if I get bit or if I get any animal saliva in my nose, eyes, or mouth. Is this really rabies? Or is that just codeword for the zombie virus? The list of rabies symptoms sure sounds like a zombie infection:
irritability or aggressiveness
excessive movements or agitation
confusion, bizarre or strange thoughts, or hallucinations
muscle spasms and unusual postures
extreme sensitivity to bright lights, sounds, or touch
I put on reflective gear and lights. As I'm packing up a guy comes up to me and says, "You taking back roads?". I answer, "No I'm heading that way" as I point down the main road. "14? You're brave!", he gives a laugh, halfway between good-humored and sheer evil.
As soon as I start riding, the road is way worse than it was. Water-filled potholes and little-to-no shoulders push me closer to the driving lane than I'd like to be. It's about an hour before dark, and I don't know where I'm going to sleep. I start seeing snow covering almost half the ground surrounding me. As remote as this is, houses line all of the inhabitable land on either side of the road, limiting my camping options. Everything else is water. Lakes and ponds sure, but mostly it's just flat flowing water looking for the path of least resistance. I might as well be looking for camping spots on the side of the road between islands in Key West. I reach a spot where I can climb down a steep hill to a creek with a small level area free of water, snow, and ice. As perfect as this is, a sickening feeling of guilt takes hold, knowing that I'm surely offending someone or something (I don't even know who or why) by sleeping somewhere without explicit permission. As cars rush by, someone is going to see me slink with my bike into the trees.
I pitch the tent with the door facing a steep drop into the creek. More of a hiding place than a home, the spot is perfect. The hill to the road is easy to climb down with my bike, but it's steep enough to hide me from view of the road. The sound of the creek helps cover the sound of the cars driving by. I lay in my tent and eat my Snickers dinner and sleep pretty well for the night as it rains.
I wake up in the night needing to pee. I put on my headlamp and walk outside. In my mind I am walking toward the road, not paying much attention. Suddenly I see that I am about to step right off the steep drop into the creek. Whoa, that was close. How did I not see what a bad idea it was to put the tent exit so close to danger?
When the sun rises, I crawl out of bed and rub my eyes. It's slightly overcast, but there is refreshing sunlight! It's cold but comfortable. My spirits are lifted as I pack up and hit the road. Again I feel the pain of guilt as I exit the woods, hoping no cars catch me in the act. I can't help but sense that being homeless must feel this way perpetually. As much as I fantasize about the freedom of just wandering, I think the reality is much harsher than I realize.
After a quick descent into Hartwick, I stop into Connie's Kitchen. I feel very welcomed as I sit down and have Connie's Breakfast consisting of eggs, toast, ham, homefries and coffee. I charge my phone and watch and read my book as time passes as I have done each morning, trying to avoid arriving at the next brewery too early before they open at noon. I have 10 steep uphill miles ahead of me. When I'm ready I take a deep breath, suck it up, and start peddling and walking up.
Wow. Just wow. The dirt roads to Hill Farmstead are nonstop beautiful sights and wonderful smells, including burning wood stoves, friendly faces, and the most delightful manure smells imaginable. I don't know what it is - the time of year maybe? Maybe chilly manure smells better than hot manure. But it smells more like sweet, earthy, refined lawn clippings than what it really is. I enjoy the climb. I pass by Circus Smirkus Camp. I'm excited because I recently watched an awesome show on PBS about the travelling Circus Smirkus. It's cool to see a piece of it here in the middle of nowhere.
I find myself jokingly annoyed by little signs that say, "Hillcrest" with an arrow pointing uphill. No kidding. The hill crest is up.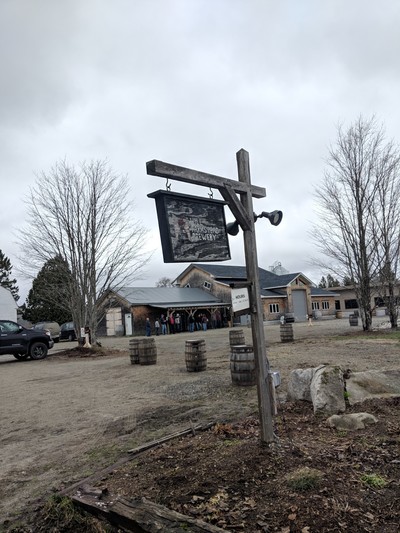 I am increasingly elated as my watch counts down the miles toward the ultimate destination. Hill Farmstead marks the end of the difficult and scary half of the trip. Once I reach it, the rest of the trip is generally downhill and civilized. Within a quarter mile I can smell it steeping grains and fermentation! I arrive almost an hour before they open. A line of people has already formed outside the retail shop. A woman laughs as she says she saw me biking up that huge hill and asks me about my trip, and I later hear her excitedly retelling it to other people in line. I have a little cell phone service and talk to M until they open up early. I check out the store, then head to the taproom.
I order a beer, a pilsner with a very tempting description, something about 'carbonated in it's own krausen' whatever that means but sounds cool. It was so impeccably good, even moreso because it's usually a pretty unexciting option. I don't know how they do it. The brewing process has a way of magnifying imperfections. So when you taste a beer so perfect it feels just that much more rare and amazing. I needed food. The food menu consisted of three options, two of which were basically, 'slice of cheese'. I went for the french slice of cheese. It went well with the beer. I later found out that by Vermont law, brewers are not allowed to serve full pours of beer unless they serve food. Which makes sense, you shouldn't drink on an empty stomach. It also explains some of the hilariously minimal food options at the finest breweries.
I now have a heck of a lot more appreciation for Hill Farmstead, and feel incredibly fortunate that their beers are served at rare local places like the Ruck in Troy and Albany Ale and Oyster.
Day 4, Leg 8 - Hill Farmstead to Lost Nation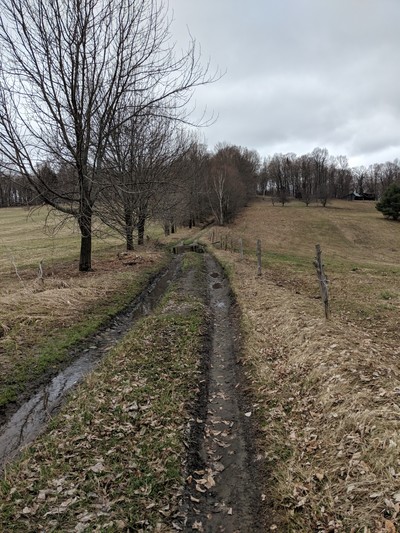 The descent from Hill Farmstead was spectacular. It took me through endless farmlands deeply characterized by centuries of hard labor. I am struck by the sense that this entire trip has been on par with visiting the ancient Egyptian pyramids. I just can't fathom how humans were able to build this place except one little piece at a time. I blast the Melvins from my phone as I descend Rocking Rock Road. It takes me down just the right amount of muddy double track and secret singletrack, mostly down down down dirt roads. Twenty-five miles zip by in three hours. It feels good to gain speed on the downhills and let that momentum carry me as far as possible on the uphills. I visit Lost Nation Brewing for a quick beer and some ahi tuna tacos.
Day 4, Leg 9 - Lost Nation to Alchemist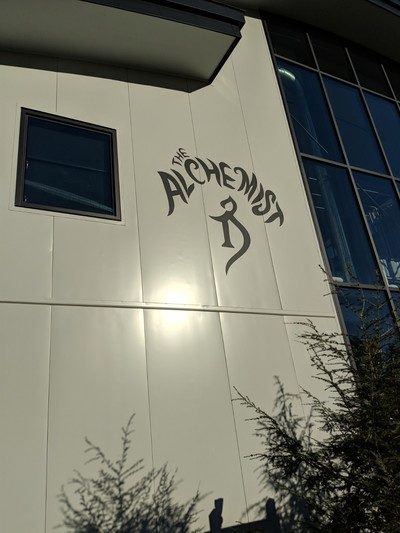 I'm in a real hurry here, if I make excellent time into Stowe I can make it to Alchemist for a Heady Topper tasting before they close! Missing out on Alchemist would call into question whether or not the overall trip was successful. Luckily service is very quick at Lost Nation while I frantically plan out my route. I leave so quickly I forget my favorite Lake Placid mesh cap and leave it behind. The roads lend themselves well to moving quickly and the downhills over the last several hours have invigorated my otherwise tired legs.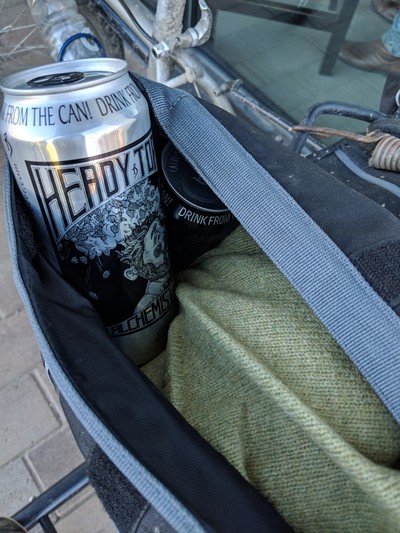 There is a distinct rhythm to the hills that help maximize momentum's benefits. As I pass through Stowe I realize I have plenty of time. I stop by a cheaper hotel and reserve a room. Now that I'm situated I am ready to see Alchemist for the first time! I always pictured a darkly lit shanty built from stained driftwood in the middle of nowhere. What I found was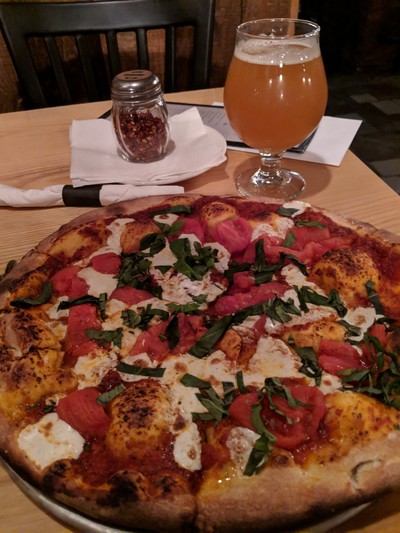 more like a vibrant artsy museum setting. Makes sense, this is more of a high-tech brewing revolution than a scene from Moby Dick. The place looks spectacular but I was strangely disappointed by the on-site offerings. They don't serve full pours only small tastes. And the draught beer tasted more reminiscent of perfumy baby powder than the complex hop monsoon that their canned concoctions provide. I bought two individual cans, stuffed them in the bike's saddle bags, and headed back to my hotel. Back at the room the can of Focal Banger fully restored my faith in Alchemist and I went out for wood fired pizza. A little overwhelmed by the beer options, I went with the waitress' suggestion, a classic Hill Farmstead Edward, after which I called it a night.
Day 5, Leg 10 - Omnithermic trip to Stone Corral
Today is my last day of riding. I'm looking at temperatures starting in the 30's with wind and steady rain. I just need to survive the trip back to the car. I think my original plan had something like 70 miles mapped out. I cut a few corners, and skipped Burlington which I visited just last weekend. This trimmed it down to more like 45 miles. I stuck to roads. It's funny, when I woke up on previous mornings in the tent, I was super eager to get the misery of the night over with and start the ride. Waking up in the hotel I was full of reluctance to leave the comfort and dryness of my room. Eventually I sucked it up and committed to getting cold and wet. For the first 10 miles I was reasonably dry and bundled up, and was ready to melt from overheating. But I didn't dare to remove layers because I knew I'd be soaked and freezing by the end of the ride. The rain and wind picked up and I was soaked on my ride through Waterbury and along the Winooski river to Richmond. By the time I reached mile 23 at the Stone Corral I was completely soaked and frozen, on the verge of hypothermic. I arrived at the brewery an hour early and couldn't possibly bear the thought of standing around freezing for an hour so I pressed on.
Day 5, Leg 11 - Richmond to Frost in Hinesburg and to the car
I was thinking through my options before I start making hypothermic decisions. Or maybe the irrational decision making had already started. My first thought was to find a place with a fireplace to stand next to. Ha! Where did I expect to find that? My next thought was to stop and set up camp and spend a few hours dry in my tent and down sleeping bag.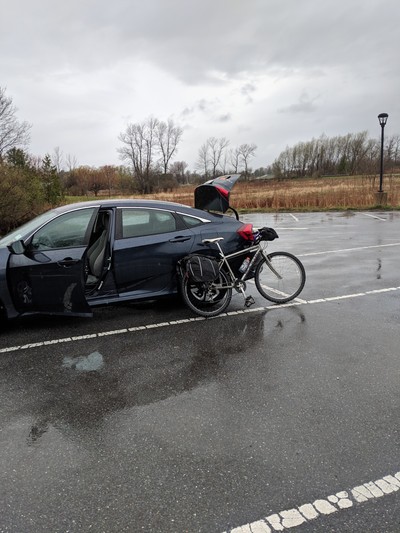 Just enough shake off this chill, wait out out some of this rain, and maybe get some of my clothes a little dryer.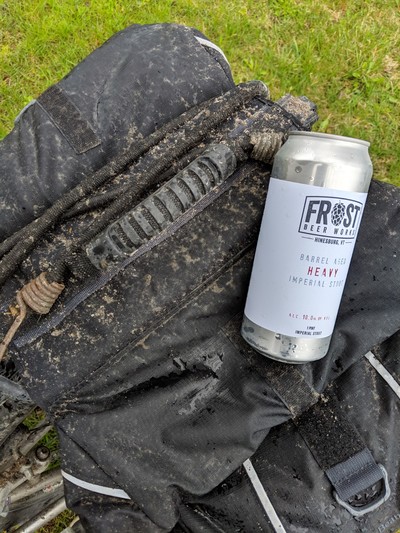 Fortunately two things happened on the way to Frost Brewing. First, it was largely uphill, forcing me to move slowly and work hard and build up heat. Second, the rain let up temporarily. I couldn't believe it but my soaking wet pants dried very quickly once the rain stopped. Before I knew it I was back to dramatically overheating! I don't know how my body puts up with this. The second half was great, I was reasonably dry and largely coasted into Frost brewing. They were super friendly and served me a flight. I bought a can to take home with me, and sat down to just wait out the rain. I went down the street for a delicious sandwich at the Paisley Hippo. The rain picked up again, but from here it was an easy 9-mile straight shot to the car. I am super thankful that the car was there, I found my ignition key, and the car started up. Trip complete!