After a couple of practice runs, we managed to catch this nice striped bass on the Hudson River just below the Troy Dam.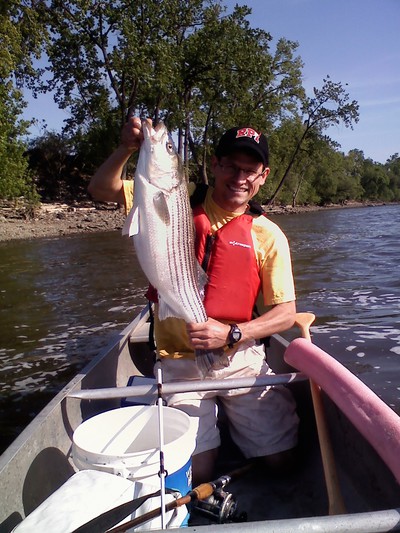 We caught the fish during the falling tide. The current was noticeably stronger when we caught the bass than during all the times when we didn't catch bass. The process involves first catching herring to use as bait. We only had one bait-catching rod on the boat with a Sabiki Rig. For twenty minutes the herring eluded my attempts. Finally, fed up, I handed the rod to M, and of course on his first cast he caught bait which put us in business. Almost immediately after rigging up the heavy rods with herring-chunked hooks and weight, something chomped away at M's bait but didn't stick around long. Soon my rod started seeing the same action, including some serious tugs and pulls. The fish and I fought for a while, and upon seeing the boat the big guy took off, but eventually M netted the beast, and snapped the picture.
After the bass, we caught several catfish, and M had an eel on his line at one point. We had gone out a week before when there were probably 25 or 50 boats out there. Today, there was just us and another boat or two. I wonder where everybody went? On both days my canoe was the smallest vessel on the water by far. Everyone else had a motorboat of some kind.