I had a blast fishing the Wynantskill this morning. I caught several small brown trout while walking up and down the river.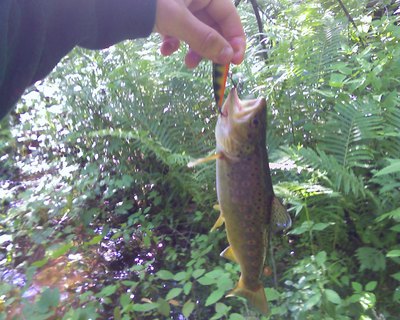 There is an awesome water wheel behind a house along the creek. It looks like it is capable of powering a bunch of tools in the yard.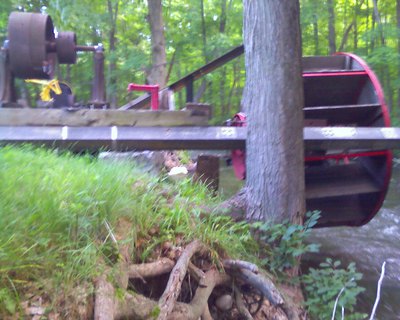 I caught a nice 13-inch trout.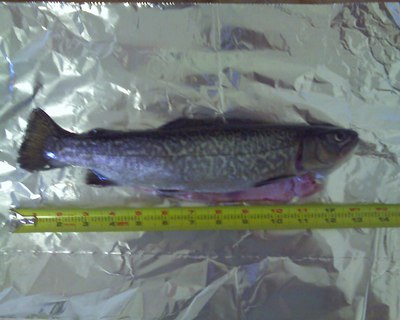 2011 comments: I didn't know what it was when I caught it. I was new to trout fishing, so it seemed normal that I had trouble identifying which type of trout it was. A year or so later after I had learned to identify trout, I looked back at this picture and realized that this was not a typical trout. I sent the picture to the NYS DEC and this was their response:
"It looks like a tiger trout, that is a cross between a brook and brown trout. To the best of my knowledge, no one is stocking them, so it is probably a naturally produced hybrid."
Hybrid or no, it made for a great dinner.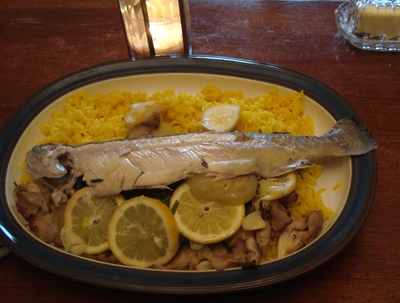 Barometric Pressure
This was an excellent day of fishing during a flat period of barometric pressure.

Related Entries
* Trout in West Sand Lake
* Trout on the Wynantskill
Related Links
* Tiger Trout on Wikipedia
* Wynantskill Public Fishing Rights