I'm trying different commercial ciders, and mostly focusing on ciders without extra added flavors (maple, cinnamon, ginger, hops, etc.). I'm curious to see what real hard cider tastes like.
Commercial Ciders
Nine Pin Cider (Draft, Brewed in Albany, served at Druthers) - Very similar to Mott's apple juice, including the slightly syrupy-sweet taste. Plus alcohol. Nice and light, though I think even the slightest taste of syrupy-sweetness is not to my liking. And man, a pint of cider is a lot for this beer/wine hybrid.
Stella Artois Cidre (Bottle) - Crystal clear, very light carbonation, sweetness really well balanced so that it tastes neither dry nor particularly sweet. "Off-dry" describes it perfectly. Apple-y without tasting like apple juice. Very wine-like. Two thumbs up. (After doing some research, the ingredients list is long and a bit suspect - apple juice concentrate, natural flavoring, sugars, several additives, etc.). I've always like Stella, cleverly marketed at fair-weather weekend snob wannabes like myself. "Who raised you?" asked my Dad when I was caught ordering one.
Naked Flock Cider (Draft, Warwick, NY, Served at Henry Street Tap Room, Saratoga) - Ok but kinda tastes like something was brewed, then additions were made with the goal to bring the general flavor back to that of apple juice (plus alcohol). Crystal clear, beautiful effervescence. But not something I would drink unless I had a strong craving for apple juice.
Cider Creek Hard Cider (Bottle, Canisteo, NY) - Very light color, champagney sparkle. Tastes like a better-than-usual New York State white wine, with a hint of apple. Very light flavor, seeming almost watered down on the first taste, which is maybe appropriate for a pint of cider. The driest of the ciders I've tried so far, yet it is still a little on the sweet side, but well balanced and really tasty. Two thumbs up. The best so far, but I'm still waiting to taste a cider that is actually dry.
Angry Orchard Traditional Dry (Bottle) - Dark apple juice color, very slight carbonation. I had some hopes for this one, being that it is labelled 'dry'. However if I think of wine while I sip, this cider tastes like an appley sweet white wine. It has the apple juice plus alcohol flavor, with slight dark apple taste, making it tad more exciting just apple juice. Ingredients include 'natural flavors', etc. making this another disappointing cider. Or should I say awesome cider, because my crappy first attempt, fraught with mistakes, tastes way better IMO. 🙂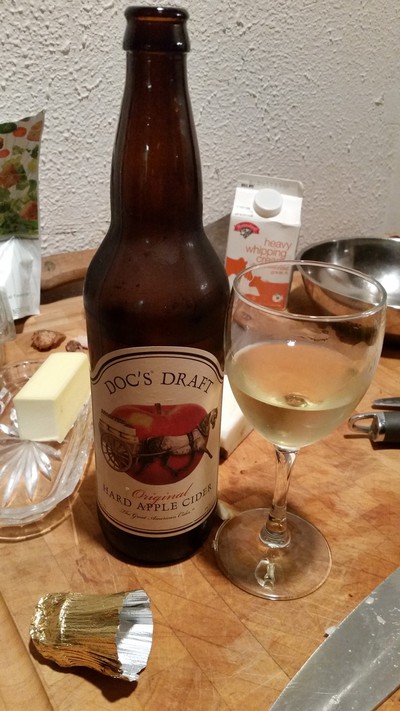 Doc's Draft Hard Apple Cider (Bottle) - Light color, champagne-like bubbles. Appropriately sweet, drier than all the others I've tried so far and it's still not exactly dry. If it were wine, it would be pretty good, even though I don't like a sweet wine. Label states, 'Made from pressed NY state apples, fermented with champagne yeast and malic acid.' *Could be* orc mischief (even evil cider is made from pressed apples). But sounds reasonable. And it's pretty close by. This place deserves a visit for sure. Also worth mentioning is that this cider was inexpensive compared to the others. I think it was roughly $5 for a 22 oz. bottle, sitting next to other ciders selling for $10 or more. Three thumbs up. See here for a video from Doc's cidery.

Le Brun Organic Cidre (750ml Cork Bottle) - Light and bubbly, low alcohol at four percent, and very dry. Made and bottled in Brittany, France, with an Illinois importer. Unpasteurized. Really good and interesting, although I definitely tasted more than a hint of cleaning supplies. Not a bad taste, but makes me wonder. Is this how it tasted when it left foreign soil or was some mishandling involved? Excellent regardless. (Relevant quote from a great cider making podcast: "A lot of the things we associate with ciders made in Normandy or Brittany, we might think of those as faults if they appeared in our new world clean ciders but those are the exact same things that make those traditions, that define what those traditions are.")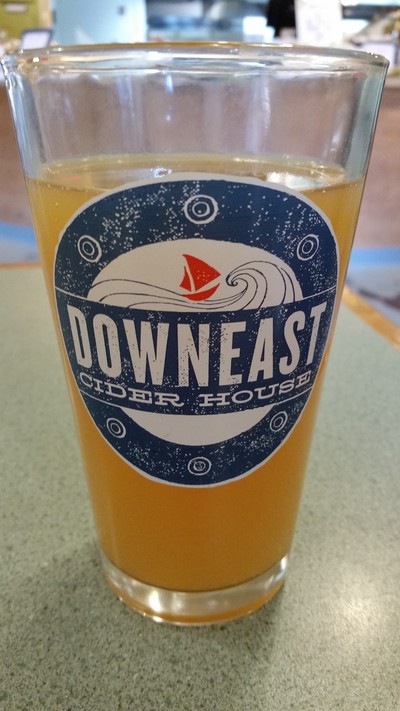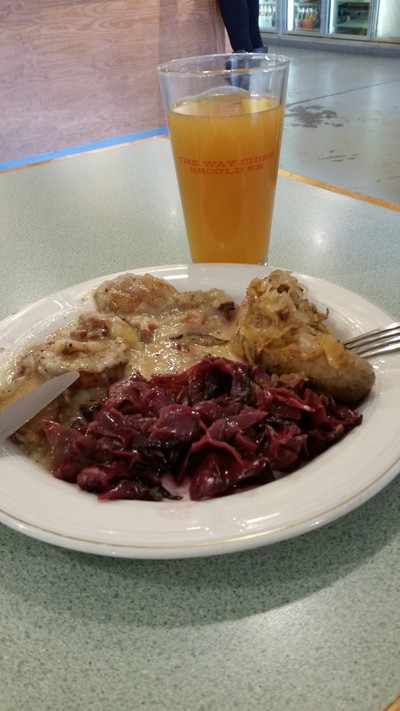 Downeast Cider House (Draft, served at Park Side Eatery in Saratoga) - Oh my god. This tastes like exactly what I've been looking for. Cloudy, with a tiny bit of bubbliness. Dry with a rich cidery character, rather than the apple-juicyiness of some other ciders. This is by far the best I've tasted so far. Perfect.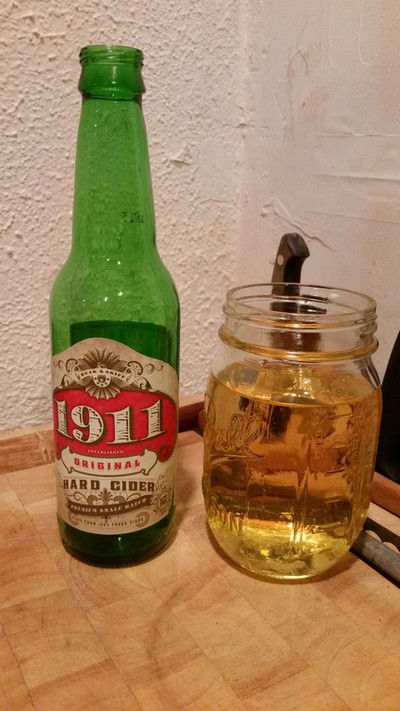 1911 Original Hard Cider (Bottle) - Foamy head that quickly subsided. This cider falls under the apple juicy category, but is one of the best of the apple juicy ciders I've tasted, clean and dry. I'm not sure it's my thing, but it could grow on me. Definitely one thumb up, maybe one and a half. (And please remove a thumb from the Stella Cider, er I mean Cidre, my tastes are changing).