Today some friends and I ran the Seven Sisters Trail Race. It's a really tough race over 7 peaks (and back again) in the Holyoke Range near Amherst, Massachusetts. It's steep for the entire 10-12 miles, sometimes up, sometimes down.
Me, T, and S met up at 5:30am to drive east to Amherst. S had some pretty serious pnemonia as of yesterday, but has miraculously recovered and is ready to test out those fluid-filled lungs. T went for a long hike the day before and is feeling the burn. H has had a rough year and at the last minute decides to test his mettle. Me? I'm well rested, but more than a little nervous. I've been behaving myself and avoiding suicidal running for the better part of a year and I know that my "avoiding suicidal running" score is going to get reset back to zero momentarily. It feels like a 50% chance that I'll have a great race, a 50% chance my body will fall apart.
There is a bit of fussing over what to wear at the parking lot. It's dry now, but it's going to start raining pretty heavily really soon. I decide to just wear shorts and a t-shirt and accept the fact that it might get a little cold. It turned out to be the right choice, despite the cold rain I was very comfortable temperature-wise.
We line up in our corrals and the race starts. By the top of the first big climb, S has passed enough runners to be out of sight. It's a difficult race to pace in the beginning. I would like to take it easy and save my strength. But it's a tight single-track path and it's difficult to pass people. So the options are to either relax and get stuck at the pace the guy in front of you decides to go. Or, if you want to find your proper place in the race, you gotta go hard because everyone else is. Eventually you'll find your spot sandwiched between two runners, too tired to pass the guy in front of you, and too competitive to let the guy behind you catch up.
After the first few miles it's clear that this wheezing pace is too fast for the full course of the race. I take it a little easier and keep my breath at a nice huffing and puffing. It seems as though everyone else is thinking the same thing, because very little passing is going on. The up hills are steep. I try to approach them with speed and keep the momentum for a while before switching to a power walk/climb.
At first, descending means carefully picking a path down steep terrain. But once the leaping muscles warm up and the conscious part of the brain turns off, oh my god the story changes pretty quick. The terrain is coming at you fast and there is just a split second to decide how to deal with it. As you approach a horizon line on the trail at the crest of a hill, the eyes take in the scene in one quick flash and make an instant decision: steep drop off, I can see the bottom, leap, and mid-flight start planning how you're going to avoid splatting. Tap a few rocks with your feet on the way down, just enough to break your fall a little before hitting the ground running. You could put on the breaks but it turns out it's way easier to just pedal faster. As long as you don't die.
And that's where this event shines most brightly. A few minutes ago, we were normal people, nervous and prudent. But now through a steady process of testing limits one-by-one, the mind and body takes everything we throw at it and begs for more, confidence building until we are flying down the mountains like a super hero.
Sadly S's fluid-filled lungs veto his decision to race today. He wishes me luck as he makes his way back to the start.
There is a steady rainfall during most of the race. A giant fallen tree naturally bridges a steep section of trail. I can recall running down the log the previous year on the return trip. I promise myself not to do anything stupid on the way back: in these wet and muddy conditions, this log is off-limits.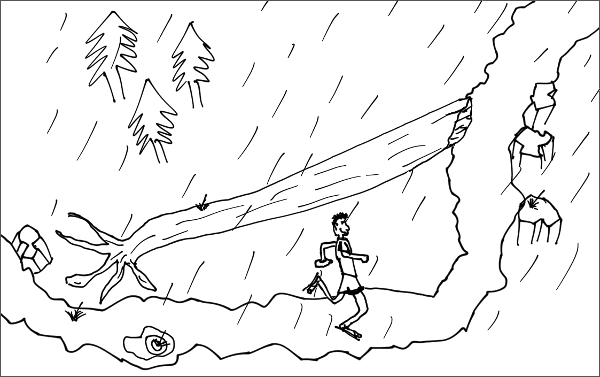 A few runners go past me, running in the opposite direction. They have reached the halfway turnaround, and are on their way back. Counting runners, it looks like I am in roughly 9th place. One unfamiliar runner goes by and says, somewhat questioning, "Jake?". It's a fellow Strava runner (C) who I know well through his runs, but have never seen what he looks like.
A steady, long, not-too-steep descent leads to a big aid station at the halfway point. Between the rain and the mud, my sandals have a nasty case of mudfoot. Because my foot is sliding around the sandal, I am unable to turn, slow down, or speed up without major pain and difficulty. As I bomb down the hill, the aid station comes at me faster than I can handle. H's wife C yells my name and gives me a big pat on the back, and her friend is also cheering. We have gone way too long without seeing each other, but it's not a great time to catch up. I slip and slide uncontrollably into the aid station, bending like a spring to avoid knocking the table over. As I come to an awkward stop, I find one hand in a box of oranges, and the other in a box of granola bars. I close each fist around it's respective food item, and my body springs back onto the course, thus beginning the second half of the race. I cram the orange into my mouth and hook shot the peel into the garbage can and blast off back up the hill.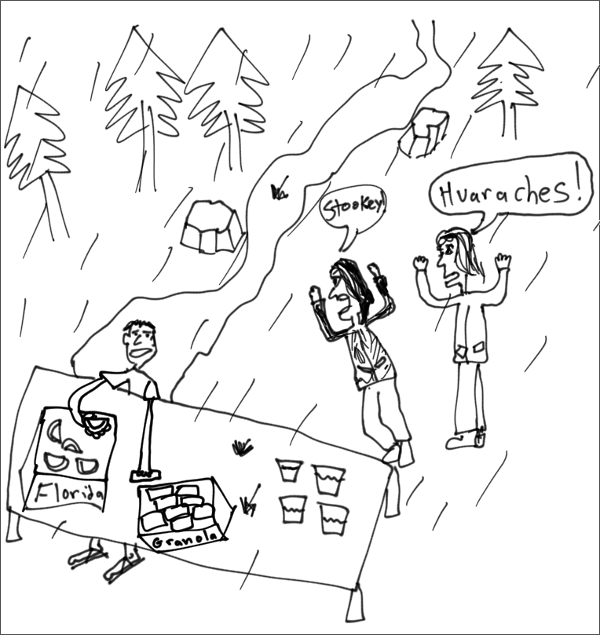 I haven't looked at my watch, not even once. This was a promise I made to myself long before starting the race. I am seriously proud of myself for this while I run because I usually have horrible self-control. On a trail run, the watch doesn't give any useful information, so it's best to ignore it. I just like to use the GPS watch to record the run so I can look at it later. At the halfway point I indulge in taking a look at my time. And. Realize. I never started the watch at the beginning of the race! D*mit! Oh well. I start the watch and continue on my way.
The first half of the race went spectacularly. I made great time, finishing in roughly 1 hour, without overdoing it so I felt I had a lot of energy for the return trip. However, by the second half, the affects of the rain and the hundreds of runners in the mud took their toll and made for a slow and messy return trip, particularly with the treadless and mudfooted sandals.
T ran by on his final approach to the turnaround. One of his old Vibram 5 Finger shoes came apart, and you could see the entire front of his bare foot sticking out the front of his shoe. Shortly after, I was excited to see H run by, I wasn't sure if he had decided to run or not.
I proceeded as best I could. Everyone was struggling with the slippery mud. I was sliding down one hill, precariously skiing down the mud with a runner directly behind me, when all of a sudden it shushed me right onto the log bridge I had promised not to run down. It was too perfect. Much to the surprise of the runner behind me, I ran along the log, with him down below on the trail, and made it back to the trail without losing my place.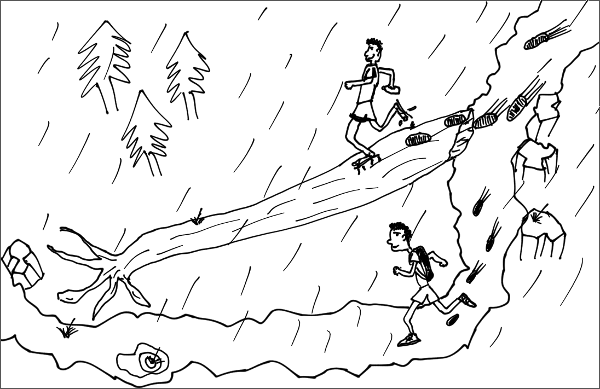 I spent the rest of the race moving pretty slow on account of the mud. Lots of runners sped past me. It was a little disheartening on some of the most fun downhills to be more or less walking. And cursing. I was very happy to hear the sound of loud music in the distance, it meant I was almost done with a very tough run. I made my way down Bear Mountain to the road, and ran the last bit of pavement to the finish line.
While not quite as fast as I might have hoped, it was an absolute blast. Those guys really put together a top-notch race. I'm so glad to have run it again this year. And the best part? I have yet to run a solid Seven Sisters. Which means I'll need to return next year to take another crack at redeeming myself!
In other exciting news, a certificate for a pair of La Sportiva shoes was raffled off after the race. In a bizarrely canny twist of fate, I was the lucky winner! Maybe if it's rainy again next year I can shelve the sandals and dress up like one of the weird La Sportiva guys that show up to this race each year.