J and I try to get out once a year to step into the ring for the "fairest fight in all of fishing": surf casting for striped bass during their fall migration. What makes this challenge so addicting is doing the research, coming up with a plan, targeting a spot, exploring the area, piecing together clues, and searching desperately against all odds to find the Big Kahuna of fishing: a feeding frenzy within casting range of the shore.
What is a feeding frenzy? Let me explain by telling the story of my first ever cast into the surf. I was with friends trying to surf the Jersey Shore. We were enjoying some downtime on the beach when suddenly mayhem ensued on the beach. Life guards blew their whistles and mothers screamed for their swimming children to get out of the water. Just off the shore of the beach a flock of a hundred seagulls dive-bombed water's surface, grabbing a fish with every attempt. Underneath them, a gigantic circle of water frothed with skipping schools of minnows, arcing fins, and shredding fish teeth. As the bathers ran to safety, another group of people started appearing from all directions, running against the current of normal people toward the fray. Fishermen.
There was so much excitement in the air. I had no idea what was happening. What I did know is that I had put a crappy little freshwater fishing pole in the car in case we got bored of trying to surf flatwater. I ran to the car and fetched it and put on the only thing I had: a lame little piece of rubber on a metal jighead for a lure. I ran to shore and cast into the tornado. Before the lure had a chance to touch water, a fish gulped it down and swam away, bending my flabbergasted fishing rod in half. I reeled in like mad and pulled the fish towards shore. Just as a big wave receded, the fish popped off the hook and flopped around on the sand. I moved quickly, because the next wave was on deck to crash over the fish and pull it back to the sea. I ran over and carelessly scooped up the fish and ran to dry sand. I held the fish in both hands and watched in horror as it vomited up hundreds of shredded minnows. Giant piranha teeth threatened to bite off my fingers.
What was going on? Simple. The entire food chain was all together at one time. Something attracted minnows, which attracted bait fish. Bluefish (the nasty ones with teeth like I had just caught) viciously tear everything to shreds. They'll cut fish in half just because they can. Meanwhile, big striped bass hang around nearby to collect scraps and stragglers.
Sadly after many many fishing trips I have yet to splash a lure into such a scene.
This weekend we headed to Sandy Hook, New Jersey. Sandy Hook is a 7-mile pile of sand that reaches out into the ocean towards New York City, dividing the bay from the sea. We arrived on Friday afternoon and geared up with waders, lure bags, and rods, and immediately headed out to start fishing. We drove to the northernmost parking lot and took a few casts as we worked our way to the northern tip of Sandy Hook. J recalled catching lots of fish as he casted towards a green bouy at the northern tip of the hook on a previous outing.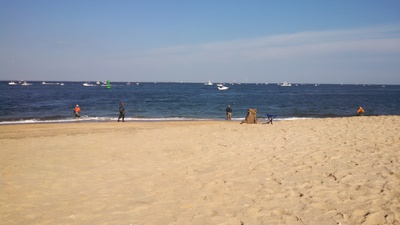 As we walked along, an excited fisherman walked by and said, "you'd better get up there, they're biting like crazy!". J and I looked at each other and hustled. The walk from the car to the tip takes 30 minutes. When we got there, we were greeted by 15 or so fisherman casting shoulder-to-shoulder, with a few bait fishermen on the sidelines. One of the fisherman had two giant striped bass up on shore. A striped bass over 28 inches is a "keeper". Anything else is a "short".
J and I started fishing to the far left next to some fly fishermen. Birds attacked the water. At any given moment, a rod or two to our right bent as people reeled in fish. Conditions were perfect for a couple of the lucky ones. On our side, the water was flat and calm. On the far side was a screaming current. In between was a line, perfectly visible, where you just knew the big fish were hunting. Unfortunately, we were well out of reach. Fishermen generally keep 10-15 feet or so between them. Not enough room to squeeze in without crossing lines with the salty dogs and turning them all against you. However, a fisherman left his spot and J moved in. Now J was one of the lucky ones in the hot seat, casting into the fast current then reeling into the quiet pool! Jealous, I yearned to join him. I walked over and J kindly agreed to share the spot. We would fish back-to-back. Yes, it meant he and I would cross lines a few times, but we could forgive each other. And to be fair, I crossed lines with one of the strangers next to me and he was super chill about it. I apologized and he just shot me a look as if to say, "What are you apologizing for? We're fishing shoulder to shoulder, it's gonna happen".
Millions of small minnows swam at our feet. Right in front of us, bigger fish chased schools of baitfish to the surface. We fished aggressively and were getting bites on nearly every cast. However, it was all bluefish and hickory shad. Not the elusive striped bass we were hoping for. Eventually the bite died down, and we checked into the hotel and grabbed dinner at The Dive in Sea Bright.
The next morning, J had to leave for several hours leaving me to my own devices. I slept in a bit, and took a gander and the beach in front of the hotel. I crossed the busy Ocean Ave., and climbed the stairs over the dune. The low tide on the other side had left behind huge piles of small clam shells everywhere.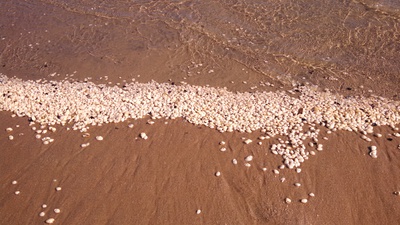 I got excited about the idea of bait fishing and working my way up the food chain. It's a technique that has worked very well elsewhere. I grabbed a small pole casted into the surf with small bits of clam on several tiny hooks, hoping to catch some kind of bait fish that I could liveline or cut up and put on a big hook on the surf rod. All I got was a couple of crabs, which I put on the big rod but to no avail. Also I was surprised to catch a nice fluke on my clam rig.
I looked down the shore and saw a thousand birds, many of them raiding the water! Was it a blitz? I gathered up my things and ran down the beach. Along the shore I saw 7 skates (little sting-rays with out stingers) with their wings removed.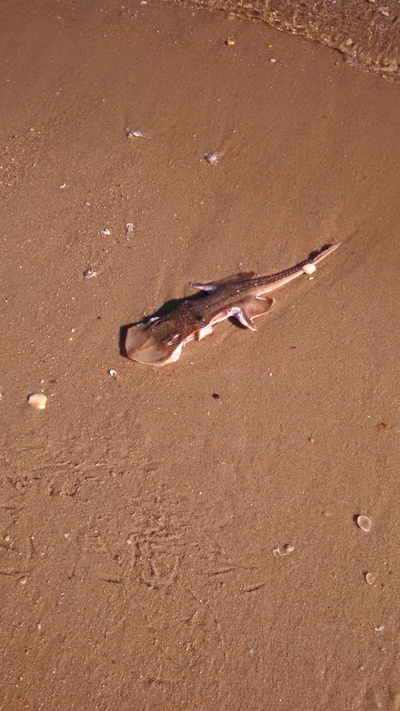 Skate wings are really tough. I could not imagine what sea creature could possibly do such a thing. Malicious bluefish maybe? (It turns out the wings were likely harvested by an unusual breed of fishermen with a taste for cartilage). It was enough to get my hopes up. But of course once I got to the birds, they looked to be just killing time.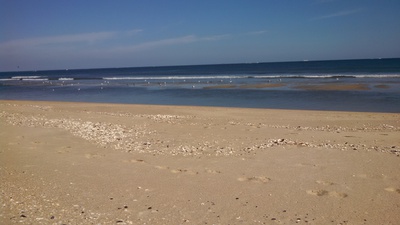 No excitement here. But what I could see was a perfect sand bar, which could yield some good opportunities during higher tides.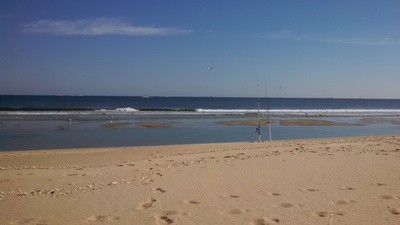 From this point on, we continued to find promising conditions: birds feeding on bait in the water, but the big fish just weren't there. My guess is we showed up too early. We should have visited further north, maybe along the south shore of Long Island somewhere. One huge problem we ran into was that the tide chart for Sandy Hook is for the bay side. Which was 3 hours or so different from the ocean side we were fishing. We kept arriving late to the part, after the tide had slackened, when we wanted to arrive when the tide was high. We quickly realized something was amiss, but it took a while to figure out why.
With each passing fishless year the excitement builds. One of these years we're going to fish an all-day blitz, reeling in monster fish until our arms fall off. This was the year of mystery. What happened to those skates? Why are the tides several hours different from the tide charts? Where are the freakin fish?