M and I spent a week riding our bikes through Quebec along the Parc Linéaire Le Petit Train du Nord. This 125-mile rail trail is a long, smooth ride in the middle of French Canada. The entire course is incredibly well maintained and takes you through long stretches of Adirondacks-like wilderness alongside lakes, rivers, and forests, dotted with many villages and parks with places to stay and dine. Each village along the way has an old restored train station, with each station providing various amenities such as cafes, bike shops, ice cream stands, restrooms, or showers. A bus service will take you and your bike from one end of the trail to the other facilitating a pleasant trip from one end to the other.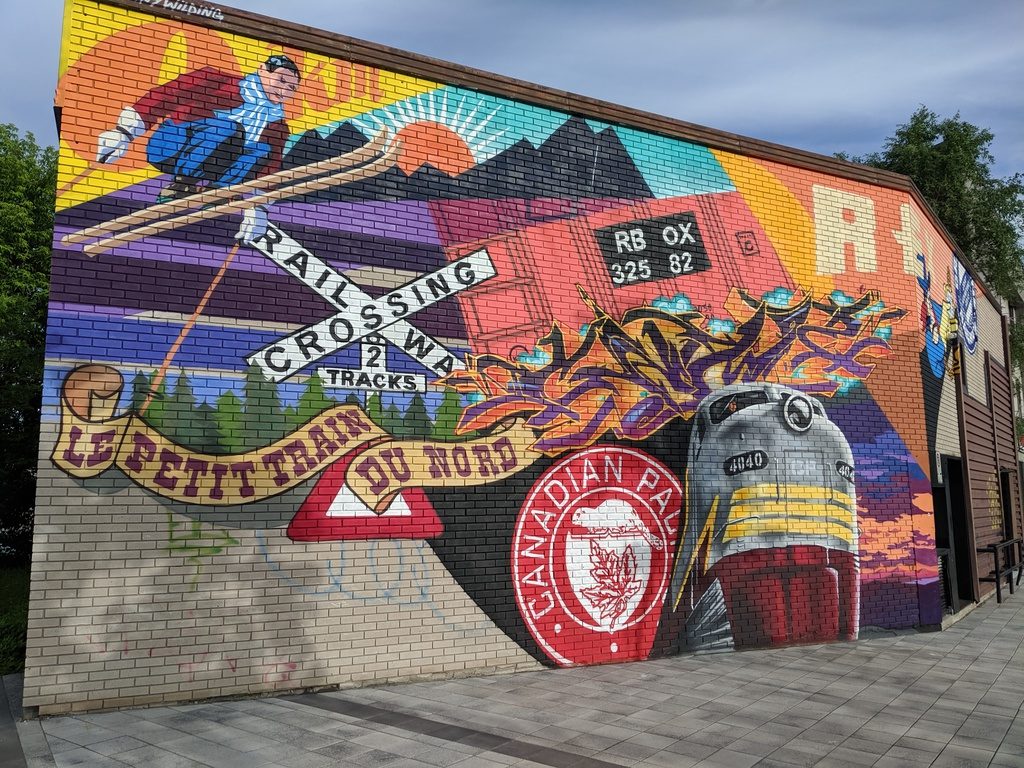 We lined up our trip so that we would stay in Mont Tremblant for the weekend of June 23rd so we could spectate friends competing in the Half Ironman race. Our trip took 6 days total, including two days in Mont Tremblant. It also turned out to be the weekend of Quebec's National Holiday, Saint-Jean-Baptiste Day which meant more traffic and people than usual, but also a little more fun and excitement.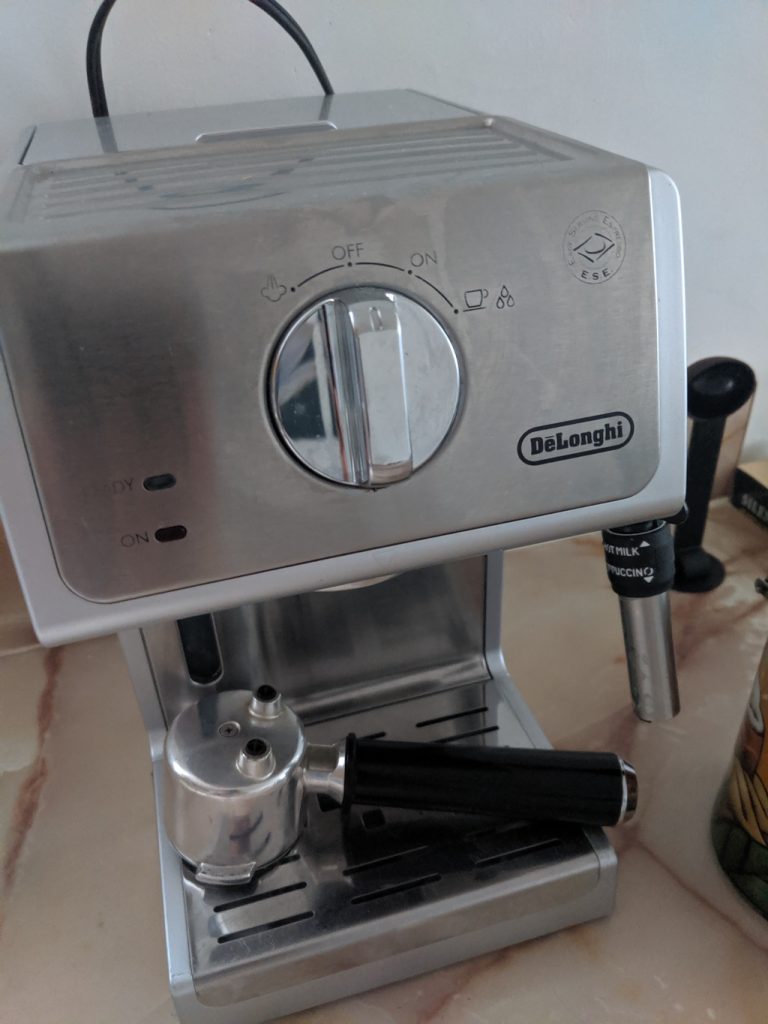 We arrived in Saint-Jérôme on Thursday evening after several hours of battling rain and traffic as we drove through the heart of Montreal. Saint-Jérôme is only a 4-hour drive from Clifton Park without traffic, but including a meal break in Plattsburgh it tooks us more like 7 hours. We enjoyed a nice stay at an Airbnb in Saint-Jérôme and grabbed a light dinner at the Microbrasserie Dieu Du Ciel. This microbrewery served good food and a wide variety of interesting beer options. We went to bed and woke up early. I woke up extra early because the Airbnb had an espresso machine! I've never made my own espresso, so I had to give it a try. It was pretty anticlimactic - I think espresso is one of those things that tastes better when somebody else makes it. And it meant doing a lot of dishes. But with that out of the way, we drove to the parking lot at kilometer zero of the bike path where the bus loaded up our bikes at 8am.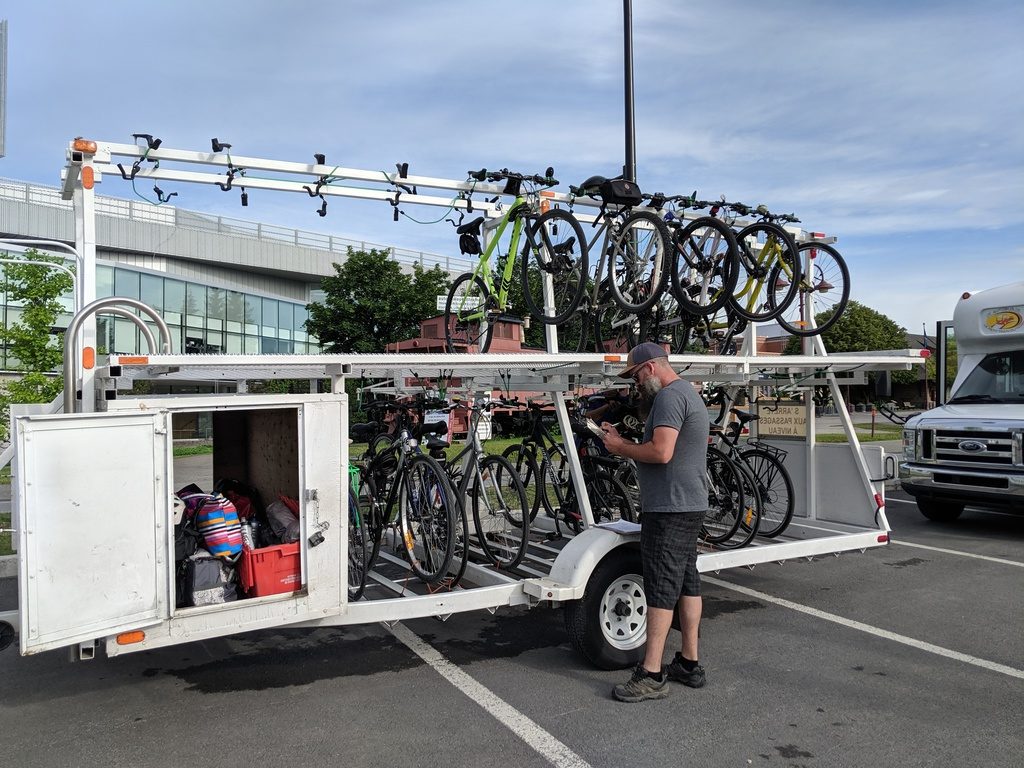 Construction on the bus ride delayed us a little bit. After the long ride the day before it felt like a lot of travelling by the time the bus dropped us off at the far end of the path at kilometer 200 in Mont-Laurier where we would begin our ride. Meanwhile I was feeling anxious. M had an unfortunate bike crash in Saratoga the week before which left some undiagnosed bruises and scrapes. Just as we were gaining confidence that it wouldn't be a problem, during the wee hours of the night before the first day of the trip, M's calf muscle charlie horsed. The potential problems had compounded and we wouldn't know if the trip would be possible until we got started.
We hadn't eaten much that morning. After getting dropped off unceremoniously in the IGA supermarket parking lot in Mont-Laurier, we walked towards Tim Horton's for a quick bite and luckily were intercepted by an awesome little cafe called Kaffé Krème.
Finally we mounted our bikes and got started! This was a real moment of truth. The start of the trip was a bit of a struggle, dealing with a weighed-down bicycle for the first time. Fortunately after 30 minutes of riding, everything loosened up and got comfortable and we could enjoy the beautiful scenery. This stretch from Mont-Laurier to Nominingue runs alongside several beautiful lakes. We were in a crunch since the bus arrived later than expected, but we made good time and arrived at Auberge Saint-Ignace with a solid hour to check in, catch our breath, place our dinner order, dip our feet in Lac Nominingue, shower, and dress. We were very well taken care of by an incredibly nice couple from France. The food and service was excellent, albeit a little quirky. We ate dinner and breakfast at the auberge before heading back out on the road.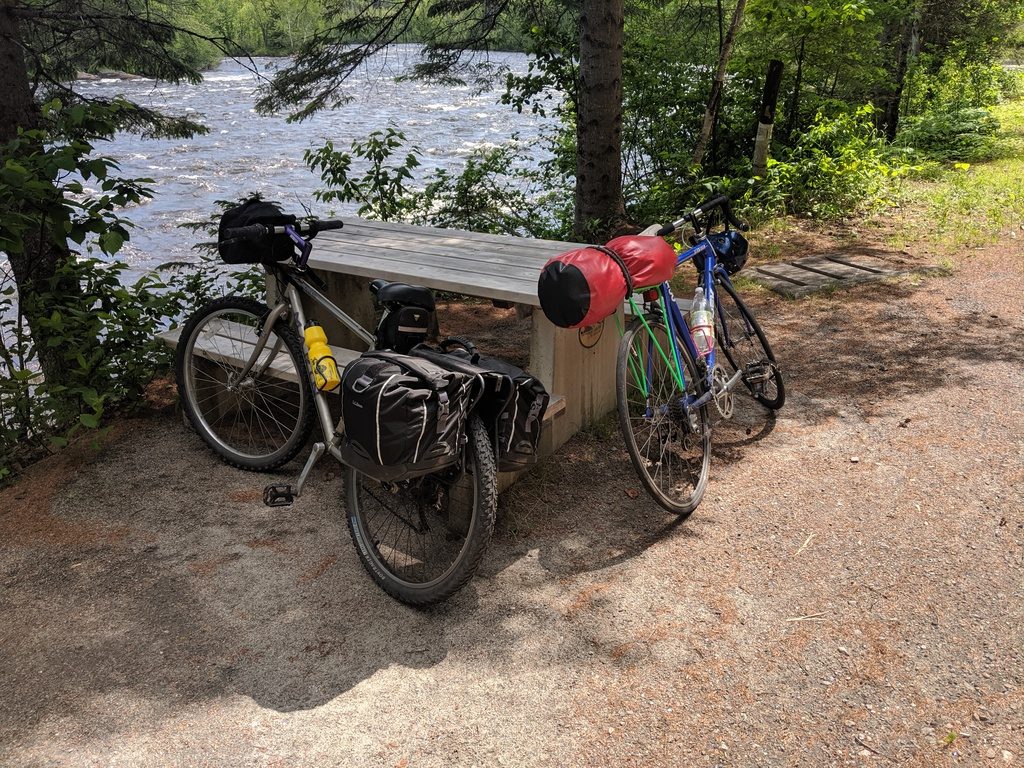 The ride out of Nomingue follows the scenic Riviere Rouge. Halfway to our final destination in Mont Tremblant, we stopped for lunch in Labelle at La gare de Labelle. Most of the villages along the route have an old train station, each of which has been renovated to service the bike path in some way. This station was converted to a restaurant and bar. The food and beer were both fantastic, but what really made this a place worth visiting was the Pouding Chomeur, a Quebec dessert consisting of cake soaked in maple sauce. Aww man was it good.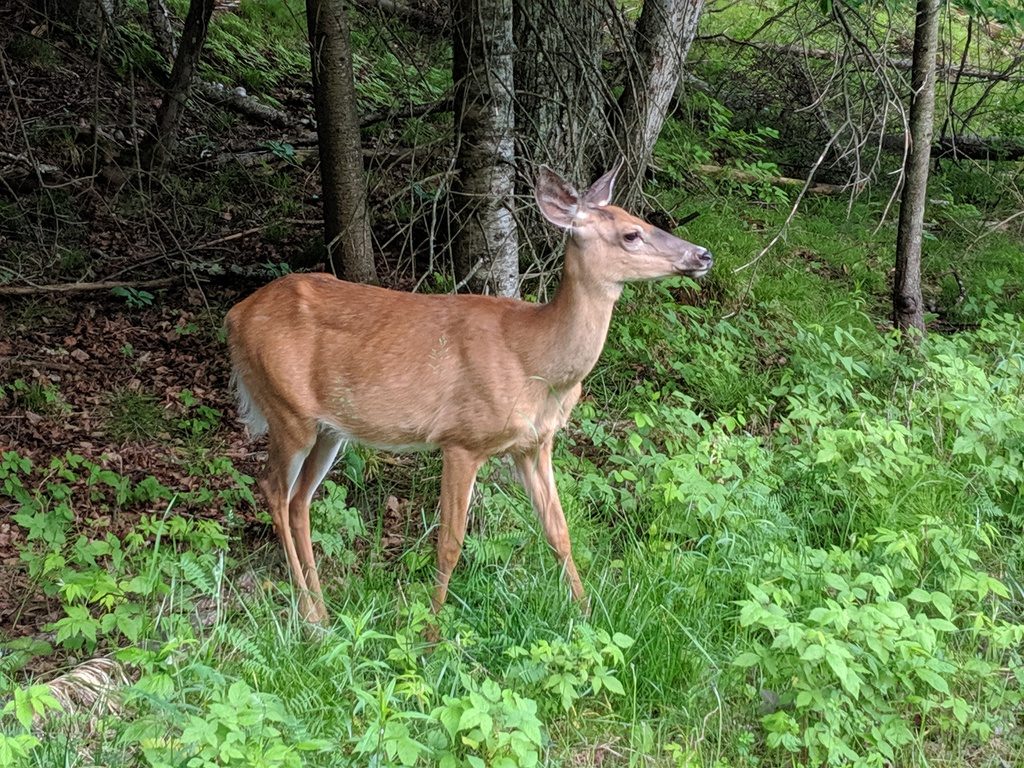 Before long we arrived at our destination for the weekend, Mont Tremblant. The Airbnb we were staying at was conveniently located next to the trail, but was a few miles from the ski village where our friends were staying. We made a few treks back and forth. We tried with bikes, but it was really busy with people and traffic because of the Half Ironman race going on. So we tried the bus. But by the time we figured out how the bus worked, it was just as easy to walk. Unfortunately the black flies were out, so walking came with its own price. The race was exciting to watch, everyone was so serious! The cycling looked intense! And the end of the run is really fun to watch, with runners flying downhill through a thick crowd of high-fiving spectators. Mont Tremblant had a free gondola which was a perfect way to see the euro-style buildings making up the town, including the stylish blue rooftops. We met up for food and dessert after the race and walked back to our room for the night.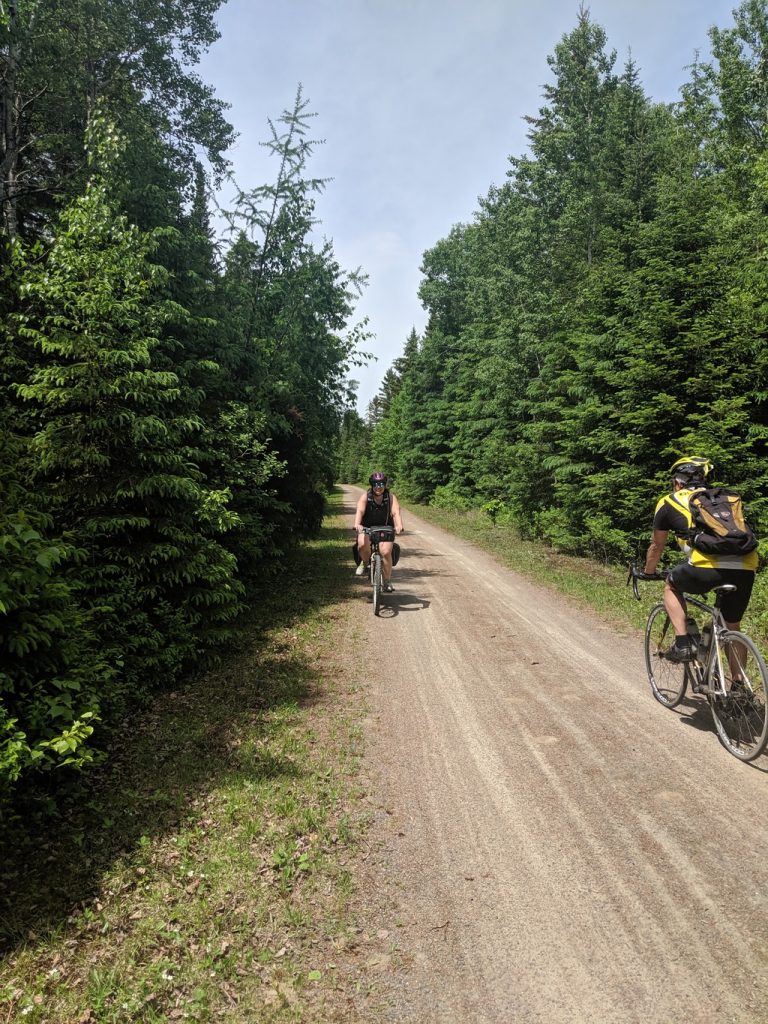 The next morning, we had three miles of a steady climb to complete. It was work for sure but paid off because after that the rest of the trip is almost entirely downhill. We stopped in Saint-Agathe for a souvenir t-shirt before cruising into Val-David to check into our hotel/brewery at Auberge Le Baril Roulant. The room was very nice, and the place was very cool and weird. By weird I mean they had a pet baby raccoon wandering around the front desk. Pretty adorable as long as you're not phobic of things like that. We ended up enjoying three meals here, lunch, dinner, and breakfast. It was Saint-Jean-Baptiste Day, which means extra festivities. We checked out the scenery at l'île de Val-David and walked up and down the main road lined with restaurants, a chocolate shop, and one place which was hosting a pig roast! In the park along the bike path, we checked out a band band playing on stage. We didn't end up sticking around for the fireworks and bonfire. My only excuse is that the sun sets too late way up north and we were tired!
As we started to ride out our last miles, clouds rolled in and it poured a freezing rain on us. I started out cold and never quite recovered despite bundling up pretty well. My teeth were chattering for most of the ride along the Rivière du Nord. Fortunately M wasn't quite as cold as I was and we cruised for three hours to our final destination back where we started in Saint-Jérôme.
Links