Trip Report
This morning I kayaked down a portion of the Mourning Kill and met up with the Kayaderosseras Creek and followed that to the Driscoll Road canoe/kayak boat launch area (click on the map for an interactive version).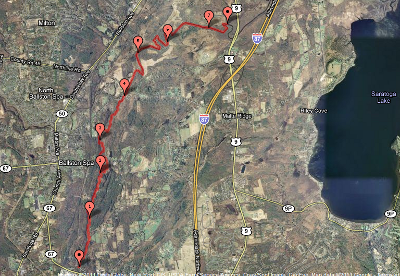 The water was running quite high today, and the entire route was an absolute pleasure to kayak through. There was only one spot where I had to get out of the kayak in order to pull the boat over a logjam. The first section of my route, starting underneath the Zim Smith bike trail near Underpass Road, consisted of really fun fast-moving water.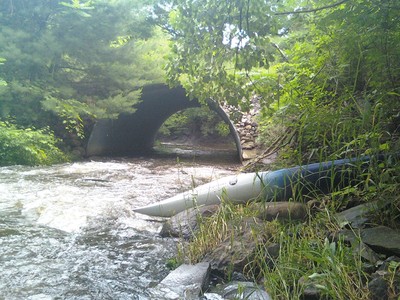 The fun water was followed by a bit of shallow-ish water, so I bumped the bottom of the boat a little bit, but nothing to complain about. After a short while, the creek changed to a series of large calm areas dammed in by beavers.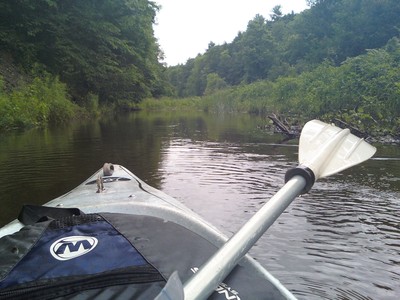 I had to kayak over somewhere in the neighborhood of five such dams. Here is a look at a typical one. I am looking upstream in this picture: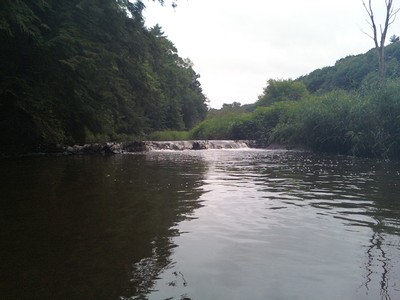 Eventually it opened up into a very wide marsh.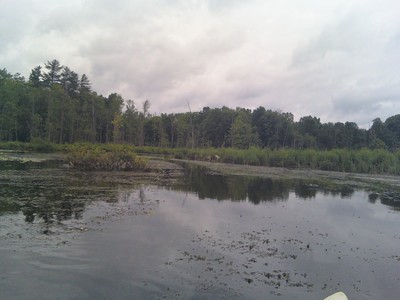 After passing under a bridge under Malta Ave., I reached the confluence of the Mourning Kill and the Kayaderosseras.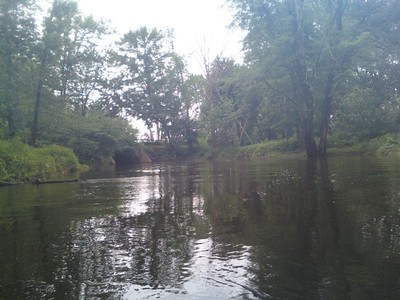 There is one spot on the Kayaderosseras where there is (during low water) a fairly exciting water fall full of fast moving water. Sadly, during a period of high water like we are seeing now, the fun waterfall becomes buried in water making a spot that I was looking forward to into a bit of a disappointment. Here is a look at the falls today, there is not much to see: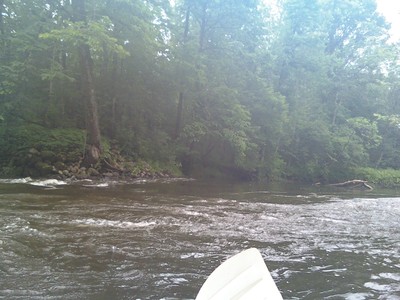 Finally I exited at the Driscoll Road canoe and kayak launch site. It is a really great place to have access to, so I need to quickly thank the NYS Dept. of Parks and Recreation, and the City of Saratoga Springs for making this place available. The launch site makes a very large area of great kayaking water available to explore and for that I am grateful.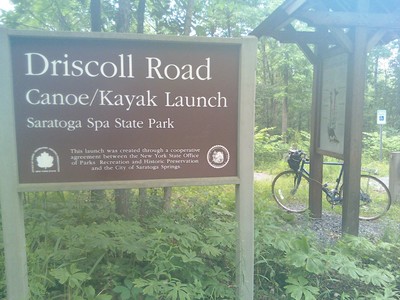 In the above picture, I noticed a lone bicycle locked up. I couldn't help but wonder if someone else was there using the car/bike/kayak method to cruise down the stream.
This was a great trip. I would be curious to see how it would be on a day when the water level is not quite so high. It seemed as though the first section might be a little rough, but I'm guessing that the dammed-in areas would still be very kayakable. Also, it would be fun to start further upstream on the Mourning Kill to see if more of it would be as nice as the later sections.
Distance: 7.5 miles
Elevation change: 45 feet
Avg Slope: 6 feet per mile
Time taken:
* 2 hours, 40 minutes to kayak
* 48 minutes to bike back to the car (the long way)
Links
The Saratoga Trail - An interesting trip report including the Mourning Kill
Kayaker on the Mourning Kill - Brief Video of somebody else on the Mourning Kill
Related Entries
* Kayaderosseras Rapids - 30 June 2011
* Kayaked the Kayaderosseras - 12 June 2011