---
Friends are completing the Adirondack 46 next week, and as luck would have it I have squeezed in enough extra peaks that I can finish with them, I just need to get Rocky Peak Ridge out of the way. That is my goal for today.
I slept in, slowly got ready, and drove to the Giant Mountain trailhead. There were 30 cars lined up along the road. I passed a few parked cars looking for a sweet spot, and found one. As I drove close alongside the car in front of my intended parking spot, I was startled to see a dude in the driver's seat of the car in front of me. It was a relief that he didn't open his door at that moment, I would have crashed into it. I parallel parked behind him and headed toward the trail. By now he was outside the car wearing a towel, probably changing into shorts.
Being that I was alone on a shorter hike than some of our recent death marches, I had it in mind to try and go for speed on this trip. Being in my late 30's (is that possible? I had my midlife crisis at 17 so I'm pretty sure I was never destined to make it this far), I need to warm up before going all-out. Just as I started getting into it and going faster, the dude from the car catches up to me and goes by. Frankly, I'm not accustomed to people passing me when I'm fancying myself going fast, particularly the first person I see, so this came as a pretty awesome surprise. It's clear that the dude is going to help me push it today. I stay with him and eventually pass him. We leapfrog run-walking the rest of the way up to Giant. Lots of good, hilarious comments about barefeet from the sidelines:
"That's brave".
"Look, he's barefoot. He's tough!"
"Barefoot, is that the new thing now?"
"There's the man!" (From a girl hiking down with another girl in Vibram 5 Fingers)
Early in the hike from up ahead: "blah blah blah waaah my ankle! blah blah blah". Uh oh, meeting these people in barefeet can sometimes get ugly but luckily not this time..
On the second meeting: "You're *still* barefoot?!"
And from another one: "I still don't know how you do that".
And of course, the best of all, at the top of Giant, the run-walking dude comes up and shakes my hand. He says, "Everybody was asking me the whole way up, are you with the barefoot guy?"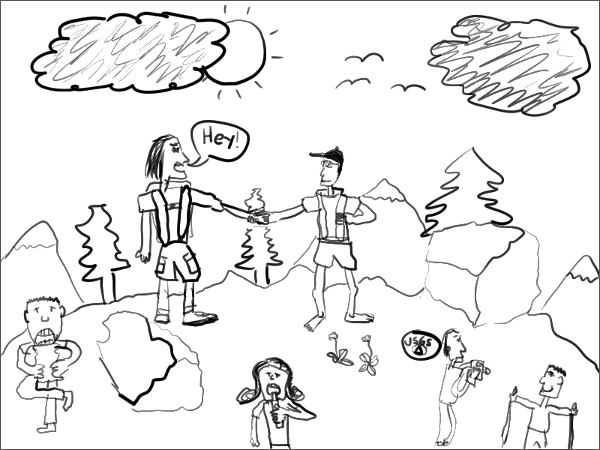 We talked for a bit, and I headed towards Rocky Peak Ridge. It was a steep descent, and I slowed to a normal pace as my feet were feeling the friction. The dude passes me so of course I pick up the pace again. He's really pushing me to find my speed. My feet suffered four separate "toe crackers" as H calls them, on four different toes, a really easy way for a barefooter to break a toe. Allow me to explain. While hiking it is common for the feet to brush up against rocks, sticks, or trail sidewalls, sort of like tripping but without any kind of fall. In shoes recovering is easy so it's a total non-issue, but while barefoot you are tripping over your toe. The body's momentum is getting absorbed by one tiny little toe, so it breaks. Today I suffered toe crackers on four different toes that I would have expected to put me out of commission. However, today I realized that my feet are getting stronger and are actually getting unexpectedly conditioned to handle toe crackers. At one point after a toe cracker, I was feeling the pain. I looked down and saw blood and let out a mental cheer. The blood means that the source of the pain was a cut (which will heal quickly) and not a broken bone.
The wife and I still have yet to do any grocery shopping since returning from our vacation last week. At the top of Rocky Peak Ridge, I eat the only foods I could find at the house: almonds and marshmallows. This is my second hike that I have brought this trail snack on. Along the way, the bag gets shaken, heated, and mashed. By the time I eat the large marshmallows, they are encrusted with whole almonds.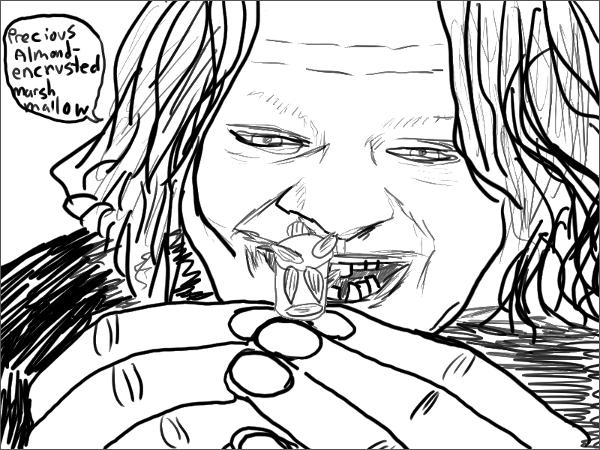 Generally, everyone is gracious and steps aside after you catch up to them, in which case passing is a non-event. One guy with boots and poles was moving at a good clip, but I was intent on chasing down the dude ahead of him, so I wanted to get around him. For 5-10 minutes, he saw me, but did not pause to let me through. I politely kept my distance behind him for a while, but eventually started tailgating. I tailgated for a long time before he finally stepped aside. It turned out that he happened to be tailgating the dude from the car, which explains his determination, as he was intent on joining the unspoken competition. I walked past him, then passed the other guy while he sat down for a quick break.
We are now descending Giant. Thunderstorms have brought lightening, thunder, and pouring rain. The dude passes me, jogging effortlessly down the hill. I keep up halfway down the mountain, but in a single moment my feet transition from invincible to tender. After a certain amount of abuse, the magic juice that makes bare feet tough eventually breaks down or gets used up like fuel. Like a stubborn old nag, they refuse to go on like this any further. Suddenly, I can feel each of 20 pebbles digging into my feet with every footstep. I have no choice to slow to a hobble, quietly whimpering to myself the rest of the way down. Nothing's hurt or injured, it's just that the nerves in the bottom of the feet are screaming "jesus god enough already" so loud that it's impossible to ignore. I make my way to the car, at which point the dude is long gone.
On the drive home there was a fair bit of traffic. I passed an agile muskrat probing out onto 87 repeatedly looking to cross. Clearly he had not yet gone to Safety Town, where I learned to safely cross a busy street. Sadly it was a missed opportunity to pull over and capture the event on video to see how quick of a self-learner the little guy turned out to be. It's probably just as well not to have gotten it on video.
Trip Reports
5/30/12
Last night we received an incredible amount of rain during a short period of time with vicious thunder and lightening. I expected the water level to be very high today, and what I found was the opposite. The put-in in the video below looked like pure rocks, with a bit of water winding it's way between them. I scraped bottom almost the entire way, making for an unpleasant day of kayaking. The USGS Gauge on the Mohawk River in Cohoes was at 6,000 feet.
5/15/12
It was raining steadily but lightly all day today, and after a week or so with more rain than we have had in a long time. The water level of the Mohawk River in Cohoes was at 10,000cft/s. The water level on the Alplaus Kill was high, and running faster than I expected. The place I usually put in was under water, making for an awkward entry. I just got a new spray skirt that is very difficult to seal. Before I was able to get it in place, the current pulled me into the wavy rapids. As I crashed through the big waves, I thought I was done for. I paddled like a madman to get to the other side of the river, and luckily made it to a quiet spot before I took on much water. By the time I got the skirt in place, I was panicked, exhausted, sweaty, and my glasses were fogged over. Not a good way to start the ride. I tried to take things carefully, eddying out often to look ahead and make a determination as to the safety of the water ahead. I portaged in a few spots rather than face dangerous obstacles in the fast-moving water. In many places, the waves were 3-4 feet high, much larger than I have dealt with before. Many of the waves could have been fun to play in, but I focused my efforts on getting past them so I could return home in one piece. I spent most of my time avoiding the fast current and big waves, when usually the water is calm enough that I am targeting the rough stuff. The following video shows the put-in:
5/2/12
I repeated this route in May, 2012. I have been keeping an eye on the USGS water level for the Mohawk River in Cohoes with the assumption that the water level in nearby waterways is related. I would expect that the water level in a smaller stream would rise and fall faster during and after a rainfall than the Mohawk because the Mohawk is collecting water from a large area, including delayed influx of groundwater and distant upstream tributaries. Today the water level on the Alplaus Kill was a bit on the low side. There was a good amount of water, but in the shallower sections it was scratchy. I was able to kayak without getting out of the boat to walk but I had to push myself over a few rocky sections with my hands on the ground. The reading on the 30-day graph of the water level on the Mohawk River in Cohoes is 11.5' (8000cft/s). Despite the elevated level on the Mohawk, I *think* that the water level this time was significantly lower on the Alplaus Kill than last time, although I am only going on the descriptions so I am not sure. The waterfall on river left was actually flowing more heavily today than in the above photograph. Perhaps distant rainfall affected the Mohawk without affecting the Alplaus Kill. That being the case, my assumption that the water level on the Mohawk is related to that of the Alplaus Kill is not exactly correct.
7/7/11
Today I kayaked down the lower part of the Alplaus Kill from just below Crystal Falls downstream from Route 50 to the Mohawk River.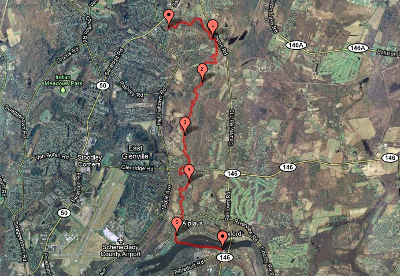 I headed out early this morning before work.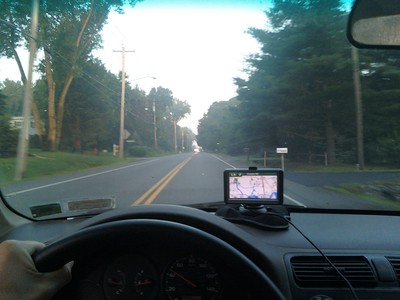 I parked my bike at the public dock near the Boat House in Niskayuna.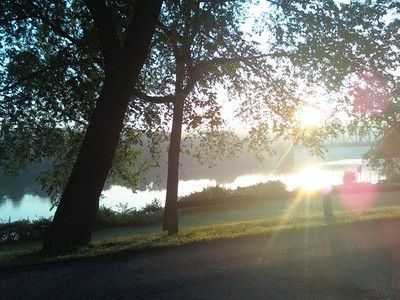 I had a place in mind where I was hoping to access the riverbank, but the small road leading down to the path to the river was gated with "no parking" signs along the way. I scouted around for another way to access the river, and checked out Crystal Falls.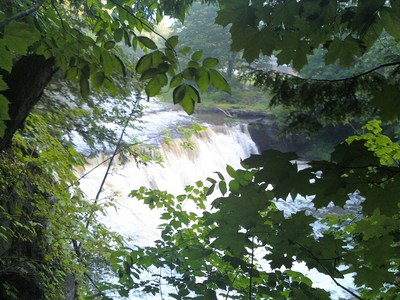 Here is a picture of the falls taken downstream a short distance.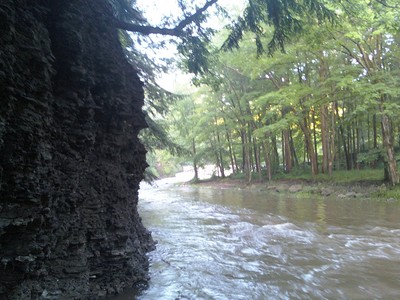 Eventually I found a way down to the river, although it was rather difficult. It was a bit of a struggle getting the boat to the water, but luckily somebody had left behind a rope that was worked well enough for easing the kayak down a very steep hill.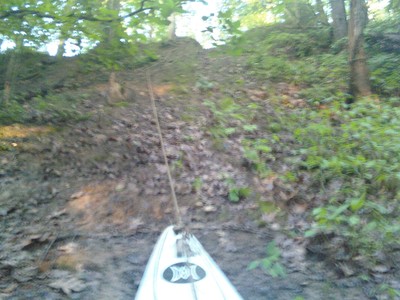 It rained a bit last night, so I was hoping that the water would be high (but not too high). I kayaked my way down, and there were really nice rapids along most of the way. It was not difficult to stay in control, so the rapids felt safe. The water was generally nice and wide so fallen trees in the stream were often easily avoided. There were a few log jams that I had to get out and pull the boat around. The water was generally shallow enough that bailing out in the case of an emergency always seemed like a reasonable option. There was a nice waterfall along the way.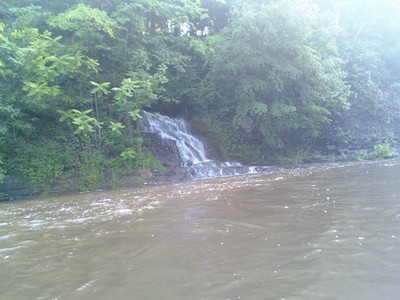 A great blue heron leapfrogged down the river. I would catch up to him and he would fly down the river a short ways, and we repeated this process for quite a while.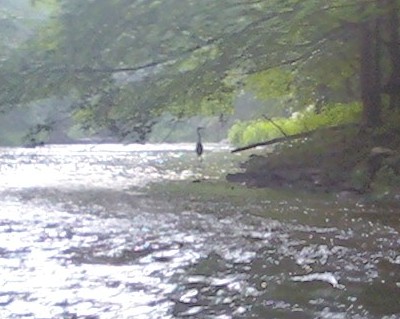 Most of the way down the river, it looked about like this: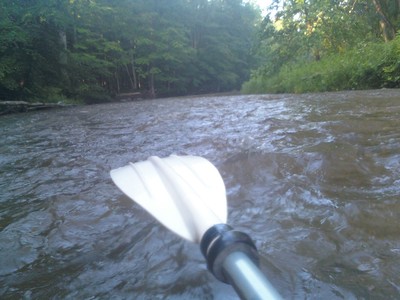 There were several areas where the rapids were more fierce than this, but unfortunately I was too busy paddling to stop and take pictures of the more exciting rapids. There was a railroad bridge along the way.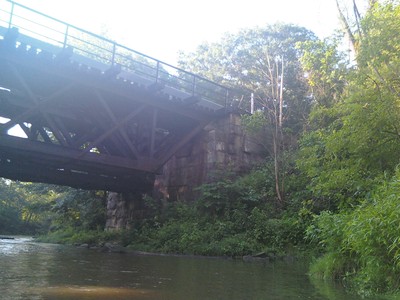 I took a picture of a log that I had taken a picture of on my last trip in order to get an idea of the water level difference. It looks like it was only a little bit higher the other day (left) than it was today (right).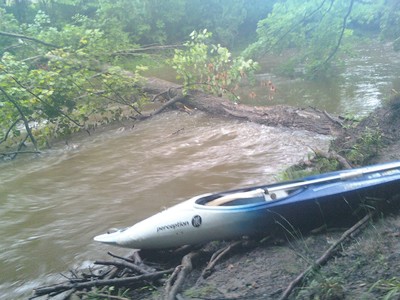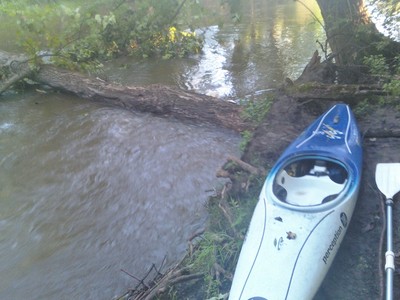 Eventually I reached the confluence of the Alplaus Kill and the Mohawk River.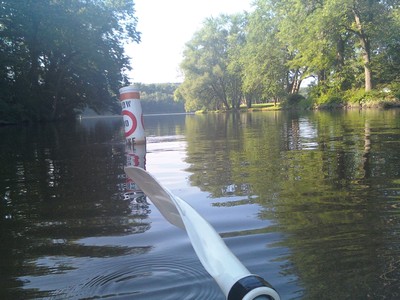 It was a short paddle back to the public dock and I was done!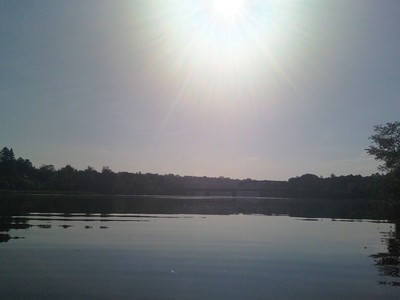 This was probably the best trip I have taken so far, not including the difficulties with getting to the put-in location. The trip was fast moving and exciting, but not scary. According to the book I have, this section of water includes Class I and Class II rapids.
Distance: 6 miles
Elevation change: 80 feet
Avg Slope: 13 feet per mile
Time taken:
* 1 hour, 40 minutes to kayak
* 30 minutes to bike back to the car
* USGS Mohawk River Cohoes Reading - 6,000cft/s (perhaps 11'?)
6/24/11 - Bad Omens on the Alplaus Kill
I set out to kayak the Alplaus Kill before work this morning. I'm not generally superstitious, but today there were too many signs to ignore suggesting that today was not my day to take any unnecessary risks. If something terrible happens to me sometime in the near future, let it be known now that I was warned. In the meantime I plan to walk a little more carefully than usual.
It has been raining steadily for the last several days, so there is a much higher volume of water running down the stream than usual. When I arrived at my planned starting point, I glanced upstream to see a surprisingly Niagara-esque waterfall. This was my first sign that maybe I should not rush into anything: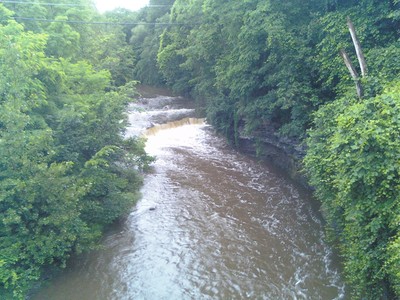 From looking at satellite images of this area of the stream, I knew that there would be some kind of waterfall a short distance downstream that I would likely need to avoid by hopefully carrying the kayak around it. I decided to walk down the stream in order to get a better idea of what I'd be up against. Along the way, the water was moving very fast, faster than I am comfortable with: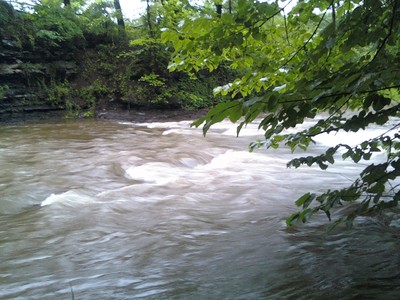 Before I reached the falls, I came upon poison ivy (or at least something that looks a lot like it). There was no avoiding it if I were to press onward. My bare legs would not allow me to continue.
I headed back to the car, and drove downstream a bit to an area past the waterfalls where I thought that I might be able to access the stream. On my walk through the woods towards the stream, an intimidating trail marker warned of unspoken dangers ahead.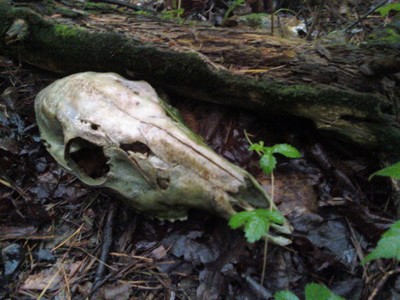 When I reached the stream, I found myself standing atop a 100 foot cliff looking down at the water below.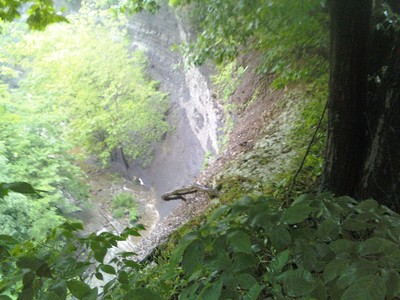 A rope down the steep slope invited me to climb down to get a better look.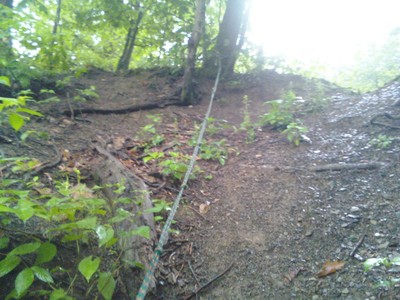 After exploring the stream for a short while, I hiked back to the car, and drove to a bridge just a short distance upstream from where I was planning to exit the water. I put the kayak in the water, and paddled down the stream. I encountered a couple of log jams along the way that I had to climb out and pull the boat past.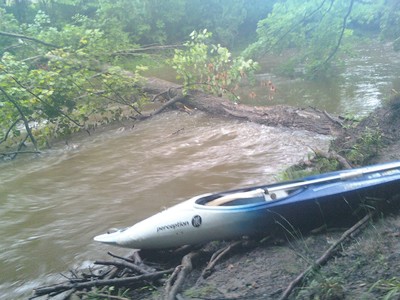 The ride was peaceful and quiet.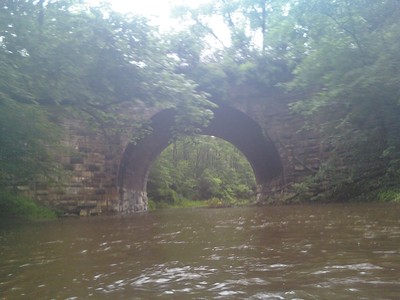 Along the way I came across this crushed aluminum canoe, yet another sign of foreboding for my trip.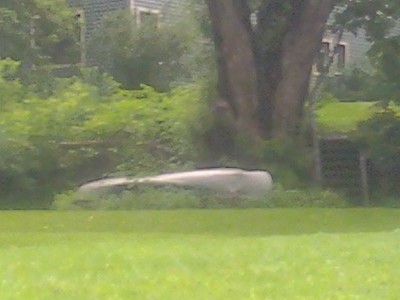 It wasn't all morose. I saw ducks. They were cute.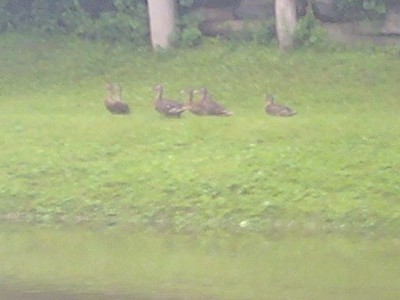 I think that this might be a great place to kayak on a calmer day. I need to scope out some places where I can put-in perhaps past the water falls just after Saratoga Road.
My planned route started at the Saratoga Road bridge, and ended at the Alplaus Road Bridge, at mile 4.8. After seeing how the river looked after the heavy rains, I put the kayak in the water at around mile 4, so I only kayaked the last mile.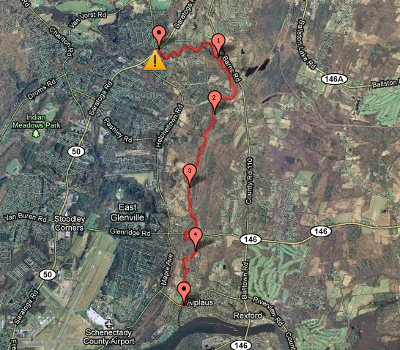 Related Links
* Alplaus Kill Biological Assessment
Related Entries
* Kayaked Upper Alplaus - 09 July 2011
After a couple of practice runs, we managed to catch this nice striped bass on the Hudson River just below the Troy Dam.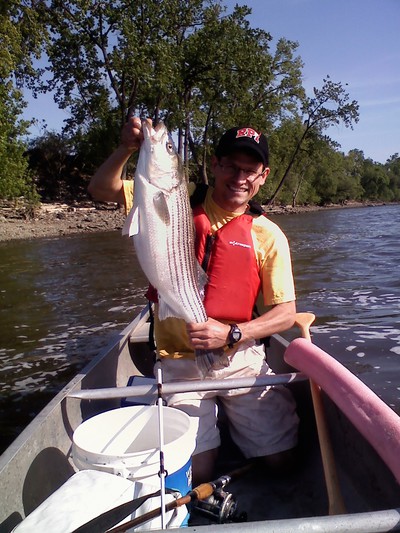 We caught the fish during the falling tide. The current was noticeably stronger when we caught the bass than during all the times when we didn't catch bass. The process involves first catching herring to use as bait. We only had one bait-catching rod on the boat with a Sabiki Rig. For twenty minutes the herring eluded my attempts. Finally, fed up, I handed the rod to M, and of course on his first cast he caught bait which put us in business. Almost immediately after rigging up the heavy rods with herring-chunked hooks and weight, something chomped away at M's bait but didn't stick around long. Soon my rod started seeing the same action, including some serious tugs and pulls. The fish and I fought for a while, and upon seeing the boat the big guy took off, but eventually M netted the beast, and snapped the picture.
After the bass, we caught several catfish, and M had an eel on his line at one point. We had gone out a week before when there were probably 25 or 50 boats out there. Today, there was just us and another boat or two. I wonder where everybody went? On both days my canoe was the smallest vessel on the water by far. Everyone else had a motorboat of some kind.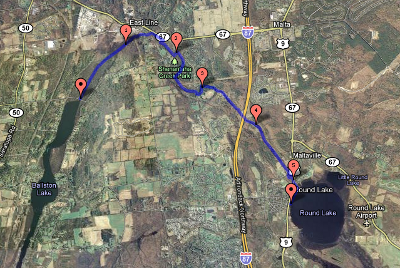 Route: Ballston Creek from Ballston Lake to Round Lake
Distance: 5 miles
Elevation change: 92 feet
Steepest Mile: 60 feet
05/08/12 Trip Report
Finally, the first real rain of the entire season. The forecast called for 100% chance of rain for most of the day totaling more than an inch of rainfall. It never downpoured, but rained steadily throughout some of the night and all day long. At its peak while we paddled, the water level gauge for the Mohawk River in Cohoes reached 40,000 cft/s. For reference, I consider 3,500 to be very low, and 10,000 to on the low-end of high water. 120,000 was the level at the peak during Irene. The first 2 miles were pleasant and easy through the large marshy area. We paddled through an area of tall dead trees where several giant blue herons were flying around their sky nests. It was here that J discovered that his ship was steadily sinking. The long kayak drag to today's put-in had worn a small hole in the back of his kayak. Taking on water would mean lack of control and stability as the boat filled with water followed by regular stops to dump it out. Throughout the ride, the high water level elevated us over many obstacles, although there were several logs requiring either walking around or some fancy footwork to get past. Small portages were always a good opportunity to dump water out of the kayaks. During mile three, the water was swift but generally manageable. Mile 4 involved 60 feet of elevation drop, and there was plenty of water to rush us through it. The thrilling roller coaster ride required intense paddling to survive, and we didn't whoosh through without a few flips. No sooner had we survived the long series of rapids when three tunnels under interstate 87 presented themselves, side-by-side all descending into parallel darkness. Choose your fate. Without much to go on we picked the rightmost one with slightly more water than the others. The inside of the tunnel was completely disorienting. At the midpoint, the tunnel took a left turn, so there were no visible guarantees that there would be an exit on the other side. Our boats, paddles, heads, and hands deflected back and forth against the unseen walls like bowling balls at a five-year-old's bumper bowling birthday bash. The water level at the end of the tunnel was higher than at the beginning of the tunnel, so as we proceeded, the walls were literally closing in around us. A faint spot of light slowly came into view. My sense of direction was so completely lost while floating in the absolute blackness that I mistook the spot of light for a sewer grate on route 87, far overhead. However, as we got closer, the spot of light set like the sun until it reached the horizon at which point it was a huge relief to realize it was in fact the exit. After the tunnel, the creek spread itself out into a large floodplain. Water was rushing through ordinarily dry grass and bushes. At one point J pointed out that "the river is over there". We were kayaking comfortably over a grassy field, and clearly the actual creek was a hundred yards to our left. The only remaining obstacles were a few low bridges before we reached Round Lake and completed the trip. The ride was pretty outrageous, and both of us were happy to be back at the car by the end of it. We have come along way, but today's rapids tested our limits to be sure.
Summary
Time taken to kayak: 2.5 hours
Mohawk River at Cohoes Water Level: 40,000 cft/s (!)
4/3/11 Trip Report
I kayaked the length of Ballston Creek from Ballston Lake to Round Lake. This was my first trip out in the kayak, besides a very short paddle around Ballston Lake a few days earlier. I had to learn as I went. It was pretty scary at times with the fast moving water, the lack of helmet and spray skirt, and my own inexperience. Once a branch clonked my head. I was scared because I had no idea how the kayak was going to respond to conditions. The kayak had felt a little awkward in the lake with no current, but it turned out to respond really well in the fast-moving water. Getting over my fear was largely a matter of learning that the kayak was capable of handling some situations without my influence.
After the swampy section, the creek's fast moving water was scary, particularly at first because I hadn't figured out how to bail out in fast moving water before a difficult spot. I eventually got better and learned to hop out of the boat and walk to shore. My guess is that the area is not usually kayakable, but with the high water after the recent snow melting, it was a bit of a bushwhack, but not too bad. The water was quite cold, as Ballston Lake was still frozen over. I was wearing mostly wool, and stayed luke warm even after wading chest-deep in water once or twice. I took a few breaks to sit in a sunny spot to fight off the cold.
After I reached Round Lake, I locked up the kayak, and ran back to the car.
Summary
Mohawk River at Cohoes Water Level: ~10,000 cft/s
Wildlife
I saw a pair of northern pike in the marshy section near mile 1. One looked huge, and was probably several feet long. Around the same area, there were lots of huge nests in the trees. I believe they were Great Blue Heron nests. There were hordes of ducks and Canadian geese along the way. I saw 2 little creek chubs in the small stream section. I also saw a giant carp in Round Lake.
Links
* The Saratoga Trail - A very interesting trip report that overlapped a small section of this route
* Ballston Creek Preserve - Some hiking trails that bring hikers to the Heron nests.
I ran barefoot through the Vischer Ferry Preserve on the south end of Clifton Park today. I would have worn shoes, really, I would have, but I was in a bit of a time crunch and didn't want to waste the time or gas to stop home before running through the preserve. I had no shorts in my car, so as if I didn't look enough like Huckleberry Finn in bare feet, I ran in my blue jeans with the bottoms rolled up to keep them from getting too muddy. Goose droppings peppered the northern canal path. I kept a wary eye on the ground and successfully avoided all land mines as far as I could tell. Several goose families hung out on the path. They generally waddled into the water as I ran by. One brave papa goose stayed on the trail to protect the gaggle by hissing at me. I spoke friendly words to him as I passed by, then got the heck out of there as quick as I could.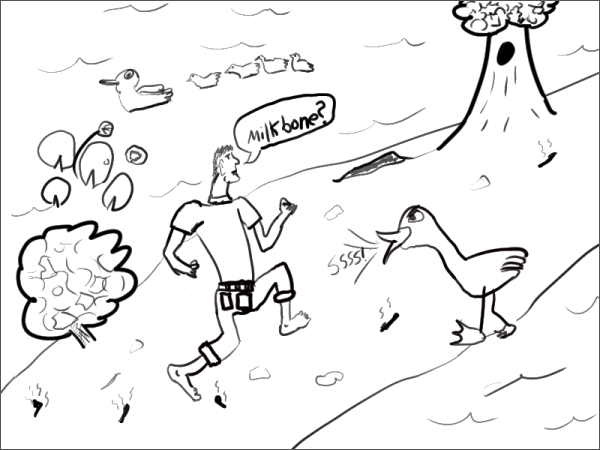 I ran to the far end of the preserve and made a u-turn. I took some alternative trails on the return trip. Eventually I arrived at a big huge sand pit that looked like the type of place where a person would pretend they never buried a terrible nuclear hazard. Construction vehicles were parked alongside and inside the sand pit. During an unfortunate footstep, I felt multiple small points poke into my foot. As I lifted my foot again, I could feel the points popping back out of my foot. I stopped and turned around to look at what I had stepped on. It was an old, frayed, rusty wire, with many rigid strands pointing upward out of the sand. I decided I wanted away from this area, but the southern trail was all construction-yardy. I recalled from cross-country skiing during the winter that there was a trail to the north. The only way north beyond the pit was to run through the thick weedy woods (not the snowy flat landscape I remembered). Unpleasant as it was, and longer than I expected, I eventually made it to a trail. Shortly thereafter, I felt a speck of itch on the side of my right foot. I reached down and scratched it, but there was nothing there. Then I felt another itch on my left foot. Then I felt severe tingling all over my feet. For a moment I panicked and thought that accute tetanus was gangrening my feet from stepping on the rusty wire. I slowly recognized the distantly familiar feeling of stinging nettles, and my panic subsided. Nettle stings don't last very long after itching and burning for a few minutes. I quickened my pace. I was running late and I desperately wanted to get home to wash my poor feet. They deserve better than this. I got home, washed and disinfected my feet, had some dinner, and made a quick visit to Urgent Care. The rusty wire was just the poke I needed to remind me to go get a tetanus shot. If anybody should be up-to-date with that particular shot, it's me.
Today I looked into some questions regarding herring in the Hudson River.
Is it legal to catch herring for bait just below the Troy dam?
Yes. Possession of the proper fishing license entitles an angler to collect alewives and blueback herring for personal use in hook-and-line fishing only (sale prohibited) by angling, seine or cast nets. Regulations vary by location. Transportation of herring for use as bait is prohibited except along transportation corridors outlined and mapped in the regulations guide. The area around the Hudson River below the Troy dam is one such corridor.
Is it legal to catch herring for eating? When is open season? What is the limit?
Yes, herring can be caught any time, with no limit in the Hudson River upstream to Troy Dam, and some parts of the Mohawk River, and also in all tributaries from river upstream to first barrier impassable by fish. Anglers must enroll in the Recreational Marine Fishing Registry. Once these species are transported away from the water body, they may not be transported back to any water body for use as bait.
Is it safe to eat herring from the Hudson? What are the recommended restrictions on eating them?
If a person were to eat Hudson River fish at a rate greater than the recommended one meal-per-month, they could expect to eventually end up with twice as much mercury in their system as a person who did not eat these fish. The person would still be well within the limits that the EPA recommends as "safe", although I don't have confidence that "safe" actually means "safe". I conclude that as a grown man, eating a few Hudson River pickled herring should be ok (with some warranted hesitation and disclaimers). Women of childbearing age and children under 15 should avoid them.
Unanswered Questions:
I was surprised to read that the upper Hudson is the worst area to eat fish, and that the lower Hudson contains healthier fish. I expected that the further downstream you get, the worse the water would be because there would be more factories contributing to the pollution, but apparently this is not the case. It makes sense assuming that the largest concentration of pollution is in the sediment at the bottom of the river in the upper Hudson, and the fish in question spend a lot of time in the contaminated areas. However, don't the striped bass spend only a short time on the Hudson while spawning? How are the striped bass on the Upper Hudson getting so badly contaminated if they only spend a small part of their lives on the Hudson? Does the contamination stay with the fish, or does it quickly leave the fish once it leaves the contaminated area? If the contamination quickly leaves the fish, then it would make sense that the fish in the cleaner, southern part of the Hudson are healthier. However, if the fish are permanently affected, then wouldn't they be just as contaminated when they are in the upper Hudson as they are in the lower Hudson? Or even in the ocean for that matter?
Here goes nothing...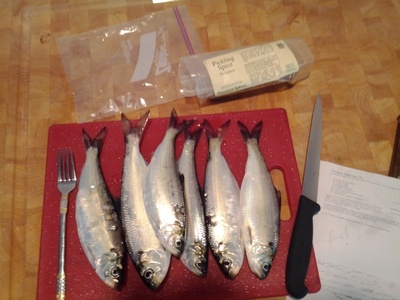 References:
* NY Times Article
* Hudson River - Health Advice on Eating Fish You Catch
* 2011-12 NYS Fishing Regulations Guide
4/4/12 - From New Scotland, upstream roughly 4 miles and back. This upper area had enough water that we rarely scraped bottom in this section. Normans Kill gauge was at 3.25'.
4/10/12 - It took maybe 3 hours from Krumkill to Mill Rd. I put my hand on a hairy poison ivy vine near the put-in but luckily never got the itch. The water level was noticeably lower than last week, and we scraped bottom badly for long sections of it. Walking was necessary in some areas. Normans Kill Gauge was at 3'.
Related Links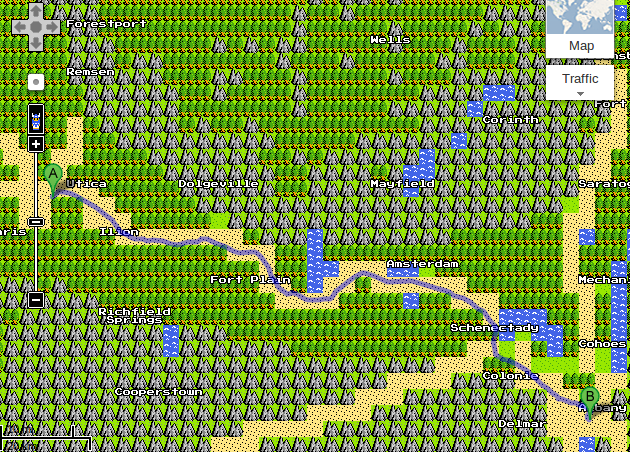 Google has added a map of the world in none other than Dragon Warrior graphics. This is the best April Fools day present I ever got.
This comes at perfect timing in my own life. It just so happens that I have been working my way through the Dragon Warrior games for the last few months on my Android phone, and am currently in the middle of Dragon Warrior 3. I would totally dance a jig right now, but I don't want to lose all my magic points.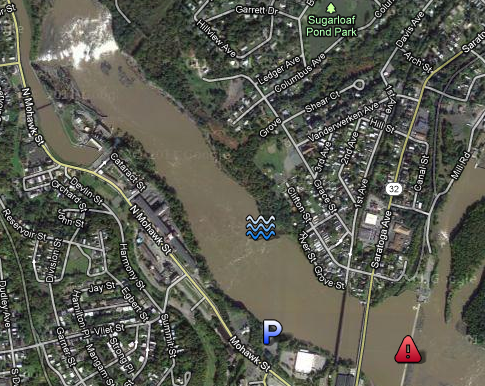 Cohoes: I love this place. A romantic setting, perfect for a honeymoon or just a weekend getaway. It's our own local Niagara Falls. Except that in C-Town, we don't set goals, we set fire.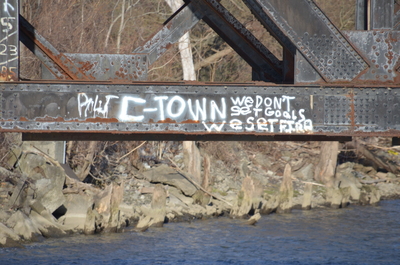 I have been on a kick lately of exploring the Mohawk River just before it empties into the Hudson. The geography is extremely chaotic. Tall cliffs on either side confine the river to it's convoluted path.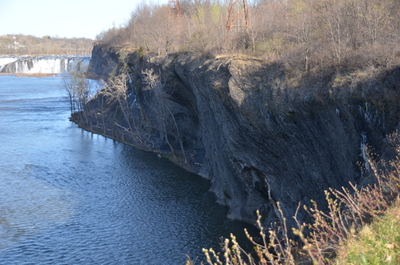 Several branches of the river wind around islands and over tall and voluminous waterfalls. The water is surrounded on all sides by man-made constructs such as locks, mills, highways, dams, bridges, and railroads.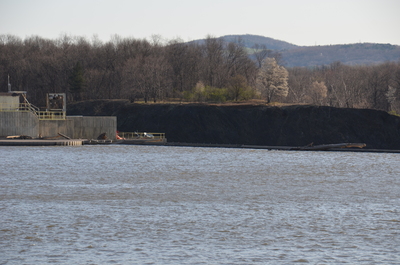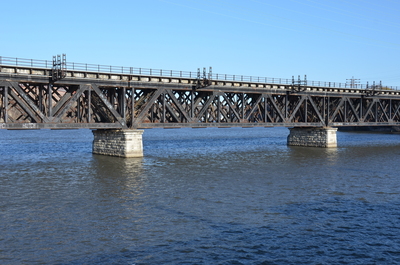 Ancient ruins from the industrial age lean and crumble along the shorelines and under the water's surface. Some of the ruins have been beautifully restored like the Lofts Apartments.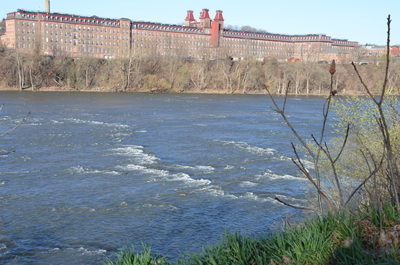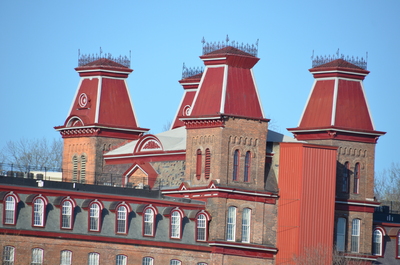 The apartments tower over the area's most prominent natural feature, the Cohoes Falls.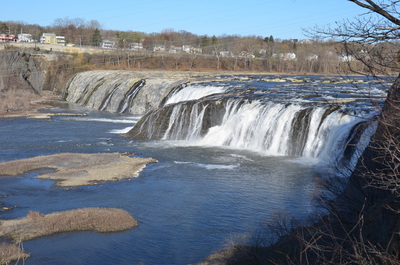 But what I really came here to check out is an area of standing waves just below the falls.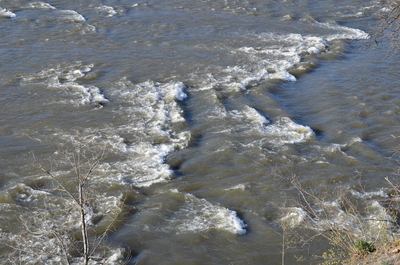 The water level today was just over 11'. It looks like it could be a fun place to kayak, and apparently these waves get much more exciting (and eventually dangerous) when the water level is higher.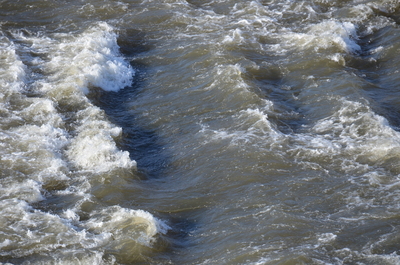 The following video shows the waves in their standing motion:
A parking lot on the Cohoes side of the river will make for an ideal launch point.

Related Links
* M. Paul Keesler's trip report
* Current USGS Statistics for the area
* A forum discussion on the NE Paddlers Message Board involving this area
Similar Entries