---
I've been dealing with knee soreness for a long time now. I don't know what is irritated, or what the specific cause is (certainly 'overuse' would apply here). Recently a few things have come together to suggest that tight hips might be the root cause. At this point all of this may be a misdiagnosis, but I'm just looking to try out some suggestions that sound promising.
The soreness is generally mild, it never causes me to limp or show any kind of visible swelling. Two things seem to make it feel worse:
1) Extreme running - Long bouts of running long and/or hard
2) Extreme rest - Lounging around on the couch
Things that make it feel good include simple sane activities like walking, biking a few miles, or yardwork.
The soreness makes me feel uncomfortable while sitting, sleeping, running, etc., so pretty much most of the time. Worse than anything else is how it weighs on my spirit by making all future running endeavors seem like a bad idea.
Each knee 'pops' only once if I hop on a bike and pedal a few times. Or if I walk upstairs. This occurs every morning, and a few times throughout the day. Also at times there is a mild crunching or creaking in my knees when I bend them. I suspect the soreness is a result of whatever friction causes this creaking, which over time causes irritation.
It's difficult to pinpoint the location of the soreness, except to say that usually feels like it occurs deep within my knee, right in the center there. At times when it's the most accute, soreness appears on the inside of the knee, which as I understand it suggest s that it's not IT-band related.
Sometimes I notice that my knees want to bend inward while I'm running. It's very slight, but my knees sometimes knock together, and feels related to the soreness on the inside of the knee. It's as if the inside of the knee wants to collapse just a little with each step. We had a coach in high school with knees that bowed inward pretty badly while walking, it feels kinda like the very early stages of that.
My upper leg muscles seem very tight. Not in a stiff-legged way, but often times the muscles don't feel like 'flesh', instead the feel like thick leather, or to exaggerate a little: almost like rock or metal.
I've come to look at the knee as not a 'thing'. The knee is a void between your upper and lower leg. So the cause of knee soreness is not the knee, but everything around it: the upper leg, lower leg, feet, hips, etc.
I usually do yoga at work once a week, and our really excellent yoga instructor R, keeps encouraging us and me in particular as an inflexible runner, to work on 'hip openers', suggesting that it will work wonders for running. Being stubborn, I'm not easily convinced, and the anatomical whys and wherefores are all too complicated for me to wrap my head around.
I was talking to H who has been feeling perhaps similar pain in his knees. He went and saw a doctor about those knees. The Doc probed his knees and said,
"Where's it hurt, here?"
"Yup."
"And what about your ankles, does it hurt here?" (probe probe)
"Yeah."
Followed by an explanation that what happens to runners who run too much without giving the body a chance to keep up. He said that the hips gradually get tight which affects the biomechanics of the legs. An inward tendency starts with the hips and works it's way quickly to the knees and the rest of the leg.
I find it interesting how well this resonates with how I've been feeling as well as the recommendations from my yoga instructor. Putting it all together, it seems that maybe the 'hip openers' R has been pushing are worth focusing on. For the most part, this includes three yoga poses:
Frog Pose
Pigeon
Knee to Ankle Pose - Second pose in the video
Links
R's Yoga Studio - We are very lucky to have her instruct us once a week, highly recommended
Comparison of Tenandeho Water Levels for the Tenandeho White Water Derby
Click on the photos for high-resolution images:
Looking to compare two sets of GPS tracks? GPS Visualizer has a great site for creating side-by-side comparisons. For example, here is a chart comparing the Great Range Traverse, Tongue Mountain Range Loop, Moreau Lake State Park 15k course, Wakely Dam Ultra, JFK 50, and Grafton Lakes State Park: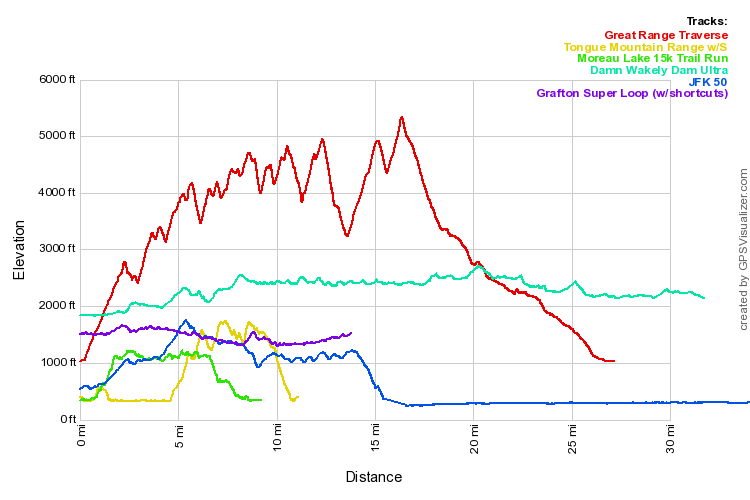 It's really interesting to see that Grafton is higher elevation than Moreau, in fact it's as high as the tops of the Tongue peaks. It certainly explains the Adirondacksyness of the area.
To compare multiple GPS tracks from GPX files, go to GPS Visualizer and select "Profiles (elevation, etc.)". I chose the options, "Profile Width: 500", "Units: U.S.", Add DEM", "Colorize by track" and "Cumulative distance: No". Select a few GPX files and "Draw the profile" and wait for your comparison!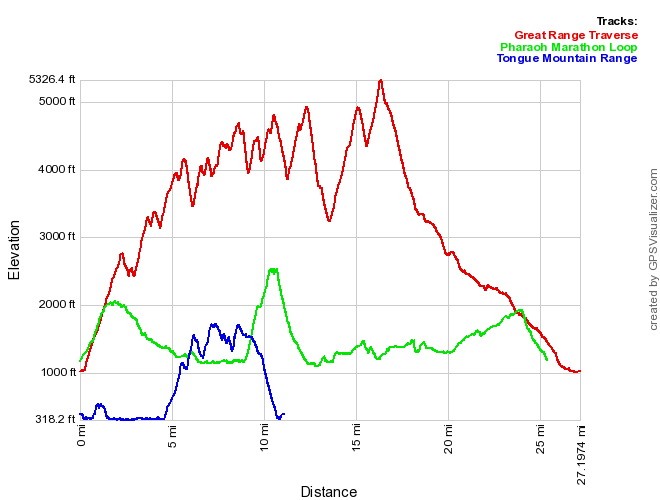 I took some time off from work. J had time off as well. We made a "plan A", to camp out deep in the wilderness at the "Uphill" lean-to near Mount Marcy. It would be significantly colder and windier there than anywhere else, but the advantage is that we'd have easy access to several tough peaks. As the time drew closer, the temperature dropped from 30's and 20's down to 0's, with predictions at Lake Placid going as low as -26 degrees not including a wind chill! Time for a plan B.
The Seward range in the Adirondacks is a group of 4 remote mountains in the far northwest portion of the High Peaks region. The trails to the peaks are unmarked and the peaks are much less traveled than many of the more popular ones so even in summer you can really get away from it all. Fires are allowed, making it an ideal spot for our 3-day chilly weather camping expedition. It would be zeroish for our first day and night, and a few degrees warmer for our big day of hiking, followed by a chillier day as we make our exit. We'll carry our packs to one of the lean-to's and hike Seymour on the first day. The second day we'll travel light and hike the other 3 peaks, two of them twice for the return trip. Finally, on the last day we will wake up early and make a quick exit.
We made a plan to meet at 6am with the expectation that we would run late, expecting to start driving at 7. I think we made it out at more like 8:30 or so, which was awesome because that's the exact time Sorrentino's Deli opens up in Clifton Park! We stopped for subs, Chex Mix, and breakfast sandwiches along the nearly 3 hour drive to the trailhead. It must have been around noon when we pulled into the parking area. One other car was there: another late starter whose name is B. We chatted with B a bit as we got our stuff together. His plan was to hike the area solo and visit Duck Hole, and possibly the Santanonis for 4 nights! I mentioned that it was going to be cold, and he was aware and had two sleeping bags and a tower of sleeping pads to help him combat the conditions.
During the hike to the lean-to, several barely frozen brooks gurgled under our feet as we big booted across, trying to walk on lumps (rocks) instead of flat stuff (thin ice) as much as possible. We managed to stay dry for the 3.8 mile walk.
We quickly got our day-hiking gear together for the hike up Seymour: snacks, water, and microspikes. Oh, yeah, and headlamps, don't forget those because it's almost dark already!
There wasn't more than an inch or so of snow on the hike to the lean-to. However, within a few hundred feet of hiking towards our destination, we found ourselves walking through deeper snow with 4 or 5 inches making it a little tougher to walk. We turned back and fetched our snowshoes, just in case.
Before long we turned on our headlamps. The 5 mile out-and-back hike sounded very easy. Until we started hiking of course. We always forget just how long it takes to hike up mountains in the snow, especially when the first mile or so goes by quickly. Before long the trail gets steep and each step is a carefully calculated double stomp into the icy crust to gain traction. Hours were ticking by as we worked our way to the summit. I was constantly adjusting the my gloves and hat, trying to keep my hands, nose, and face from freezing. A full moon struggled to penetrate the thick of clouds above us, doing little to light our way to the peak. Once there, we gave a brief rejoice, and hurried our way down and back to the lean-to. The descent went quickly until we hit the flats at which point it felt like we should be there already, but we still had a long hike before reaching home.
B was back at the lean-to to give us company on this cold night. We quickly put on warm clothes and started fetching firewood. B had carried in some nice kindling and started the fire. We gathered a lot of great wood, but it took us an hour or two to really get the fire going. The fire consumed fuel as fast as we could collect it, but we were determined and kept it going for the night while we ate steak and frozen subs before packing it in for the night.
We slept in and got up to get ready for a big day of hiking. I fetched water and went to boil it, but alas, my finicky stove (which I had very recently tried to fix and clean) refused to work. So I woke up J and set him to work boiling water for a quick oatmeal breakfast.
We hit the trail around 10:30am, this time without snowshoes. According to National Geographic mapping software that I use the total distance for today's hike should be around 8 miles (four out and four back), although it has been known to underestimate at times. We discussed that once we hit 2.5 miles we were in good shape, because after that the last 1.5 miles to the 3rd peak shouldn't be too bad! We hit 2.4 miles according to the GPS watch and patted ourselves on the back for a job well done and pressed on. After a long period of hiking I checked our distance. I turned to J and told him, "we're at 2.6 miles now". He replied, "That's not possible". We shrugged it off and continued.
For some inexplicable reason this hike is always much more difficult than the hike up Seymour. It's happened to me twice, and I've heard similar comments from other hikers. It's easy to look at the map and get the impression that Seymour (which we did the day before) and Seward are similar hikes. Comparing the two elevation profiles does little to reveal why one is so much more difficult than the other: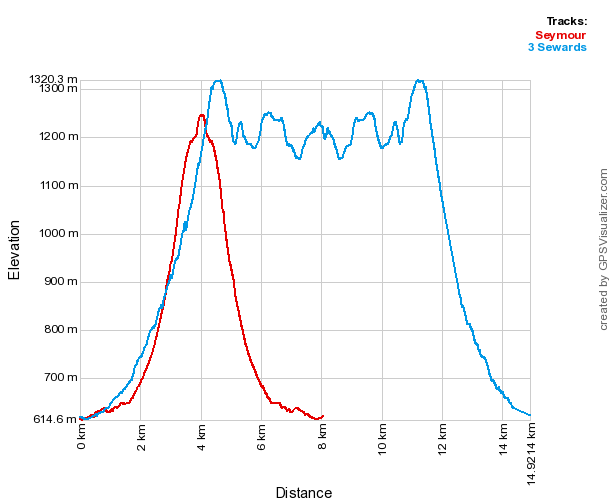 Every trip has to have a special moment or it wouldn't be an adventure, right? Shortly after putting on microspikes while descending Seward towards Donaldson, we come across the scary part of our trip. The trail becomes a super-steep 50-foot long cascade of the worst kind of glistening ice with no "easy way" around it. We warn each other to stop. And to not die. Thoughts of turning back come and go, but we decide to give it a shot. There are roots and trees to hold onto for most of the way, and as soon as we step onto the ice our spikes sink right in. Luckily the ice is softer than it looks enabling us to make it down safely, with only one really sketchy part halfway down where you have to cross from the left side of the trail to the right without any handholds. We breathe a big sigh of relief and bump fists after making it down. However, this sets a mood for the rest of the trip. At this point, getting hurt is not allowed. It's going to be tough getting back up it in the dark if we're feeling 100%. And it's hard to imagine even a well trained rescue team being able get someone back up that precarious drop.
It feels like a very long way before we reach Donaldson. I take a quick look at the map and (wrongly) tell J, "the hike from Donaldson to Emmons is going to be a cakewalk". It looks like a flat ridgeline, mostly descending to Emmons. The hike to Emmons is anything but a cakewalk. The trail is long and not well travelled so the snow is deeper making for slow going, and the trail is nearly impossible to see, even moreso because the trees are thin so every direction looks like a trail.
We spend a lot of time probing for the trail. Eventually we get to where it's obvious we are standing mere footsteps from the peak, yet the trail phases in and out of existence like a haunting spectre. Night has fallen and our headlamps can't work miracles. I am starting to lose it a little. I was foolishly expecting a short, easy hike on an obvious trail with no snow, none of which are true. Admittedly, I'm tired and hopelessness settles in as we thrash around the wilderness winding every which way except the right way. J is holding it together much better than I, and miraculously crashes through some woods and announces, "here's the trail", and we climb to the top. Woot!
The return trip should be easy because we can follow our own tracks. Except for the sections where we sabotaged ourselves by scribbling tracks all over the place. As I said, I'm getting tired and losing it a little. I'm in marching forward in Lalaland, largely oblivious to the icy drop to my left. My spikes lose purchase and I tumble down 10 feet or so, crashing into bushes at the bottom. I stand up a little shaken. J starts to follow and I tell him, "that was not intentional, straight is probably easier."
There is a claustrophobic feeling caused by the icy wall we still need to climb in the dark. We are boxed in by it. It is a great relief to finally reach it and arrive at the top unscathed. From there it is a quick climb to the top of Seward and then the final descent to the lean-to.
We drop down the side of the mountain. Now we notice how incredibly steep this section of trail is. Each small step becomes a giant leap due to the near vertical decline. J points out that this is the section that took forever to go from 2.4 miles to 2.6 miles. The funny thing is, it didn't seem particularly steep on the way up. Just slow.
We cruise merrily back into our campsite at around 8:30. We forego a fire, and cook up some easy food, hang out for a bit, and go to bed. In the morning we wake super early, pack up and hike out, eating a light snack along the way.
We stopped at Druthers in Saratoga for a big lunch. I was the lucky one, my lunch stayed in my belly.
All in all another great trip.
Gloves are to mittens as mittens are to socks.
What? Me on the track? That's a first.
This year I focused on racing. Race, recover, race, recover. For next year I'm thinking I'd like to focus on training. Train train train race, Train train train race. With some races mixed in of course. Which will mean a change in focus from filling my weeks with regular long runs to harder efforts on fresh legs. I have built a foundation of endurance and would benefit from working on strength and form at faster paces.
I came across this Youtube video yesterday.
Transcription: "You're gonna do 3x200@33 seconds with 200 meter recovery, then you're gonna do 5x1000@3:08 with 300 meter recovery, and then 3x200... 33, 32, 31 200 meter recovery, that's an old Oregon Team Workout if you can do that you've got sub 15."
Makes a "sub 15" 5k (4:50 pace) sound easy right? Just one long sentence is all it takes. Right now my PR is 17:30 so I've got a long way to go. Pace calculators tell me that if I ran a hard 5k on a good day I should be able to hit 16:41 (5:22 pace). But I am interested in how to push past the pace calculators.
In table form:
warmup
3x200@33s w/200 meter recovery (4:24 pace)
5x1000@3:08 w/300 meter recovery (5:00 pace)
3x200@33s, 32s, 31s, w/200 meter recovery (4:24, 4:16, 4:08 pace)
cooldown
Mine went more like:
2 mile warmup
3x200@34s w/200 meter recovery (Promising!)
1x1000@3:28 w/200 meter recovery (Ow my calf! Time to slow down)
4x1000@4:00 w/200 meter recovery
3x200@40s w/200 meter recovery
2 mile cooldown
So a conservative workout for me would be:
2 mile warmup
3x200@40s w/200 meter recovery (5:20 pace)
5x1000@4:00 w/200 meter recovery (6:25 pace)
3x200@40s w/200 meter recovery (5:20 pace)
2 mile cooldown
4/1/2016
4 mile warmup
3x200@38,38,40s w/200 meter recovery (5:00 pace)
5x1000@3:47,3:42,3:41,3:43,3:37 w/200 meter recovery (5:55 pace)
3x200@38,36,38s w/200 meter recovery (5:00 pace)
2 mile cooldown
4/19/2016 target for a 16:40 5k/5:22 pace
2 mile warmup
3x200@38s w/200m recovery (5:00 pace)
5x1000@3:30s w/200m recovery (5:35 pace)
3x200@38,37,36 w/200m recovery (5:00,4:52,4:44 pace)
2 mile cooldown
The above plan was cancelled because a lacrosse game was being played on the track, but I tried again on 5/24, and ended up running faster than targeted:
target for a maybe 16:26 5k/5:18 pace
2 mile warmup
3x200@36s w/200m recovery (4:50 pace)
5x1000@3:24s w/200m recovery (5:28 pace)
3x200@36,35,34 w/200m recovery (4:50, 4:42, 4:34) (last one was onofficial - watch died)
2 mile cooldown
The 300 meter recovery is really difficult to keep track of, because that breaks up where you start each set. So I did 200 meter recovery instead. Maybe runners do it that way because your starting point helps you keep track of which lap you are on.
I woke up this morning at 4am. Showered, ate breakfast, and walked a few blocks to the bus to the starting line. I arrived at the start village around 6:15am. I sat on a curb with my knees tucked into a fleece jacket in the cold wind along with 50,000 other shivering runners for over 3 hours until the race started. Brrr! The food supply at the start was a little less of a buffet than what I had hoped for. 5 hours separated my breakfast and race, with only a bagel, half of a power bar, and a few cups of hot water in between. Not exactly an ideal pre-game.
As the start time for the race approached, I did a 10-minute warmup jog in my corral. It felt great to move and get the blood flowing a little. We were moved to the starting line at the toll booths on the Verrazano Bridge. World champion runners like Meb Keflezighi, Wilson Kipsang, and Lelisa Desisa were announced and briefly interviewed 15 feet from where I stood. We were yelling within easy earshot, our individual cheers getting attention from the greats. Talk about inspiration for the start of a race! OMG. It was awesome.
The National Anthem played and the race started! I was caught up in a tight group of people for the first mile up the incline of the Verrazano bridge. The wind tore across the bridge nullifying gravity. By that I mean loogies, snot rockets, etc. whizzed horizontally through the air at face level until they either encountered an obstacle or flew off the edge of the bridge. I'd imagine like spitting in a crowded space shuttle.
Before long I started to feel a light sweat under my arms, so stripped down to a light t-shirt, shorts, gloves, and sandals. I prefer to feel the brisk air than to sweat. I'm happy as long as my hands, ears, and feet aren't too cold.
I was optimistically running at a 6:15 pace without bothering to take the stiff headwind into account. By mile 4 I was already starting to feel the burn from running, not a good thing with 22 miles still to go. I felt no commitment to stay at that pace, but figured I would stick with it and see how it went.
For most of the early miles I constantly heard, "Go Superman!". Apparently a costumed character was running nearby. One hilarious little kid didn't seem to quite get it. He thought we all looked funny. He was yelling, "Go superheros!" to everybody.
I was eager to hit a new borough but it felt like I was stuck in Brooklyn limbo forever. The whole first half of the race is in Brooklyn. At around the halfway point I saw the back of a familiar-looking head in a purple singlet. I could have sworn it looked like B's nephew S who ran in my van at the 2013 Adirondack Ragnar. I recalled that he lives in the area, ran the NYC marathon last year, runs at a similar pace as mine... It's entirely possible it's him. As I drew close, sure enough, it was S. We greeted each other and talked a bit as we ran together for several miles. What a lucky break, having someone to run with during the middle-mile doldrums.
Somewhere on the Queensboro Bridge we parted ways. The course is on the lower level under a steel ceiling and my GPS watch went wacky. I tried to take in the amazing view as we approached the giant wall of skyscrapers of Manhattan. I made sure to stake my territory by running in the center of the middle lane. It's not very often foot traffic owns the bridge, but today, this bridge belongs to ME. Large plastic water bottles labelled with handwritten elite bib numbers sparsely littered the bridge. The elite runners get special water stations where they can deposit their drink of choice. The scavenger in me was tempted to grab a bottle with one of the top runners' numbers on it to keep as a souvenir. Kinda gross though: "He DRANK out of this!" so I just kept running.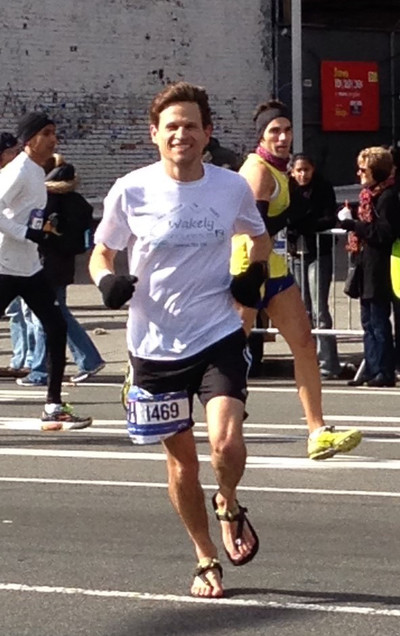 It was an incredible feeling descending into Manhattan. Nobody was on the lower level of the bridge to cheer so there is a moment when you go from dark, quiet, windy silence to roaring crowds cheering in the sun. I knew I could expect to see M in the upcoming crowd which put another huge spring in my step. Previously I had been focused on things like keeping pace and drafting, but at this point I was just running. The road was six lanes wide and Mindy could be on either side. At mile 18 I heard her yelling my name from the far side of the road so I made a sharp right to run perpendicular to the other runners to give her a big hug, much to the surprise of the Man in the Yellow Shirt.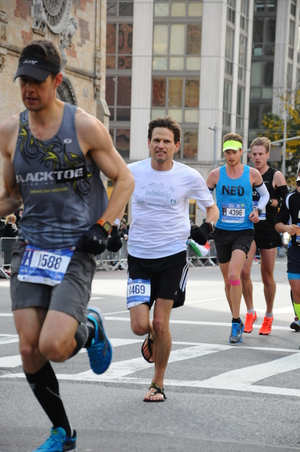 I'm running into the wind behind two other guys. A woman on the side shouts, "way to work together!". The guy in the Blacktoe shirt, leading the pack, looks back and freaks out. He yells to the guy behind him, "What the hell how about somebody else takes the lead? I had no idea there were 60 people drafting behind me!"
After that, some of the positive energy started wearing off. I could feel The Wall approaching. The cure was in my shorts: a caffeinated gel packet, but I made the decision to hold off until mile 20 before playing that card, which meant a mile or so of perseverance. At mile 20, as soon as that mocha flavored energy hit my tongue, I felt ready to take on the final 6.2 miles.
The crowds really picked up at this point. Runners had spread out, so I was enjoying some individual attention from the people yelling from the sides. At one point I watched as a woman from the sidelines yelled in slow motion, "Hey guy in flip floooooops... I thiiiink thaaat iiiis awwwwsommme!!". I was super psyched to hear M calling my name again at mile 23 for another much needed hug and boost of support.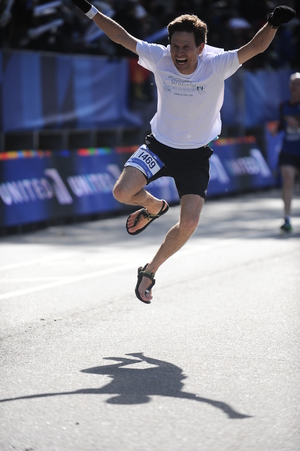 For the last several miles I picked up the pace a little. Or to be more realistic, I slowed less than most other runners. It felt great. I was smiling, enjoying the cheers, and picking off runners. Meanwhile, photographers from Marathonfoto were everywhere. I couldn't resist trying to get captured in some goofy poses. As I came into view of one photographer, I was all set to present my ultimate pose but she actually put down the camera to point at me and yell something about the flip flops. Lol.
Another woman was standing on the sidelines. Her hand was outstretched. I'm pretty sure it was there for high-fiving. However, she was talking to a friend, her face pointed away from the runners, having long since forgotten about her outstretched hand. I ran past and at the last second my hand shot out to give her an unannounced high-five. I wish I could tell you her reaction, but there was no looking back. Laughter? Anger? The world will never know.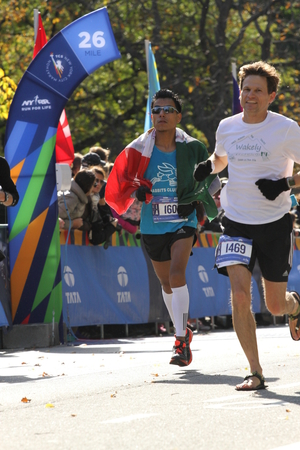 We ran around the southern end of Central Park and took a right turn. Mile marker 26 let us know we were on the very final stretch, just 0.2 miles to go. I picked up my pace, enjoying the guilty pleasure of passing people. Suddenly in front of me a runner seized up, grabbed his quad, and limped to the sidelines. I thought to myself, "don't be that guy" and slowed back down a little.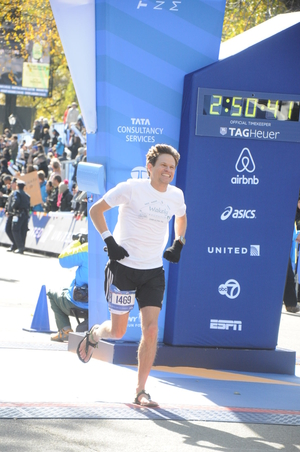 I cross the finish line. Smiling from ear-to-ear I collect my finisher's medal. Someone wraps a tiny thin space blanket around me and tries to tape it on with a flimsy piece of NYC-marathon branded tape. Meanwhile another volunteer hands me a 10-pound ball and chain to carry for the next few hours. It is a bag with 3 large drink bottles, an apple, power bars, and god knows what else. All I know is that I needed 3 hands to hold the space blanket, another two to hold the sack of crap, and some new legs to carry me out of here. As thirsty and starving as I am I don't have the hands or the time to ingest anything in the bag. I still have my wits about me at this point. I need to get to Family Reunion Area S where M would be waiting with warm clothes. As I am now, I'm very nearly naked in a howling winter wind so the sooner the better.
I walk forever through a gauntlet of thousands of volunteers. At first it's nice, they say, "congratulations you did awesome, how do you feel?" And I respond with a hearty smile and "thank you I feel great!". By the 100th conversation like this every half second, my responses get slightly less enthusiastic at which point their true raison d'être is revealed. Now they grab my elbow and say, "are you all right? Do you need the medical tent"? I give a big fake smile and "no thank you, feel awesome!". I want to say, "I just ran a f'ing marathon I'm f'ing freezing I need to get to my f'ing wife with my warm clothes as quickly as possible. Do you have a teleporter to teleport me to Family Reunion Area S? If so great, otherwise get out my face". But I am well aware that the punishment for any kind of backtalk will mean getting dragged kicking and screaming to the dreaded medical tent where I will freeze to death all the while getting interrogated, poked by needles, signing papers, anything but warm clothes and a shortcut home.
I lie through my chattering teeth to another hundred volunteers and tell them how great I feel. I get to a fork in the road. To the right is baggage pickup, the long walk in the wrong direction for people who dropped off warm clothes at the starting line. For people who did not drop off warm clothes, there is a shortcut to the left. I notice signs saying, "You must have a NO BAGGAGE bracelet to take the shortcut". Bracelet? WTF? I got no baggage to pick up. I'm TAKING the SHORTCUT. I walk to the left. Volunteers surround me. "Do you have a bracelet?" Yes I have a bracelet. It's right here. You don't see it? Hm, it must be under one of my gloves. Or maybe the other glove. That's funny I HAD a bracelet. It must be here somewhere. This guy does not give up. He escorts me to the baggage lane. On the other side of the fence I see other runners getting repeatedly harassed for their bracelet and I realize there's no point in fighting it I'm taking the long way home.
I walk past van after van containing peoples' drop bags starting with van 50,000-49,000. Followed by 49,000-48,000. And so forth down to 1,000. I watch shivering as countless prepared runners collect their drop bags and change into warm clothes. I occasionally try to jog but realize I will definitely hurt myself trying to run carrying this giant grocery bag so I just keep moving. It feels like hours before I get to exit central park. Of course now I'm way far north of where I need to be. I head south in a tightly caged in area. Nobody is here, I am very alone. I walk and walk. After forever I get to the area where "NO BAGGAGE" bracelet people took the shortcut. On the other side of the fence, volunteers are wrapping those people in giant wind proof fleece blanket ponchos. OMG this sucks. Not only did I have to take the long walk of shame without the benefit of collecting warm clothes, but I'm also going to miss out on the warm blanket. I hold back my tears. Eventually the two paths merge. I put on my best "sneaking into a concert" face and make my way backwards to the shortcut lane. I pass a few blanket volunteers, turn around, and act like I have a bracelet. I target a vulnerable youth volunteer, less likely to be adamant with the bracelet check, who thankfully wraps me in happy stolen warmth.
Signs point the way to "Family Reunion". They have been swirling around in the wind for hours and are now pointed every which-way. I ask a volunteer where the reunion area is. She says ask someone else. I work my way along, asking volunteers who keep pointing me south and naming different street intersections 12 blocks south, plus a few blocks west. I finally reach the street where my reunion area is! All I have to do now is work my way west and I am there! I start to walk but a wall of cops stops me. "You can't enter here. You can only exit via 64th street or 58th street". My jaw drops, are you kidding me? These guys are serious so I head back north and exit there. I walk along a quiet street. I'm hugging the poncho hood to my face for warmth. I am marching and not paying attention. I walk blindly onto Broadway as a Taxi honks and yells. That was a close call. As I turn around and head south, the cabbie screams at a NYPD traffic officer for letting me wander into the street. Like it was his fault.
Oh the suffering. This is the worst. I make my way to the intersection where I'm told I will find Family Reunion area S. I finally get there. It is a line of hundreds of normal people as they wait to get scanned by cops before entering the Reunion Area. I skip my way to the front and look to see that the reunion area is the place I was trying to exit from half an hour ago when they told me I wasn't allowed to exit there. There is no sign that I can see saying, "S", it's just a place like any other. I asked to get through, they told me to get on the end of the line. I look around for M, maybe she's over there. I don't see her so I hang my head and drag my feet to the end of the line. I stand there for 30 seconds when M comes running over. She had just arrived and had gotten on line only minutes before! We did it!
I put on warm clothes and we skedaddle. As it turns out even if I had gotten to the meeting place sooner, I would still be standing there in the cold waiting so maybe things worked out for the best.
Things to keep in mind if I ever do this again:
* Eat a good breakfast and bag a good lunch for the start
* Bring lots of disposable warm clothes to the start, to be donated in the corral
* Think about doing a drop bag. Warm clothes at the finish are a good thing to have. Or if not, be sure to wear the special 'no drop bag' bracelet or else you get stuck with a very long cold walk and no warm cape to wear.
* Arrange transportation ahead of time as soon as possible - I mean MONTHS before the race. I've heard advice recommending the ferry. Because the roads close early and the buses need to guarantee your safe arrival, they get you to the start way early which means sitting around in the cold. The ferry is more flexible. It would have been great to arrive at 7:30 or 8am instead of 6:15.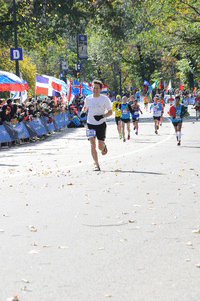 J and I try to get out once a year to step into the ring for the "fairest fight in all of fishing": surf casting for striped bass during their fall migration. What makes this challenge so addicting is doing the research, coming up with a plan, targeting a spot, exploring the area, piecing together clues, and searching desperately against all odds to find the Big Kahuna of fishing: a feeding frenzy within casting range of the shore.
What is a feeding frenzy? Let me explain by telling the story of my first ever cast into the surf. I was with friends trying to surf the Jersey Shore. We were enjoying some downtime on the beach when suddenly mayhem ensued on the beach. Life guards blew their whistles and mothers screamed for their swimming children to get out of the water. Just off the shore of the beach a flock of a hundred seagulls dive-bombed water's surface, grabbing a fish with every attempt. Underneath them, a gigantic circle of water frothed with skipping schools of minnows, arcing fins, and shredding fish teeth. As the bathers ran to safety, another group of people started appearing from all directions, running against the current of normal people toward the fray. Fishermen.
There was so much excitement in the air. I had no idea what was happening. What I did know is that I had put a crappy little freshwater fishing pole in the car in case we got bored of trying to surf flatwater. I ran to the car and fetched it and put on the only thing I had: a lame little piece of rubber on a metal jighead for a lure. I ran to shore and cast into the tornado. Before the lure had a chance to touch water, a fish gulped it down and swam away, bending my flabbergasted fishing rod in half. I reeled in like mad and pulled the fish towards shore. Just as a big wave receded, the fish popped off the hook and flopped around on the sand. I moved quickly, because the next wave was on deck to crash over the fish and pull it back to the sea. I ran over and carelessly scooped up the fish and ran to dry sand. I held the fish in both hands and watched in horror as it vomited up hundreds of shredded minnows. Giant piranha teeth threatened to bite off my fingers.
What was going on? Simple. The entire food chain was all together at one time. Something attracted minnows, which attracted bait fish. Bluefish (the nasty ones with teeth like I had just caught) viciously tear everything to shreds. They'll cut fish in half just because they can. Meanwhile, big striped bass hang around nearby to collect scraps and stragglers.
Sadly after many many fishing trips I have yet to splash a lure into such a scene.
This weekend we headed to Sandy Hook, New Jersey. Sandy Hook is a 7-mile pile of sand that reaches out into the ocean towards New York City, dividing the bay from the sea. We arrived on Friday afternoon and geared up with waders, lure bags, and rods, and immediately headed out to start fishing. We drove to the northernmost parking lot and took a few casts as we worked our way to the northern tip of Sandy Hook. J recalled catching lots of fish as he casted towards a green bouy at the northern tip of the hook on a previous outing.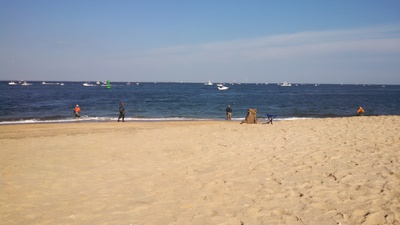 As we walked along, an excited fisherman walked by and said, "you'd better get up there, they're biting like crazy!". J and I looked at each other and hustled. The walk from the car to the tip takes 30 minutes. When we got there, we were greeted by 15 or so fisherman casting shoulder-to-shoulder, with a few bait fishermen on the sidelines. One of the fisherman had two giant striped bass up on shore. A striped bass over 28 inches is a "keeper". Anything else is a "short".
J and I started fishing to the far left next to some fly fishermen. Birds attacked the water. At any given moment, a rod or two to our right bent as people reeled in fish. Conditions were perfect for a couple of the lucky ones. On our side, the water was flat and calm. On the far side was a screaming current. In between was a line, perfectly visible, where you just knew the big fish were hunting. Unfortunately, we were well out of reach. Fishermen generally keep 10-15 feet or so between them. Not enough room to squeeze in without crossing lines with the salty dogs and turning them all against you. However, a fisherman left his spot and J moved in. Now J was one of the lucky ones in the hot seat, casting into the fast current then reeling into the quiet pool! Jealous, I yearned to join him. I walked over and J kindly agreed to share the spot. We would fish back-to-back. Yes, it meant he and I would cross lines a few times, but we could forgive each other. And to be fair, I crossed lines with one of the strangers next to me and he was super chill about it. I apologized and he just shot me a look as if to say, "What are you apologizing for? We're fishing shoulder to shoulder, it's gonna happen".
Millions of small minnows swam at our feet. Right in front of us, bigger fish chased schools of baitfish to the surface. We fished aggressively and were getting bites on nearly every cast. However, it was all bluefish and hickory shad. Not the elusive striped bass we were hoping for. Eventually the bite died down, and we checked into the hotel and grabbed dinner at The Dive in Sea Bright.
The next morning, J had to leave for several hours leaving me to my own devices. I slept in a bit, and took a gander and the beach in front of the hotel. I crossed the busy Ocean Ave., and climbed the stairs over the dune. The low tide on the other side had left behind huge piles of small clam shells everywhere.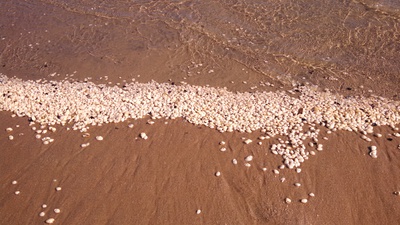 I got excited about the idea of bait fishing and working my way up the food chain. It's a technique that has worked very well elsewhere. I grabbed a small pole casted into the surf with small bits of clam on several tiny hooks, hoping to catch some kind of bait fish that I could liveline or cut up and put on a big hook on the surf rod. All I got was a couple of crabs, which I put on the big rod but to no avail. Also I was surprised to catch a nice fluke on my clam rig.
I looked down the shore and saw a thousand birds, many of them raiding the water! Was it a blitz? I gathered up my things and ran down the beach. Along the shore I saw 7 skates (little sting-rays with out stingers) with their wings removed.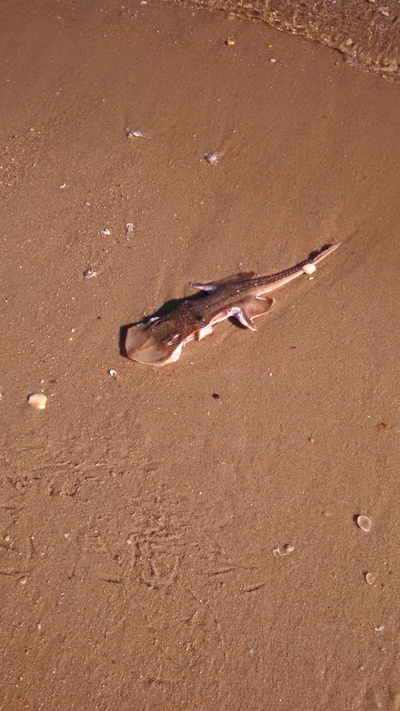 Skate wings are really tough. I could not imagine what sea creature could possibly do such a thing. Malicious bluefish maybe? (It turns out the wings were likely harvested by an unusual breed of fishermen with a taste for cartilage). It was enough to get my hopes up. But of course once I got to the birds, they looked to be just killing time.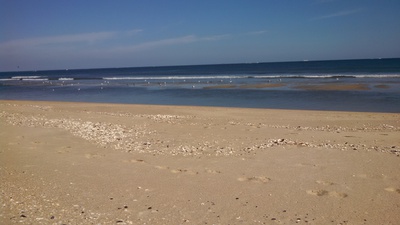 No excitement here. But what I could see was a perfect sand bar, which could yield some good opportunities during higher tides.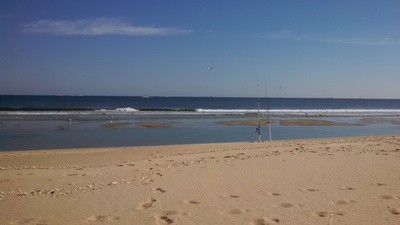 From this point on, we continued to find promising conditions: birds feeding on bait in the water, but the big fish just weren't there. My guess is we showed up to early. We should have visited further north, maybe along the south shore of Long Island somewhere. One huge problem we ran into was that the tide chart for Sandy Hook is for the bay side. Which was 3 hours or so different from the ocean side we were fishing. We kept arriving late to the part, after the tide had slackened, when we wanted to arrive when the tide was high. We quickly realized something was amiss, but it took a while to figure out why.
With each passing fishless year the excitement builds. One of these years we're going to fish an all-day blitz, reeling in monster fish until our arms fall off. This was the year of mystery. What happened to those skates? Why are the tides several hours different from the tide charts? Where are the freakin fish?
I'm not sure what it is. But my natural cycle has always been to be at some kind of low point from which I slowly build myself up to feeling a little bit good. From there I escalate that feeling until I feel great. I continue to escalate until I feel awesome, then invincible. The escalation doesn't stop until I completely overdo something in an over-the-top fashion and eventually I find myself back at the start again, a low point. With my running I've managed to keep myself in a nice long cycle with only a few minor speed bumps along the way.
Running the Wakely Dam Ultra was a climax for my current cycle of running. I was running invincibly for a while before and during the race, and now I need to find myself again as a regular runner person, but it's been a struggle. 10 days after the race, just as I tried to start getting back into my normal running routine, I was feeling the return of left knee soreness that had been at bay during training. I tried: rest, light runs, runs with hiking poles, short fast races, ice, stretching, not stretching, strength exercises. Pretty much everything. Pretty much all at once. Yet nothing seemed to be the magic bullet that cured me in an instant like I hoped. Certainly my feelings of invincibility still haven't entirely worn off. I keep thinking there's just a minor hump I need to get over then it will be smooth sailing again. The problem is that all-out rest hurts more than running does. So I end up on the fence: my knee either needs a serious break, or it needs me to get back in the game. I realize the answer is obvious to anyone but me but yet here I remain on the fence.
One thing I do know is I feel the strong need to get out there. I keep running on flat roads which is definitely not what my legs want. They need a strength building workout. They need rough terrain to stretch them this way and that. Ups, downs, roots, rocks, and I'm not getting that out my front door.
Meanwhile, I've been reading up on super runners who seek FKT's (fastest known times) on the most difficult hikes in the northeast. Hikes like the Presidential Traverse or the Pemi Loop in New Hampshire or the Great Range in the Adirondacks. I have always loved the Great Range. When I first started exploring the Adirondack High Peaks, Mount Marcy was the first target, and after that the Great Range. I ended up hiking the Great Range 3-4 times in a row before starting to check out other places to hike. Then, when friends and I started the ADK 46er mission, I took a good long break from the Great Range in order to complete all the other peaks.
So I took a random day off from work, a Thursday, and hopped in my car to the trailhead for the Great Range FKT route. The route follows a ridgeline spanning many peaks, with regular options to bail out and descend to the relatively easy John's Brook trail to the exit. This made it a great spot for my mountain hiking experiment for my knee. If I felt bad I could easily quit at any time. If it felt good... Well... I hadn't really thought that far ahead.
I signed in at the trailhead leaving a vague indication of where I was headed. After a short hike I could hear lots of noise. It turns out a pack of 10 wild 3-year-olds were busy yelling, running, and exploring stuff in the woods. One looked up at my hiking poles and pointed out, "he's got poles like daddy!". I scooted through the group and worked my way slowly towards the first low peak: Rooster Comb. The FKT guys make a point of going out of their way to visit this peak. I'm not sure why to be honest. I would have gladly skipped it in favor of getting into the Range quicker. The way I see it, the meat of the hike for the Great Range begins at the top of Lower Wolf Jaw, the first high peak. Once there, most of the elevation gain has been climbed and you can begin the exciting process of banging out peaks one after the other. However here I am going out of my way to hit a minor little peak along the way.
I must say the view from Rooster Comb is awesome. I stood atop a giant cliff with the Range extending out before me, peeing into the wind as I enjoyed the view when suddenly I heard voices behind me. Hikers! Doh! I quickly put myself together and head back towards the trail and enjoy a nice conversation with the hikers. Apparently the day before was really rainy, so they had avoided the trails. Today is supposed to be much better. I hike out and along the way I encounter another group of hikers. At an intersection I need a moment to figure out which direction to go. As I wait, the hikers go by me. When I get my bearings I realize I need to go past all the hikers I just let go by. Instead of dealing with that socially awkward sitation, I instead hike an extra section of trail to check out a view and by the time I return they are long gone.
I proceed to Hedgehog, and after 6 miles and 2.5 hours I reach the top of Lower Wolf's Jaw. At last! I have arrived. I'm feeling good and can begin the Traverse. As soon as I start descending LWJ, I am shocked at how difficult the trail is. Not difficult to hike exactly, but imagining the FKT guys *racing* this route is just unthinkable. Steep precarious cascading slabs of rock are the norm on the way down. I feel quite content to take my time and before long I arrive at Upper Wolf's Jaw followed by Armstrong and Gothics.
My most vivid memory of the Great Range from past hikes is the Gothics descent. It is the only place I can think of on the Adirondack trails where cables are run to assist with the descent. For some reason it has always been wet, drizzly, and cold in this area and today is no exception. The way is steep and smooth. I recall slipping and falling on my butt on a previous trip many years ago. I slid and was lucky to eventually stop when I crashed into a bush. Today I'm wearing sandals which are really bad for steep, smooth descents because my feet can't quite stick to the sandal. For the descent I avoid the use of the cables (just my own stubbornness I suppose). The sandals won't work so I take them off. Amazingly hiking down barefoot is perfect. The feet are like grippy little hands and there is no chance of slipping. My knees can definitely feel the stress, but I take fast little steps and work my way quickly to the col at the bottom.
Next is Saddleback, the one peak in the Range that I hiked recently. After which the trail to Basin has perhaps the toughest little section I have seen in the Adirondacks. The trail seemed to almost fizzle out, so I found myself questioning whether or not I was on the right trail. I look down at a sheer drop of 10 feet or so with nothing at all to safely hold onto. I'm no rock climber, but in general I am really good at negotiating difficult climbs. But I admit that when I hoisted myself over the ledge I felt off-balance for a moment and thought, "holy S this is difficult!". I hung from the ledge by my arms and reached my leg out for one little rock sticking up just to be within reach. I paused here to look up, flabbergasted to think of the hikes through here in my youth. Rag-tag bunches of kids with full packs. I don't know how we all made it through in one piece.
At one point through all this was a steep ladder climb. I laughed out loud thinking back to this spot where my friend J had discovered at the bottom of the ladder that the top half of his fishing pole had gone missing somewhere behind us on the trail. Here I am carrying next to nothing so that I can survive this arduous trek, and back then we were carrying fishing poles for days of impossible hiking in a place there could never be a fish. God knows what other unnecessities we were lugging back in those days.
As I start to come down off of Basin, I can see Little Haystack and Haystack in the distance. It looks *far*. And difficult. It's a bit rainy, windy, and my hands are freezing! I think that the trekking poles are sucking all the warmth out of my poor hands. I stop to bundle up and eat one of the burritos I packed. This is crazy. I'm done. I should bail out here and work my way back to the exit. There are lots of miles to go and it's going to be a long day as it is. I get to the next intersection. The sign here says Haystack is in 1 mile and Marcy is in 2 miles! That's not far at all! I can do that no problem! So off I go. To the top of Haystack. Easy peasy. And from there I just keep on going. And going. And going. Wow, by now I've gone way further than 2 miles from that sign and I'm nowhere near Mount Marcy! I pull out the map. Oh no! I was supposed to turn around at Haystack and head back to the intersection to get to mount Marcy! How could this happen, just a short while ago I was on the fast track to complete the hike and now I'm suddenly DEEP in the wilderness, heading into Panther Gorge. Immediately I realize that I'm not going to get back to the car (where my cell phone is) until REALLY LATE. It's now 5PM, I've been hiking for 7 hours and I have an ungodly number of hours still to hike to get out of here. M doesn't worry easily, but she's going to worry about this one. She would not expect me to be reaching the trailhead at 1am *on a work night*. Damnitall. There's not much I can do about it now except get to hiking.
I've never been here before. I make a fast pace up Panther Gorge. As I make quick work of the trail I realize that a long time ago I had mapped out a Great Range Traverse that included Haystack, Marcy, and threw in Skylight. Just because. And here I find myself within easy reach of that bucket list goal. It just means adding 30 minutes to todays trip by scooting up the half mile to Skylight and back. On the way up the trail I tell myself a hundred times not to do it. I need to get home asap. However, I reach the four corners intersection with Skylight 45 minutes before I expect to, and as wrong as it is, I can't resist the compulsion to bang out that one extra peak with all the spare time I suddenly found myself with.
After Skylight I work my way up Marcy. It's freaking cold. I didn't see snow but it wouldn't have been a surprise if I did. My hands were going numb. On the ascent I had to use every unmentionable trick in the book to warm them up. This is not the first time I have found myself on the wrong side of Marcy when the sun is on it's way down. It is not a good place to be. It's terrifying knowing that pretty much the only way home involves climbing over the tallest peak in New York. Where it's super cold, rainy, and windy. But what can you do except get 'er done. One of the chapters in the book, "At the Mercy of the Mountain" describes a person who was attempting to hike all 46 peaks in 6 days in the 70's whose dead body was found on this very ascent during a hurricane. I hadn't read the chapter at the time, but it really isn't much of a surprise. It's a treacherous area. The entire area on from the Feldspar Lean-To to Panther Gorge to Slant Rock gives me the willies.
As dusk approaches I think about the fact that I have just the one headlamp. It's an amazing headlamp. 100% trustworthy. However I realize that if it chooses today to fail on me I'm going to be in big trouble, wandering down Marcy in the dark would not be a good situation. Fortunately the headlamp works fine but it reminds me of a list of things I should never be without while hiking in the mountains:
- map
- compass
- 2 headlamps
- a *good* rain jacket
- gloves of some kind
- a winter hat
- light wool sweater
- light wool pants
- socks
- cell phone in a zip lock bag, you never know, you might get service
Ever since realizing how late I'm going to be getting back to the car, I am miserable. I hike down Marcy which is running steadily with water like a stream, as is most of the trail for the rest of the hike out. As I get towards Slant Rock at the base of Marcy, it gets dark. I have to hike not only to the Garden, but must continue on to the Rooster Comb trailhead where my car is parked. I won't be back at the car for another 10 miles. I trudge along. My knees are stiff and sore. My morale is low. I want to cry. I curse myself the whole way. I wonder, "what is wrong with me?". "Why do I get myself into these situations?" I keep walking like this for many brutal hours, just putting one foot in front of the other. After an eternity I reach the Garden, and luckily the hike to the car after that is short and swift. I text M and let her know I'm ok and on my way home. She texts back: she had decided she would start making emergency calls at 1:01am. I look back at my first text and I had texted her at exactly 1:01am. I drive home, exhausted, shower, and go to sleep. I wake up early and go to work for a classic Fight Club type of work day. Really. Why do I do this to myself?