---
It's 3:30pm on Monday. I'm sitting on a foot-high piling along a jetty surrounded by total chaos: fishermen casting over each other, birds attacking the water, baitfish spraying out of the surface, with big striped bass and bluefish breaking the surface all within an arms reach. This is the moment we have been searching for all these years, yet I can't lift my arms, my back is a crumpled mass of pure ache, my brain is fried. I'm staring into my lure bag, head spinning, moving slowly, a puzzled look on my face. I never saw this coming - feeling too warn out and exhausted to care about catching yet another giant fish from the surf. How did it all come to this?
Earlier that morning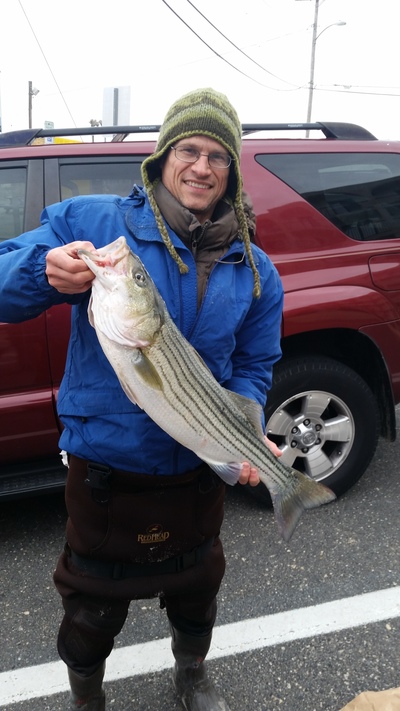 The previous 2 days had called for pleasant weather and mediocre fishing at sunrise, which led us to not bother setting an alarm for pre-dawn. We slept in and took the day as it came. However Monday was calling for a perfect fish-catching combination: Simultaneous outgoing tide, sunrise, moonset, and "gale force winds" blowing out to sea so we made sure to wake up early so as not to miss our best opportunity. The first two days of scouting had given us a good idea for where to plan our stakeout: the north end of the boardwalk, where a nice sandbar revealed itself as the tide went out. I hiked out to the bar and took a few casts, and quickly made my way to the edge of the bar where I could cast to my left into a deep pool of water. The flat mirror-like surface of the predawn water reflected the foggy mist above, whose calmness was suddenly shattered by the violent splash of a feeding striped bass. I could hear J's voice in my head. "These are pencil poppin' conditions". I pulled out my new lucky pencil popper which I had found washed up on shore the day before. This is a style of lure I have never caught anything with, but I know many of J's most epic fish stories involve this magic lure so I am dying to catch a fish on this lure and discover the faith for myself. It's one of the most labor-intensive lures to use. It's big, heavy, and as legend has it, "if you're not making love to the pencil popper it's not going to have the right action". A saying which never made any sense to me until today with the fish crashing on the surface. Are you getting spastic? Make love to it... It's a rhythm thing. Like Isaac Hayes, smooth buttered soul. Ohhh yeah, there it is. WHAM! A big striped bass rose out of the water and nailed the pencil popper in plain site.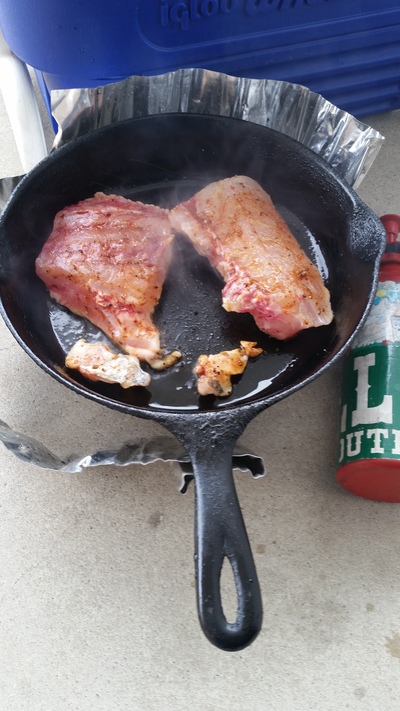 After a bit of a fight, the fish and I made our way to dry land. He measured just over 28 inches. A keeper! Losing my mind with excitement, I wanted to get back out there and catch some more. I carried the fish back to the surf and let him go free. As soon has he swam off, "stupid! why did I do that?" I thought. I don't have too many opportunities to keep a fish like that and I may have just blown it for the trip. Lucky for me, a few casts later, I caught his brother which was also over 28 inches. After a total of 3 fish, soaking wet in my leaking waders and the strong, chill wind, I went and found J. We returned to our hotel, and cooked up an early breakfast of fish. Yum!
Monday Afternoon - Round 2!
Tired by noon, conditions and reports were still looking good so we headed straight back out again. And that's when things really got intense! We made our way up the beach stopping every half mile or so to look around with the binoculars. We find a promising spot, and gear up and start fishing. Before long, J battles a gargantuan bluefish to shore! Followed by another!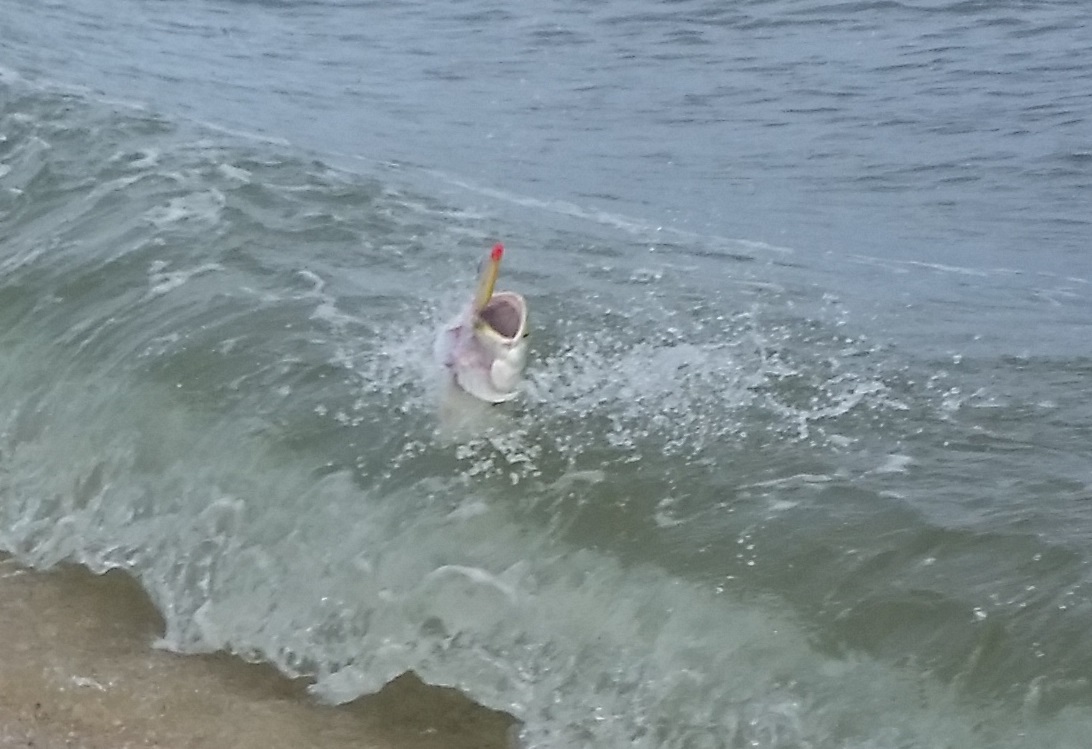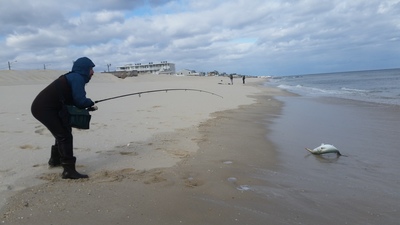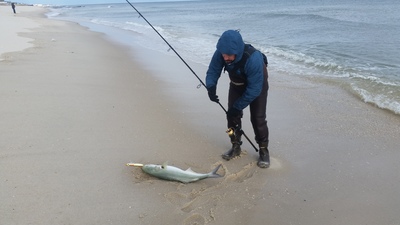 I tossed a few lures into the lucky water, but quickly grew impatient as I saw excitement brewing in the area of jetties to our left. I made my way to the second jetty, and found a nice relaxed spot to take a few casts. Looking to my left, I notice several fishermen running at me. That's odd. I look in front of me and see what they are running for. At my feet is a massacre of baitfish (bunker) and bass! The tide has receded just enough so that the sand bar forms an outer wall and the jetty's block the side exits. Meanwhile the bass and bluefish were ready and waiting on the deep end of the sand bar to force the baitfish into this beautiful deathtrap!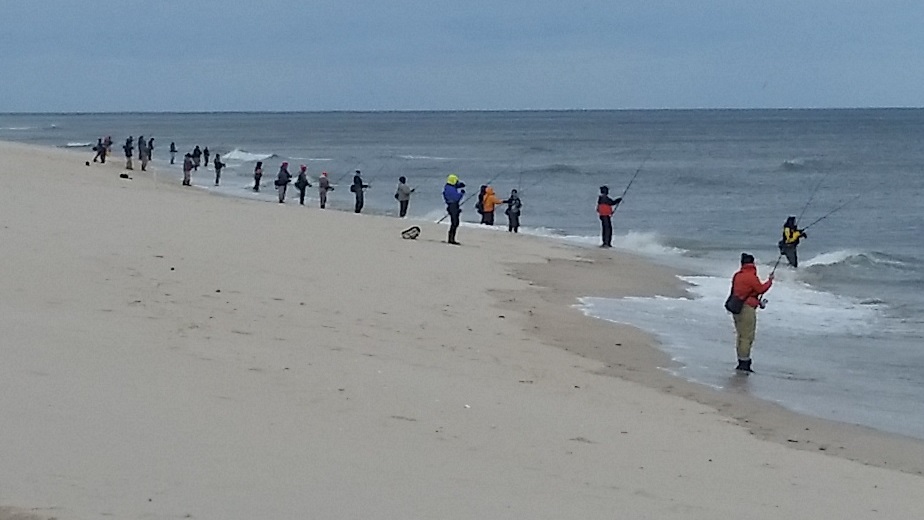 I cast out a weighted treble hook and quickly snag a bunker and liveline the little guy. Wham! Fish on! I frantically pull a nice bass to shore, remove the hook, and by the time I return him to sea I am surrounded by countless fishermen. I switch lures to my new bomber - a big plastic fish covered with giant hooks. I cast and quickly latch on to another fish! Now that there are fishermen all around me I tighten the drag and land the fish as quickly as I can. Catch and release. I cast again into the fray and catch another nice bass! I reel him in and discover that this bass was foul-hooked, which means the hook was not hooked in it's mouth. I guiltily remove the hook and release him back into the water. I spend a few minutes to remove some of the extra hooks from the lure. I take a few more casts, but it this big lure just doesn't feel right. That's when I sit down on the jetty and take stock of my situation. I am completely worn out. The situation is dangerous with hooks flying everywhere. Nothing in my lure bag seems appropriate for this chaos. So I just sort of sit and try to come up with a plan but end up feeling pretty satisfied to numbly gaze out and watch the frenzy as it unfolds and eventually wraps up. I pack up my things and wander down to find J, whose giant fish count for the day has reached 8! That's 15 fish in one day between the two of us!
Here's a quick look at the lures that were successful for me on this trip (SP Minnow in bunker color, a bomber, a snag hook, and the pencil popper):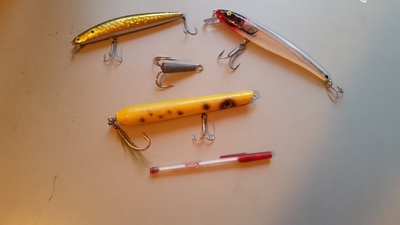 Today some friends and I ran the Seven Sisters Trail Race. It's a really tough race over 7 peaks (and back again) in the Holyoke Range near Amherst, Massachusetts. It's steep for the entire 10-12 miles, sometimes up, sometimes down.
Me, T, and S met up at 5:30am to drive east to Amherst. S had some pretty serious pnemonia as of yesterday, but has miraculously recovered and is ready to test out those fluid-filled lungs. T went for a long hike the day before and is feeling the burn. H has had a rough year and at the last minute decides to test his mettle. Me? I'm well rested, but more than a little nervous. I've been behaving myself and avoiding suicidal running for the better part of a year and I know that my "avoiding suicidal running" score is going to get reset back to zero momentarily. It feels like a 50% chance that I'll have a great race, a 50% chance my body will fall apart.
There is a bit of fussing over what to wear at the parking lot. It's dry now, but it's going to start raining pretty heavily really soon. I decide to just wear shorts and a t-shirt and accept the fact that it might get a little cold. It turned out to be the right choice, despite the cold rain I was very comfortable temperature-wise.
We line up in our corrals and the race starts. By the top of the first big climb, S has passed enough runners to be out of sight. It's a difficult race to pace in the beginning. I would like to take it easy and save my strength. But it's a tight single-track path and it's difficult to pass people. So the options are to either relax and get stuck at the pace the guy in front of you decides to go. Or, if you want to find your proper place in the race, you gotta go hard because everyone else is. Eventually you'll find your spot sandwiched between two runners, too tired to pass the guy in front of you, and too competitive to let the guy behind you catch up.
After the first few miles it's clear that this wheezing pace is too fast for the full course of the race. I take it a little easier and keep my breath at a nice huffing and puffing. It seems as though everyone else is thinking the same thing, because very little passing is going on. The up hills are steep. I try to approach them with speed and keep the momentum for a while before switching to a power walk/climb.
At first, descending means carefully picking a path down steep terrain. But once the leaping muscles warm up and the conscious part of the brain turns off, oh my god the story changes pretty quick. The terrain is coming at you fast and there is just a split second to decide how to deal with it. As you approach a horizon line on the trail at the crest of a hill, the eyes take in the scene in one quick flash and make an instant decision: steep drop off, I can see the bottom, leap, and mid-flight start planning how you're going to avoid splatting. Tap a few rocks with your feet on the way down, just enough to break your fall a little before hitting the ground running. You could put on the breaks but it turns out it's way easier to just pedal faster. As long as you don't die.
And that's where this event shines most brightly. A few minutes ago, we were normal people, nervous and prudent. But now through a steady process of testing limits one-by-one, the mind and body takes everything we throw at it and begs for more, confidence building until we are flying down the mountains like a super hero.
Sadly S's fluid-filled lungs veto his decision to race today. He wishes me luck as he makes his way back to the start.
There is a steady rainfall during most of the race. A giant fallen tree naturally bridges a steep section of trail. I can recall running down the log the previous year on the return trip. I promise myself not to do anything stupid on the way back: in these wet and muddy conditions, this log is off-limits.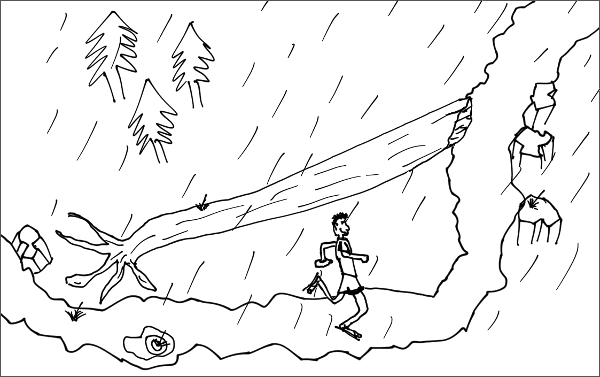 A few runners go past me, running in the opposite direction. They have reached the halfway turnaround, and are on their way back. Counting runners, it looks like I am in roughly 9th place. One unfamiliar runner goes by and says, somewhat questioning, "Jake?". It's a fellow Strava runner (C) who I know well through his runs, but have never seen what he looks like.
A steady, long, not-too-steep descent leads to a big aid station at the halfway point. Between the rain and the mud, my sandals have a nasty case of mudfoot. Because my foot is sliding around the sandal, I am unable to turn, slow down, or speed up without major pain and difficulty. As I bomb down the hill, the aid station comes at me faster than I can handle. H's wife C yells my name and gives me a big pat on the back, and her friend is also cheering. We have gone way too long without seeing each other, but it's not a great time to catch up. I slip and slide uncontrollably into the aid station, bending like a spring to avoid knocking the table over. As I come to an awkward stop, I find one hand in a box of oranges, and the other in a box of granola bars. I close each fist around it's respective food item, and my body springs back onto the course, thus beginning the second half of the race. I cram the orange into my mouth and hook shot the peel into the garbage can and blast off back up the hill.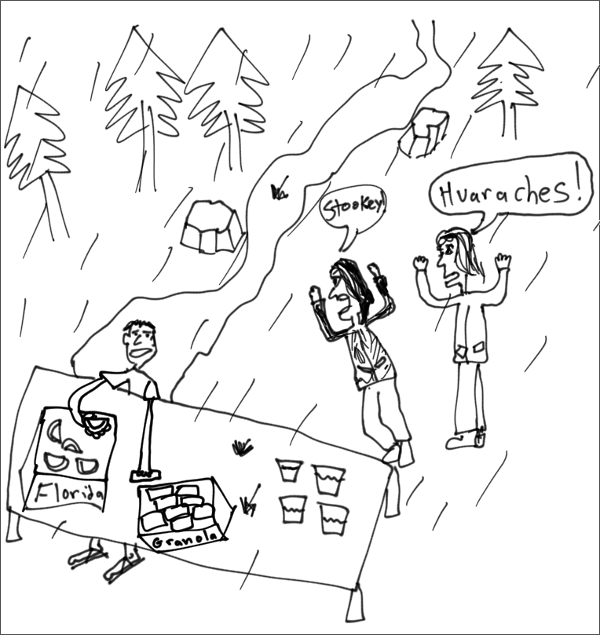 I haven't looked at my watch, not even once. This was a promise I made to myself long before starting the race. I am seriously proud of myself for this while I run because I usually have horrible self-control. On a trail run, the watch doesn't give any useful information, so it's best to ignore it. I just like to use the GPS watch to record the run so I can look at it later. At the halfway point I indulge in taking a look at my time. And. Realize. I never started the watch at the beginning of the race! D*mit! Oh well. I start the watch and continue on my way.
The first half of the race went spectacularly. I made great time, finishing in roughly 1 hour, without overdoing it so I felt I had a lot of energy for the return trip. However, by the second half, the affects of the rain and the hundreds of runners in the mud took their toll and made for a slow and messy return trip, particularly with the treadless and mudfooted sandals.
T ran by on his final approach to the turnaround. One of his old Vibram 5 Finger shoes came apart, and you could see the entire front of his bare foot sticking out the front of his shoe. Shortly after, I was excited to see H run by, I wasn't sure if he had decided to run or not.
I proceeded as best I could. Everyone was struggling with the slippery mud. I was sliding down one hill, precariously skiing down the mud with a runner directly behind me, when all of a sudden it shushed me right onto the log bridge I had promised not to run down. It was too perfect. Much to the surprise of the runner behind me, I ran along the log, with him down below on the trail, and made it back to the trail without losing my place.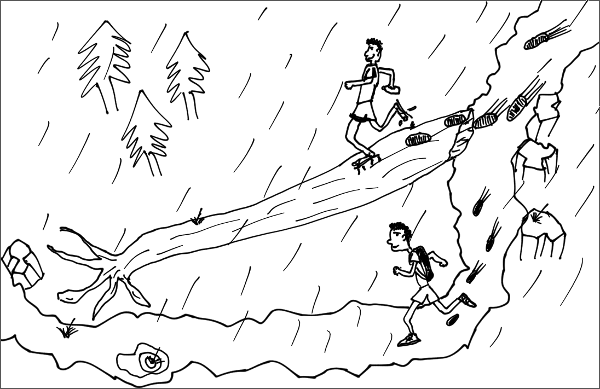 I spent the rest of the race moving pretty slow on account of the mud. Lots of runners sped past me. It was a little disheartening on some of the most fun downhills to be more or less walking. And cursing. I was very happy to hear the sound of loud music in the distance, it meant I was almost done with a very tough run. I made my way down Bear Mountain to the road, and ran the last bit of pavement to the finish line.
While not quite as fast as I might have hoped, it was an absolute blast. Those guys really put together a top-notch race. I'm so glad to have run it again this year. And the best part? I have yet to run a solid Seven Sisters. Which means I'll need to return next year to take another crack at redeeming myself!
In other exciting news, a certificate for a pair of La Sportiva shoes was raffled off after the race. In a bizarrely canny twist of fate, I was the lucky winner! Maybe if it's rainy again next year I can shelve the sandals and dress up like one of the weird La Sportiva guys that show up to this race each year.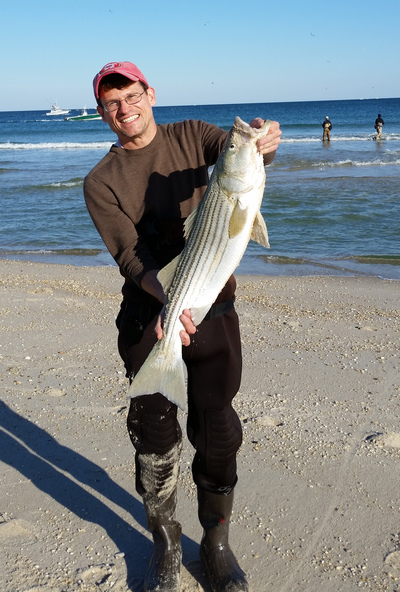 Toss this ugly 3-pronged hook into a big school of 2-inch bunker ("peanut bunker"), snag a little fish, and let it drop down below the school where the hungry bass are waiting. The bass biting felt like a tiny little bump. Set the hook, and get ready for a fight.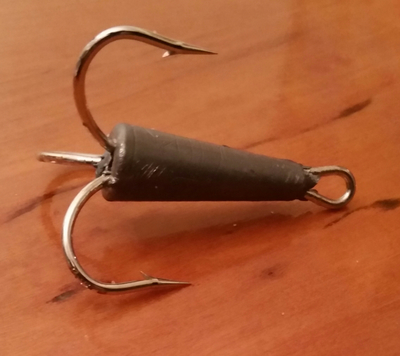 Bass Sushi, Bass Sandwiches, Bass Tacos, Blackened Bass...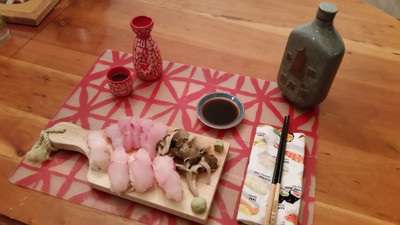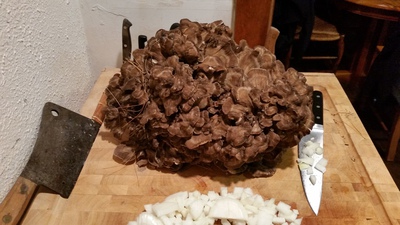 I had seen what I thought to be a small Hen of the Woods mushroom during the day, and went to fetch it at night. I reached down to pluck the mushroom in the darkness, and found that it was sort of buried in pine needles and leaves and was much bigger than I expected. Probably 10 pounds or so. I made dinner (a mushroom cream sauce with homemade salt and cider wine) and still had lots left over. I pickled some using this recipe.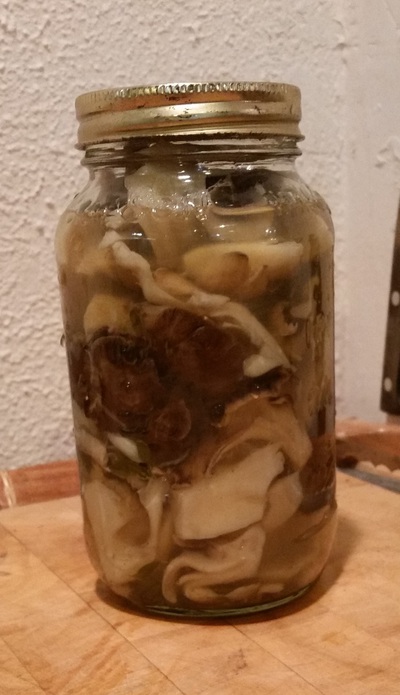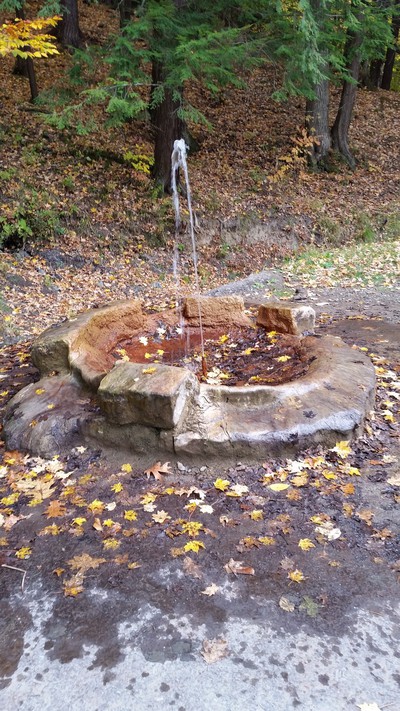 It all started after M tasted some of the naturally sparkling Saratoga Springs mineral water and mentioned how salty it tastes. I boiled down some of the sulphury water to try and make salt. The long story is here. When the water first started boiling, a lot of calcium sank to the bottom, which I strained out. Luckily the sulfur smell went away as it boiled. The water tasted saltier and saltier as it reduced.
I boiled the water all the way down until nothing was left except a salty paste.
I suspect that the remaining 'salt' is half salt and half calcium judging by the taste and texture, but perfectly usable as a seasoning. A lot of the excess calcium probably could have been removed by straining later in the process. Here is the process, with the final product at the end: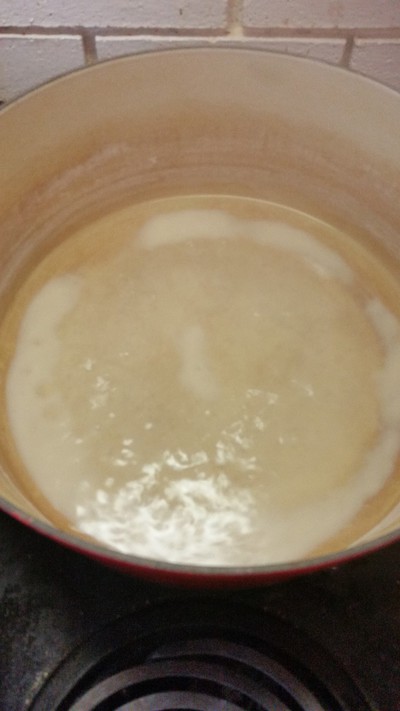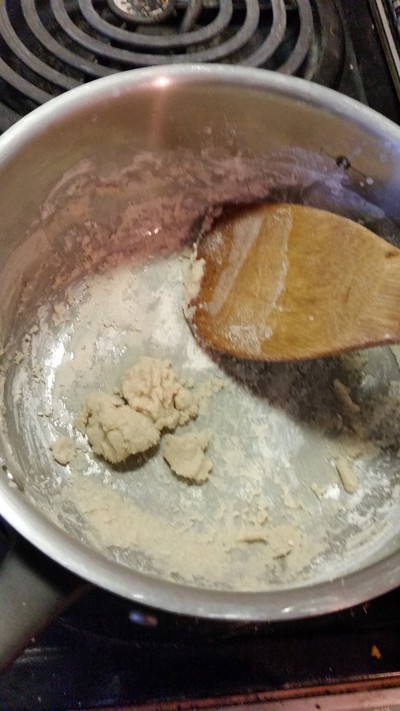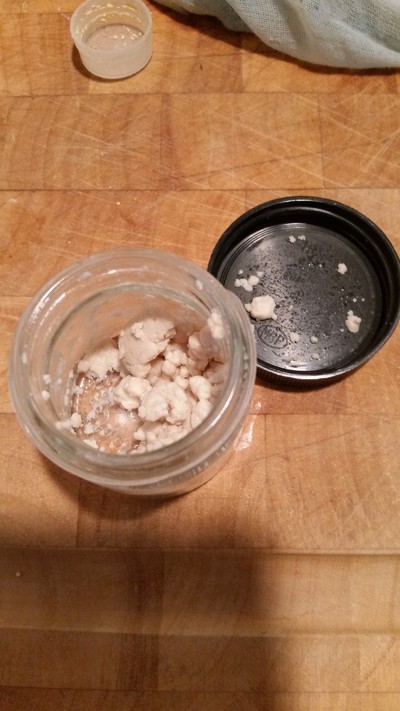 Weird, I just noticed that calcium carbonate is a salt, too. I guess I have some learning to do about what exactly is a salt?
This got me thinking - what's the worst place you could make salt from? How about Coney Island sea water? Well, the folks from Urban Sproule tried it and are now in business making local NYC sea salt:
"At first, said Gallagher, they wanted to make salt from each of the five boroughs. "But we tried with Coney Island salt and it was just gray and gross," chimed in Sproule. Eventually, using their Greenmarket connections, Glenn Bickleman and Charlie Corriss of American Seafood, agreed to fill five-gallon buckets with ocean water drawn 30 miles off the Montauk coast. "I want my salt," says Gallagher, "to come from where my fish comes from.""
Find the article here. Urban Sproule Rooftop NYC sea salt can be purchased here.
The company I work for has an office in Lyon, France. While visiting our office recently, S, an employee from the Lyon office brought a bag of "Vichy Pastilles" to share, candy made with the mineral salts from the mineral water in Vichy, France. These were orange-flavored and absolutely delicious. I'm not sure how to describe it, except that it is like a gourmet antacid tablet.
It got me thinking of the springs in Saratoga and the funky naturally-sparkling water that flows freely there. I loaded up the car with the empty bottles and my bottle capper, and headed to Saratoga Spa State Park. I stopped by various springs, tasting the water and filling the bottles, labeling each cap with which spring it came from. I'm really not sure what the plan was, but I had a few things in mind: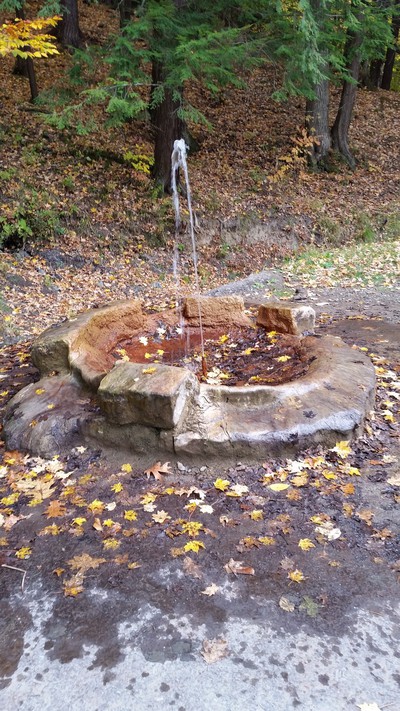 1) It was an opportunity to practice bottling stuff
2) I was curious to know how well fizziness would last in a properly capped bottle
3) I kind of like the funky tasting water and wouldn't mind keeping some around the house
The last spring I planned to visit was the Orenda spring, next to where we have been having our annual company picnics. As I filled bottles, a tour group walked walked up to the spring. I moved my bottling operation out of the way to let everyone taste the water. The tour guide was a geyser of information about the springs, clearly passionate about the spring water. He asked me, 'how long have you been drinking the spring water'? I told him it was my first time. He mentioned that there are 18 springs total. Upon my asking, he said that the fizziest spring was the Hathorn spring in downtown Saratoga. He handed me a brochure and lead the group along to the next spring. Me? I packed up my stuff and headed to the car to find this Hathorn spring.
There are several Hathorn springs. I went to Hathorn spring #1. It was extremely fizzy like the man said. Passers by finished coffees, then refilled their Dunkin Donuts cups with the sparkling water. I filled up my remaining bottles, grabbed lunch, and headed home.
I felt kind of silly as I set down 20 or so bottles of stinking bubbly waters. There's no way I'm going to drink all of it before it's time to bottle the cider that's brewing down in the basement. I poured myself some and offered M a taste. She took a sip, and said, "Wow. It tastes very salty and sulfury." I found her discerning taste interesting. I hadn't noticed the salt, but now that you mention it...
I'm always thinking about the question, 'where would I get (x) if it wasn't at the supermarket?'. Two really crucial items I use every day come to mind. The first is cooking fat. I suppose I could get it from animals, but it's also available from plants and I wonder how *I* would go about extracting it. The other is salt. Salt is an amazing preservative, salt would be sorely missed if the supermarket didn't exist. When M mentioned the salty taste, it got the wheels in my head spinning. Maybe if I boil down the spring water, I can end up with a pile of salt. Of course there's the issue of having lots of other minerals to extract, but whatever. Let's try it and see what happens.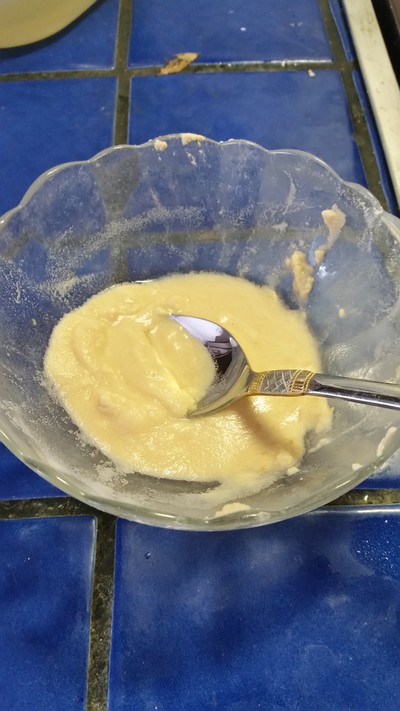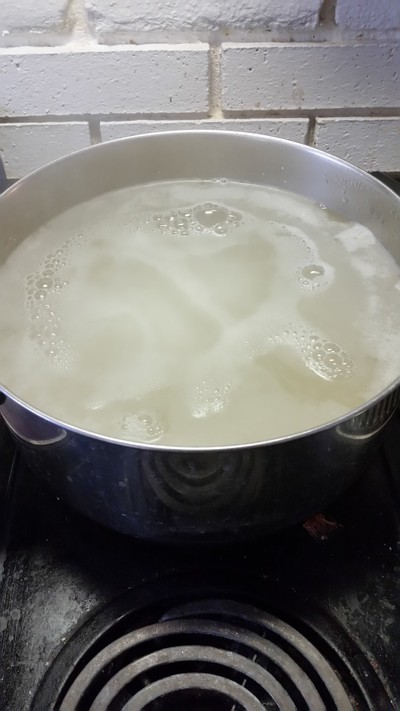 As soon as I started boiling the Saratoga spring water, a white sandy substance appeared in piles at the bottom of the cookpot. I strained it through a cheesecloth, and put the remaining water back on the stove to continue boiling down.
I tasted the white substance. It seemed very similar to the hard water deposits we get all over the house (on clean dishes, in pipes, in the dishwasher, etc. etc.). Some sort of calcium. Calcium carbonate maybe? Calcium carbonate is a common ingredient in cheesemaking, also added to commercial nut milk to give it 'more calcium than dairy milk'.
Ok, so I have a pile of calcium carbonate (or something similar) before me. I Googled uses for calcium carbonate. Antacid tablets caught my attention. I had a huge eureka moment when I realized that's what the Vichy Pastilles tasted like. Which makes sense, because they are made using mineral water. A potential recipe for Vichy Pastilles (or more accurately, Saratoga Pastilles) came to mind. I hopped on my bike and raced to the supermarket to pick up some oranges. Back at the house, I juiced and zested one of the oranges into a boiling pot. I added sugar and reduced it a bit.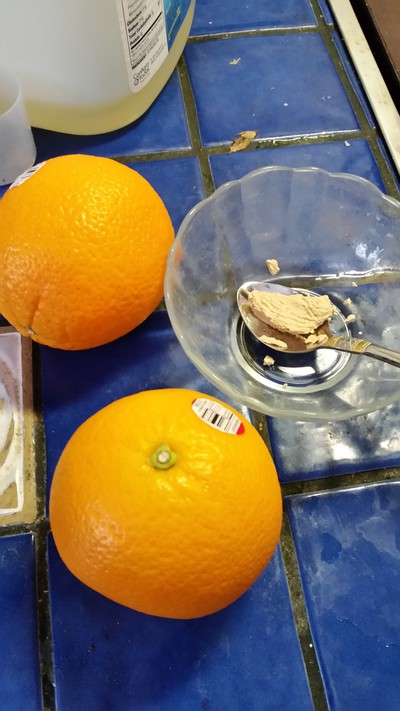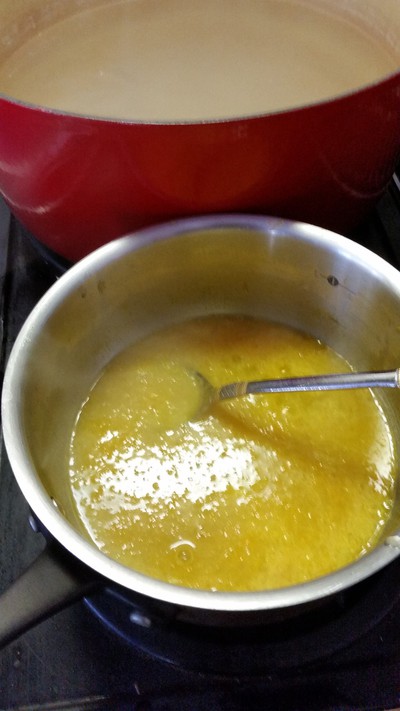 The juice was then poured into the pile of calcium on a paper towel, and the moisture was wrung out of it using the paper towel to strain. What was left was an orange pile of damp chalk dust. I grabbed two homebrewing airlock caps, pressed the dust into one and fit the other cap inside the first, and pressed the dust into a solid piece of candy.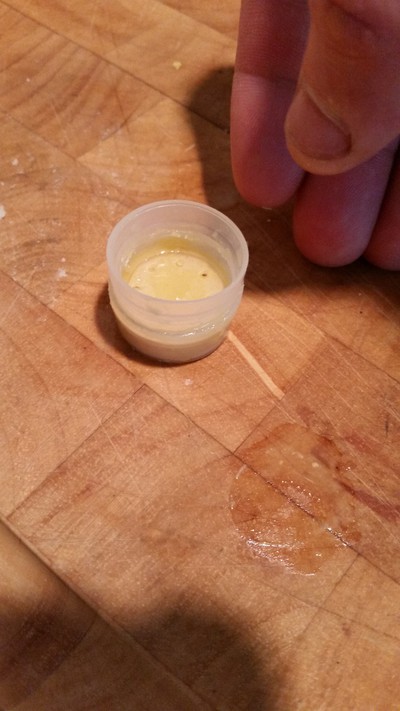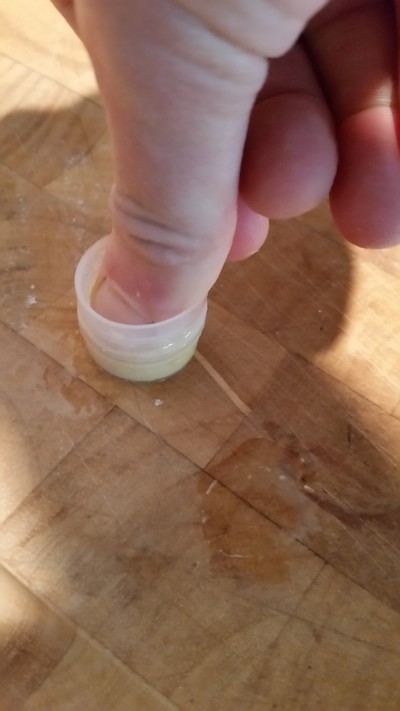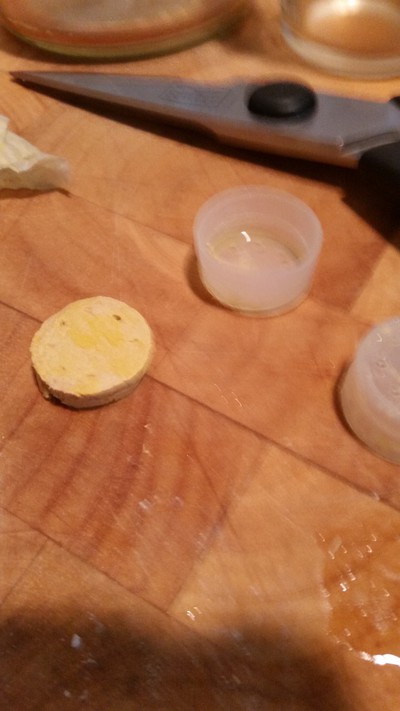 This went into the slow-cook oven at a very low temperature to dry.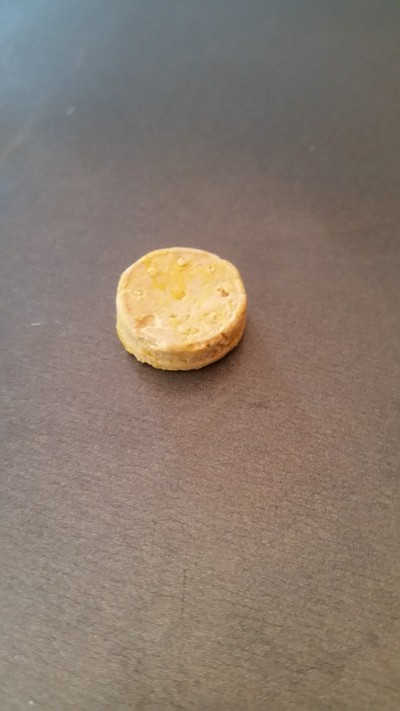 The piece of candy spent 30 minutes or so drying. It was not completely dry by this time, but I have no patience so out of the oven it came. I split it in two so M could try it. Popping the half-candy in my mouth, it tasted a bit sweet and orangy, and disintegrated as soon as it hit saliva. I told M to expect something along the lines of an antacid tablet. "That's exactly what it tastes like", was her response after trying one.
So there you have it. A rudimentary Saratoga Pastille. A lot of work for one candy, but exciting to have an idea of how to make them. And Rolaids. And Necco Wafers. And Flintstone Vitamins.
While I was pickling some excess Hen of the Woods mushroom, I poured vinegar into a measuring cup. Peering into the cup, I noticed a gag-reflex-inducing haze floating in the clear liquid. I reached my hand in and pulled out a clam goobery slime. Vinegar Mother. I have read about Vinegar Mother. I've read recipes that if I remember correctly involve leaving a bowl of mashed up rotten fruit outside for several weeks, unleashing fruit flys and bacteria on the mash until eventually it evolves into the ultimate in nasty: a floating slimy vinegar mother. Dropping the slime into alcohol will convert the alcohol to vinegar.
It's kinda hard to see, but here's a picture inside the vinegar bottle, the vinegar mother is the cloudy murk: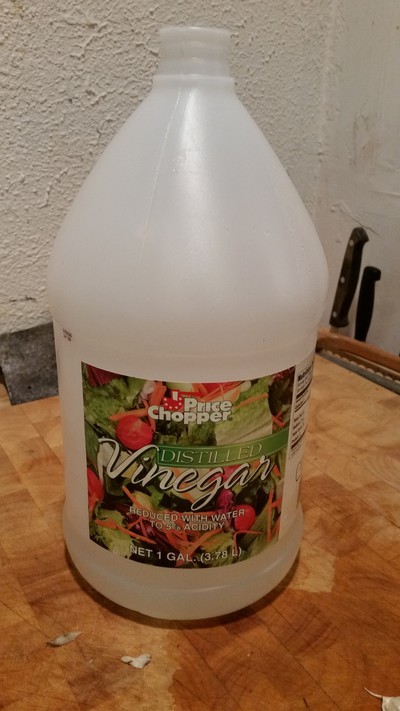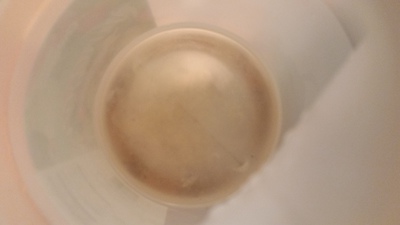 I'm stoked to have found it. The timing is perfect. I have apple cider almost ready to go fermenting in the basement. And I don't know that I can stomach the above recipe for making vinegar mother, but it turns out the mother created itself all on it's own. Hopefully I can add the mother to cider and make some cider vinegar.
Quote from the Mother of vinegar Wikipedia page:
"Mother of vinegar can also form in store-bought vinegar if there is some non-fermented sugar and/or alcohol contained in the vinegar. This is more common in unpasteurized vinegar. While not appetizing in appearance, mother of vinegar is completely harmless and the surrounding vinegar does not have to be discarded because of it. It can be filtered out using a coffee filter, used to start a bottle of vinegar, or simply ignored."
A.K.A. "Bad Idea Chowder", with Oyster, Painted Suillus, Shaggy Mane, Puffball, and Cinnabar Red Chanterelle mushrooms. Using apples instead of potatoes which worked pretty well: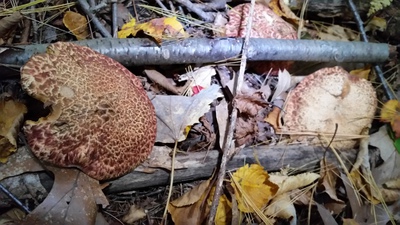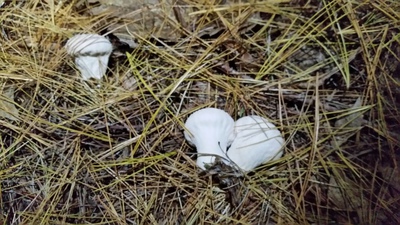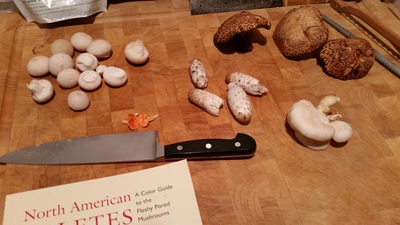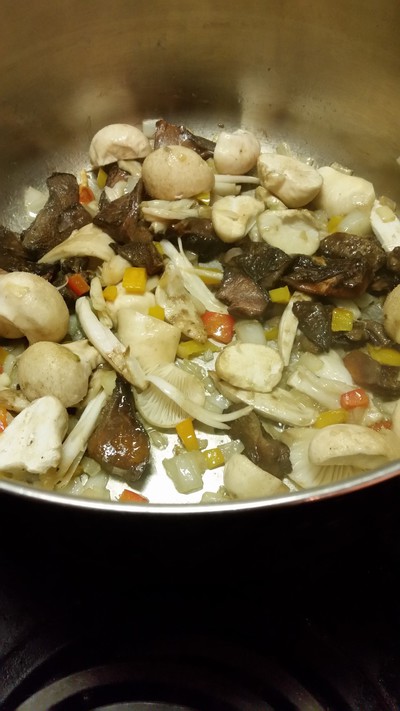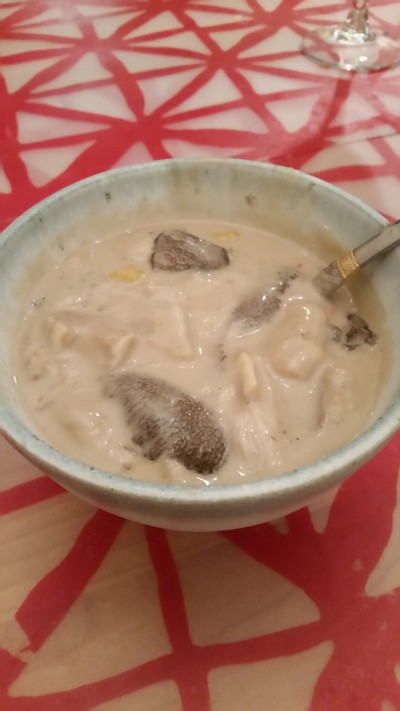 I'm trying different commercial ciders, and mostly focusing on ciders without extra added flavors (maple, cinnamon, ginger, hops, etc.). I'm curious to see what real hard cider tastes like.
Commercial Ciders
Nine Pin Cider (Draft, Brewed in Albany, served at Druthers) - Very similar to Mott's apple juice, including the slightly syrupy-sweet taste. Plus alcohol. Nice and light, though I think even the slightest taste of syrupy-sweetness is not to my liking. And man, a pint of cider is a lot for this beer/wine hybrid.
Stella Artois Cidre (Bottle) - Crystal clear, very light carbonation, sweetness really well balanced so that it tastes neither dry nor particularly sweet. "Off-dry" describes it perfectly. Apple-y without tasting like apple juice. Very wine-like. Two thumbs up. (After doing some research, the ingredients list is long and a bit suspect - apple juice concentrate, natural flavoring, sugars, several additives, etc.). I've always like Stella, cleverly marketed at fair-weather weekend snob wannabes like myself. "Who raised you?" asked my Dad when I was caught ordering one.
Naked Flock Cider (Draft, Warwick, NY, Served at Henry Street Tap Room, Saratoga) - Ok but kinda tastes like something was brewed, then additions were made with the goal to bring the general flavor back to that of apple juice (plus alcohol). Crystal clear, beautiful effervescence. But not something I would drink unless I had a strong craving for apple juice.
Cider Creek Hard Cider (Bottle, Canisteo, NY) - Very light color, champagney sparkle. Tastes like a better-than-usual New York State white wine, with a hint of apple. Very light flavor, seeming almost watered down on the first taste, which is maybe appropriate for a pint of cider. The driest of the ciders I've tried so far, yet it is still a little on the sweet side, but well balanced and really tasty. Two thumbs up. The best so far, but I'm still waiting to taste a cider that is actually dry.
Angry Orchard Traditional Dry (Bottle) - Dark apple juice color, very slight carbonation. I had some hopes for this one, being that it is labelled 'dry'. However if I think of wine while I sip, this cider tastes like an appley sweet white wine. It has the apple juice plus alcohol flavor, with slight dark apple taste, making it tad more exciting just apple juice. Ingredients include 'natural flavors', etc. making this another disappointing cider. Or should I say awesome cider, because my crappy first attempt, fraught with mistakes, tastes way better IMO. :)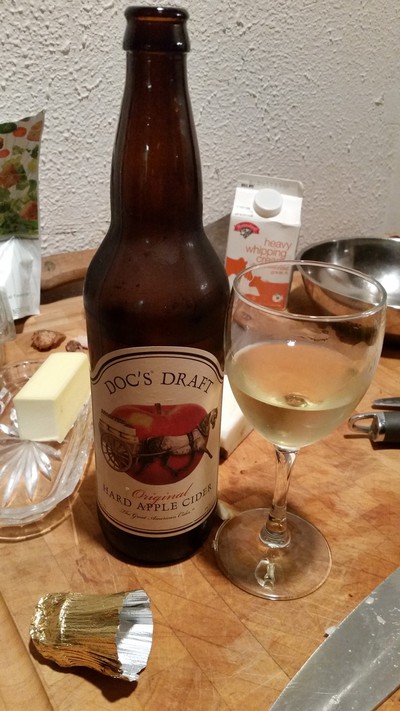 Doc's Draft Hard Apple Cider (Bottle) - Light color, champagne-like bubbles. Appropriately sweet, drier than all the others I've tried so far and it's still not exactly dry. If it were wine, it would be pretty good, even though I don't like a sweet wine. Label states, 'Made from pressed NY state apples, fermented with champagne yeast and malic acid.' *Could be* orc mischief (even evil cider is made from pressed apples). But sounds reasonable. And it's pretty close by. This place deserves a visit for sure. Also worth mentioning is that this cider was inexpensive compared to the others. I think it was roughly $5 for a 22 oz. bottle, sitting next to other ciders selling for $10 or more. Three thumbs up. See here for a video from Doc's cidery.

Le Brun Organic Cidre (750ml Cork Bottle) - Light and bubbly, low alcohol at four percent, and very dry. Made and bottled in Brittany, France, with an Illinois importer. Unpasteurized. Really good and interesting, although I definitely tasted more than a hint of cleaning supplies. Not a bad taste, but makes me wonder. Is this how it tasted when it left foreign soil or was some mishandling involved? Excellent regardless. (Relevant quote from a great cider making podcast: "A lot of the things we associate with ciders made in Normandy or Brittany, we might think of those as faults if they appeared in our new world clean ciders but those are the exact same things that make those traditions, that define what those traditions are.")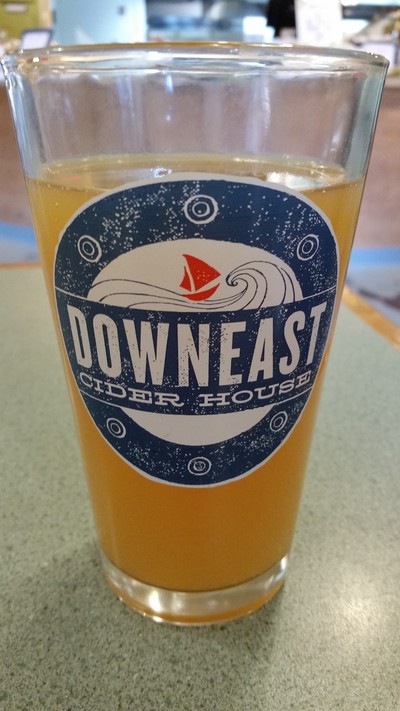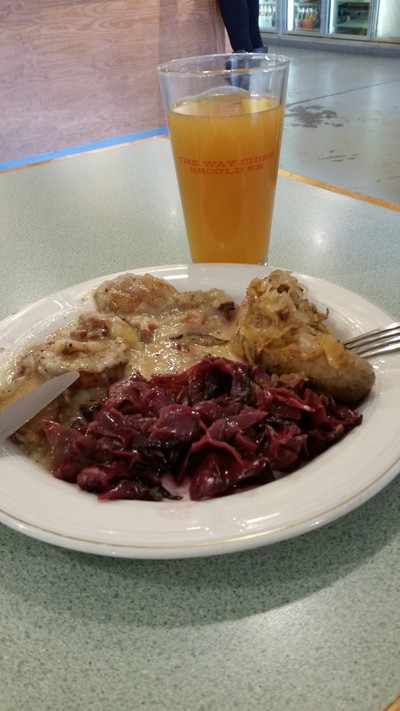 Downeast Cider House (Draft, served at Park Side Eatery in Saratoga) - Oh my god. This tastes like exactly what I've been looking for. Cloudy, with a tiny bit of bubbliness. Dry with a rich cidery character, rather than the apple-juicyiness of some other ciders. This is by far the best I've tasted so far. Perfect.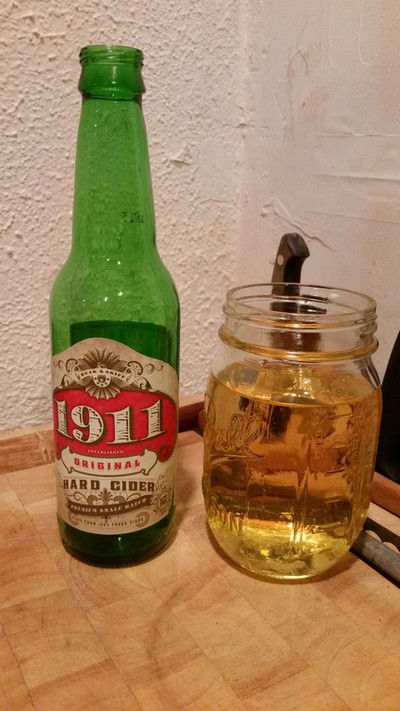 1911 Original Hard Cider (Bottle) - Foamy head that quickly subsided. This cider falls under the apple juicy category, but is one of the best of the apple juicy ciders I've tasted, clean and dry. I'm not sure it's my thing, but it could grow on me. Definitely one thumb up, maybe one and a half. (And please remove a thumb from the Stella Cider, er I mean Cidre, my tastes are changing).



Homebrew Ciders
* C1 (Cider 1) - Cloudy with no carbonation. Very dry, doesn't taste very apple-y, and has a bit of sour (as in sour beer) taste. Noticeably watered down. Drinkable and enjoyable, not bad for a first run. The biggest room for improvement is not to water it down. I like the sour taste, but could be minimized. (Note: After resting in bottles for a week or so, the 'watered down' taste is gone, and the sour taste is very agreeable.) After tasting some less messed up ciders, the sour taste feels like a bad sign. Not terrible, in fact gives it a uniqueness that I might miss when it's gone, but not ideal.
* CS1 - Cider Soda - Sweet, slightly fizzy, slightly alcoholic version of C1 (before it fermented all the way). Really tasty and fun to drink, but challenging to tame the carbonation.
* GC1 - Grape Cider - Cider with a small bit of wild grape juice added. Really well balanced, simple, underpowering, light wine-like taste. I'm very tempted to make more of this stuff. Doesn't taste like cider at all, but really bumps up the quality of the light grape juice.
* C2 100% apple cider, no water, yeast or anything added (aside from a bit of no-rinse sanitizer), fermented for about a month naturally. At this point it was still very high in sugar, low on alcohol. Tastes great, similar to the CS1. After bottling and leaving in the fridge for a week or so, has a pleasant slightly complex sweetness with a hint of alcohol, would benefit from further fermentation. Bottles that did not make it to the fridge and instead were left in the warmer kitchen fermented more. These were great. Nice and fizzy with a magnificent (but still definitely on the sweet side) rich fermented cider taste. Such a clean taste, I think this is what I was hoping for from cider with no additives. I also pasteurized a few of these bottles, and they still tasted really good. It's only my prejudice that is keeping me from saying pasteurization didn't affect the taste taste (I need to do a side-by-side comparison). I should also mention that the sweetness of these ciders, even the excessively sweet ones, is incomparable to that of most of the commercial ciders. It's a complex, exciting and in all but the extreme cases well-balanced sweetness. As opposed to the overpowering medicinal sticky sweetness of many of the commercial ciders.
... To be continued
I found some really tiny Hen of the Woods (Maitake) mushrooms today: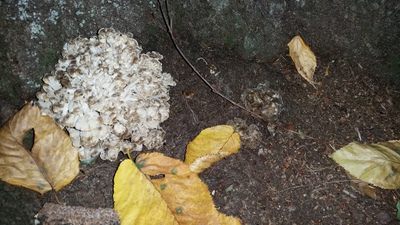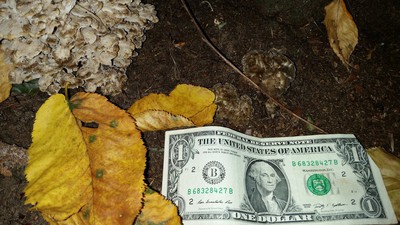 Also found a few honey mushrooms, and cooked them up with maitake in a creamy wine sauce over brown rice: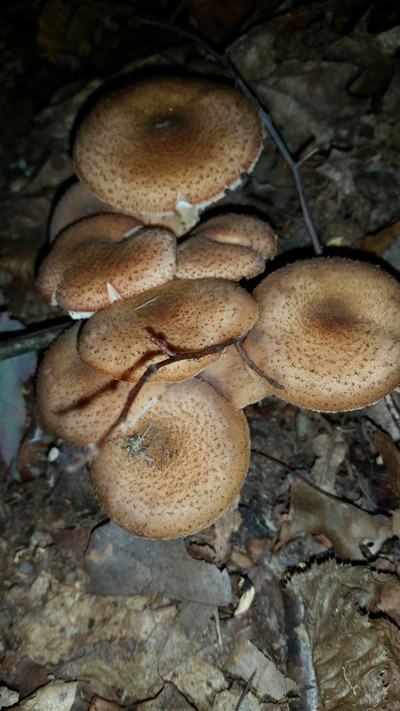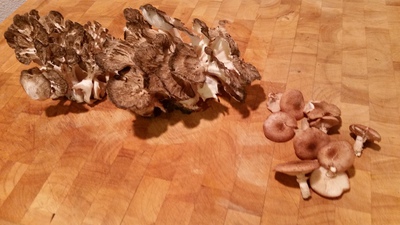 The bread on the side is a spinach feta scone from Bake For You in Albany.