---
I made cheese today. I used a gallon of unpasteurized milk that I purchased from Willow Marsh Farm in Ballston Spa, NY to make cheddar cheese.
I used the recipe for "Cheese, basic hard, 1 gallon" from Fankhauser's
Cheese Page. There is a ton of great information on his site, and his recipes don't require buying unnecessarily unusual ingredients. The first major step is to separate the curds and whey using rennet. This was the first time I was able to get a "clean break" between the curds and whey in a normal amount of time (one hour). I think that I benefited by following the rennetting instructions on this web page. Here is a picture of the curds cooking: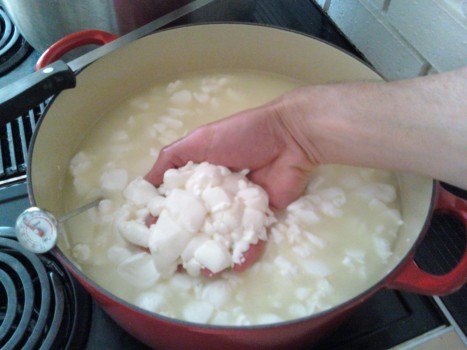 I've been struggling a little bit to put together a perfect cheese press (here is a picture of a previous less-than-perfect attempt). This time I used plastic container with holes drilled in it. Ratcheting straps provide more force than I would ever need, and the whole contraption is very stable: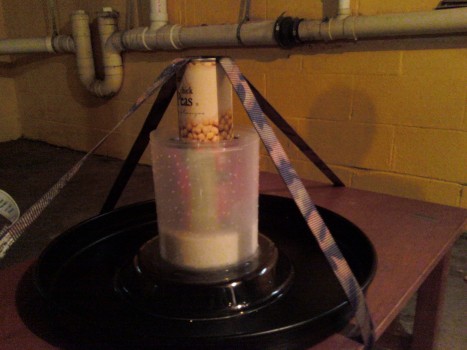 After pressing, the cheese looks like this: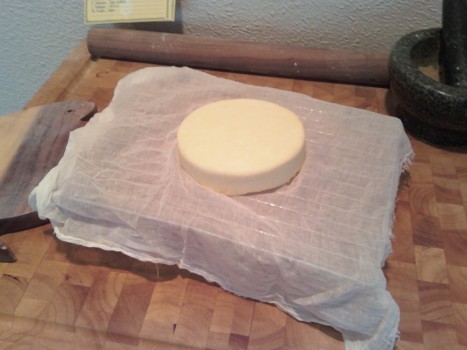 Now the cheese will need to dry out, and then age for 6 months or so in the basement.
I used the recipe from the book, "Home Cheese Making" to make the gjetost. I think that technically gjetost means "goat cheese", and I used cow's milk, so the real name for this is mysost (or mesost) which means "whey cheese" or brunost (brown cheese). Technically it's not cheese because it is not made from curds, so as I understand it, all of these names are wrong, so I just use my favorite name, gjetost. The recipe in this book is excellent. I used the leftover whey from making cheddar earlier in the day. It's largely a matter of boiling the whey down into a thick fudge-like consistency: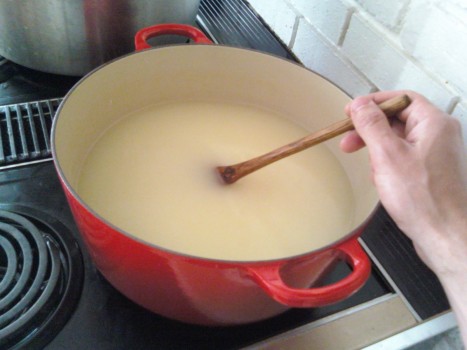 Here is the mysost in the final stages: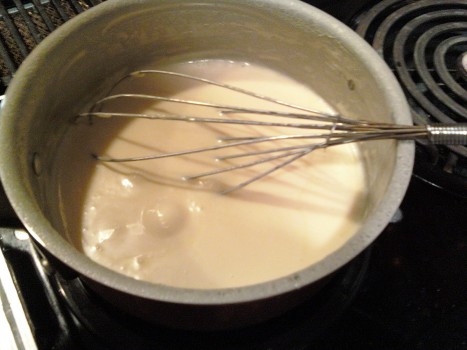 Here is the final product: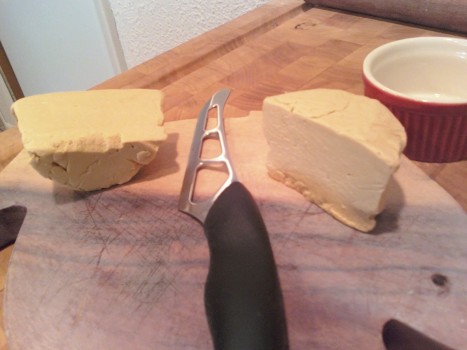 I translated some Scandinavian web pages discussing mesost because there are not many pages to be found in English, and most everything I came across sounded really unusual. Apparently it goes well with asparagus schnapps and raw herring:
"Whey cheese, sour herring and so a small SIP asparagus liquor, it was good!"
I also found a a recipe for Mesost and Reindeer.
Highly recommended DVD - the Cheese Nun. Here is the description on the back of the video:
"The Cheese Nun profiles the adventures of Sister Noella Marcellino - a champion for artisanal cheesemaking. The Benedictine nun travels through the French countryside looking for the secrets of cheese, teaches American gospel music to farmers, is inducted into an ancient order of cheesemakers and puts her microscope to work to help aspiring American cheesemakers."
Available at the Clifton Park library.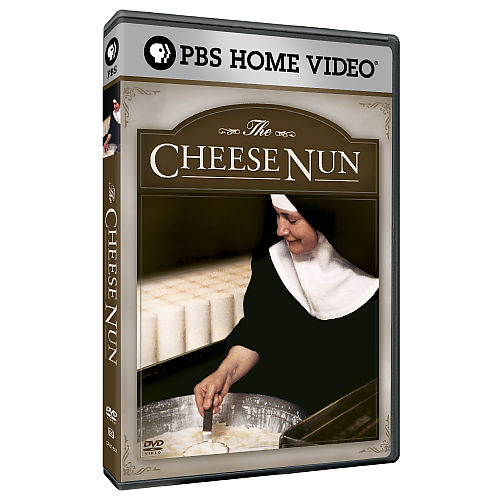 I just returned after 3 days of camping and hiking in the high peaks region of the Adirondacks. We started at the Adirondack Loj, and hiked to a lean-to in Lake Colden, hiked up Algonquin and Iroquois peaks, and back to the Loj. Here I am in the nook between Algonquin and Iroquois peaks: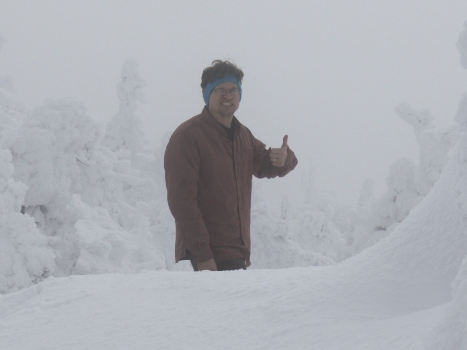 Here we are above the clouds atop Algonquin: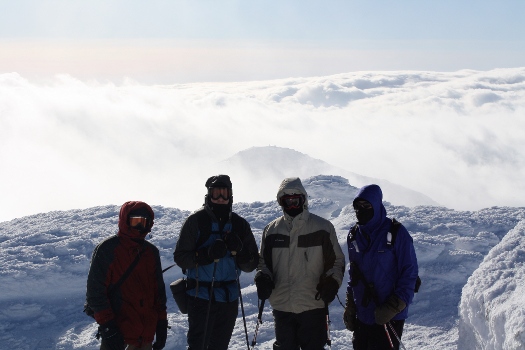 And in the clouds atop Iroquois: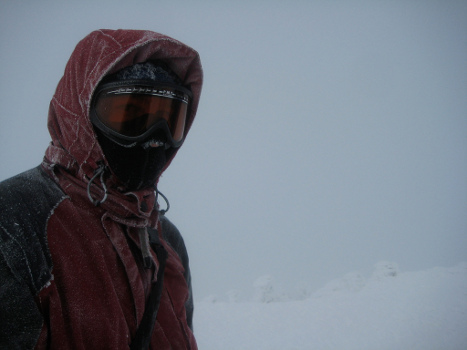 And back to the leanto: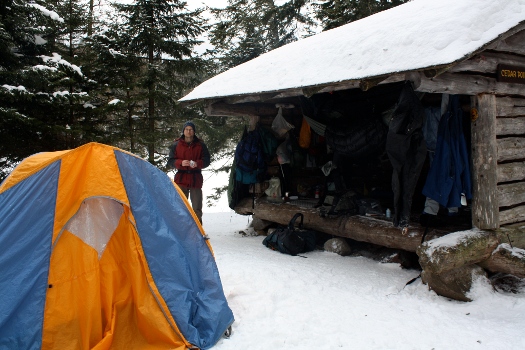 Finally, we are hiking back out of the woods:
A friend took me ice fishing today. He managed to catch a 14+ inch crappie. I've never seen one before. It's a lot like a sunfish, only this guy was huge: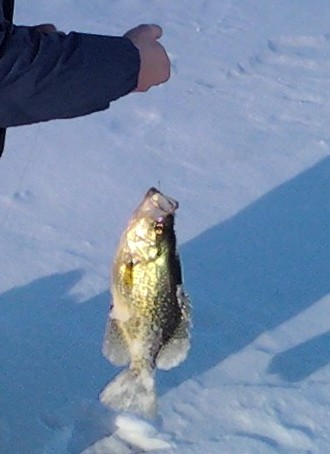 We also caught several large mouth bass, which are unfortunately out of season right now so we had to throw them back. Here's the biggest one: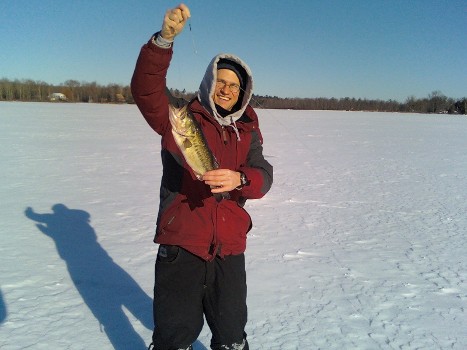 I tried my hand at making fish stock. I filleted all of the fish (sunfish, perch, and the crappie) and reserved the meat. I used the fish heads and bones (minus the gills and guts) and made some fish stock: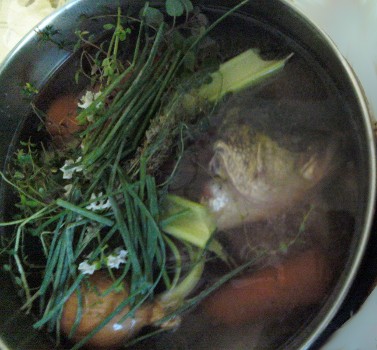 I plan to make a chowder with the meat and stock. The fish stock smelled fantastic while it was simmering. We used some for Matzo Ball soup. This time around, however, it seemed to make the whole house smell like fish when we re-boiled the stock.
Some of the perch that we brought home had large white internal organs. It made me nervous, because some of the fish had it and others didn't. I thought that it might be a parasite or some kind of malady in the fish. I emailed a picture of the gutted fish to someone at the NYS DEC, and they explained that it is the male fish's reproductive organs (testes), and that they become very large prior to spawning season, which is coming up for the perch as soon as the ice melts.
I came across a fantastic recipe for Doubles (a Trinidad street food consisting of curried chick peas, or "channa masala" on pieces of spicy fried dough, or "bara"). The channa and bara in this recipe came out much better than any of my previous attempts: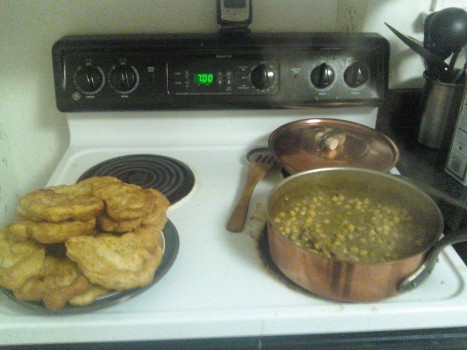 I found a store in Schenectady with this Trinny curry powder that is really good: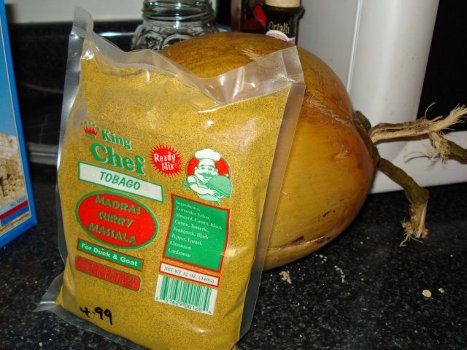 Don't forget some delicious Trinidad hot pepper sauce. Surprisingly, this stuff is available at our local Price Chopper in the international section:
6/23/2010 Update:
The above recipe was adapted from a Trinidad cookbook called, "The Naparima Girls' High School Cookbook".
Links
I was walking through Troy today and I found myself walking down a classic 8-bit video game alleyway like none other: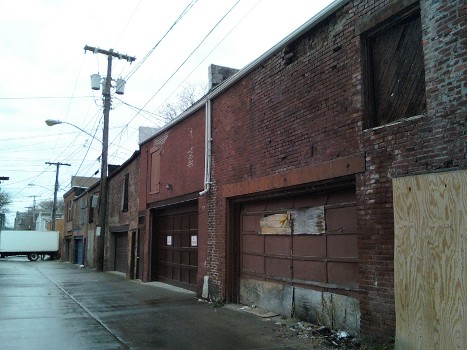 (Check it out in Google Street View). I thought that at any moment one of those second story doors would open up and some dude dressed like a bird would poke his head out and drop sticks of dynamite on me like in Trojan on the Nintendo (Which is a fitting title since the picture was taken in Troy, NY):
If anything happened I felt secure knowing that one of the garage doors would open and the Double Dragons would come and help me out: