---
Trip Report
I kayaked for a few hours at the Hoosick River starting at the boat launch area just above the dam in Valley Falls. Here is the route I followed: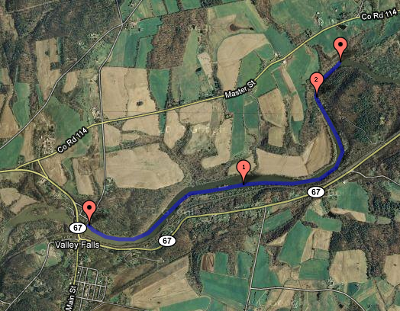 I wasn't fishing much, but I caught a 10" small mouth bass close to shore. I saw several big carp in the water. For the most part, the water was still. In fact if I stood still, the wind blew me upstream. A few later sections had some mild rapids. One section was work to paddle against the current. The trip was not terribly exciting. It would have been better fishing in the canoe, because fishing in my little kayak is awkward. Here is a look down what I called "rapids":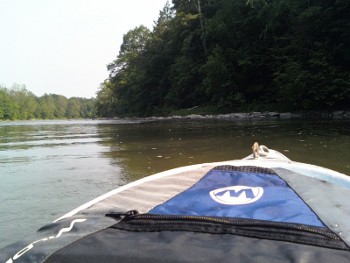 Links
* Hoosick River Paddling Map - Click on the small map and you will get a huge version of the map.
* Hoosick River Kayakers - Maniacs elsewhere on the Hoosick
I took a trip to the public boat launch on the north end of Ballston Lake to try out the new kayak, and to see if the lake has thawed yet. It hasn't, which is surprising. Last year it was already thawed as of some time between March 17 and March 21.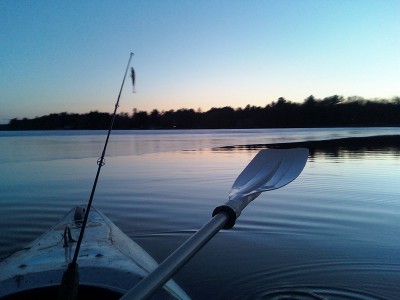 I paddled a short way up the marshy Ballston Creek. A beaver and I scared the pants off of each other. There was only a narrow corridor in which to paddle, and we were both cornered. I screamed. Twice, actually. Once because of my initial startlement, and a second time after I realized that I was sitting so low in the water that the angry beaver could easily GET ME if he chose to.
Anyway, I was still cornered and was going to have to paddle directly over the angry beaver. After that I was happy to hurry back to the car.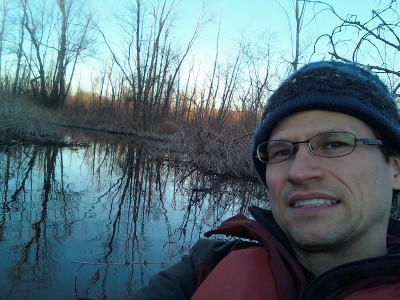 We hiked Hough and Dix mountain this weekend. It was very wet, windy, and cold. Here we are getting blasted with wind and rain at our final destination, Hough Peak: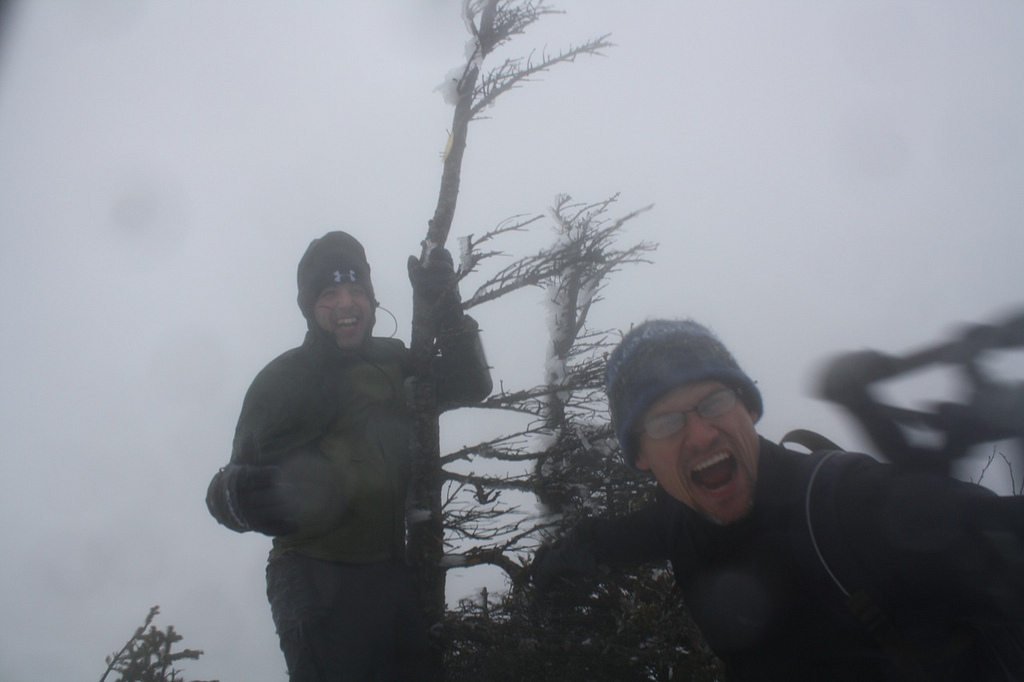 Click here for a full trip report.
Today I went ice fishing before work at Shaver Pond in Grafton Lakes State Park for the first time. It is one of the few places where you can keep trout all-year round if you can catch one. I didn't catch anything. It made for a rough day: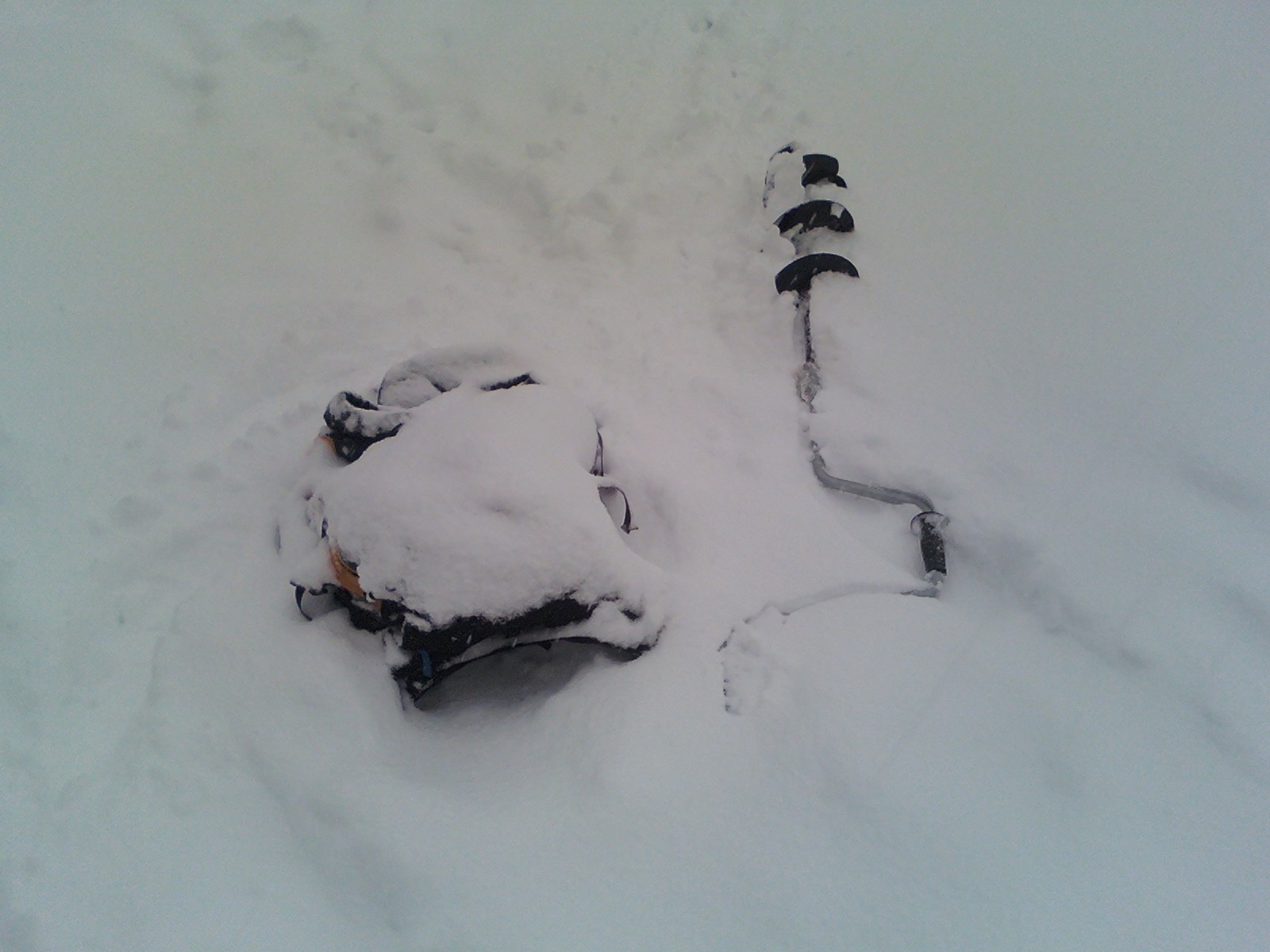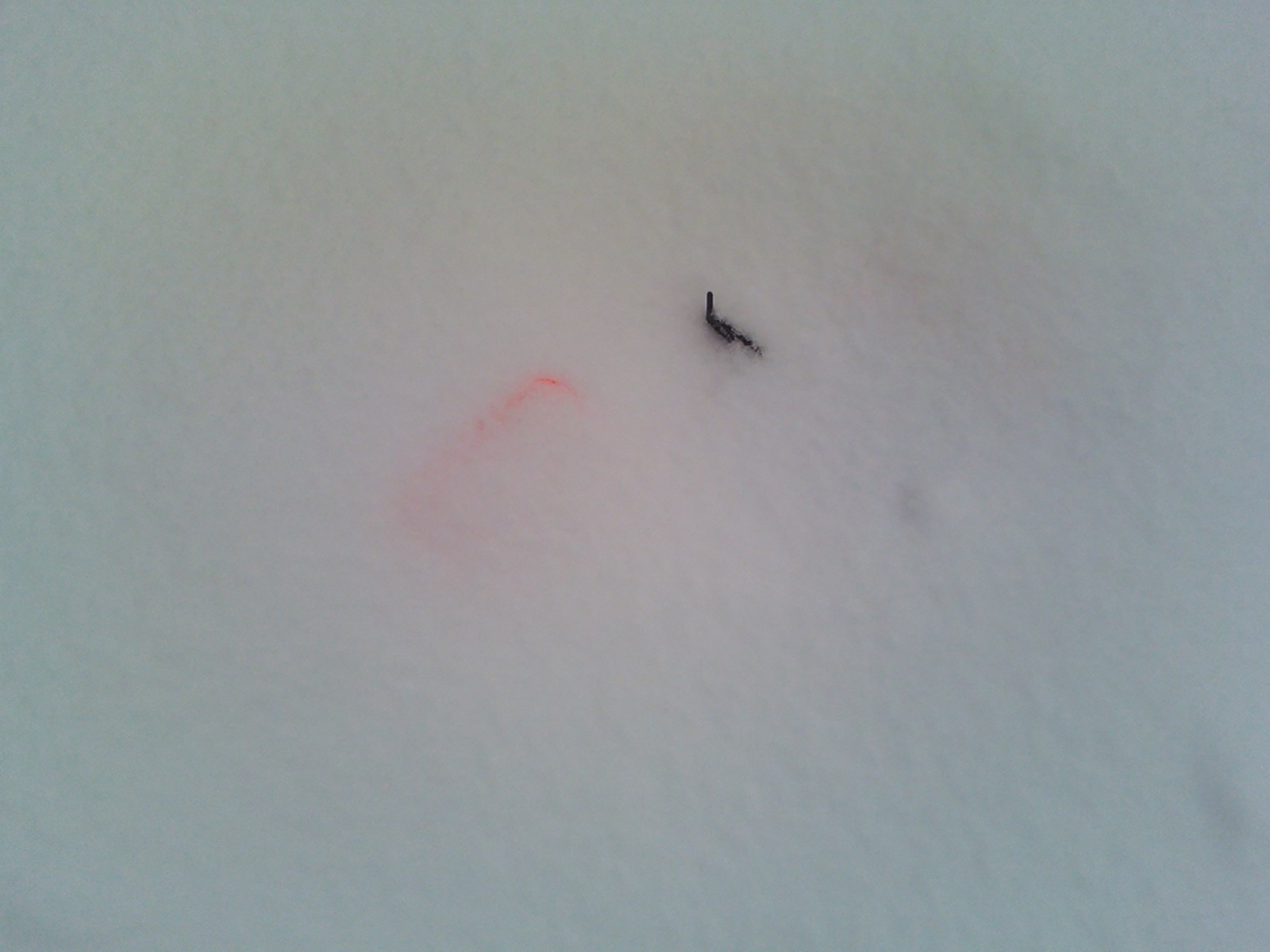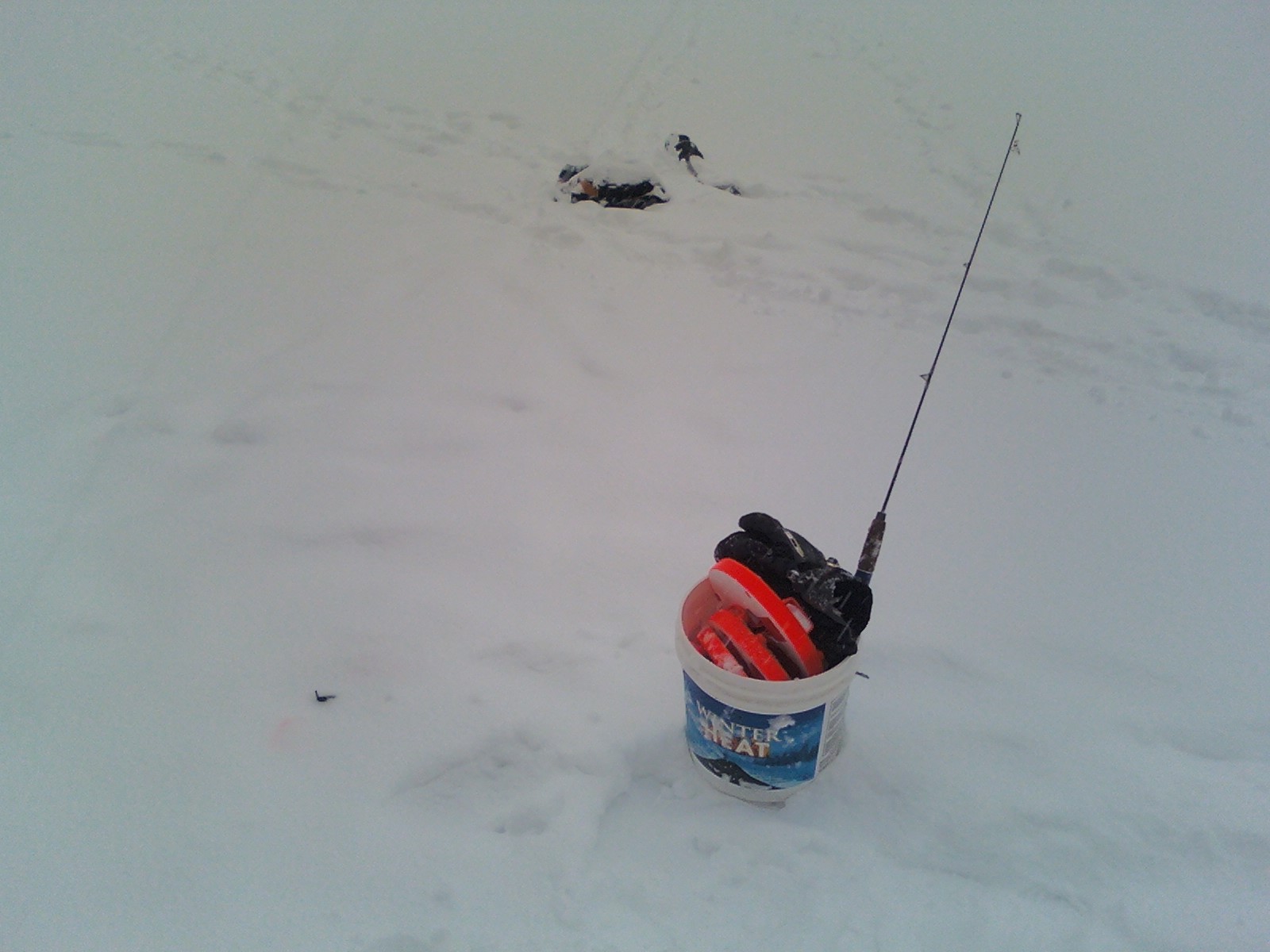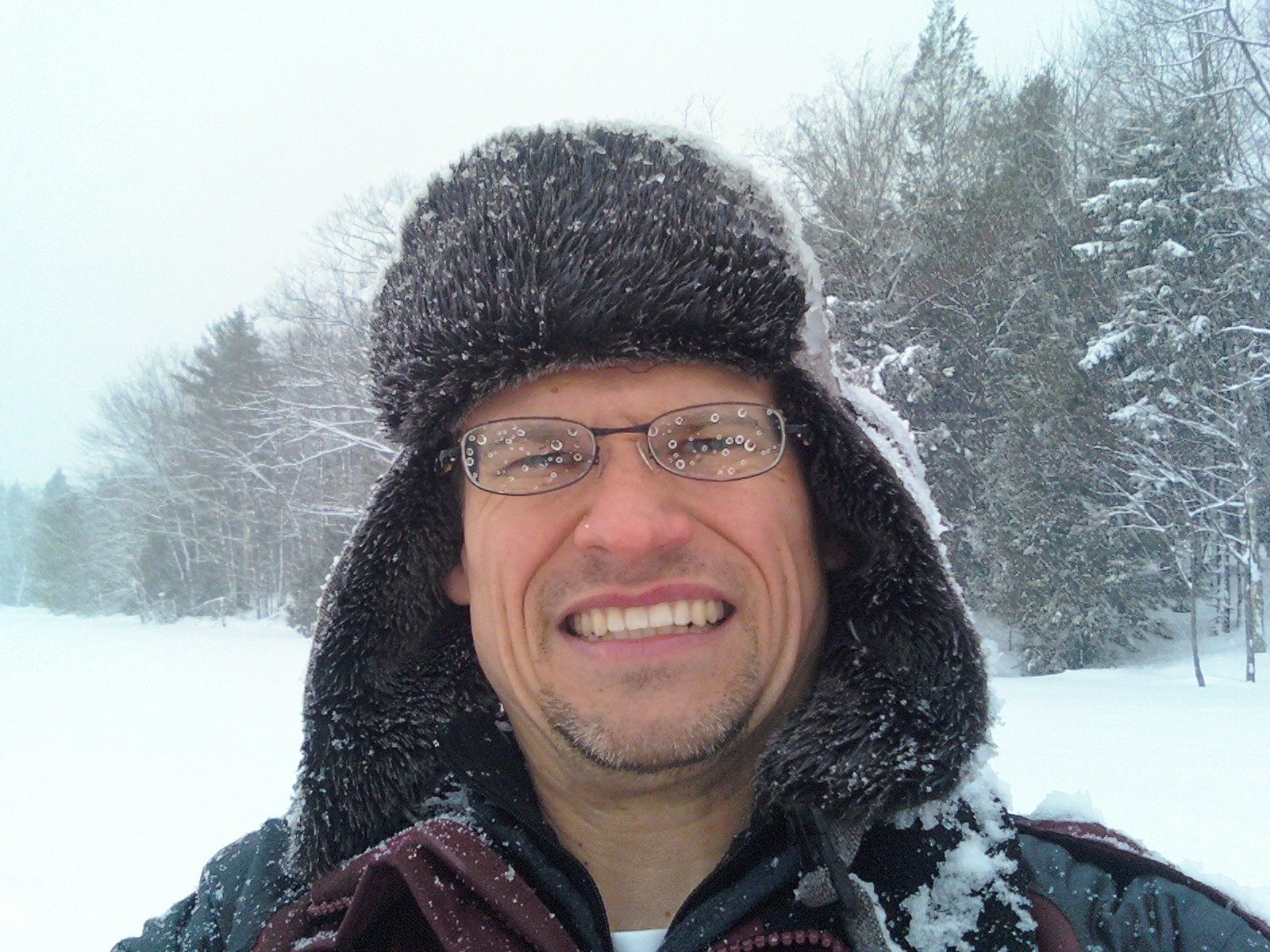 Terrible fishing during a period of steeply dropping air pressure (although I have never had very good success on this lake, so it's possible that I'm just fishing wrong):
I ran the Green Mountain Marathon in South Hero, Vermont this weekend. My left knee was really sore and prevented me from training for a few weeks before the marathon. It was sore before I started running this morning. However, after 5 miles or so it felt better. It felt better as my other knee and hips and things started feeling sore. I made it to the halfway mark without too much of a problem, although I was getting sore and tired. I think that is when my lack of training over the last couple of weeks took effect. The second half was all pretty difficult. Up until mile 18 or 20 or so I was sort of keeping up reasonably well, but I was dwindling. After mile 22 it was REALLY tough. I walked a lot. I walked hills, mile markers, rest stops (anywhere that I could justify a break). At around mile 24, I took a rest stop. When I move to get going again, my left knee felt pretty bad, and my system felt like it was failing - my head and particularly my ears felt really hot, and I had a cold sweat. I walked it off, and it passed. I did the marathon shuffle for most of the last mile.
Overall, it was not a great run (from the beginning I did no feel very good, I had no confidence). Also, the only food on the course was 3 gooey packets. 2 of the packets that I took at first had caffeine. I drank a good amount. For the first half I probably drank a little cup of water or gatorade at every station (every 2-3 miles), and after that I grabbed 3 cups half-gatorade (which usually amounted to 1 full 12 ounce cup) at every station. I and took 4 or 5 bathroom breaks.
After the race, it was really hard to walk. My hips feel swollen, but not too bad. My knees are really sore, and it makes it hard to walk. My left foot hurts, just above the arch. I have one toenail that feels pretty bad. My upper body feels fine.
The race itself was really awesome. $25, a beautiful island run, and a nice long-sleeved cotton shirt to boot.
4h:17min, 9.8 minute miles.
258/416 finishers
I managed to get out fishing a couple of times. I got skunked twice at Round Lake, and caught some fish twice at Burden Lake. Giant fish were jumping all over Round Lake, they just weren't biting what I had to offer. At Burden Lake there were plenty of nice perch, pickerel, and bass to catch. The bass made a nice fish fry. Here are some pictures from early in the morning at Burden Lake: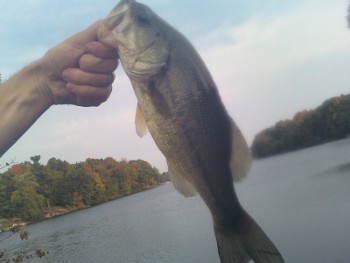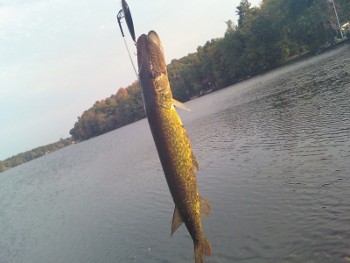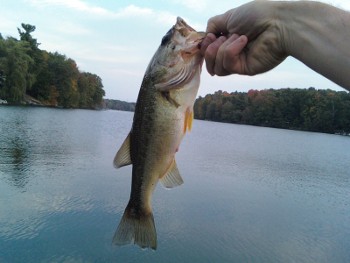 I was getting skunked at Round Lake while the pressure was flat then increasing (see the first two yellow bars), then I was catching fish at Burden Lake when the pressure started dropping (see the second two yellow bars):
Related Entries
* Fished Burden Lake - 02 August 2011