---
Trip Report
I kayaked 5 miles of the Kayaderosseras today (click on the following map for an interactive version):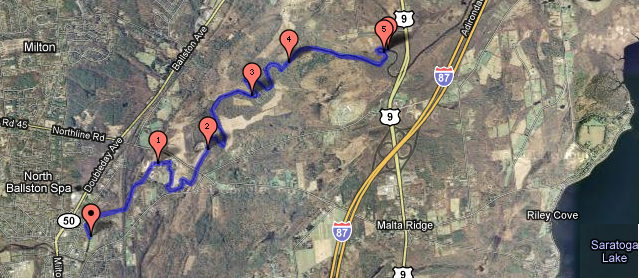 I started at the boat launch area in Ballston Spa. I paddled along at a relaxed but steady pace. I covered the roughly 5 miles of river in 1 hour, 12 minutes. The water level was very high. When I have canoed this route in the past, log jams meant that I had to get out and pull the canoe over to get through. This time, the water level was high enough (and the kayak nimble enough) that I was able to get through all of the log jams without getting out of the kayak.
The entire trip including packing up, driving, kayaking, biking, and unpacking took roughly 3 hours (although I had somewhere to be, so I was hurrying along).
At one point there is a small waterfall with lots of fast moving water rushing down it. It was easy to get down, and I tried to paddle back up it just to see what would happen. As I got into the thick of things, the kayak spun around and on the way I very nearly flipped over. It looks like I have a couple of things to learn, like how to unflip when I flip over. The real trick will be to keep my $8 glasses on my head as I do so. I saw a very large turtle swimming, some nice birds, lots of ducks. I'd like to explore more of the river later. A little further upstream, it looks as though there might be some faster moving water.
Kayak/Bike Method
At this time, my personal preference is to go exclusively downstream. My usual method for making that happen is to park and start paddling the kayak downstream with a padlock and my running shoes. I paddle until I find a good stopping point at which point I lock up the kayak, and run back to the car. Then I drive to pick up the kayak and head home. It's a perfect system because I don't need to plan how far I'm going to go, and there isn't much driving back-and-forth. It's almost as good as calling mom for a ride home when you get tired. However, my foot is injured so I can't run right now so I needed to come up with another plan. If I had a friend, then we might use the two-car method. But I don't have a friend. I recently managed to cram the entire kayak into my Civic and close all the doors. This allows me to attach a bike rack and bring a bicycle along. The new system is to lock up the bike at my destination, drive to the starting point, kayak to the destination, lock up the kayak, bike to the car, drive to the kayak, pack up, and head home. It's a few more steps, and a little more driving, but it works and it means I don't have to paddle upstream (which means I get to cover a lot of water).
Special Fishing Regulations
This section of the creek has some unusual fishing restrictions. It is closed for fishing during certain parts of the year, I believe because the monster fish (Walleye, etc.) in Saratoga Lake spawn here. Also, upstream from here, trout fishing is legal all-year-round. As of 2011, the regulations are as follows (taken from the NYSDEC Special Regulations for Saratoga County):
Kayaderosseras Creek from Saratoga Lake upstream to first railroad bridge: Fishing prohibited March 16 until the opening of walleye season in May.
Interesting Links
* Kayak/Canoe Launch Sites on the Kayaderosseras
* A map of the same launch sites
* Friends of the Kayadersseras - Help clean up the creek.
* How to pronounce Kayaderosseras (and other local names)
Related Entries
* Kayaderosseras Rapids - 30 June 2011
* Kayaked the Mourning Kill - 26 June 2011
We headed up to Glass Lake in Averill Park for a fun day of fishing. The weather was pretty terrible, with torrential downpours and a heavy wind. Luckily, once we got started, the rain suddenly stopped, it was still very windy. Big sunfish happened to be biting like crazy, and we also managed to catch a large mouth bass and a pickerel.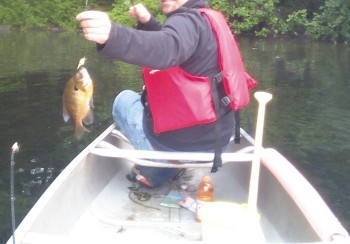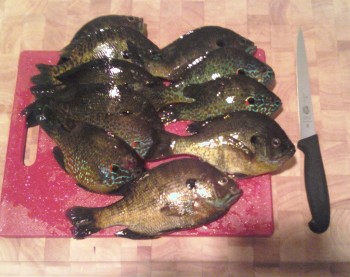 In general, you could throw bait or a lure out and catch something on most casts for the entire time we were out there (several hours) as long as were were in close to shore. While the fish themselves may not have been tremendous, I would call this a very good day of fishing, and the barometric pressure happened to be in the middle of a flat spot (which I'm tending to believe is very good for fishing around here):

I have been wondering about the correlation between barometric pressure and good fishing days. It started when a friend had a migraine headache, and said that the barometric pressure has an affect on migraines. Right around the same time that they had a (possibly) pressure-induced headache, I had an unexpectedly poor day of fishing. It wouldn't be a huge surprise if air pressure would have a big effect on the comfort level of fish in the water like it does for people who suffer migraine headaches. Today I decided to take a look at the barometric pressure on a day that I remember as the best fishing day of last year. We fished for a short while in the morning and caught lots of lake fish of every type we could hope for (pickerel, crappie, perch, bass, sunfish). The theory is that the fish would be biting during the middle of a long period of barometric pressure stability. The following chart shows the pressure for the month of September, 2010 with the 9th (our good fishing day) highlighted in yellow:

That morning was in the very center of 2 days of pressure stability. The rest of the month looks like a roller coaster. This seems to support the existence of a correlation between pressure and good fishing, although there are a lot of different variables that could effect fishing. In particular:
- Cloud cover
- Time of day
- Time of year
- Moon phase
- Temperature stability
- Barometric pressure stability
- Thermocline
There was another day of amazing fishing this winter (January 2, 2011). The pressure history shows that this day also occurred during a period of relatively stable pressure:

Next up I have a noticeably bad day of fishing (April 12, 2011). I did all the right things. I got out really early on an overcast day, and fished several different spots where I have had success in the past. And yet, I caught nothing:
The pressure on that day shows not only a dramatic change, but also a trend reversal from downward to upward. The theory is still holding up.
Ok, one more. This was a very similar fishing day as the previous bad day, except that I caught a bunch of nice fish. 9/24/2010:

Hmm... It looks like pressure was definitely not stable on this day and yet the fish were still biting. This does not support my claim.
The following website suggests exactly how air pressure affects fishing:
http://www.quickoneplus.com/fish/articles/page.asp?page=barometric
From what I can read into the page, it seems as though the fish don't like to feed during high or increasing pressure. They go nuts in the shallows (where I am usually fishing) when it is falling, normal and stable, or low.
Trip Report
I kayaked for a few hours at the Hoosick River starting at the boat launch area just above the dam in Valley Falls. Here is the route I followed: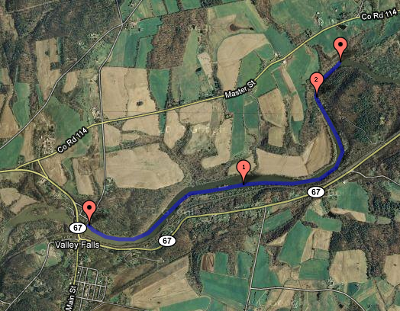 I wasn't fishing much, but I caught a 10" small mouth bass close to shore. I saw several big carp in the water. For the most part, the water was still. In fact if I stood still, the wind blew me upstream. A few later sections had some mild rapids. One section was work to paddle against the current. The trip was not terribly exciting. It would have been better fishing in the canoe, because fishing in my little kayak is awkward. Here is a look down what I called "rapids":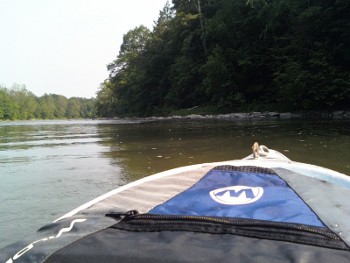 Links
* Hoosick River Paddling Map - Click on the small map and you will get a huge version of the map.
* Hoosick River Kayakers - Maniacs elsewhere on the Hoosick
I took a trip to the public boat launch on the north end of Ballston Lake to try out the new kayak, and to see if the lake has thawed yet. It hasn't, which is surprising. Last year it was already thawed as of some time between March 17 and March 21.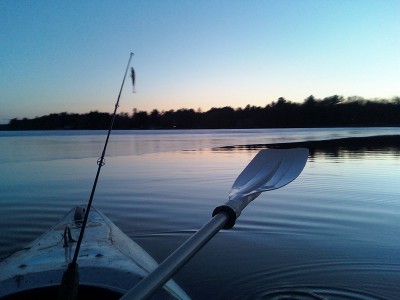 I paddled a short way up the marshy Ballston Creek. A beaver and I scared the pants off of each other. There was only a narrow corridor in which to paddle, and we were both cornered. I screamed. Twice, actually. Once because of my initial startlement, and a second time after I realized that I was sitting so low in the water that the angry beaver could easily GET ME if he chose to.
Anyway, I was still cornered and was going to have to paddle directly over the angry beaver. After that I was happy to hurry back to the car.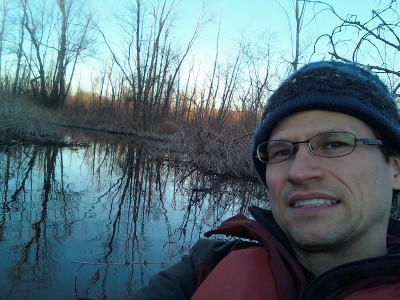 We hiked Hough and Dix mountain this weekend. It was very wet, windy, and cold. Here we are getting blasted with wind and rain at our final destination, Hough Peak: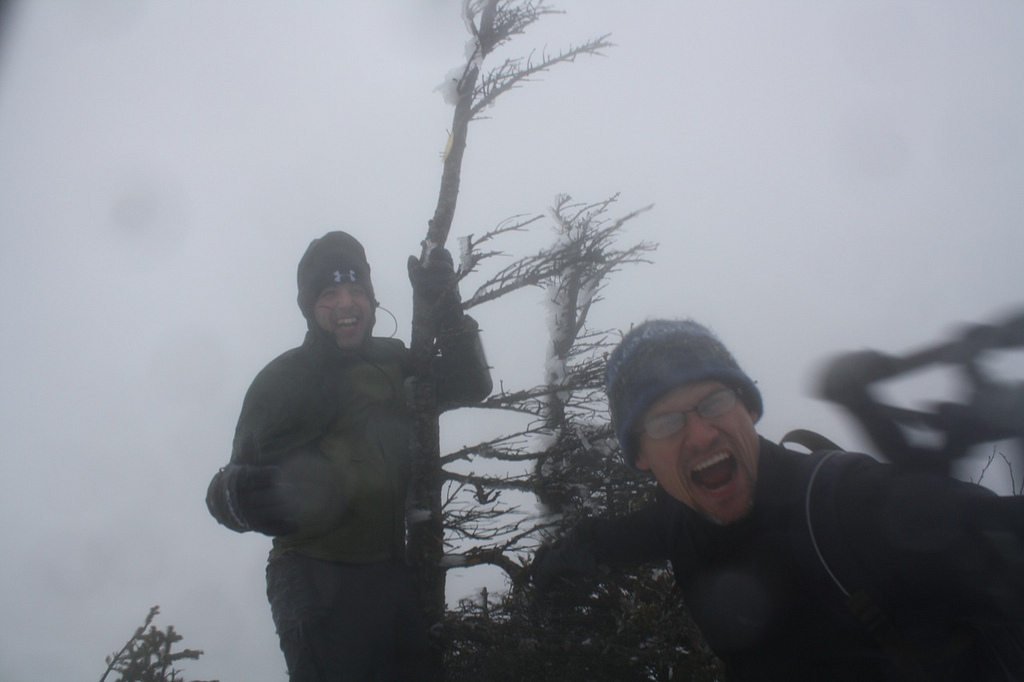 Click here for a full trip report.
Today I went ice fishing before work at Shaver Pond in Grafton Lakes State Park for the first time. It is one of the few places where you can keep trout all-year round if you can catch one. I didn't catch anything. It made for a rough day: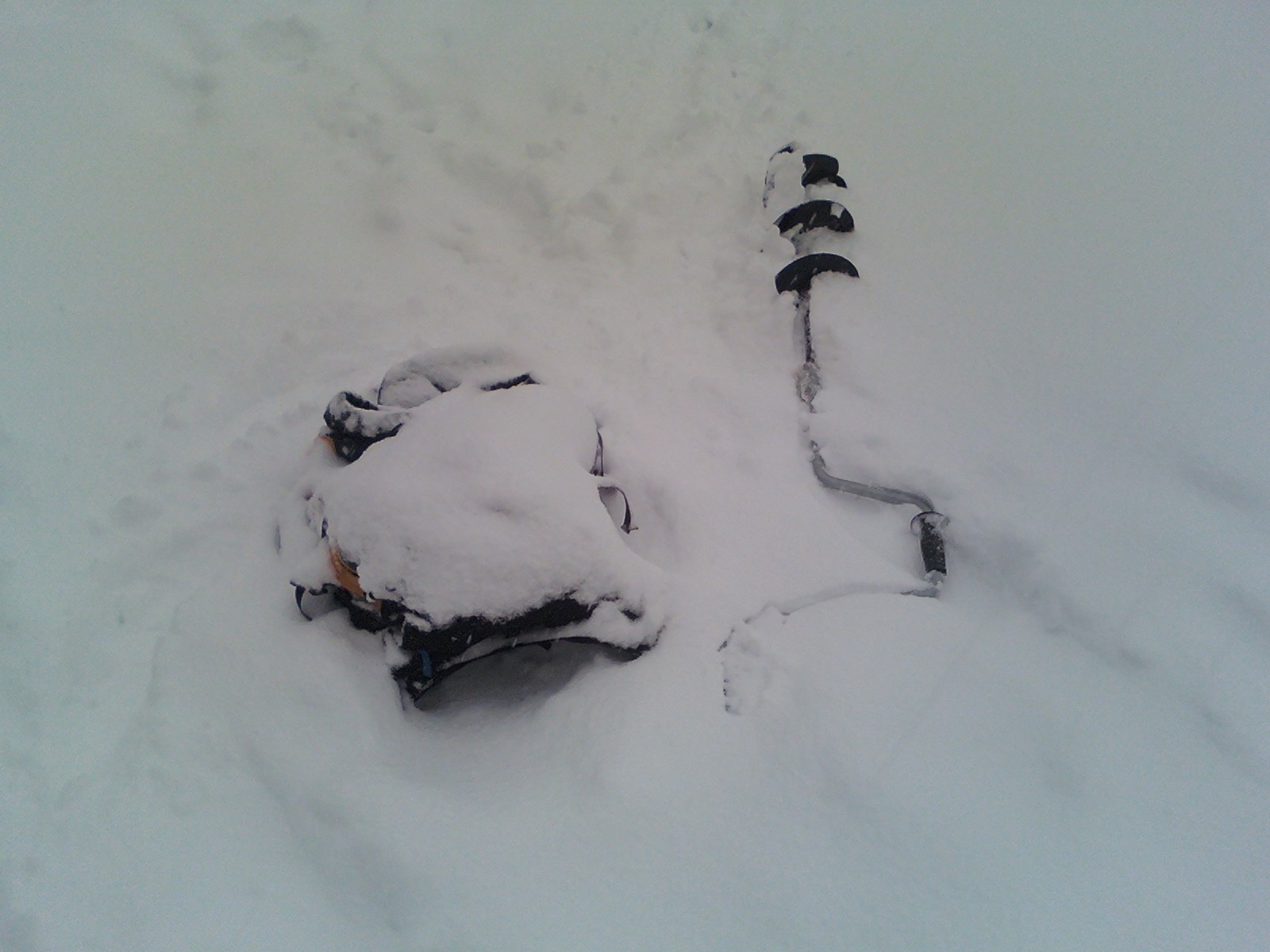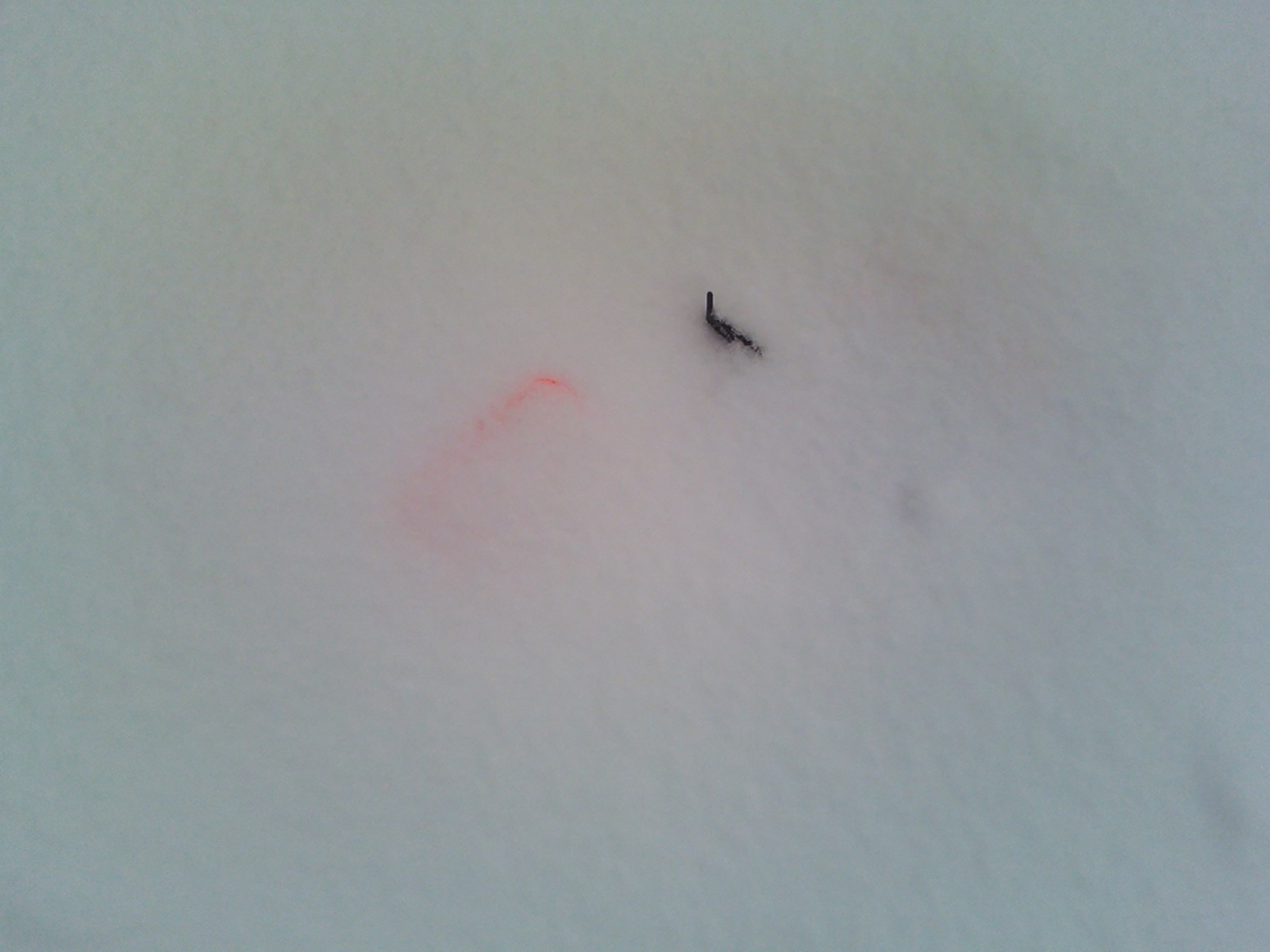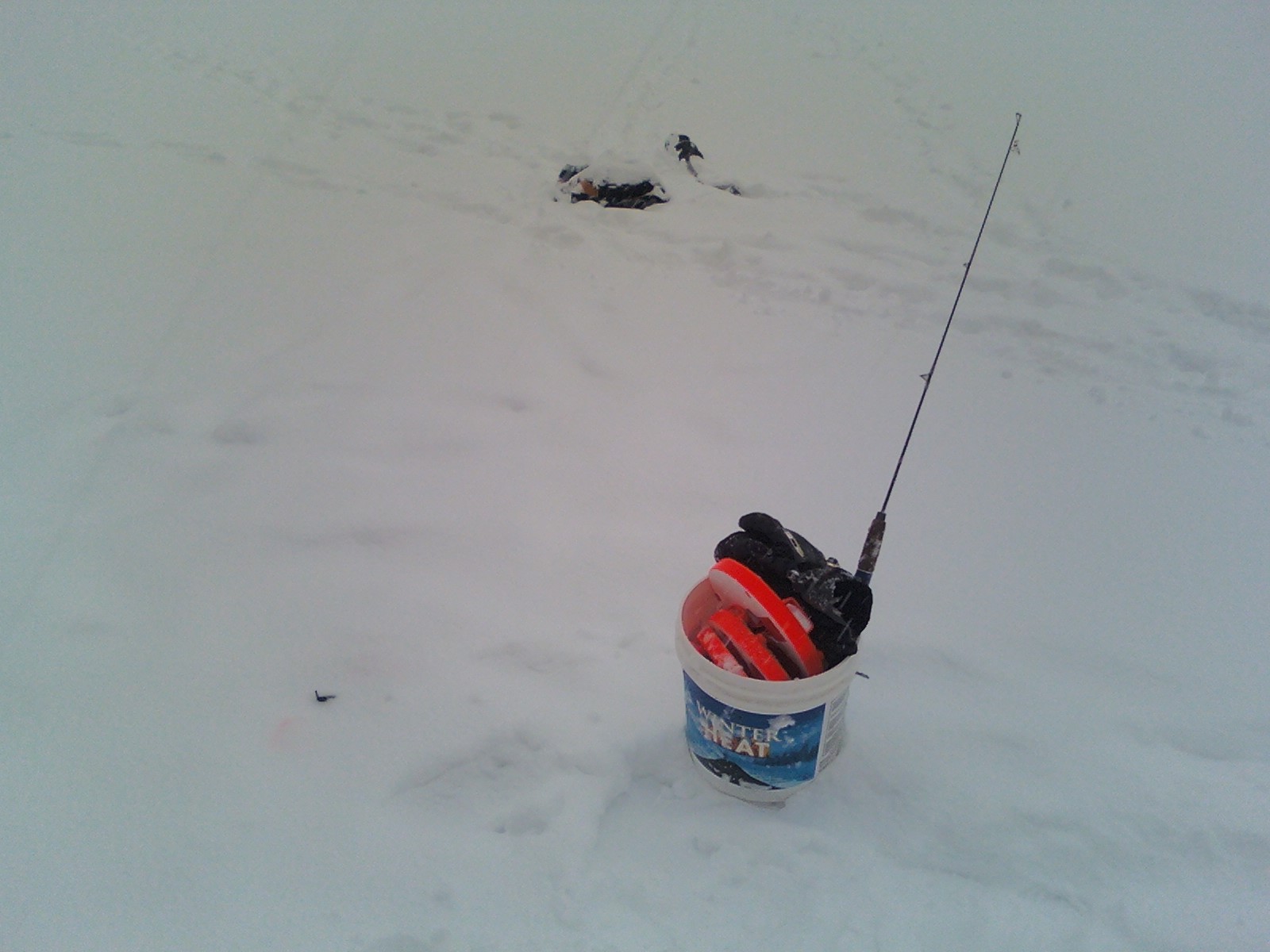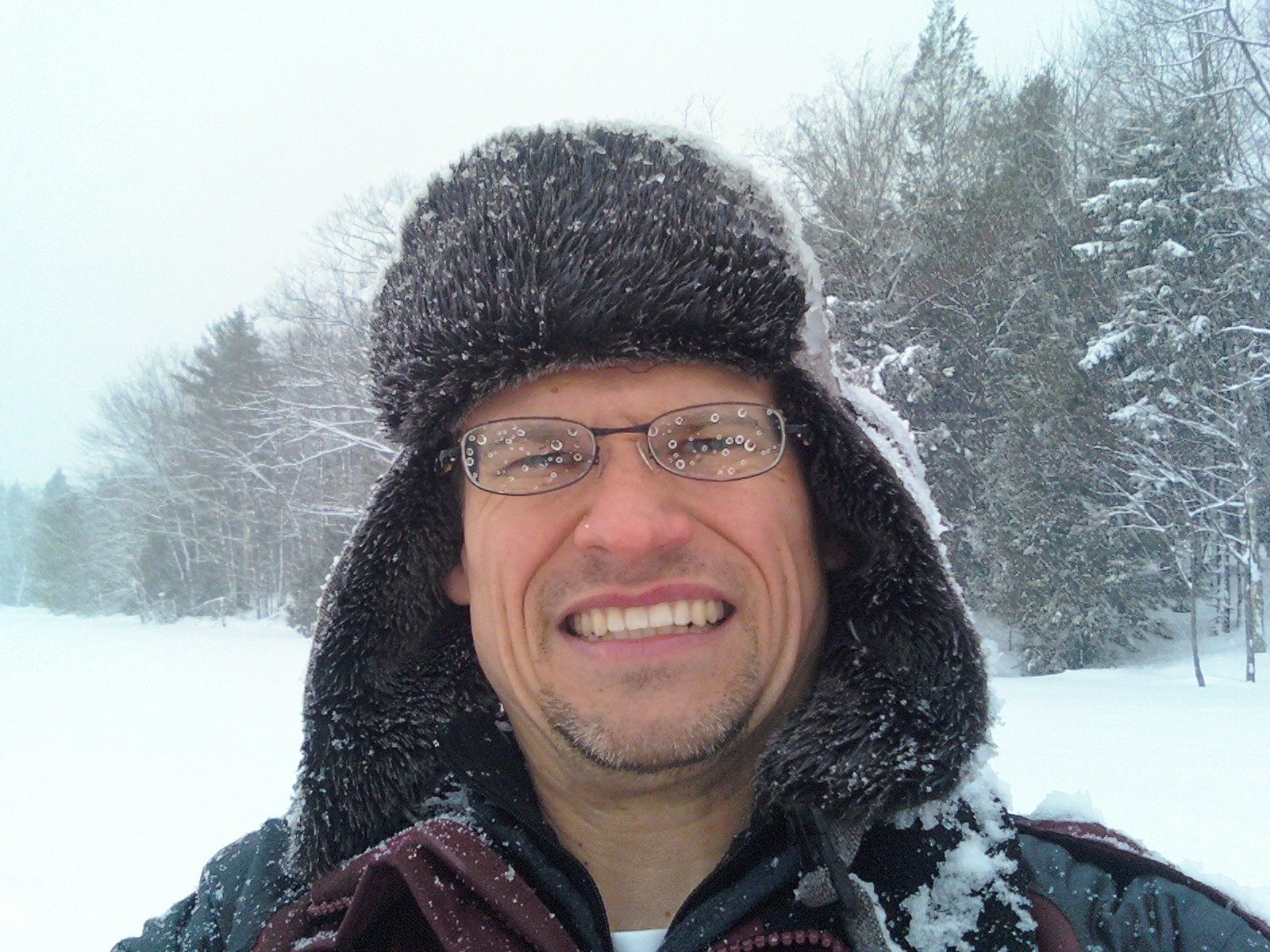 Terrible fishing during a period of steeply dropping air pressure (although I have never had very good success on this lake, so it's possible that I'm just fishing wrong):