---
I took these pictures the day after Hurricane Irene payed us a visit. I was checking out the water levels for various streams in the area. You can click on the pictures to view a high-resolution version of each image.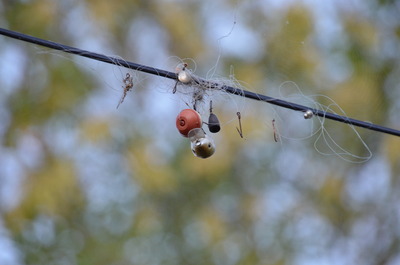 A tangled web of old tackle reveals the techniques used by local fisherman on the Anthony Kill. Alas, can you trust a fisherman that casts his bait into powerlines?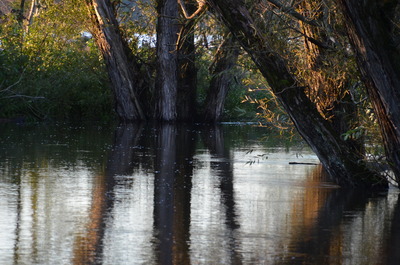 The calmness of the flatwater surrounding Round Lake belies the power behind the tremendous volume of water as it ploughs its way to the Hudson River.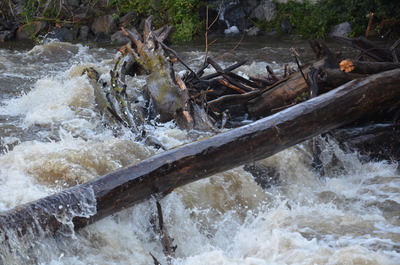 The Kayaderosseras possesses the human ability to lift and carry the massive logs in its path and put them together to build a structure that is solid enough to withstand its own strenth.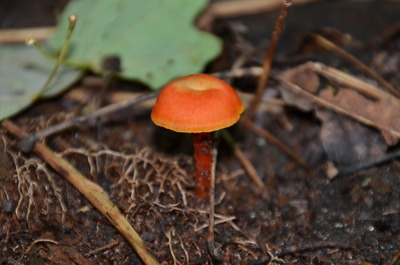 This little red mushroom has a concave top as though the stem and the cap are one.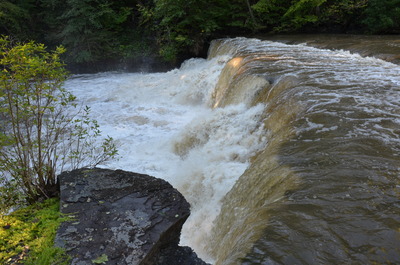 I don't have much to say about Buttermilk Falls on the Alplaus Kill except that it's kind of mean looking for a waterfall don't you think?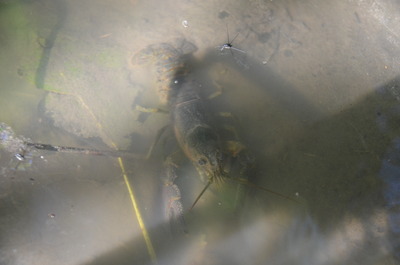 Several lost crayfish were stranded in a puddle on the trail along the Alplaus Kill. The water must have flooded over the trail and then receded, leaving the crayfish behind like baby lobster caught in a tide pool.

zoomout1 zoomout2
Anthony Kill
Ordinarily the Anthony Kill stays safely nestled in its small creek bed, but now that it has nearly outgrown the Coons Crossing Bridge that stands over it, nothing can stop it from going wherever it pleases.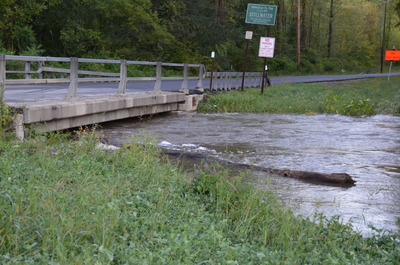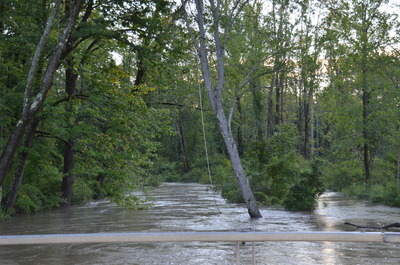 Ballston Creek
The following picture shows the bank on Ballston Creek near the outlet into Round Lake from which I have started a previous kayaking trip back when the water was not so high. Ballston Creek has swelled quite a bit.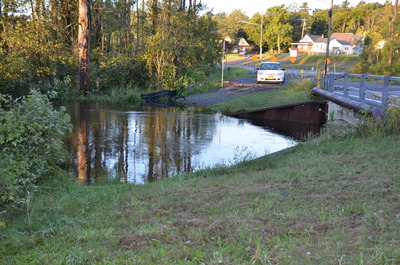 The next picture shows the water level at Eastline Road.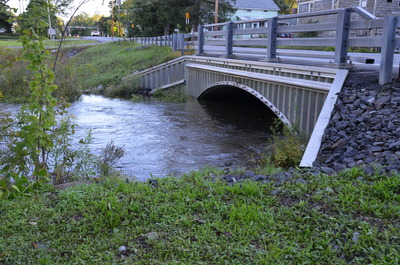 Mourning Kill
For most of the year, the Mourning Kill trickles quietly along its rocky creekbed. Even after a heavy rainfall it rarely reaches the levels that it did today.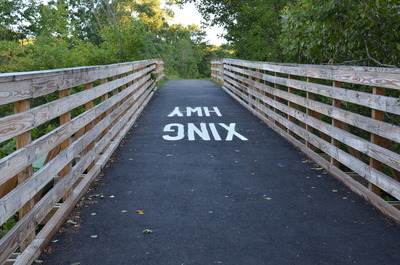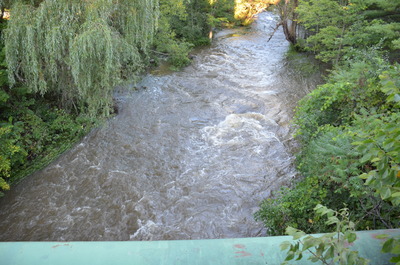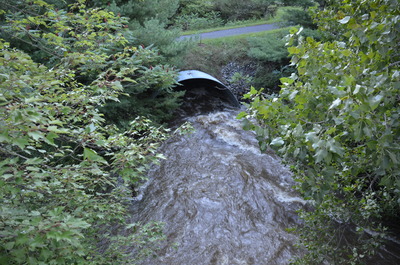 Kayaderosseras Creek
The Kayaderosseras Creek near Milton was higher than I have ever seen it. Creekside trees were holding fast to the ground as the water swept through. The water poured over the edges, forcing its way along the trackless wayside.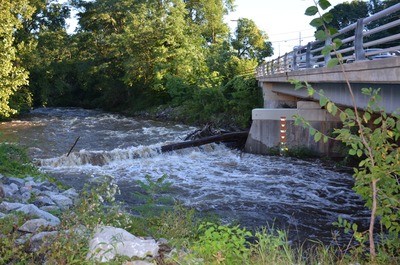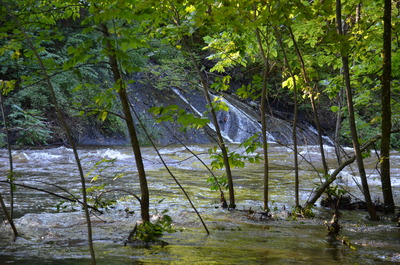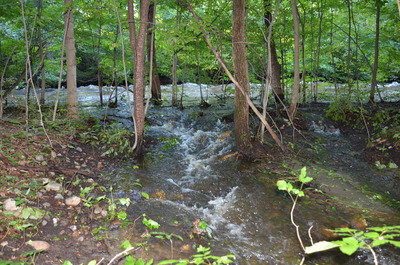 Alplaus Kill
Sometimes the water gets so deep that it completely submerges large features like waterfalls. The waterfall above Saratoga Road in East Glenville actually looks smaller than usual because of the heavy flow filling up the bottom portion of the falls on the Alplaus Kill.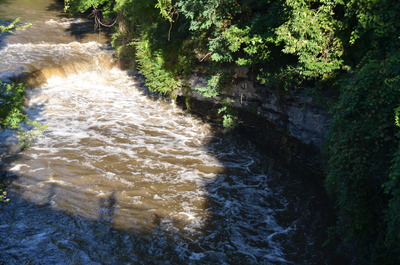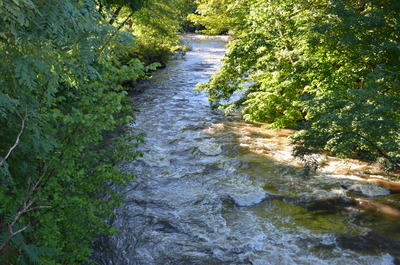 A hurricane swept through the northeast today. I took a quick ride around Clifton Park in search of trouble. In the end it was relieving to see that there was not much damage in my neck of the woods. I visited a few spots where tiny creeks flow through the neighborhood. Here is what is ordinarily a small trickle through the intersection of Kinns road and Plank road: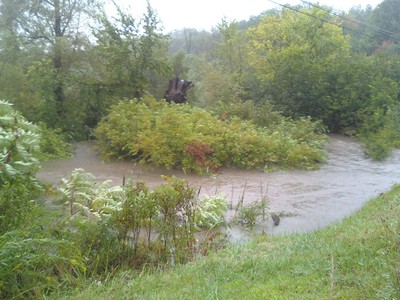 I stopped by a spot where I had previously tried kayaking, where the water level was very low even after a long period of rain. The water level was much higher and faster today. Because the water level is high, and there is a lot of additional debris in the water, the water still did not look very kayak-friendly.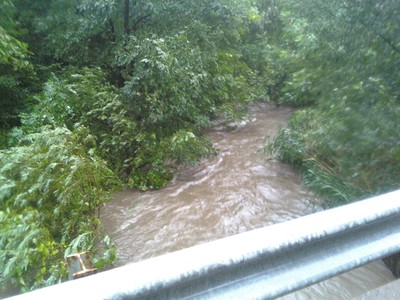 I saw the road-kill version of the biggest frog I have ever seen. Be warned! It is a picture of a dead frog, although mostly it's just an upside-down frog so it's not too bad. Click here if you want to see it. Poor guy.
A portion of plank road was flooded. This was the only place where I saw the road buried under a significant amount of water. It was maybe 6 inches at it's deepest. The lawns nearby were riverbeds.
Along the way I saw a plot of land for sale. The land was completely submerged in water. If you are looking to buy land, do not buy it here unless you want to build a house on stilts!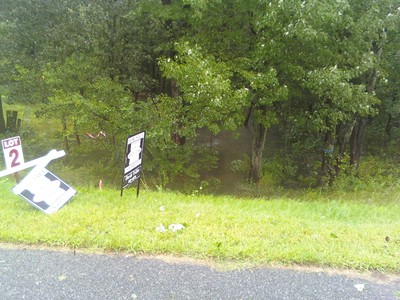 Links
The hurricane arrives tomorrow!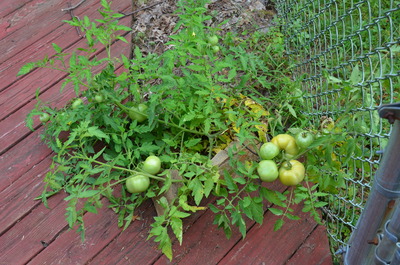 I just hope my tomatoes can find it within themselves to make it through this very serious event.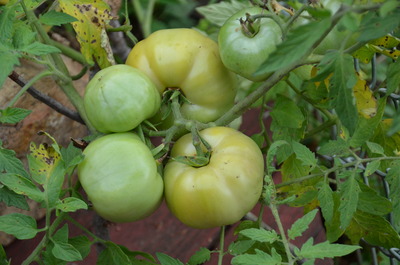 For a very long time, my haphazardly-planted tomato plants looked very pathetic. Then, suddenly tomatoes appeared! And they got really big! They stayed green for the longest time. I started to think that they were never going to ripen. In the last few days, they started showing some redness. Now they are my precious tomatoes. And now Irene threatens to destroy them.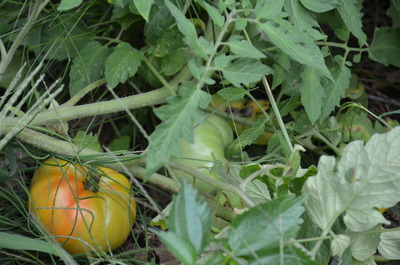 And my petunias as well.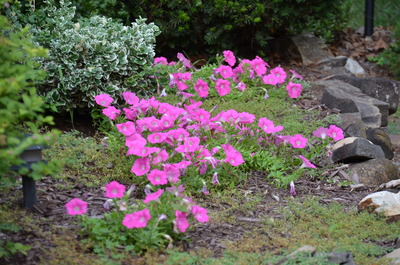 And the mums!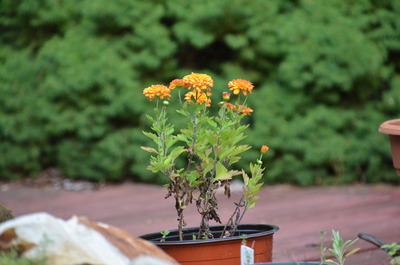 And whatever these things are! So small. So fragile.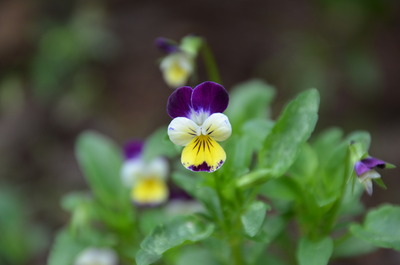 And Cobra Command's Stinger!
I just hope the damages to my garden are kept to a minimum.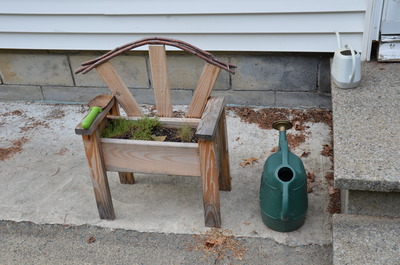 Stay tuned!
I fished the evening hours on the Mohawk River tonight. Large fish were surfacing all over the place. I suspect that they were carp or catfish. I didn't manage to catch anything today.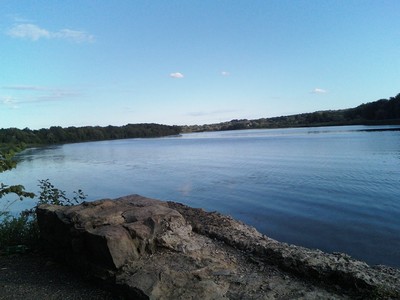 A bald eagle sat perched in a tree.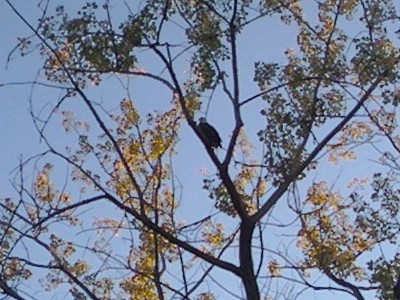 The dam at lock 7 watches me from the west.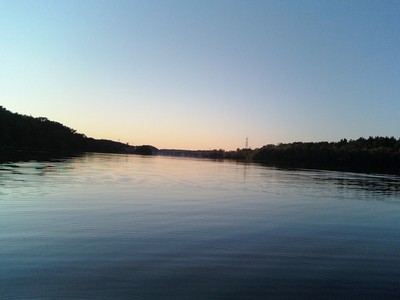 A scenic tour of the Mohawk River wouldn't be complete without a couple of old car tires floating by.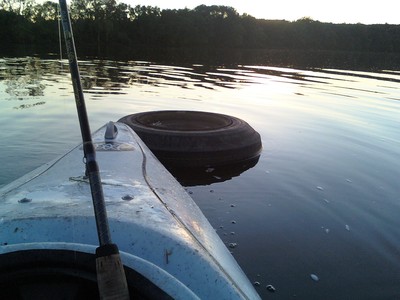 A large bird, probably a heron, is fishing nearby.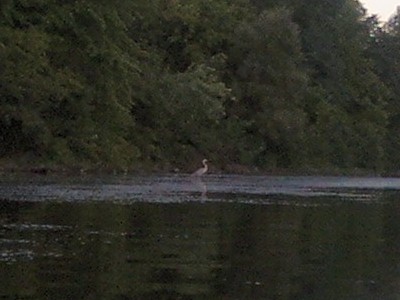 Related Links
* Someone Else's Pictures of Bald Eagles on the Mohawk River in Niskayuna
I made potstickers for dinner tonight. Lately I have been focusing on a certain type of meal. My idea is to spend an evening making labor-intensive food for which the hard work can be done ahead of time and frozen. Later, you can pull it out of the freezer and have a very good homemade meal to eat in a jiffy. The plan is to make large batches so that one session of hard work can produce several meals. So far the two meals that have worked well like this are potato gnocchi and potstickers. I used Alton Brown's recipe for potstickers and they tasted delicious!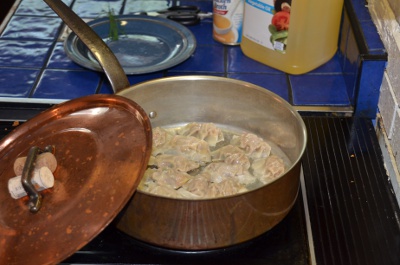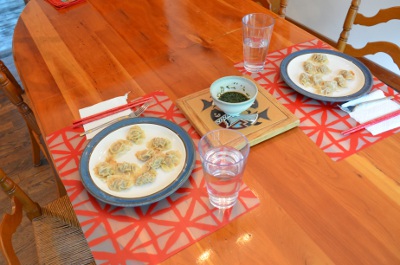 I tried deep-frying one batch to see how it would taste. The fried version tasted good, but they were even better sautéed then steamed like proper potstickers.
Recipe
Alton Brown's Perfect Pot Stickers - I made a double batch, ate some, and froze the rest.
Video
Good Eats - Potstickers (part 1)
Good Eats - Potstickers (part 2)
Did you know?
When gas is $3.50/gallon, credit card companies make $0.07/gallon. Here is proof that it's true: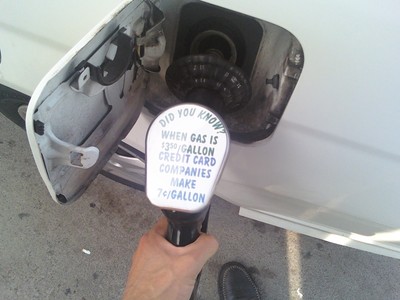 Credit card companies make lots and lots of money no matter what. Everyone knows that a failure to make credit card payments results in enormous owed interest, and in this way credit card companies make their most obvious money. Not so obvious is that credit card companies are making oodles of money off of us even when we always make our payments on time. For every purchase that is made with a credit card, the credit card company gets a percentage of the transaction price. According to this morning's gas pump, that percentage is 2%. This is a 2% credit card tax that we pay on everything. Most people pay with credit cards, therefore the price on everything needs to be raised in order so that vendors can recoup the 2% loss on most purchases. If you try to fight it by using cash, then you are paying that 2% tax outright. If you pay with a credit card, then you might get a cash-back bonus, offsetting some of the extra cost. Our choice is to either pay in cash and give up our cash-back bonus, or to use the credit card and save some money, while at the same time giving more money to the credit card company. The vendor gets to pay for it all. It's a pretty nasty trap that they have us in.
Trip Report
I fished at Saratoga Lake on the evening of the 9th and the 11th. I have never fished more than a few casts in Saratoga Lake before these outings.
On the first day, it seemed as though the fish were really biting at certain spots, and not so much at others. I was excited to catch a few rock bass because I have not seen one of those in many years. They have intense red eyes. I caught one as a little kid and I cried hysterically until somebody unhooked it for me. At the time it looked like like a devil fish come up from the fiery pits of hell. I have to admit that a very small feeling of lingering fear of these fish remains to this day.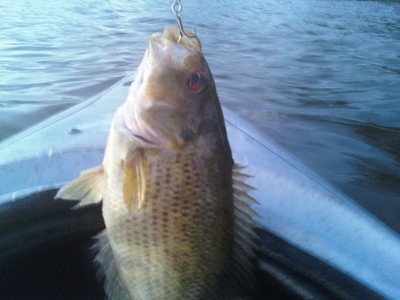 I caught a few small and medium-sized largemouth bass.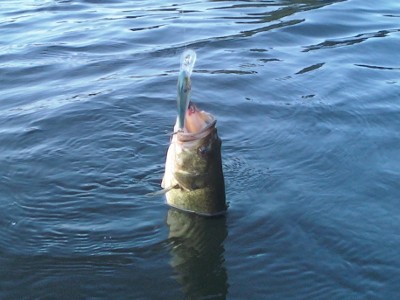 Towards sunset, I found an area where lots of smallmouth bass were biting every other cast. Some were tiny, and some were probably around 12 inches or so. I rarely encounter smallmouth bass. I have always heard that they are mean fighters. "Pound for pound, smallmouth bass are some of the strongest fighters of any fish". These fish were insane, including the small ones. The fish would leap into the air repeatedly on their way towards the boat. I worried that they were going to leap into the boat. I was using a Rapala Shad Rap which has two sets of treble hooks, which proved to be way too much for these fish. While one hook was properly in the fish's lip, they thrashed about so much that one or two of them were injured pretty badly by the extra treble hooks that were not on their lip. One managed to put a two-inch gash in it's belly. It caught me off guard because I catch all kinds of fish on this lure, and I've never seen anything like this happen before but now I realize that if I am catching smallmouth bass, then I need to do something different. I could use a different lure, or perhaps remove one of the treble hooks. The fish were still thrashing around as I tried to remove the hooks making the whole process dangerous for me and the fish alike.
The second day was very windy, and the waves were rough. Occasionally a well-timed wave would wash over the top of the kayak, adding a few pounds of water to the boat each time. I thought about turning back and finding a calmer spot for fear that I was going to swamp the boat and lose my equipment, but I stuck it out. Luckily I stayed afloat.
This time around I removed one of the treble hooks from my favorite lure in order to avoid the problems that I had on the first day. The fish weren't really biting besides a few tiny little guys. Then again, I wasn't as focused on fishing as much as usual due to the rough water.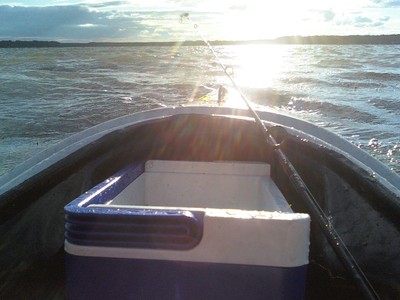 The barometric pressure for the two days would suggest that the first day should have been pretty good (relatively stable, low pressure), and the second day should have been bad (rising pressure). This seemed to be the case.
August Barometric Pressure

I fished at Lake Lonely today. The fishing was pretty slow, but I managed to catch a 14-inch bass.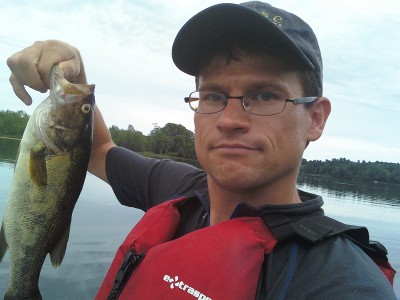 It was the perfect size for my dinner alongside some leftover mac and cheese.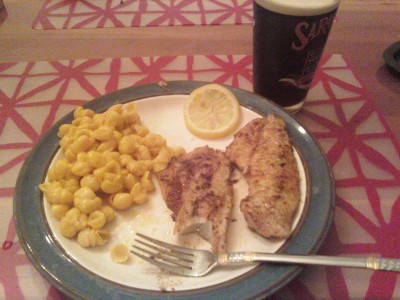 At one point, I caught a small sunfish and as I reeled it in, a big sea monster (northern pike I'm guessing) viciously attacked the sunfish, but unfortunately it didn't get hooked.
Some friends and I fished Burden Lake and managed to catch a monster bass: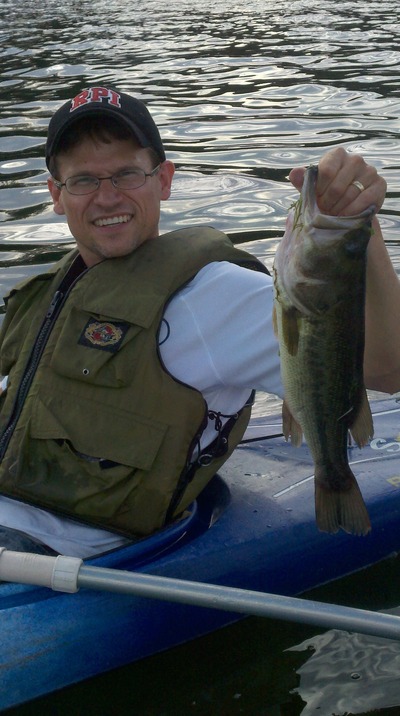 We also caught sunfish, pickerel, and a few perch.
Related Entries
* Burden Lake Fishing - 24 September 2010