---
I fished at Lake Lonely today. The fishing was pretty slow, but I managed to catch a 14-inch bass.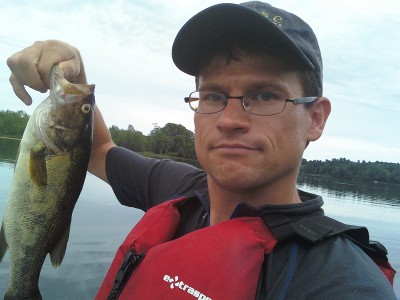 It was the perfect size for my dinner alongside some leftover mac and cheese.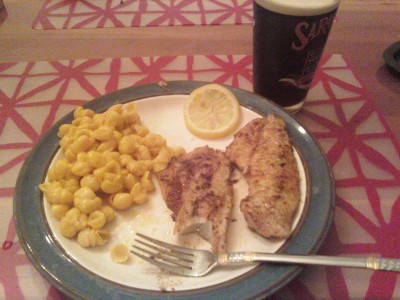 At one point, I caught a small sunfish and as I reeled it in, a big sea monster (northern pike I'm guessing) viciously attacked the sunfish, but unfortunately it didn't get hooked.
Some friends and I fished Burden Lake and managed to catch a monster bass: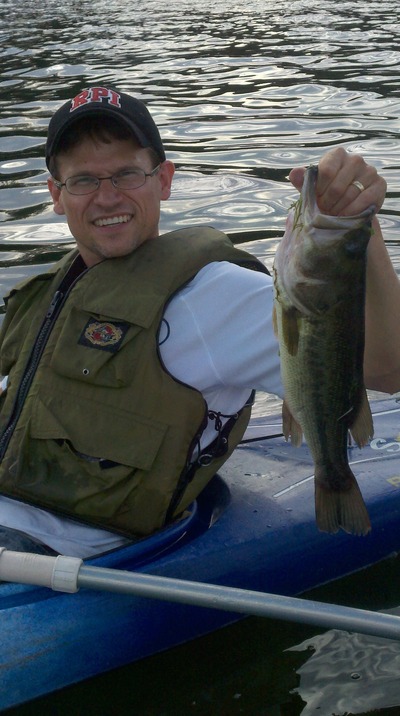 We also caught sunfish, pickerel, and a few perch.
Related Entries
* Burden Lake Fishing - 24 September 2010
A friend and I hiked two of the Adirondack high peaks today: Whiteface and Esther mountains. The hike was just under 10 miles. This was my first hike since hurting my foot, so I rested more regularly than usual.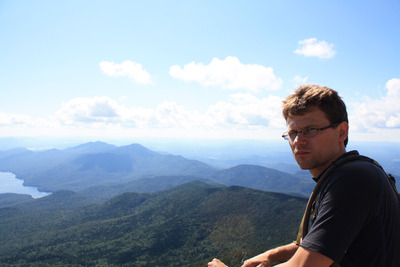 I expected Whiteface Mountain to be the lamest of the high peaks. What makes Whiteface unique is the fact that there is a road to the top, so you can expect to see crowds of normal people (whining kids and their miserable whining parents) at the top. I was surprised to discover that it was actually a great hike. The last part of the hike followed a view-laden ridge line for a long way up. The views at the top were some of the best in the Adirondacks. You could see for miles in every direction. There were, of course, hundreds of tourists at the top, so that was not very cool, but all-in-all it was a good mountain to climb. The sound of Harleys sputtering up the hill right next to the trail was annoying, but the fact that it was a ski hill with a road and an elevator to the top in some ways made it fun as something different from the other peaks.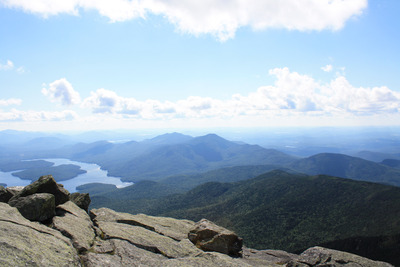 I kayaked the Alplaus Kill from Charlton Road to Van Vorst Road.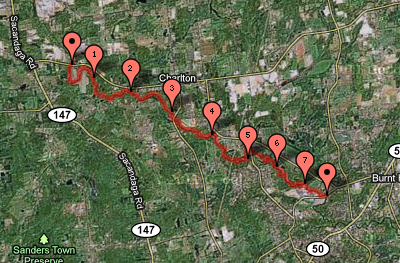 It was 7.5 miles, and most of it was pretty awful as far as kayaking was concerned.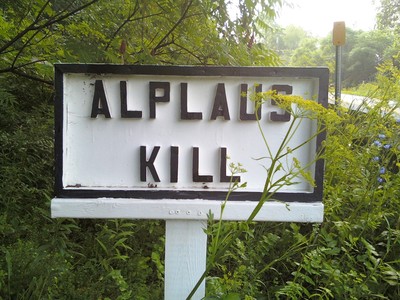 I was assuming that the conditions would be similar to the lower Alplaus Kill that I kayaked two days earlier, but the water level was a little lower, and in general there is not nearly as much flow in this section of the stream.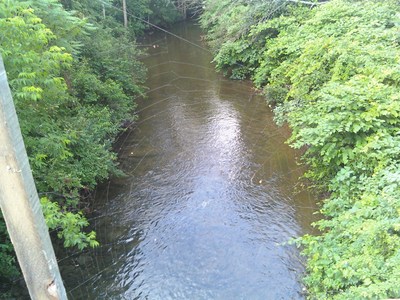 I encountered some of the biggest log jams I have ever seen.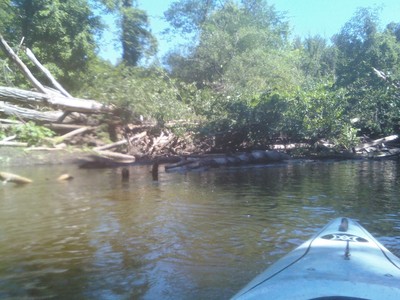 The route was very shallow, so I was scraping bottom for the entire way. I had to walk the kayak in many spots. The trip took me twice as long as I expected it to.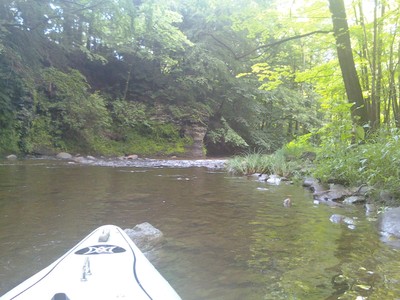 There was a tiny, shallow rocky area and as poor as it was, it was more fun than any other part of the trip.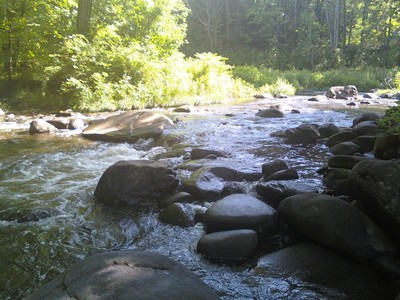 I hate to sound so negative. The kayaking was truly awful, but that doesn't mean that the trip was not worth doing. It is great being out there and exploring places. I may have failed at finding a great kayaking location, but sometimes just being in a nearly unkayakable location is fun because you gotta assume that not too many people have made the trip. Along the way you see a lot of old places that don't get a lot of attention like this strange broken bridge: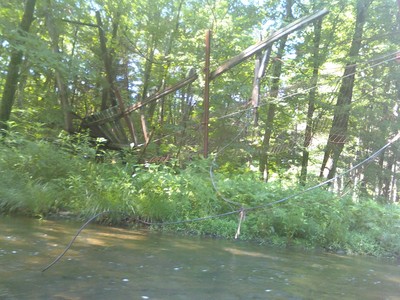 At one point, I came across the most active area of mushrooms that I have ever seen (by far). In a very small area 100 feet in diameter, I came across dozens of different types of mushrooms, many of which I have never seen before. There were coral mushrooms, shelf mushrooms, boletes, chanterelles, and lobster mushrooms. Lobster mushrooms are a bright orange mold that parasitizes other mushrooms. Lobster mushrooms are edible but only if the host mushroom is not poisonous.



























Related Entries
* Kayaked the Alplaus Kill - 07 July 2011
* Bad Omens - Alplaus Kill - 24 June 2011
Trip Report
Today I kayaked my way down the Kayaderosseras from Milton Center to Ballston Spa. This was much more difficult kayaking than anything I have been down so far. According to the ADK Canoe and Kayak guide to East-Central NYS, the rapids are class I with several class II rapids along the way. In higher water they could be considered class III. The water level on the Mohawk River Cohoes Gauge was at 10,000cft/s.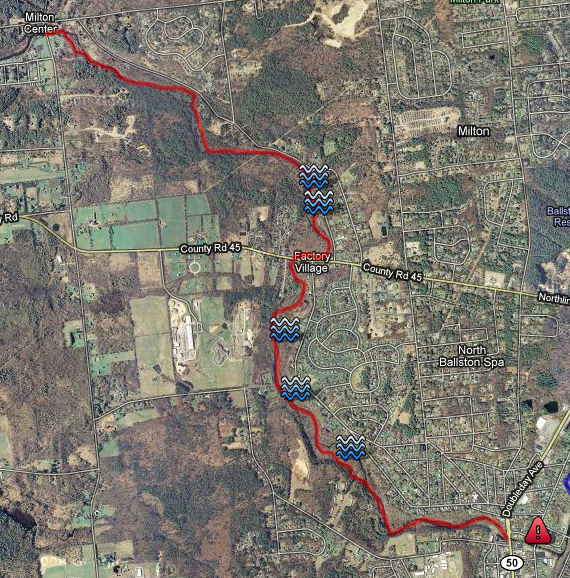 I dropped off my bicycle at the destination. As I drove up the creek, I scouted out some of the more worrisome sections, including several of the sections of rapids. I checked out the view from the Northline Road bridge.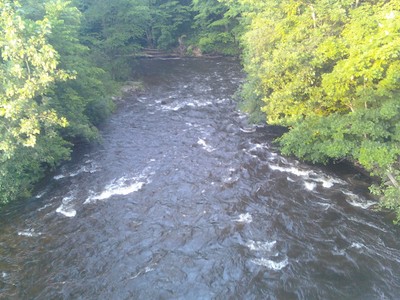 I looked upstream and downstream trying to imagine how safe it would feel.
From the security of shore, the rapids looked like fun. The water was only a few feet deep, but fast moving, and seemed perfectly safe. Once I actually got in the water, the water was a lot more intimidating.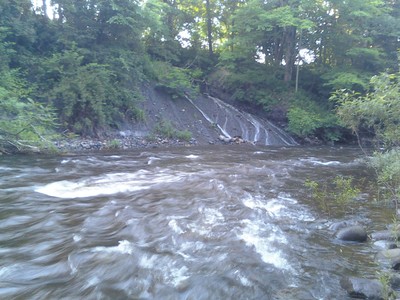 I drove up to Milton Center, and put the kayak in the water. There were rapids almost the entire way down. I could only pause to take a picture at this relatively calm spot: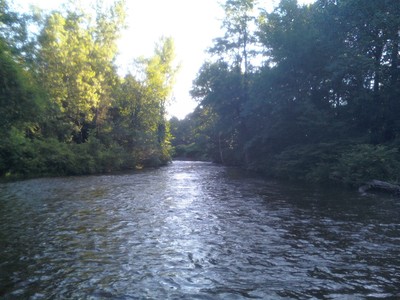 Early on, I arrived at my first of many obstacles. This one consisted of a narrow chute of fast-moving water obstructed by a large log. Someone with mad skills (or perhaps a bow saw) could probably get through this easily enough, but not me. I portaged around this one.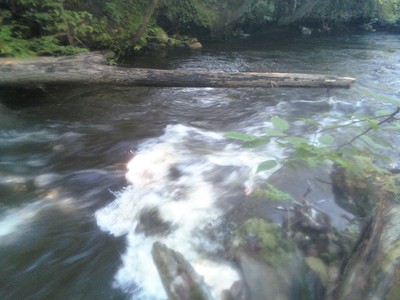 Further down the way, I encountered a similar scenario that looked a lot easier to get around. I was not able to paddle around the log, and ended up with the current pinning the kayak sideways against the log. I was stuck. I ejected from the kayak, and managed to let go of the paddle. Yard sale! I chased the paddle, but it had gotten caught up in some logs under the water. I went back to the boat and dragged it away from the log. It was full of water and weighed a ton. I struggled with the boat until I managed to get it back to shore, and went back to the paddle. The paddle was under the water, bent into an arch shape by the current. I grabbed the paddle and yanked it out of the water. It is still a little bent, but it seems to work ok.
Fallen trees covered half of the river in many places. At times this required some fast slalom action through big waves. It was very challenging because in the rapids, you need to focus on getting through the present situation, but at the same time you need to be looking far ahead to determine if you want to commit or if you need to look for a quick place to bail out. Meanwhile, you have to pay close attention to what you can't see ahead. If you are in rapids and there is something blocking your view of what's ahead, it seems to me that you have no choice but to find the shore and scout out ahead rather than take a big chance. Most of the time you don't have the luxury of pausing to think about a situation because the powerful current is always dragging you quickly forward. It was nerve-wracking, and by the end I was ready to be out of the water.
As soon as I looked back at the water, it once again looked fun and no big deal, but now I know that it feels worse than it looks!
Distance: 4 miles
Elevation change: 232 feet
Avg Slope: 58 feet per mile
Time taken: 1 hour, 13 minutes (kayaking)
A month and a half later...
I drove by the Kayaderosseras and took a quick picture of the take-out point on August 13 (a month and a half later when the Mohawk River Cohoes Gauge was at 2000cft/s). Previously, the water was rushing by so fast that I wasn't sure I'd be able to stop the boat to get out. On this day, the creekbed had hardly any water in it and would have been entirely unkayakable. It looks as though I was kayaking during a really good time in the season! Here is what it looked like on August 13: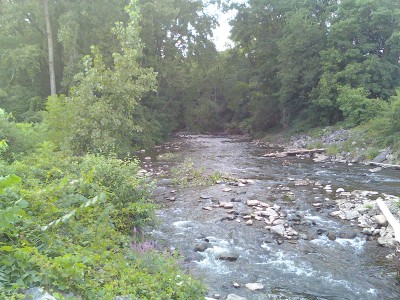 Related Entries
* Kayaked the Kayaderosseras - 12 June 2011
* Kayaked the Mourning Kill - 26 June 2011
Trip Report
This morning I kayaked down a portion of the Mourning Kill and met up with the Kayaderosseras Creek and followed that to the Driscoll Road canoe/kayak boat launch area (click on the map for an interactive version).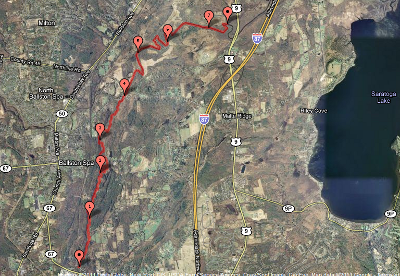 The water was running quite high today, and the entire route was an absolute pleasure to kayak through. There was only one spot where I had to get out of the kayak in order to pull the boat over a logjam. The first section of my route, starting underneath the Zim Smith bike trail near Underpass Road, consisted of really fun fast-moving water.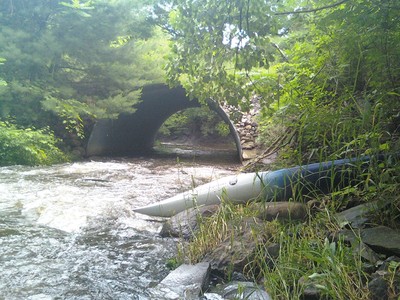 The fun water was followed by a bit of shallow-ish water, so I bumped the bottom of the boat a little bit, but nothing to complain about. After a short while, the creek changed to a series of large calm areas dammed in by beavers.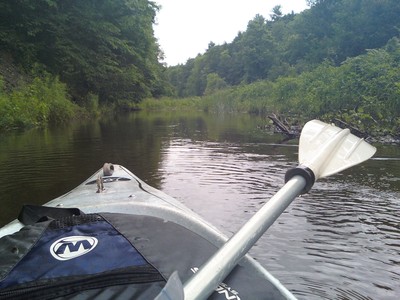 I had to kayak over somewhere in the neighborhood of five such dams. Here is a look at a typical one. I am looking upstream in this picture: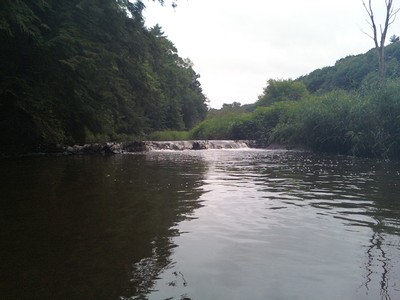 Eventually it opened up into a very wide marsh.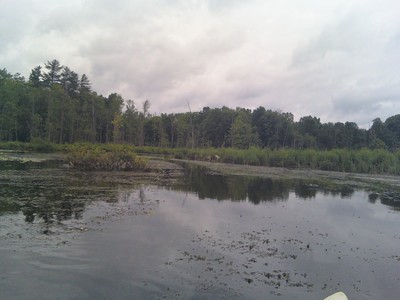 After passing under a bridge under Malta Ave., I reached the confluence of the Mourning Kill and the Kayaderosseras.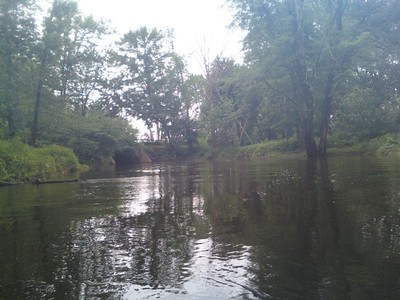 There is one spot on the Kayaderosseras where there is (during low water) a fairly exciting water fall full of fast moving water. Sadly, during a period of high water like we are seeing now, the fun waterfall becomes buried in water making a spot that I was looking forward to into a bit of a disappointment. Here is a look at the falls today, there is not much to see: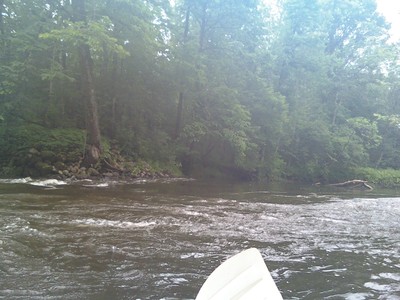 Finally I exited at the Driscoll Road canoe and kayak launch site. It is a really great place to have access to, so I need to quickly thank the NYS Dept. of Parks and Recreation, and the City of Saratoga Springs for making this place available. The launch site makes a very large area of great kayaking water available to explore and for that I am grateful.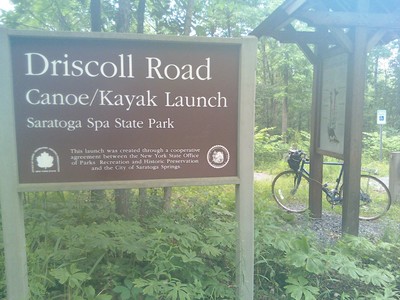 In the above picture, I noticed a lone bicycle locked up. I couldn't help but wonder if someone else was there using the car/bike/kayak method to cruise down the stream.
This was a great trip. I would be curious to see how it would be on a day when the water level is not quite so high. It seemed as though the first section might be a little rough, but I'm guessing that the dammed-in areas would still be very kayakable. Also, it would be fun to start further upstream on the Mourning Kill to see if more of it would be as nice as the later sections.
Distance: 7.5 miles
Elevation change: 45 feet
Avg Slope: 6 feet per mile
Time taken:
* 2 hours, 40 minutes to kayak
* 48 minutes to bike back to the car (the long way)
Links
The Saratoga Trail - An interesting trip report including the Mourning Kill
Kayaker on the Mourning Kill - Brief Video of somebody else on the Mourning Kill
Related Entries
* Kayaderosseras Rapids - 30 June 2011
* Kayaked the Kayaderosseras - 12 June 2011
There is a very small creek near my house. I often ride past it on bike rides and wonder if it would be any good for fishing, or of it would be possible to navigate it in a kayak. Today I wanted to head out on the kayak, and it has been raining for a week straight which has raised the water levels in the local rivers quite a bit. Yesterday I had a misadventure on the Alplaus Kill where the volume of water was very high, forcing me to abandon most of my trip. Today I was nervous to paddle anywhere the water would be raging. Also, the forecast called for thunderstorms today, so I didn't really want to be out on a lake either. This creek has been calling to me, so I decided to stop by there first and check it out.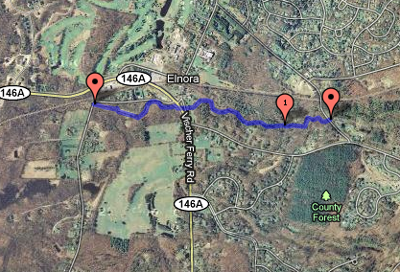 A brief inspection revealed that even after a weeks' worth of downpours swelling the creek, it is still shallow and tiny. I realized that it would be ridiculous to ever try to kayak the creek. Yet I still felt a strong compulsion to do it anyway. I argued with myself over it for a while. Eventually, I decided that the fact that it is a terrible idea makes it worth doing because it would be an experience that not too many people have gone through. At any rate it would rid me of my compulsion once and for all.
I headed down the creek, and it was too shallow for the kayak. I walked the kayak for probably around 1/3 of the way. In some parts of the route, the creek bottom consisted eroded slate which is very sharp and I caused a good amount of damage to the bottom of the kayak. All in all, it was a fool's errand. Mission accomplished.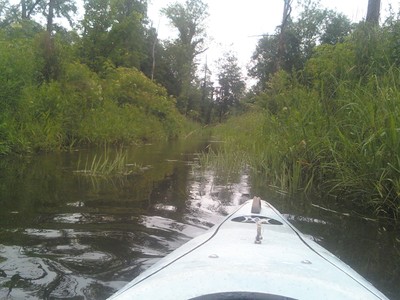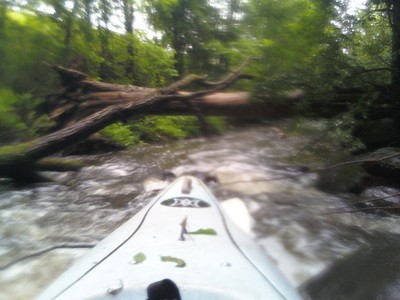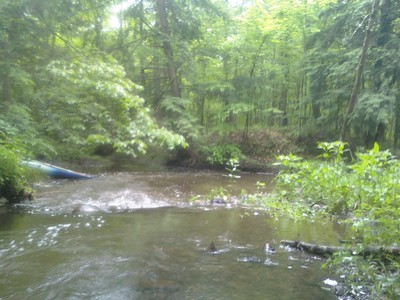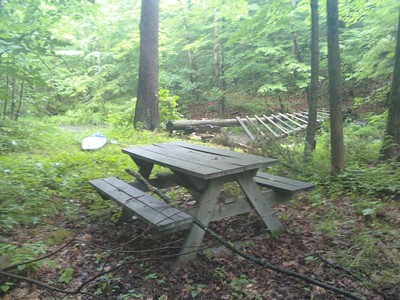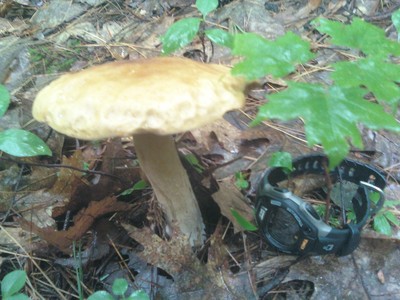 Distance: 1.2 miles
Elevation change: 61 feet
Avg Slope: feet per mile