---
The hurricane arrives tomorrow!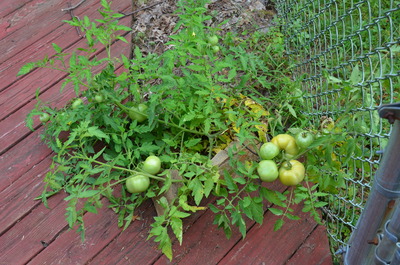 I just hope my tomatoes can find it within themselves to make it through this very serious event.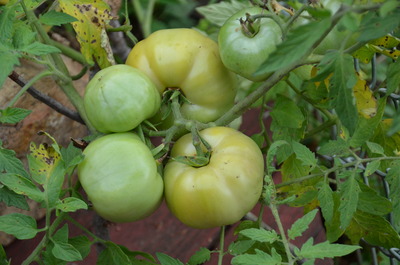 For a very long time, my haphazardly-planted tomato plants looked very pathetic. Then, suddenly tomatoes appeared! And they got really big! They stayed green for the longest time. I started to think that they were never going to ripen. In the last few days, they started showing some redness. Now they are my precious tomatoes. And now Irene threatens to destroy them.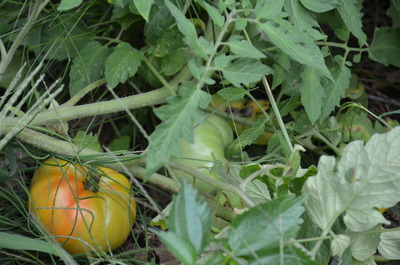 And my petunias as well.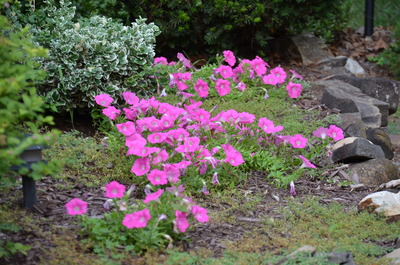 And the mums!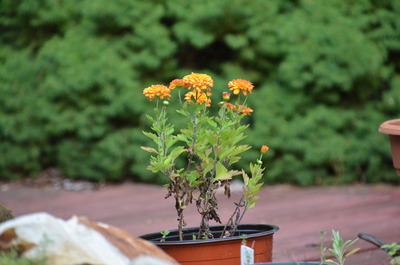 And whatever these things are! So small. So fragile.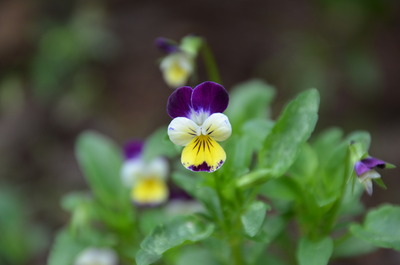 And Cobra Command's Stinger!
I just hope the damages to my garden are kept to a minimum.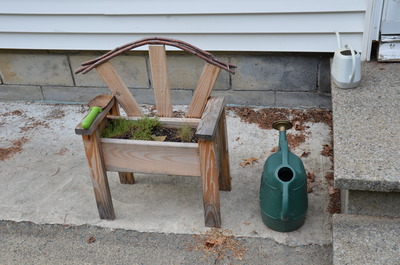 Stay tuned!
I fished the evening hours on the Mohawk River tonight. Large fish were surfacing all over the place. I suspect that they were carp or catfish. I didn't manage to catch anything today.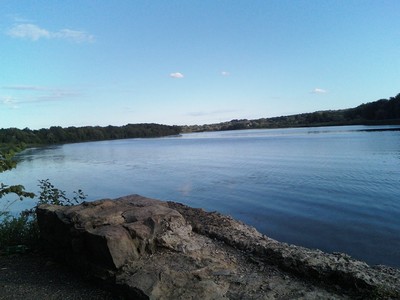 A bald eagle sat perched in a tree.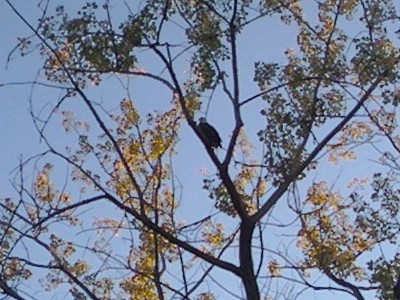 The dam at lock 7 watches me from the west.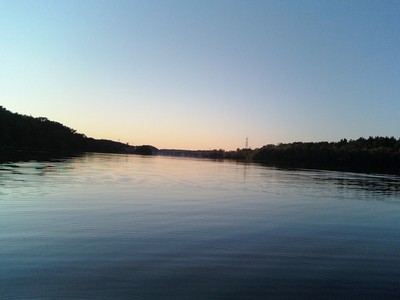 A scenic tour of the Mohawk River wouldn't be complete without a couple of old car tires floating by.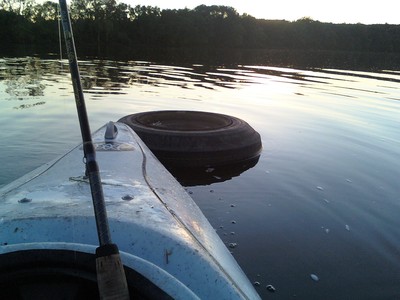 A large bird, probably a heron, is fishing nearby.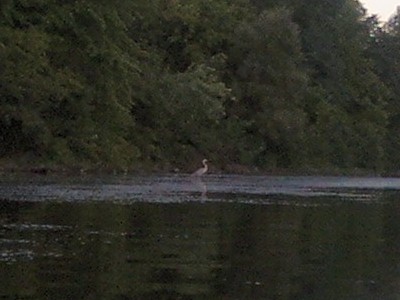 Related Links
* Someone Else's Pictures of Bald Eagles on the Mohawk River in Niskayuna
I made potstickers for dinner tonight. Lately I have been focusing on a certain type of meal. My idea is to spend an evening making labor-intensive food for which the hard work can be done ahead of time and frozen. Later, you can pull it out of the freezer and have a very good homemade meal to eat in a jiffy. The plan is to make large batches so that one session of hard work can produce several meals. So far the two meals that have worked well like this are potato gnocchi and potstickers. I used Alton Brown's recipe for potstickers and they tasted delicious!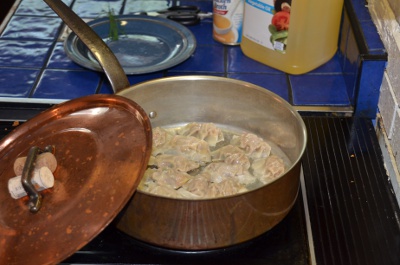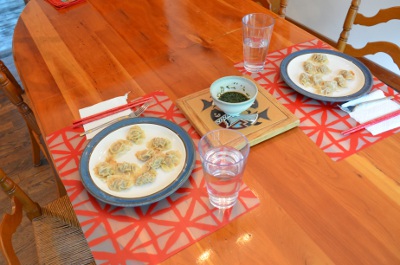 I tried deep-frying one batch to see how it would taste. The fried version tasted good, but they were even better sautéed then steamed like proper potstickers.
Recipe
Alton Brown's Perfect Pot Stickers - I made a double batch, ate some, and froze the rest.
Video
Good Eats - Potstickers (part 1)
Good Eats - Potstickers (part 2)
Did you know?
When gas is $3.50/gallon, credit card companies make $0.07/gallon. Here is proof that it's true: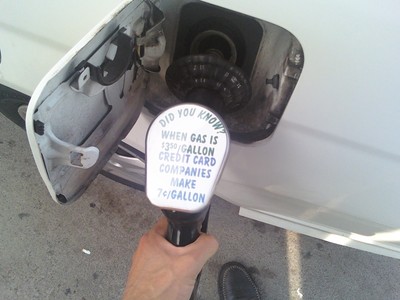 Credit card companies make lots and lots of money no matter what. Everyone knows that a failure to make credit card payments results in enormous owed interest, and in this way credit card companies make their most obvious money. Not so obvious is that credit card companies are making oodles of money off of us even when we always make our payments on time. For every purchase that is made with a credit card, the credit card company gets a percentage of the transaction price. According to this morning's gas pump, that percentage is 2%. This is a 2% credit card tax that we pay on everything. Most people pay with credit cards, therefore the price on everything needs to be raised in order so that vendors can recoup the 2% loss on most purchases. If you try to fight it by using cash, then you are paying that 2% tax outright. If you pay with a credit card, then you might get a cash-back bonus, offsetting some of the extra cost. Our choice is to either pay in cash and give up our cash-back bonus, or to use the credit card and save some money, while at the same time giving more money to the credit card company. The vendor gets to pay for it all. It's a pretty nasty trap that they have us in.
Trip Report
I fished at Saratoga Lake on the evening of the 9th and the 11th. I have never fished more than a few casts in Saratoga Lake before these outings.
On the first day, it seemed as though the fish were really biting at certain spots, and not so much at others. I was excited to catch a few rock bass because I have not seen one of those in many years. They have intense red eyes. I caught one as a little kid and I cried hysterically until somebody unhooked it for me. At the time it looked like like a devil fish come up from the fiery pits of hell. I have to admit that a very small feeling of lingering fear of these fish remains to this day.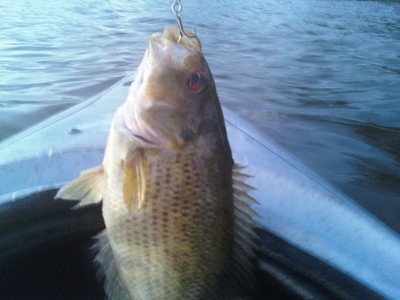 I caught a few small and medium-sized largemouth bass.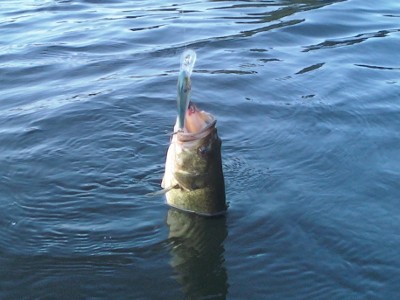 Towards sunset, I found an area where lots of smallmouth bass were biting every other cast. Some were tiny, and some were probably around 12 inches or so. I rarely encounter smallmouth bass. I have always heard that they are mean fighters. "Pound for pound, smallmouth bass are some of the strongest fighters of any fish". These fish were insane, including the small ones. The fish would leap into the air repeatedly on their way towards the boat. I worried that they were going to leap into the boat. I was using a Rapala Shad Rap which has two sets of treble hooks, which proved to be way too much for these fish. While one hook was properly in the fish's lip, they thrashed about so much that one or two of them were injured pretty badly by the extra treble hooks that were not on their lip. One managed to put a two-inch gash in it's belly. It caught me off guard because I catch all kinds of fish on this lure, and I've never seen anything like this happen before but now I realize that if I am catching smallmouth bass, then I need to do something different. I could use a different lure, or perhaps remove one of the treble hooks. The fish were still thrashing around as I tried to remove the hooks making the whole process dangerous for me and the fish alike.
The second day was very windy, and the waves were rough. Occasionally a well-timed wave would wash over the top of the kayak, adding a few pounds of water to the boat each time. I thought about turning back and finding a calmer spot for fear that I was going to swamp the boat and lose my equipment, but I stuck it out. Luckily I stayed afloat.
This time around I removed one of the treble hooks from my favorite lure in order to avoid the problems that I had on the first day. The fish weren't really biting besides a few tiny little guys. Then again, I wasn't as focused on fishing as much as usual due to the rough water.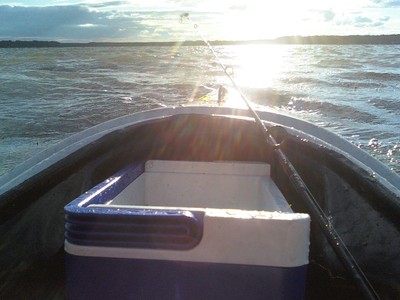 The barometric pressure for the two days would suggest that the first day should have been pretty good (relatively stable, low pressure), and the second day should have been bad (rising pressure). This seemed to be the case.
August Barometric Pressure

I fished at Lake Lonely today. The fishing was pretty slow, but I managed to catch a 14-inch bass.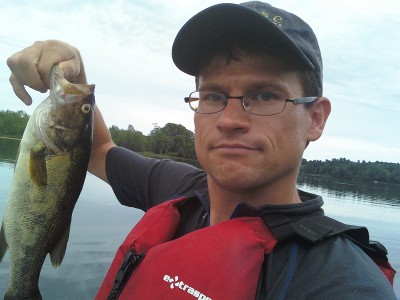 It was the perfect size for my dinner alongside some leftover mac and cheese.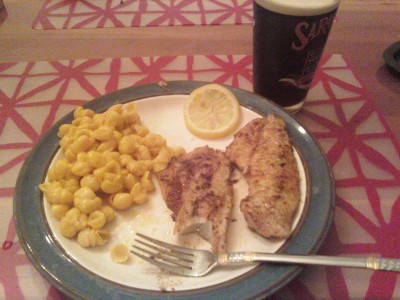 At one point, I caught a small sunfish and as I reeled it in, a big sea monster (northern pike I'm guessing) viciously attacked the sunfish, but unfortunately it didn't get hooked.
Some friends and I fished Burden Lake and managed to catch a monster bass: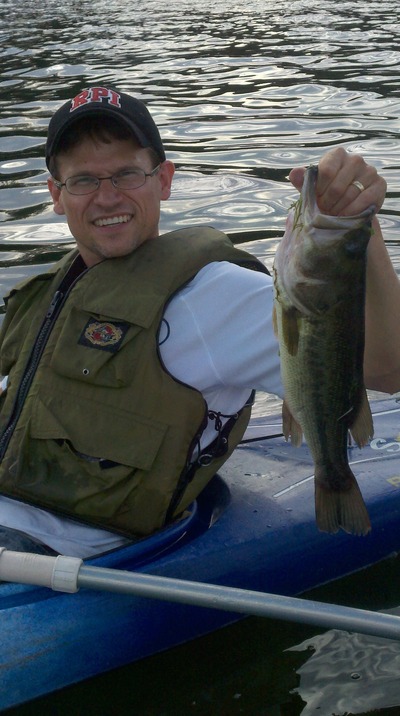 We also caught sunfish, pickerel, and a few perch.
Related Entries
* Burden Lake Fishing - 24 September 2010
A friend and I hiked two of the Adirondack high peaks today: Whiteface and Esther mountains. The hike was just under 10 miles. This was my first hike since hurting my foot, so I rested more regularly than usual.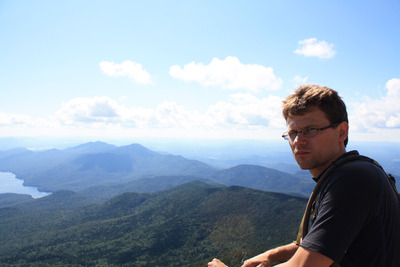 I expected Whiteface Mountain to be the lamest of the high peaks. What makes Whiteface unique is the fact that there is a road to the top, so you can expect to see crowds of normal people (whining kids and their miserable whining parents) at the top. I was surprised to discover that it was actually a great hike. The last part of the hike followed a view-laden ridge line for a long way up. The views at the top were some of the best in the Adirondacks. You could see for miles in every direction. There were, of course, hundreds of tourists at the top, so that was not very cool, but all-in-all it was a good mountain to climb. The sound of Harleys sputtering up the hill right next to the trail was annoying, but the fact that it was a ski hill with a road and an elevator to the top in some ways made it fun as something different from the other peaks.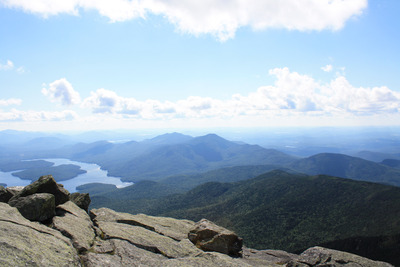 I kayaked the Alplaus Kill from Charlton Road to Van Vorst Road.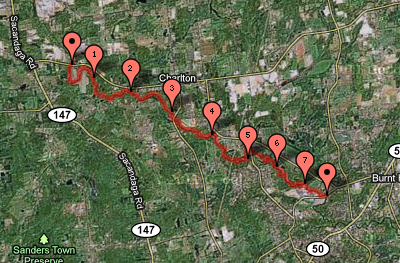 It was 7.5 miles, and most of it was pretty awful as far as kayaking was concerned.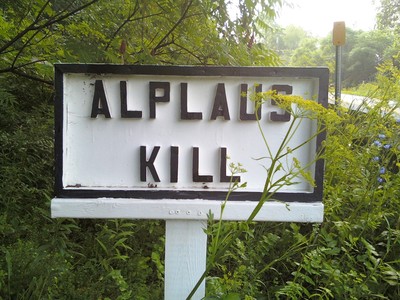 I was assuming that the conditions would be similar to the lower Alplaus Kill that I kayaked two days earlier, but the water level was a little lower, and in general there is not nearly as much flow in this section of the stream.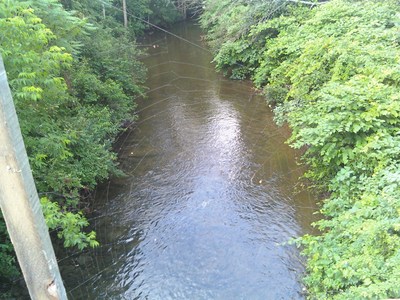 I encountered some of the biggest log jams I have ever seen.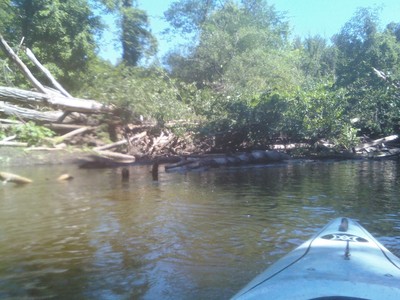 The route was very shallow, so I was scraping bottom for the entire way. I had to walk the kayak in many spots. The trip took me twice as long as I expected it to.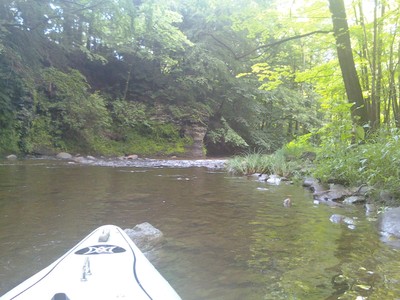 There was a tiny, shallow rocky area and as poor as it was, it was more fun than any other part of the trip.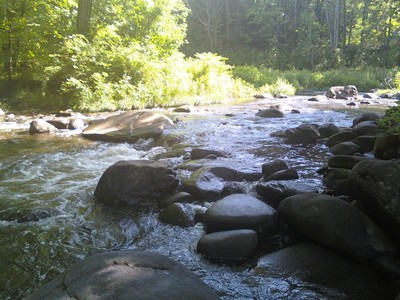 I hate to sound so negative. The kayaking was truly awful, but that doesn't mean that the trip was not worth doing. It is great being out there and exploring places. I may have failed at finding a great kayaking location, but sometimes just being in a nearly unkayakable location is fun because you gotta assume that not too many people have made the trip. Along the way you see a lot of old places that don't get a lot of attention like this strange broken bridge: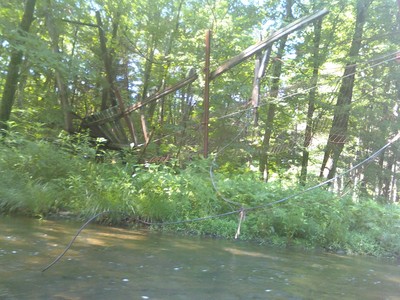 At one point, I came across the most active area of mushrooms that I have ever seen (by far). In a very small area 100 feet in diameter, I came across dozens of different types of mushrooms, many of which I have never seen before. There were coral mushrooms, shelf mushrooms, boletes, chanterelles, and lobster mushrooms. Lobster mushrooms are a bright orange mold that parasitizes other mushrooms. Lobster mushrooms are edible but only if the host mushroom is not poisonous.



























Related Entries
* Kayaked the Alplaus Kill - 07 July 2011
* Bad Omens - Alplaus Kill - 24 June 2011