You are herejstookey's blog
jstookey's blog
---
I just returned after 3 days of camping and hiking in the high peaks region of the Adirondacks. We started at the Adirondack Loj, and hiked to a lean-to in Lake Colden, hiked up Algonquin and Iroquois peaks, and back to the Loj. Here I am in the nook between Algonquin and Iroquois peaks: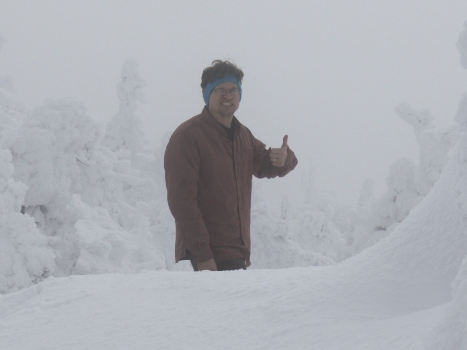 Here we are above the clouds atop Algonquin: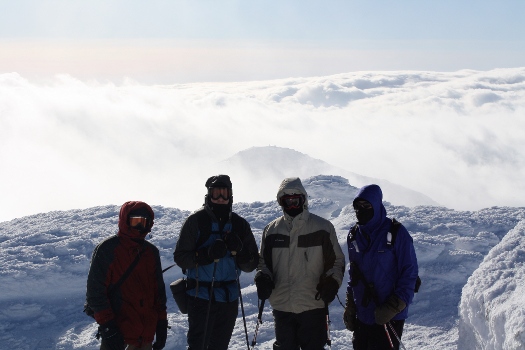 And in the clouds atop Iroquois: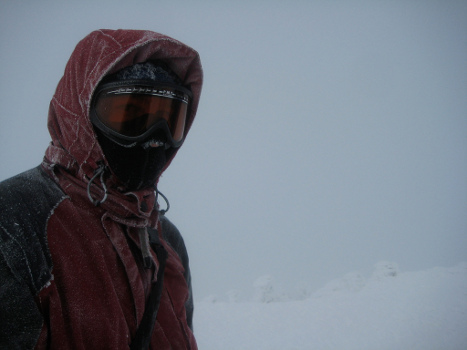 And back to the leanto: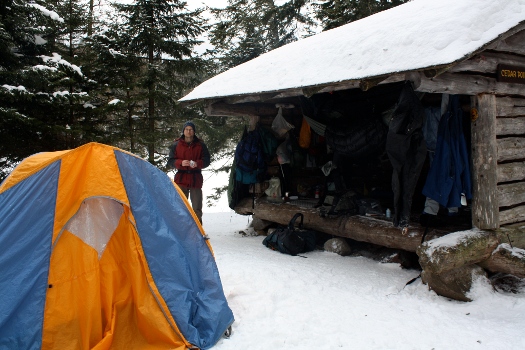 Finally, we are hiking back out of the woods:
A friend took me ice fishing today. He managed to catch a 14+ inch crappie. I've never seen one before. It's a lot like a sunfish, only this guy was huge: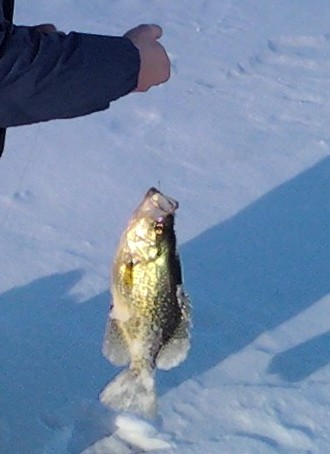 We also caught several large mouth bass, which are unfortunately out of season right now so we had to throw them back. Here's the biggest one: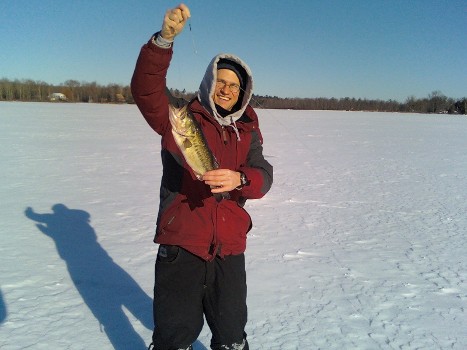 I tried my hand at making fish stock. I filleted all of the fish (sunfish, perch, and the crappie) and reserved the meat. I used the fish heads and bones (minus the gills and guts) and made some fish stock: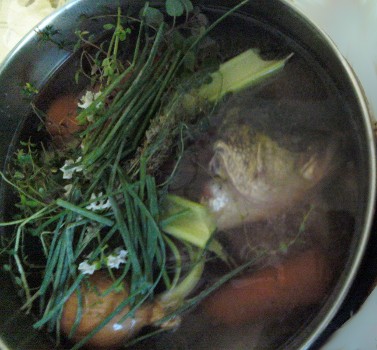 I plan to make a chowder with the meat and stock. The fish stock smelled fantastic while it was simmering. We used some for Matzo Ball soup. This time around, however, it seemed to make the whole house smell like fish when we re-boiled the stock.
Some of the perch that we brought home had large white internal organs. It made me nervous, because some of the fish had it and others didn't. I thought that it might be a parasite or some kind of malady in the fish. I emailed a picture of the gutted fish to someone at the NYS DEC, and they explained that it is the male fish's reproductive organs (testes), and that they become very large prior to spawning season, which is coming up for the perch as soon as the ice melts.
I came across a fantastic recipe for Doubles (a Trinidad street food consisting of curried chick peas, or "channa masala" on pieces of spicy fried dough, or "bara"). The channa and bara in this recipe came out much better than any of my previous attempts: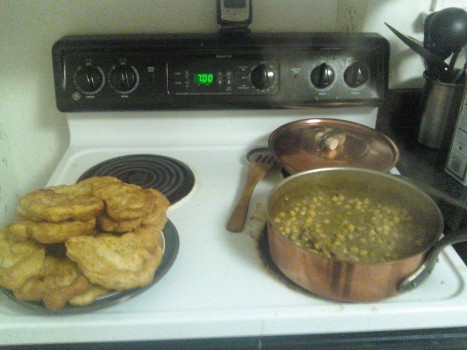 I found a store in Schenectady with this Trinny curry powder that is really good: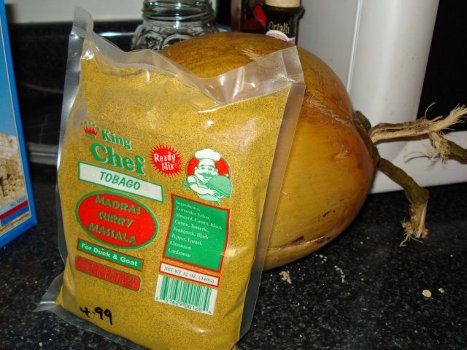 Don't forget some delicious Trinidad hot pepper sauce. Surprisingly, this stuff is available at our local Price Chopper in the international section:
6/23/2010 Update:
The above recipe was adapted from a Trinidad cookbook called, "The Naparima Girls' High School Cookbook".
Links
I was walking through Troy today and I found myself walking down a classic 8-bit video game alleyway like none other: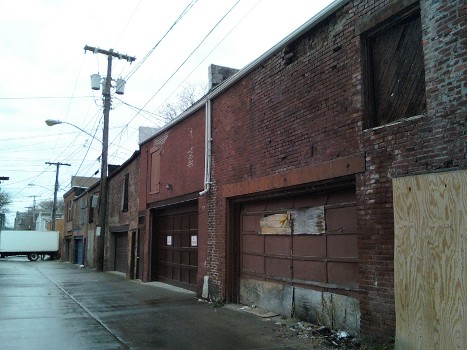 (Check it out in Google Street View). I thought that at any moment one of those second story doors would open up and some dude dressed like a bird would poke his head out and drop sticks of dynamite on me like in Trojan on the Nintendo (Which is a fitting title since the picture was taken in Troy, NY):
If anything happened I felt secure knowing that one of the garage doors would open and the Double Dragons would come and help me out: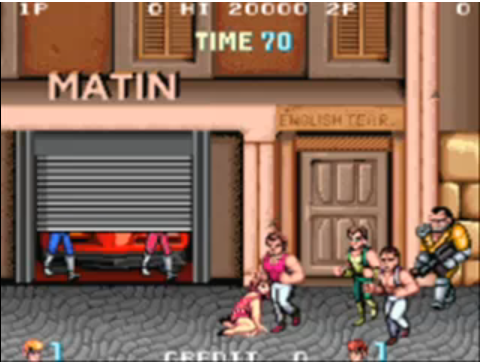 I've been thinking about adding a microscope to my list of must-have kitchen appliances. I now have a basic one to play with. The idea is that maybe I can see something useful while making dough, cheese, meat, (etc.) under the microscope that I couldn't see otherwise. It has yet to be seen if I can view anything valuable under it, but I will keep trying. Here's a picture of milk under the microscope, taken with my cell phone camera through the microscope's eyepiece: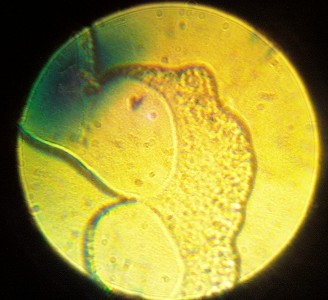 If nothing else, it looks like a cartoon dragon if you use your imagination: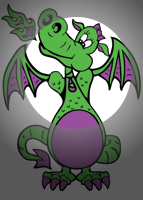 We did Thanksgiving dinner here for the first time. Mmm! The turkey was delicious. The recipe came from here. One of the big tricks with this recipe is to cook the recipe breast-side down so that when the juices run down the turkey, they collect in the breast making for very juicy and delicious white meat.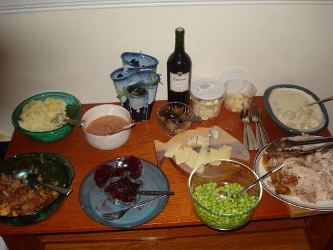 The only panic moment was when I took the turkey's temperature an hour before it was supposed to be completed. The turkey was done already, and I hadn't started any of the other food yet. I just covered the turkey and let it sit for an hour while I prepared the rest of the food. The turkey was luckily still warm when it dinner was served.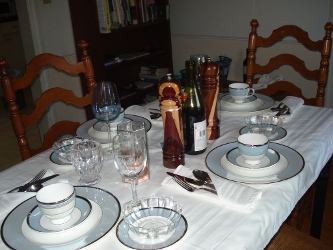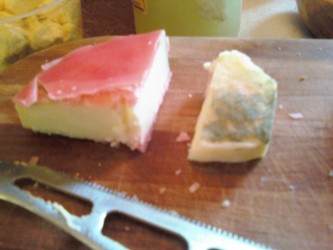 This weekend, we ate the wheel of cheddar cheese that we made in April. It has been aging in the basement for 6 months or so. The wax had a small crack in it, and some mold appeared on the surface, but it was easily shaved off. I expected the cheese to taste either bad, or mediocre at best. However, much to our surprise, it was absolutely fantastic! It may have been the best cheddar I've ever tasted. It was very sharp. We made it from unpasteurized milk, which they say is the best way to make cheese. I have larger wheel of cheese aging in the basement right now that was made from ordinary milk from Stewart's. I'm curious to see how these cheeses will compare.