You are herejstookey's blog
jstookey's blog
---
Trip Report
This morning I kayaked down a portion of the Mourning Kill and met up with the Kayaderosseras Creek and followed that to the Driscoll Road canoe/kayak boat launch area (click on the map for an interactive version).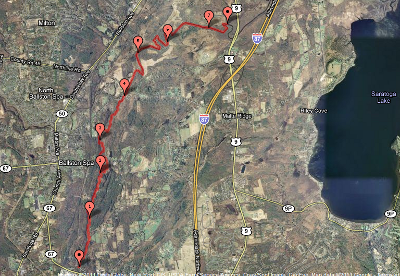 The water was running quite high today, and the entire route was an absolute pleasure to kayak through. There was only one spot where I had to get out of the kayak in order to pull the boat over a logjam. The first section of my route, starting underneath the Zim Smith bike trail near Underpass Road, consisted of really fun fast-moving water.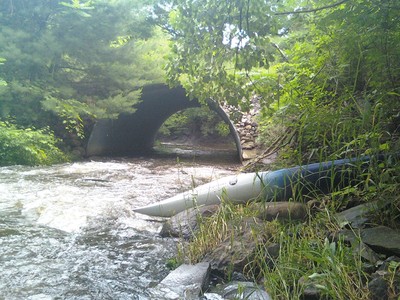 The fun water was followed by a bit of shallow-ish water, so I bumped the bottom of the boat a little bit, but nothing to complain about. After a short while, the creek changed to a series of large calm areas dammed in by beavers.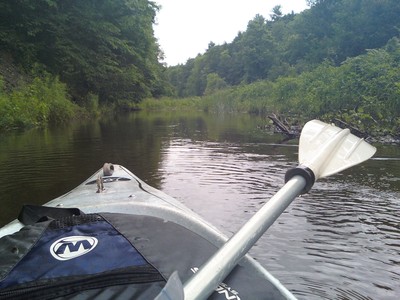 I had to kayak over somewhere in the neighborhood of five such dams. Here is a look at a typical one. I am looking upstream in this picture: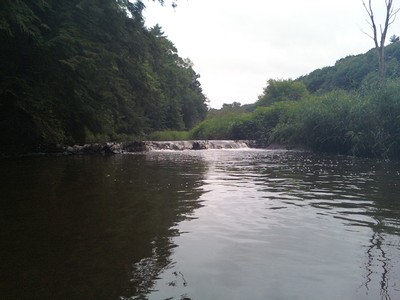 Eventually it opened up into a very wide marsh.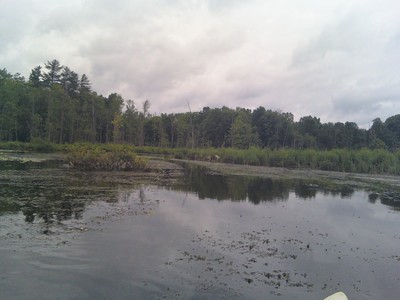 After passing under a bridge under Malta Ave., I reached the confluence of the Mourning Kill and the Kayaderosseras.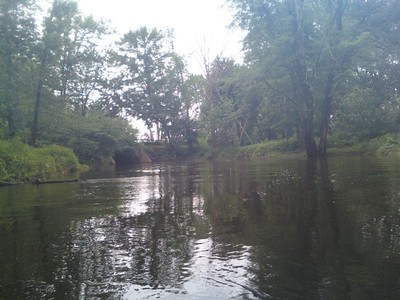 There is one spot on the Kayaderosseras where there is (during low water) a fairly exciting water fall full of fast moving water. Sadly, during a period of high water like we are seeing now, the fun waterfall becomes buried in water making a spot that I was looking forward to into a bit of a disappointment. Here is a look at the falls today, there is not much to see: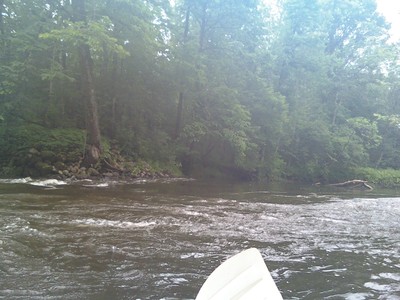 Finally I exited at the Driscoll Road canoe and kayak launch site. It is a really great place to have access to, so I need to quickly thank the NYS Dept. of Parks and Recreation, and the City of Saratoga Springs for making this place available. The launch site makes a very large area of great kayaking water available to explore and for that I am grateful.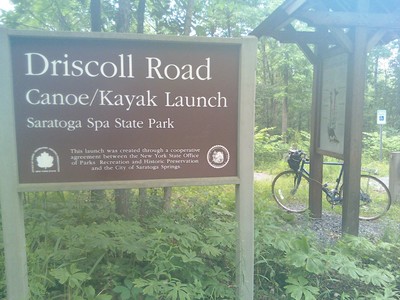 In the above picture, I noticed a lone bicycle locked up. I couldn't help but wonder if someone else was there using the car/bike/kayak method to cruise down the stream.
This was a great trip. I would be curious to see how it would be on a day when the water level is not quite so high. It seemed as though the first section might be a little rough, but I'm guessing that the dammed-in areas would still be very kayakable. Also, it would be fun to start further upstream on the Mourning Kill to see if more of it would be as nice as the later sections.
Distance: 7.5 miles
Elevation change: 45 feet
Avg Slope: 6 feet per mile
Time taken:
* 2 hours, 40 minutes to kayak
* 48 minutes to bike back to the car (the long way)
Links
The Saratoga Trail - An interesting trip report including the Mourning Kill
Kayaker on the Mourning Kill - Brief Video of somebody else on the Mourning Kill
Related Entries
* Kayaderosseras Rapids - 30 June 2011
* Kayaked the Kayaderosseras - 12 June 2011
There is a very small creek near my house. I often ride past it on bike rides and wonder if it would be any good for fishing, or of it would be possible to navigate it in a kayak. Today I wanted to head out on the kayak, and it has been raining for a week straight which has raised the water levels in the local rivers quite a bit. Yesterday I had a misadventure on the Alplaus Kill where the volume of water was very high, forcing me to abandon most of my trip. Today I was nervous to paddle anywhere the water would be raging. Also, the forecast called for thunderstorms today, so I didn't really want to be out on a lake either. This creek has been calling to me, so I decided to stop by there first and check it out.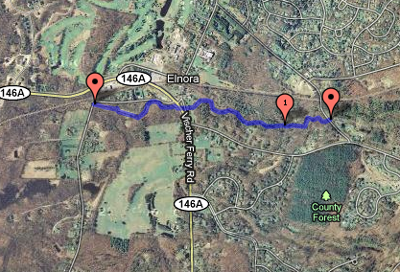 A brief inspection revealed that even after a weeks' worth of downpours swelling the creek, it is still shallow and tiny. I realized that it would be ridiculous to ever try to kayak the creek. Yet I still felt a strong compulsion to do it anyway. I argued with myself over it for a while. Eventually, I decided that the fact that it is a terrible idea makes it worth doing because it would be an experience that not too many people have gone through. At any rate it would rid me of my compulsion once and for all.
I headed down the creek, and it was too shallow for the kayak. I walked the kayak for probably around 1/3 of the way. In some parts of the route, the creek bottom consisted eroded slate which is very sharp and I caused a good amount of damage to the bottom of the kayak. All in all, it was a fool's errand. Mission accomplished.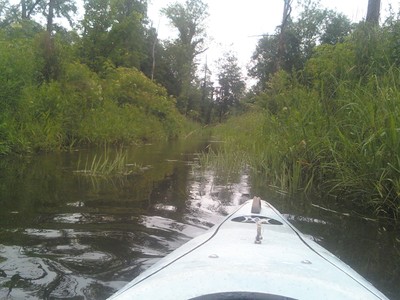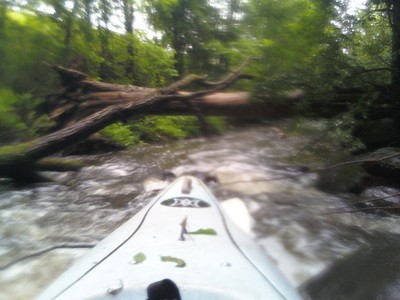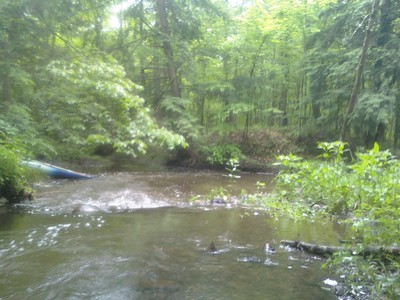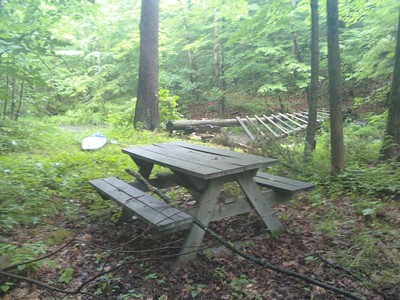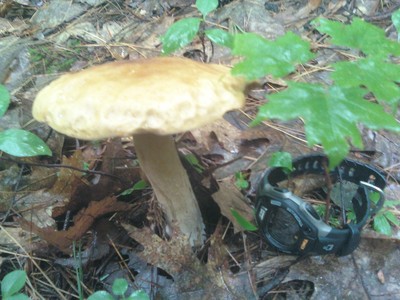 Distance: 1.2 miles
Elevation change: 61 feet
Avg Slope: feet per mile
Trip Report
Today I kayaked the Anthony Kill (also known as the Tenandeho) from Round Lake to the Hudson River (click on the map for an interactive version):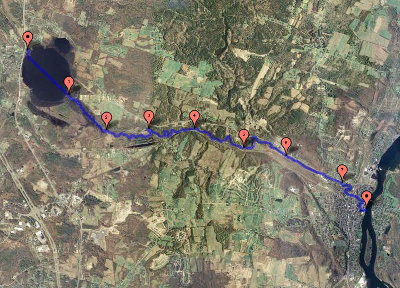 I started at the northwest corner of Round Lake. Parking and launching from Round Lake is a little bit awkward due to the fact that public access sites were recently closed down, and other areas are undergoing heavy construction. Here is a picture of my impromptu launch site: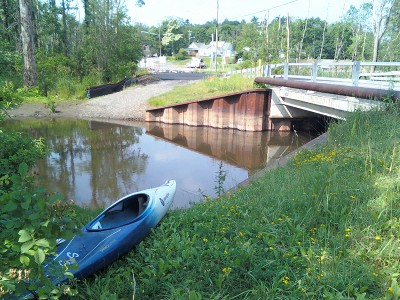 I crossed Round Lake: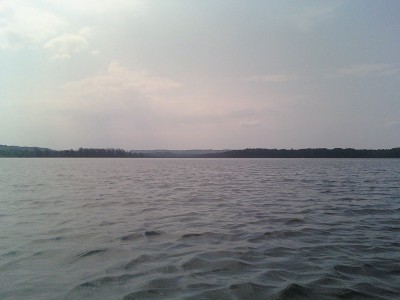 The first long section of the Anthony Kill is a beautiful meandering flatwater. It is generally nice and wide, probably 20 feet or more, and plenty deep to hide some nice fish.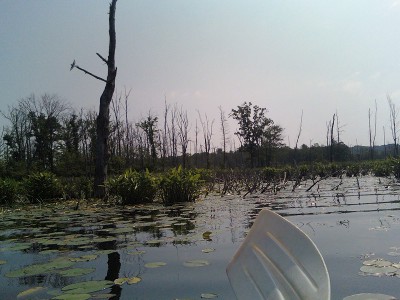 There was a fishing boat or two along the way, and a couple of kayakers. There were really cool birds and this big nest in a tree: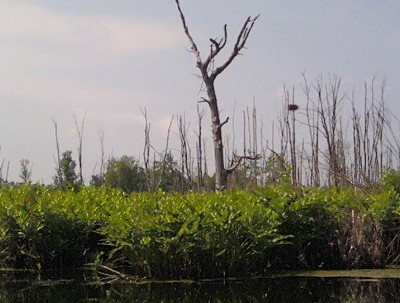 After the first beaver dam, there are regular log jams and beaver dams the rest of the way down. I had to get out of the kayak to pull the boat over a couple of log jams, and typically there was something difficult to limbo under or push myself over every 20 feet or so. There were fallen trees everywhere.
Along this rough route, I saw a big fish swimming away. I'm guessing that it was some kind of creek chub, but I'm not sure. It did not appear that anyone is taking care to ensure that kayakers get a safe and easy ride through this area. However, with some perseverance, it was passable, although now that I've done it it might be one of those places that I will not return to any time soon. It was a bit of a bushwhack.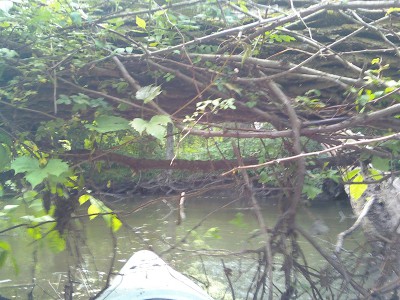 The next section of the river (starting at around Coons Crossing Road) was really awesome. It started off slow, but picked up quickly. After the first half mile or so, most of the ride consisted of wavy rapids.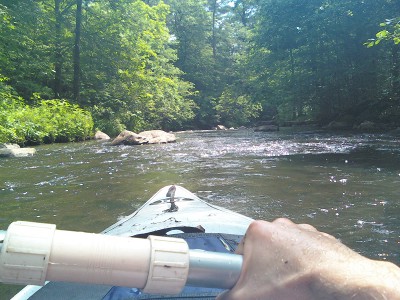 The fun lasted nearly the full 5 miles.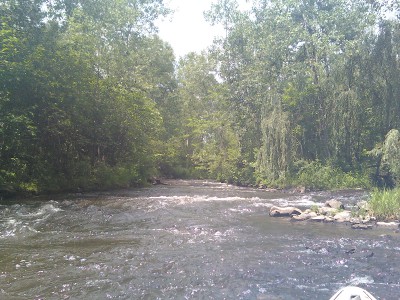 The finale at the end is a slightly more dramatic descent along some rocky chutes. I had scoped the area out already, and my plan of attack was to stay well to the right where there was a straight line to the Hudson. It ended up being a fun ride that went smoothly: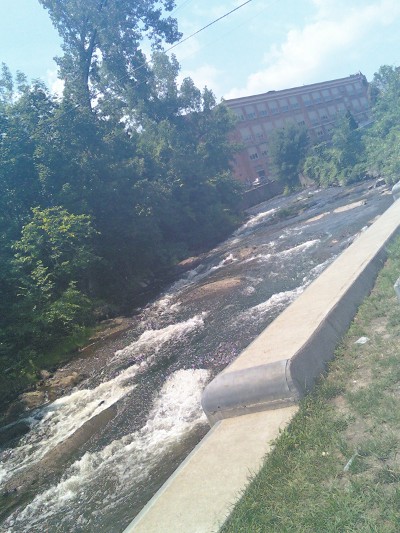 I managed to get a tick bite somewhere along the way. Hopefully that won't amount to anything later. I grabbed my bike and rode to the car at Round Lake.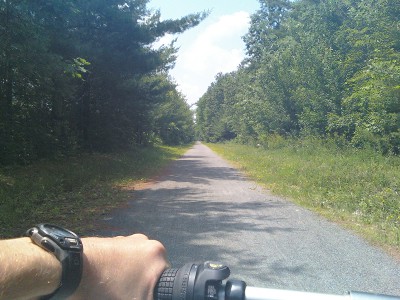 I was riding fast enough to catch up to, and overtake this speeding turtle:
Distance: 8 miles
Time taken:
* 1 hour, 20 minutes to kayak from Round Lake to Coons Crossing Road
* 1 hour, 20 minutes to kayak from Coons Crossing Road to the Hudson
Links
* Someone else's Anthony Kill trip report
* Tenandeho Whitewater Derby - Annual Race along the Anthony Kill
* Historical Pictures of the Tenandeho Whitewater Derby
* Video from the 2010 Tenandeho Whitewater Derby
* Malta Memories - A really in-depth personal perspective on the history of Round Lake
* A later kayaking trip of mine
Trip Report
Today after work I kayaked the Poestenkill Gorge in Troy, NY from the NYSDEC Fishing access site at Garfied Road to a parking area on Brunswick Road (click on the map for an interactive version):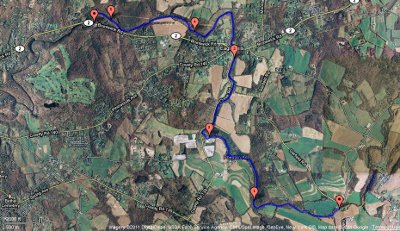 The water level seemed slightly higher than average. Despite the decent water level, there were many sections where the kayak scraped it's way over the rocks as I pushed along with my hands because the water is very shallow in parts.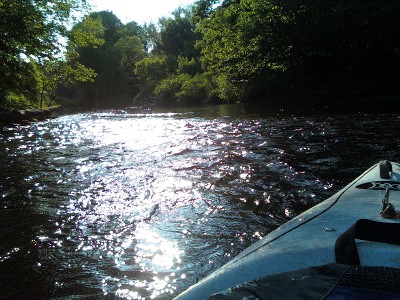 In some places, the river bottom consisted of eroded shale, with lots of little knife-sharp edges that scraped up the bottom of the boat and my hands pretty good. There were a couple of spots where I had to either get out and walk, or really fight my way through big log jams like this one: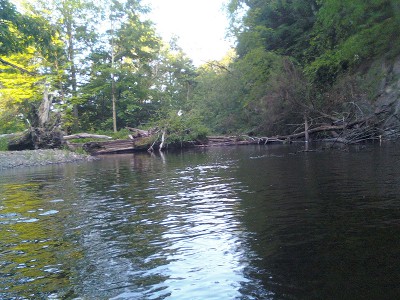 A fair amount of effort was involved in getting down the creek, and the kayak and I took a decent amount of abuse, but there were certainly rewards along the way. Rapids worked their way down most of the shallow water. There was one particularly dangerous area where I got out and walked at the Eagle Mills bridge on Brunswick Road, and got some help from a dude who seemed to be waiting there to warn me of the dangers ahead. This picture actually shows the friendlier section of the Eagle Mills area: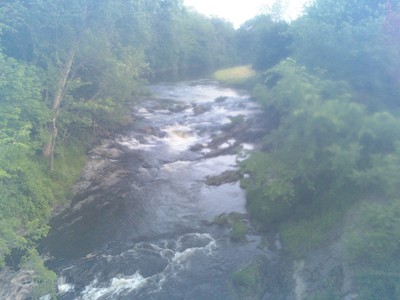 Along the way down the river, I spotted some potentially really nice fishing spots. There was one area where major erosion of the sandy soil had taken place, and a tree was barely holding together a lone tower of sand. I'm pretty sure that a little bit of digging would be enough to topple the whole thing. I don't imagine it will remain standing for much longer: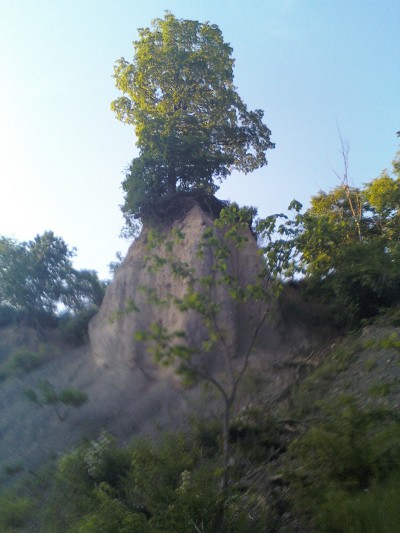 Here is a picture of me, alone, at my best: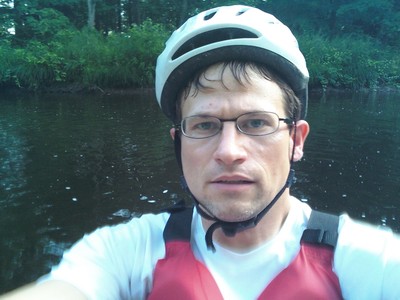 I saw a few spiky headed ducks (red-breasted mergansers perhaps). There was also a giant bird, I'm thinking it was a great blue heron, that repeatedly flew downstream every time I got near it. I chased it down the creek in this way for the entire trip. I saw some small trout surfacing at the bridge where I finished the trip, and it sounded like the fishermen were having decent luck today. And why shouldn't the fish be biting? The barometric pressure has been stable for several days straight:

I locked up my bike at the destination, drove to the launch site, kayaked the planned route, then locked up the kayak and biked back to the car, and finally drove back to the kayak, packed up and headed home. The whole trip from when I left work until I was on my way home took 3 hours, 18 minutes. It took 45 minutes to get everything ready (including stopping to inspect 2 potentially dangerous spots along the way) and start kayaking. Kayaking the route took 2 hours, biking back to the car took 20 minutes, and in another 10 minutes I was on my way home.
Distance kayaked: 5.2m
Average elevation gradient: 10'/mile
Related Links
* Elevation Map - A useful tool for figuring out how steep (and dangerous) a kayak trip will be
* Poestenkill Brown Trout - A youtube video of some locals catching some nice trout
* Poestenkill Kayak Falls - A youtube video of a local maniac kayaker
* Eagle Mills Kayak - Crazy kayakers on the Poestenkill after Irene
Trip Report
I kayaked 5 miles of the Kayaderosseras today (click on the following map for an interactive version):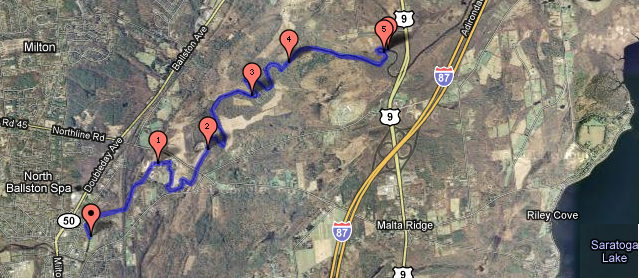 I started at the boat launch area in Ballston Spa. I paddled along at a relaxed but steady pace. I covered the roughly 5 miles of river in 1 hour, 12 minutes. The water level was very high. When I have canoed this route in the past, log jams meant that I had to get out and pull the canoe over to get through. This time, the water level was high enough (and the kayak nimble enough) that I was able to get through all of the log jams without getting out of the kayak.
The entire trip including packing up, driving, kayaking, biking, and unpacking took roughly 3 hours (although I had somewhere to be, so I was hurrying along).
At one point there is a small waterfall with lots of fast moving water rushing down it. It was easy to get down, and I tried to paddle back up it just to see what would happen. As I got into the thick of things, the kayak spun around and on the way I very nearly flipped over. It looks like I have a couple of things to learn, like how to unflip when I flip over. The real trick will be to keep my $8 glasses on my head as I do so. I saw a very large turtle swimming, some nice birds, lots of ducks. I'd like to explore more of the river later. A little further upstream, it looks as though there might be some faster moving water.
Kayak/Bike Method
At this time, my personal preference is to go exclusively downstream. My usual method for making that happen is to park and start paddling the kayak downstream with a padlock and my running shoes. I paddle until I find a good stopping point at which point I lock up the kayak, and run back to the car. Then I drive to pick up the kayak and head home. It's a perfect system because I don't need to plan how far I'm going to go, and there isn't much driving back-and-forth. It's almost as good as calling mom for a ride home when you get tired. However, my foot is injured so I can't run right now so I needed to come up with another plan. If I had a friend, then we might use the two-car method. But I don't have a friend. I recently managed to cram the entire kayak into my Civic and close all the doors. This allows me to attach a bike rack and bring a bicycle along. The new system is to lock up the bike at my destination, drive to the starting point, kayak to the destination, lock up the kayak, bike to the car, drive to the kayak, pack up, and head home. It's a few more steps, and a little more driving, but it works and it means I don't have to paddle upstream (which means I get to cover a lot of water).
Special Fishing Regulations
This section of the creek has some unusual fishing restrictions. It is closed for fishing during certain parts of the year, I believe because the monster fish (Walleye, etc.) in Saratoga Lake spawn here. Also, upstream from here, trout fishing is legal all-year-round. As of 2011, the regulations are as follows (taken from the NYSDEC Special Regulations for Saratoga County):
Kayaderosseras Creek from Saratoga Lake upstream to first railroad bridge: Fishing prohibited March 16 until the opening of walleye season in May.
Interesting Links
* Kayak/Canoe Launch Sites on the Kayaderosseras
* A map of the same launch sites
* Friends of the Kayadersseras - Help clean up the creek.
* How to pronounce Kayaderosseras (and other local names)
Related Entries
* Kayaderosseras Rapids - 30 June 2011
* Kayaked the Mourning Kill - 26 June 2011
We headed up to Glass Lake in Averill Park for a fun day of fishing. The weather was pretty terrible, with torrential downpours and a heavy wind. Luckily, once we got started, the rain suddenly stopped, it was still very windy. Big sunfish happened to be biting like crazy, and we also managed to catch a large mouth bass and a pickerel.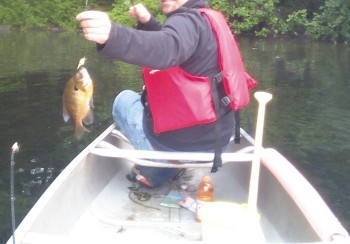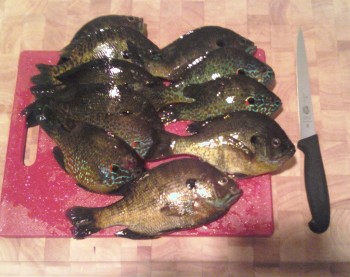 In general, you could throw bait or a lure out and catch something on most casts for the entire time we were out there (several hours) as long as were were in close to shore. While the fish themselves may not have been tremendous, I would call this a very good day of fishing, and the barometric pressure happened to be in the middle of a flat spot (which I'm tending to believe is very good for fishing around here):

I have been wondering about the correlation between barometric pressure and good fishing days. It started when a friend had a migraine headache, and said that the barometric pressure has an affect on migraines. Right around the same time that they had a (possibly) pressure-induced headache, I had an unexpectedly poor day of fishing. It wouldn't be a huge surprise if air pressure would have a big effect on the comfort level of fish in the water like it does for people who suffer migraine headaches. Today I decided to take a look at the barometric pressure on a day that I remember as the best fishing day of last year. We fished for a short while in the morning and caught lots of lake fish of every type we could hope for (pickerel, crappie, perch, bass, sunfish). The theory is that the fish would be biting during the middle of a long period of barometric pressure stability. The following chart shows the pressure for the month of September, 2010 with the 9th (our good fishing day) highlighted in yellow:

That morning was in the very center of 2 days of pressure stability. The rest of the month looks like a roller coaster. This seems to support the existence of a correlation between pressure and good fishing, although there are a lot of different variables that could effect fishing. In particular:
- Cloud cover
- Time of day
- Time of year
- Moon phase
- Temperature stability
- Barometric pressure stability
- Thermocline
There was another day of amazing fishing this winter (January 2, 2011). The pressure history shows that this day also occurred during a period of relatively stable pressure:

Next up I have a noticeably bad day of fishing (April 12, 2011). I did all the right things. I got out really early on an overcast day, and fished several different spots where I have had success in the past. And yet, I caught nothing:
The pressure on that day shows not only a dramatic change, but also a trend reversal from downward to upward. The theory is still holding up.
Ok, one more. This was a very similar fishing day as the previous bad day, except that I caught a bunch of nice fish. 9/24/2010:

Hmm... It looks like pressure was definitely not stable on this day and yet the fish were still biting. This does not support my claim.
The following website suggests exactly how air pressure affects fishing:
http://www.quickoneplus.com/fish/articles/page.asp?page=barometric
From what I can read into the page, it seems as though the fish don't like to feed during high or increasing pressure. They go nuts in the shallows (where I am usually fishing) when it is falling, normal and stable, or low.
Trip Report
I kayaked for a few hours at the Hoosick River starting at the boat launch area just above the dam in Valley Falls. Here is the route I followed: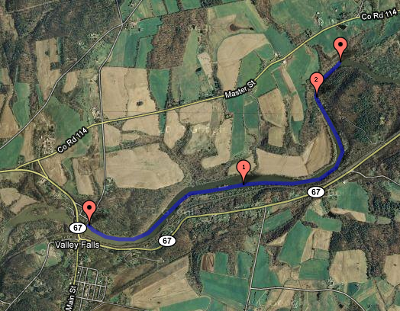 I wasn't fishing much, but I caught a 10" small mouth bass close to shore. I saw several big carp in the water. For the most part, the water was still. In fact if I stood still, the wind blew me upstream. A few later sections had some mild rapids. One section was work to paddle against the current. The trip was not terribly exciting. It would have been better fishing in the canoe, because fishing in my little kayak is awkward. Here is a look down what I called "rapids":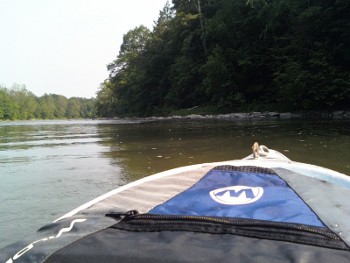 Links
* Hoosick River Paddling Map - Click on the small map and you will get a huge version of the map.
* Hoosick River Kayakers - Maniacs elsewhere on the Hoosick
I took a trip to the public boat launch on the north end of Ballston Lake to try out the new kayak, and to see if the lake has thawed yet. It hasn't, which is surprising. Last year it was already thawed as of some time between March 17 and March 21.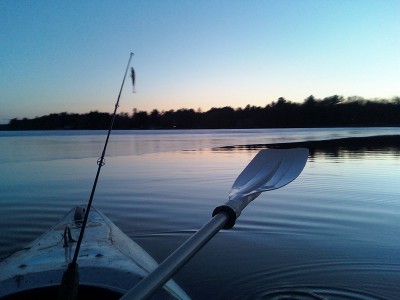 I paddled a short way up the marshy Ballston Creek. A beaver and I scared the pants off of each other. There was only a narrow corridor in which to paddle, and we were both cornered. I screamed. Twice, actually. Once because of my initial startlement, and a second time after I realized that I was sitting so low in the water that the angry beaver could easily GET ME if he chose to.
Anyway, I was still cornered and was going to have to paddle directly over the angry beaver. After that I was happy to hurry back to the car.